Fiber Optic Test Equipment Market By Equipment Type (Optical Light Sources, Optical Power & Loss Meters, Remote Fiber Test Systems), Portability Type (Handheld/Portable, Bench-top), end use (Telecommunication Service Providers, Network Equipment Manufacturers, Data Centers) & Region - Forecast to 2020 - 2030
Fiber Optic Test Equipment Market - Analysis, Outlook, Growth, Trends, Forecasts
August 2020

REP-GB-3330

250 pages
Fiber Optic Test Equipment Market Outlook and Key Findings
Sales of fiber optic test equipment to reach around US$ 1.5 Bn in 2030
Optical time domain reflectometers (OTDR) to remain preferred equipment, given high demand for tier-2 certification criteria and rising spending on 4G/5G deployment
Increasing data usage rate coupled with network bandwidth expansion primary factors for use of fiber optic test equipment
Telecommunication service providers to remain primary end user through 2030
East Asia to outpace North America during the course of the forecast period
Market to Grow in Line with Surging Demand for High-speed Data Transfer
As the telecommunication industry across the world is accelerating its shift towards fiber optic cables to attain high-speed data transfer, the importance of testing equipment for these network mediums has scaled up in inspection, on-site troubleshooting of network systems as well as R&D stages across the industrial sector.
The COVID-19 pandemic has offered end-users the opportunity to discover – and re-discover – the benefits of digital ecosystem. In a bid to leverage full potential of this connectivity, establishing resilient cabling and network infrastructure is imperative for end users.
With connectivity speeds reaching new heights, cable performance has become increasingly critical in order to ensure link quality – thereby, paving way for fiber optic cables. Rising number of industries are likely to explore innovative solutions in fiber optics over years ahead including, opportunities in maritime, and healthcare industries.
Moving ahead, governments across the globe are implementing initiatives such as smart city projects with fiber optic network to ensure sleek flow of Internet of Things (IoT) infrastructure.
Further, the United Nations (UN) states that more than 68% of global population is expected to dwell in urban areas by 2050, fueling more 'smart city' programs worldwide.
As such trends driving the current surge in fiber optics persist, the global market for fiber optic test instruments is projected to represent multibillion-dollar opportunity in coming years.
Players to Profiteer from OTDRs
Commercially available for operation over entire wavelength range, optical time domain reflectometers (OTDR) would remain key revenue pocket for market players.
OTDRs provide advanced diagnostics to segregate the point of failure that may hamper the network performance and also used for maintaining fiber plant performance.
Development of smart cities, smart homes, and smart grids are translating into generation of voluminous chunks of data and, in turn, triggered the need for data centers to monitor and process this data. This is fueling investments in data centers which will be among key growth drivers for OTDRs.
OTDRs are expected to continue their primacy in fiber optic test instruments market, as they provide relatively greater accuracy in optical power meter (OPM) measurements. These equipment capture about 35% of total market stack, and the number is poised to increase at robust CAGR through 2030.
Asia's Markets to Reach New Heights
At present, North America accounts for leading revenue share in global fiber optics testing equipment market, with revenues and market activity concentrated in the US.
San Francisco has committed to connect city-wide fiber optic network infrastructure as huge step towards internet utopia. In addition, the Pacific Light Cable Network has decided to run 8,000 miles (about 12875 km) of subsea fiber optic cable from Los Angeles to Hong Kong, enabling Facebook and Google to connect swiftly and safely with data centers in Asia and explore potential markets.
The COVID-19 crisis has underlined the critical nature of access to high-speed and cost-effective internet service in the US. Demand for broadband internet access has surged to new heights in the country. Recent data suggest that average broadband consumption by Q1 of 2020 increased by 47% compared to first quarter 2019.
While North America currently leads the global fiber optic test equipment market, FMI finds that the region is expected to lose ground to East Asia in coming years. Rise in number of data centers in the region is primarily driving the demand for fiber optic tester tools.
China houses over 400, 000 small and medium-sized data centers, and yearly total power demand has hit 100 Bn kWh – about 250,000 kWh for each data center annually.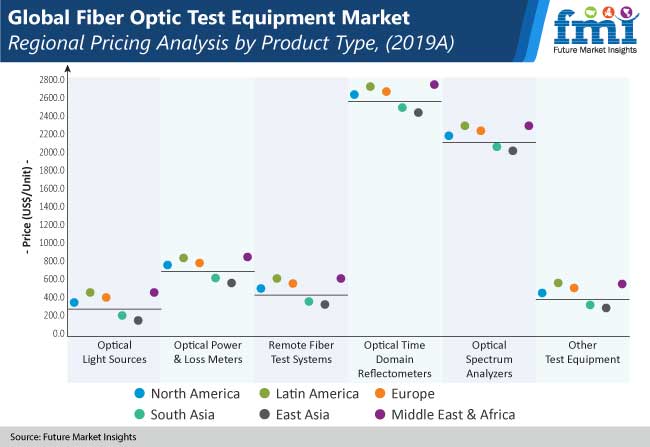 Alibaba Cloud – subsidiary of Alibaba Group - has included three more hyperscale data centers to its profile in the country. Further, China has developed its fiber footprint out to 86% penetration nationally.
Going forward, the fiber optic tester market in South Asia & Pacific (SAP) is experiencing tremendous growth.
Government in India has inaugurated the undersea optical fiber cable (OFC) connecting Chennai and Port Blair to allow delivery of high-speed and more reliable landline and mobile telecommunication services to islands, in line with other parts of the country.
In addition, the government has committed to connect India's over 600,000 villages with optical fiber network within coming 1, 000 days.
Fiber Optic Test Equipment Manufacturers – Product Innovations Remain Critical to Maintain Competitiveness
Manufacturers are prioritizing product innovations by offering distinct features with their offerings. In addition, they are comprehensively investing in delivering broad range of technologies to customers for applications specific to field monitoring, measurement, and maintenance. For instance,
Anritsu has introduced - Master Pro MS2090A – a handheld spectrum analyzer that provides range up till 54 GHz and real-time monitoring for range up till 100 MHz to meet conventional and potential use case across various industries
AFL has developed ROGUE OLTS Certifier for both network and enterprise operators as well as telecom service providers working in settings ranging from LANs to data centers, metro, and core networks
In addition, the company has rolled out two new Fujikura splicer models that come with ergonomic enhancements, coupled with improvements to automate operation, and are developed to optimize productivity and reduce downtime for routine maintenance purposes
Fluke Networks has launched highly effective, complete end-face inspection camera - FI-3000 FiberInspector Ultra. The offering enables fiber optic experts to detect contamination. Moreover, technicians leveraging the solution can view real-time working of fiber end-face promptly on their smartphones and further utilize gesture-based interface to zoom in on individual fibers or conduct pass/fail test within seconds.
Yokogawa has developed fiber optic heat detector for maintenance purposes in order to prevent casualties due to high-temperature heat such as equipment failures caused by heat and equipment anomalies.
Advanced Connectivity Technologies to Set the Stage
Penetration of long-term evolution (LTE) networks and fixed broadband subscription has made rapid progress over recent past and is likely to follow the trend over forecast period.
The COVID-19 recession has triggered significantly transformed customer lifestyle, influencing them to increasingly rely on ICT connectivity.
FMI finds that mobile operators are anticipated to invest about US$ 160 Bn by 2020 for expansion of 5G networks to broader footprint. Further, fixed broadband connection is projected to grow moderately by 3% y-o-y till 2024.
Additionally, fiber optics has paved way for roll out and development of 5G wireless connectivity. Telecom heavyweights are depending on millions of miles of novel fiber optic cables that enable 5G devices across the world to connect with each another. In the future, it is possible to see new fiber initiatives in more diverse and efficient applications.
Base year considered - 2019
Historical Period- 2015 - 2019
Forecast period - 2020 - 2030
Market Value in 2019 -US$ 749.2 Mn
Segments covered - Equipment type, portability type, end use and region
Regions Covered -North America, Latin America, Western Europe, Eastern Europe, Asia Pacific excluding Japan, Middle East & Africa (MEA), and Japan
Key Companies- Fluke Corporation, Yokogawa Electric, VIAVI Solutions Inc., Anritsu, EXFO Inc., Kingfisher International Pty Ltd, Extron Electronics, VeEX Inc., Delaire USA, Pelorus, AFL, Deviser Instruments, Incorporated, Terahertz Technologies Inc, and Canford Audio PLC.
Key Questions Answered in the Report:
Which coating equipment type will hold leading share in fiber optic test equipment market globally and why?
What are the factors propelling the global fiber optics testing market?
What will be the value size of fiber optic test equipment market by 2030?
Who are the leading manufacturers in the fiber optic test equipment market?
Which trends and innovations are expected to shape the global fiber optic test equipment in coming years?
World's Most Profilic Intelligence Engine
Get Access To The World's Largest Market Research Database.
Sign Up Now
Key Segment
Equipment Type
Optical Light Sources
Optical Power & Loss Meters
Remote Fiber Test Systems
Optical Time Domain Reflectometers
Optical Spectrum Analyzers
Other Test Equipment
Portability Type
Handheld/Portable
Bench-top
end use
Telecommunication Service Providers
Network Equipment Manufacturers
Data Centers
Cable Operator
Educational & Research Institutes
Others
Region
North America
Latin America
Europe
South Asia Pacific
East Asia
MEA
Need specific information?
Our Clients