Filament Tapes Market to Register 7% CAGR through 2026
Preferred for their high tensile strength and tear resistant attributes, filament tapes are a favorable option in automotive and consumer electronics industries. Driven by these benefits, OEMs are increasingly resorting to filament tapes for bulk packaging. Throughout the forecast period of 2020-2026, the filament tapes market would experience robust growth. While a majority of end-use industries are undergoing manufacturing slowdowns due to the COVID-19 pandemic, the market value pool would be sustained by accelerated shift towards digital channels.
Filament Tapes Market: Key Insights
Single-sided tapes continue to see greater sales; double-sided tapes to firm their grip in market value.
Acrylic-based adhesive types would remain the preferred choice among end users; rubber-based adhesive types to fade gradually.
Carton sealing remains key application area of filament tapes, followed by insulation and bundling.
Manufacturers continue to target automotive and electrical & electronics industries for lucrative returns.
Adoption of filament tapes likely to surge in automotive use cases.
Asia Pacific excluding Japan (APEJ) represents the most worthwhile share in the global filament tapes market; North America and Western Europe to reflect growth potential.
KEY FACTORS SHAPING FILAMENT TAPES MARKET
e-Commerce and Industrial Growth for FMCG to Boost Sales of Filament Tapes
Rapid growth in e-Commerce retailing is expected to fuel the demand for filament tapes over the forecast period. Amidst the COVID-19 outbreak, the demand for e-Commerce is likely to grow, which will augment the demand for filament tapes. Major application of filament tapes would be carton sealing, followed by insulation and bundling. Manufactures of filament tapes are coming up with innovative product portfolios to attract customers in order to provide better packaging solutions to packaging companies.
Due to the growth in E-commerce and growth in the FMCG sector, cartons that need to be transported would need strong packaging to prevent products from getting damaged. Other sectors such as the automotive industry and consumer goods industry have been highly affected by the outbreak of COVID-19, and therefore, the market CAGR would be comparatively lower in the year 2020.
High Tensile Strength and Convenient Application Likely to Augment Use of Filament Tapes
Filament tapes are used for interior and exterior applications, and are preferred due to their tensile strength as compared to glue or twine. Multi-functional use, easy removability, and convenient application can further expand the customer base, which will drive the growth of the filament tapes market. Filament tapes are used for heavy packaging due to their strength and tear resistant properties, which makes them convenient for usage in automotive, FMCG, and building & construction industries. Filament tapes are the preferred choice of OEMs, as they can also be used for bulk packaging. Growth in the end uses of filament tapes is likely to surge in shipping and logistics and food and beverages, as these tapes are preferred by brand owners and service providers to strap and bundle packages together, which enables bulk shipments.
Filament Tapes Market: Structure Analysis
As per FMI analysis, the filament tapes market is characterised by the presence of a few key players.
3M Company, Intertape Polymer Inc., and Saint Gobain Performance Plastics Corporation have been identified as the top players in the global filament tapes market, who account for more than 20% of the global market.
Tier 2 players such as Tesa Tape Inc., Sekisui Chemical Group, and Shurtape Technologies, along with others players, cater to the demand for filament tapes in the market.
Tier 3 players such as Folsen, Guangzhou Weasy Adhesive Products Co., Euro Tapes Pvt. Ltd., and Cosmos Tapes & Labels Private Limited form a major part of the market structure.
Predominant trends in the global filament tapes market are strategic mergers & acquisitions. Key players are focusing on expanding their footprint in emerging countries, and for this, they are acquiring local players to minimize operational costs and enlarge their distribution channels.
Therefore, market players are partnering and collaborating with large players to tap potential markets across the globe. This enhances cost efficiency by reduction in shipping costs, and also builds the reputation of domestic manufacturers.
On the basis of region, the global filament tapes market is segmented into North America, Latin America, Europe, Asia Pacific, and the Middle East and Africa. Asia Pacific is estimated to dominate the global filament tapes market in terms of both, value and volume. However, North America & Europe are also anticipated to witness steady growth during the forecasted period.
Report Metrics

Details

Base Year

2019

Historical Period

2015 - 2019

Forecast Period

2020 - 2026

Market Value in 2019

US$ 3.9 Bn

Segments Covered

Filament Type, Adhesive Type, Width, Backing Adhesive Type, Application, End Use, and Region

Regions Covered

North America, Latin America, Western Europe, Eastern Europe, Asia Pacific excluding Japan, Japan, and the Middle East & Africa

Key Companies

3M, Intertape Polymer Corp, Inc., Tesa Tape Inc., Canadian Technical Tape, Ltd., Saint-Gobain Performance Plastics, Sekisui TA Industries, LLC, Pro Tapes & Specialties Inc, PPM INDUSTRIES S.P.A., Cosmos Tapes & Labels Private Limited, Euro Tapes Pvt. Ltd., Shurtape Technologies, LLC, Guangzhou Weasy Adhesive Products Co., and Folsen.

Growth Drivers

High demand from automotive and electronics & electrical industries
Burgeoning e-Commerce ecosystem, globally
Upswing in infrastructure development projects
Single-sided Filament Tapes to Lose Market Share
Single-sided filament tapes continue to fetch greater investments of shareholders, and would attain a valuation of US$ 3 Bn towards the end of the predefined timeframe. However, the revenue share gap between single-side and double-sided filament tapes is likely to shrink over the years ahead. Benefits such as multi-functional ability and high performance aspects of double-sided tapes are resulting in their broader adoption. Market players are thus shifting their attention towards these filament tapes.
APAC - Hub of Investment Opportunities
Asia Pacific (APAC) continues to generate greater total returns to shareholders (TRS) - over 40% of overall market value. Cost-effective manufacturing techniques, owing to abundance of raw materials and cheap workforce, are influencing manufacturers to invest in APAC. China and India majorly represent the regional filament tapes market. Going forward, North America and Western Europe will also offer opportunities of growth and profitability, with the market in the latter growing at a stellar pace.
e-Commerce and FMCG Industries to Sustain Revenue Development
Amidst the coronavirus (COVID-19) pandemic, e-Commerce and fast-moving consumer goods (FMCG) industries are experiencing staggering growth, which would bode well for the filament tapes market, especially in carton sealing applications. Manufacturers of filament tapes are developing innovative product portfolios in order to enhance their consumer base and offer better packaging formats to packaging innovators. Cartons that require transportation would need sturdy packaging to avoid the damaging of products. Although the COVID-19 pandemic is putting a strain on the filament tapes market, growth of the e-Commerce and FMCG sectors will propel market progress.
Single-sided tapes stay in-demand
Double-sided tapes to gain momentum
High demand for plastic films
Surging consumption of acrylic-based adhesives
Rubber-based adhesives to lose market share
High usage in carton sealing
Application in insulation to decline
How Growth will Unfold
Supported by top-line growth of e-Commerce and FMCG industries, manufacturers would glean better profit margins from carton sealing applications. Cartons requiring transportation need strong packaging formats in order to prevent the products from getting compromised. By 2023, carton sealing tapes would register over US$ 2 Bn revenue. Moving on, market players are also uncovering new revenue lines in sealing and insulation applications. Together, both these use cases would capture around one-third of total market stack.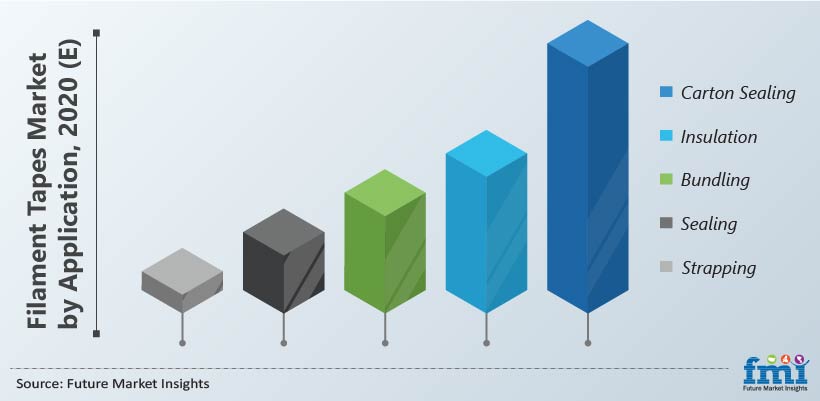 * This data is only a representation. Actual data may vary and will be available in report.
Click Here To Know How The Growth Will Unfold
Custom Market Research Services
FMI offers custom market research services that help clients to get information on their business scenario required where syndicated solutions are not enough.
Overview
A recent market report published by Future Market Insights on the filament tapes market provides global industry analysis of 2016-2019 and forecasts for 2020-2026. The report offers a comprehensive assessment of the most important market dynamics. After conducting thorough research on the historical as well as current growth parameters of the filament tapes market, growth prospects of the market are obtained with maximum precision.
Filament Tapes Market Taxonomy
The global filament tapes market is segmented in detail to cover every aspect of the market and present complete market intelligence to the readers.
Filament Type
Single-sided Tapes
Double-sided Tapes
Adhesive Type
Rubber-based

Natural Rubber
Synthetic Rubber

Acrylic-based
Hot Melt Adhesive
Width
12 mm
18 mm
24 mm
36 mm
48 mm
72 mm
96 mm
Backing Adhesive Type
Plastic Film

Polypropylene (PP)
Polyvinyl Chloride (PVC)
Polyethylene (PE)
Polyester (PET)
Others

Paper
Fabric
Foam
Application
Bundling
Strapping
Insulation
Carton Sealing
Sealing
Others
End Use
Shipping & Logistics
Building & Construction
Food & Beverages
Electrical & Electronics
Automotive
Healthcare & Hygiene
Printing
Metalworking
Oil & Gas
General Industrial
Consumer Goods
Region
North America
Latin America
Europe
South Asia
East Asia
Oceania
MEA
How the research was conducted?
Primary Research
Primary research interviews with key opinion leaders and other participants were conducted for data collection and validation of the below information:
Key Segments in the Filament tapes market
Market Share Analysis
Average Selling Price (US$) and Market Growth
Market Size
Key Trends & Developments
Competition & Key Vendor Strategies
Secondary Research
Industry Journals
Tapes Industry Growth
Regional tapes consumption
Annual Reports/SEC Filings/Investor Presentations
Primary Interview Splits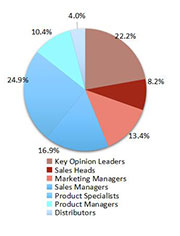 To Learn More About our Comprehensive Perspective on Filament Tapes Market,
Get in touch
COVID -19 : Impact Analysis
Request the coronavirus impact analysis across industries and markets
Request Covid -19 Impact
CASE STUDIES
See how our work makes an impact.
At FMI, we design strategies that are adaptive, impactful, and implementable.