This Foil Laminates market study offers a comprehensive analysis of the business models, key strategies, and respective market shares of some of the most prominent players in this landscape. Along with an in-depth commentary on the key influencing factors, market statistics in terms of revenues, segment-wise data, region-wise data, and country-wise data are offered in the full study. This study is one of the most comprehensive documentation that captures all the facets of the evolving Foil Laminates market.
Global Foil Laminates Market Overview
Foil laminates are the multilayer films of plastics or paper with one of the thin layer of metal. This additional layer of metal adds to the attractive aesthetics of the packaging. Moreover, the metal layer provides moderate barrier properties against moisture. Various other properties in addition to these have created wide applications for the foil laminates in multiple industries. These factors have contributed to the well-established foil laminates market globally.
Metals possesses some of the superior physical properties such as moisture barrier, luminosity, high strength and others. As it is difficult to produce the required thickness of metal for flexible packaging, therefore, a thin coating of metals on the plastics or paper provides the solution for flexible metal packaging. Moreover, foil laminates weigh lower due to the low density of paper and plastics.
Market share of metals in packaging is considerably high, and most of it is used in flexible packaging products.
Identify Key Market Forces and their Long-Term Forecast
Sneak Peek into Key Forecast Factors and thier Impact
COVID -19 : Impact Analysis
Request the coronavirus impact analysis across industries and markets
Request Covid -19 Impact
EXHIBIT-1: Market share of global packaging by material type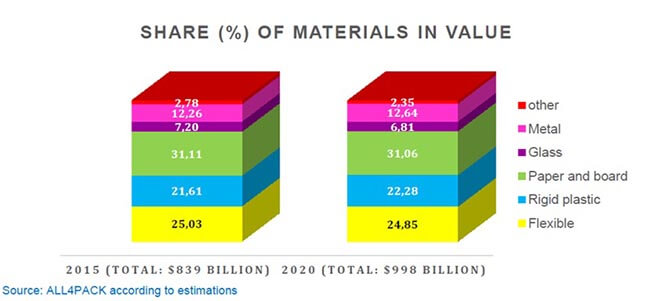 Global Foil Laminates Market Developments
The application of thin metal layer on different materials results in enhanced properties and better aesthetics. Although, the layer of the metal provide moderate barrier properties, the application of metal layer on high barrier material results into a packaging product with superior barrier properties, which is desirable in premium cosmetics, pharmaceuticals, packaged food and some other packaging applications. The liquid packaging cartons, especially for dairy products, are attracting the end-consumers leading to the inclination in the growth rate of demand. As most of the liquid packaging cartons are made up of foil laminates, the liquid packaging cartons are expected to create a large opportunity for foil laminates market during the forecast period. Moreover, the development of printing technology has enabled the printing of high-quality creative graphics, which has found applications in interior and decorations.
Asia Pacific region, specifically China is the largest producer of aluminum and stainless steel in the world. Thus, the cost of most of the metals is lowest in the region as compared to others. Moreover, high manufacturing capability of the Asia Pacific region leads to high production of foil laminates. Also, a large number of packaging converting companies in the Asia Pacific led to a large market size of foil laminates in the region.
Global Foil Laminates Market Key Players
Some of the key players in the global Foil Laminates market are
Amcor Limited
Dunmore Corporation
Hindalco Industries Limited
Huawei Aluminium Co., Ltd
Eurofoil Luxembourg S.A.
Zhejiang Junma Aluminium Industry Co., Ltd
Carcano Antonio S.p.A
Assan Alüminyum Sanayi ve Ticaret A.?.
Ess Dee Aluminium Ltd
API GROUP
Winpak Ltd.
Amcor and Dunmore are some of the well-established global players which along with foil laminates provides a large number of other products. While, Hindalco, Huawei Aluminum, Eurofoil, and others are the key players of primarily aluminum foils and other foil laminates.
Some of the emerging players of the global Foil Laminates market are
Surya Products Ltd
Flexifoil Packaging Pvt. Ltd.
Connecticut Metal Industries
Neptco, Inc
ITW Foils Srl
Cedar Decor Pvt Ltd.
Junish Holdings LLC
Foil Laminate Industries Sdn Bhd
Griff Paper & Film
A large number of emerging players of foil laminates are established in Asia Pacific region due to the high availability of moderate capacity machines at highly economic prices along with low cost of metals and other raw materials. Large and further expanding packaging industry in the region has supported the emergence of a large number of regional foil laminates market.
The research report presents a comprehensive assessment of the market and contains thoughtful insights, facts, historical data, and statistically supported and industry-validated market data. It also contains projections using a suitable set of assumptions and methodologies. The research report provides analysis and information according to market segments such as geographies, application, and industry.
The report covers exhaust analysis on:
Market Segments
Market Dynamics
Market Size
Supply & Demand
Current Trends/Issues/Challenges
Competition & Companies involved
Technology
Value Chain
Regional analysis includes:
North America (U.S., Canada)
Latin America (Mexico. Brazil)
Western Europe (Germany, Italy, France, U.K, Spain)
Eastern Europe (Poland, Russia)
Asia Pacific (China, India, ASEAN, Australia & New Zealand)
Japan
Middle East and Africa (GCC Countries, S. Africa, Northern Africa)
The report is a compilation of first-hand information, qualitative and quantitative assessment by industry analysts, inputs from industry experts and industry participants across the value chain. The report provides in-depth analysis of parent market trends, macro-economic indicators and governing factors along with market attractiveness as per segments. The report also maps the qualitative impact of various market factors on market segments and geographies.
Unique Requirements? Customize this Report
Customize by Region, Country, Application, Product, & other segments
Integrate our Insights with your Existing Data
Determine the scope of the study to suit your requirements
Gain Insights on Key Foil Laminates Market Impacting Forces
Know the Winning Strategies of Market Leaders
Get Deep-Dive Analysis on Each Segment
Identify the Sources that will Drive Top-Line Revenue
Global Foil Laminates Market Segmentation
The global foil laminates market can be segmented by the material type as
Aluminum
Copper
Stainless Steel
Tin
The global foil laminates market can be segmented by the end-user industry as
Food
Beverage
Personal care & cosmetics
Healthcare
Tobacco
Consumer goods
Others
The global foil laminates market can be segmented by packaging type as
Sachets
Stick packs
Flow packs
Liquid packaging cartons
High lid cartons
Others
The global foil laminates market can be segmented by printing technique as
Offset
Flexography
Gravure
Letterpress
Screen
Digital
Others
The global foil laminates market can be segmented by the geographical regions as
North America
Latin America
Western Europe
Eastern Europe
Middle East & Africa
Asia Pacific excluding Japan (APEJ)
Japan
Report Highlights:
Detailed overview of parent market
Changing market dynamics in the industry
In-depth market segmentation
Historical, current, and projected market size in terms of volume and value
Recent industry trends and developments
Competitive landscape
Strategies of key players and products offered
Potential and niche segments, geographical regions exhibiting promising growth
A neutral perspective on market performance
Must-have information for market players to sustain and enhance their market footprint
Frequently Asked Questions
---
Why choose FMI?
With a global presence and a trusted partner to several Fortune 500 firms, FMI covers 1 billion+ data points to build a diversified portfolio for market benchmarking
Market Reports researched and peer reviewed by industry experts from across the globe
We follow a multi-dimensional method of analysis monitoring a three-layer data validation process
In addition to demand-side market assessment, our data triangulation methodology involves supply-side research
Primary research includes mandatory field interviews with stakeholders involved
Customizing reports according to client specification is also our forte
What will you discover from Foil Laminates Market report?
The current and future market size, covering each aspect and nuanced trends across key national and geographic markets
An overview of the market report, providing an imperative visual of the varied market subdivisions and overall forecast statistics in terms of value and volume
Extensive database and key dynamics elevating the market with varied verticals associated
Underlying Foil Laminates Market forces that are compelling consumers or businesses to purchase the product
How novel technologies and consumer-centric innovations will create new value-adding opportunities for companies active in the Foil Laminates Market
What will be environment and regulatory impacts on the market over the next decade
Which framework has been used to develop the Foil Laminates Market report?
Investment Feasibility Matrix - It shows returns on investment, level of competition, success rate of investment, and potential risks associated with the market. The analysis shows that the competition is high in the established market, while the returns for short-term investment are also taken into consideration
Relative Maturity Mapping – The relative maturity is measured according to three growth phases (growth, maturity, decline)
Relative PLC (Product Life Cycle) – Analysis of the emergence of prominent players and competitive test prices which are driving factors behind every market. (expected market behavior, observed market behavior, expected market performance, observed market performance)