Copper Foil Market Outlook and Key Findings
Worldwide sales of copper foils to register revenues around US$ 6.7 Bn in 2020
Market to grow in line with top-line growth of electronics and consumer electronics industries
Adoption of copper foils to remain prominent in printed circuit boards (PCB)
Market players to target Asia Pacific (APAC) for lucrative growth prospects over following decade
Manufacturers to prioritize product innovations to stay competitive in global landscape
Copper Foil: Base Material in Consumer Electronics Products
Demand for copper foils is associated with growth of consumer electronics industry, which joined the trillion-dollar club in 2019. Consumer electronics have become an indisputable part of daily lives amid the fast-paced and ever-evolving world. Consequently, the global market for consumer electronics is equally fast-growing and is witnessing start and end of several trends regularly.
Continuous innovations and onset of new-age technologies including, AI chips, and 3D sensors, have enabled developers to integrate augmented reality (AR) experiences into everyday devices such as smart TVs, smartphones, and wearable devices. Recent data reveal that in the US alone, the number of connected TVs is expected to double from 2015 through 2020.
Emergence of such smart devices, which are significant influencers in the consumer electronics industry, have drastically transformed customers' sentiments. Convenience and ease have become top priority among customers. Given fast-paced and busy lifestyle, smart devices easily tick the box of convenience aspect.
Copper foils are irreplaceable basic material in modern consumer electronics industry. As such, these trends are likely to work in favor of copper foil market over decade ahead.
PCBs to Remain Key End User of Copper Foils
Application of copper foils is expected to be prominent in printed circuit boards (PCB) over following decade. Electrodeposited (ED) copper foils are leveraged as electrolytic material and are deposited on base layer of PCBs. Given their low rate of surface oxygen, copper foils are paired with various substrates such as insulating metals and materials.
These electronic grade copper foils find usage in calculators, television sets, QA equipment, and automotive electronics. Moving ahead, PCB fabricators utilize copper clad laminates (CCL) in tandem with prepregs to develop multi-layered PCBs. After lamination of prepregs with the thin layer of copper foils, these CCL products are eventually used in end-use products – computers, radios, and mobile communications.
PCBs are backbone of electronic components and are carrier for electrical connection of electronic constituents, primarily for interconnecting and supporting. Found in almost every electronics product, PCBs are expected to drive the demand for copper foils in coming years.
Large-scale PCB Production, APAC to Maintain its Primacy
Asia Pacific (APAC) continues to offer opportunities of growth and profitability in copper foil market through 2030. The regional market is primarily driven by PCB manufacturing industry, which is making significant strides owing to government incentives in countries such as China.
In addition, the region is characterized by large manufacturing capacities for PCBs and cost-effective labor. China is leading producer in global electronics industry, and is expected to continue its success story over years ahead. The country manufactures low-order multi-layer single double PCB products in large scales, and makes up for over half of worldwide PCB production.
Surging production and sales of electric vehicles (EV) in the US is expected to propel the adoption of copper foil products in North America. Moreover, the US is characterized by strong presence of prominent EV manufacturers including, Tesla Inc., which accounted for over 75% of EVs sold in 2019.
Increasing need for energy storage and electric and hybrid cars is poised to drive the copper foil market in Europe. In addition, Deployment of registrations of new electric buses is another promising factor fueling the regional market. The International Energy Agency (IES) states that such registrations in Europe rose from 0.91 thousand in 2018 to 1.99 in 2019.
Product Launches to Rank Top on Stakeholders' Tactics
The global copper foil market is moderately fragmented with presence of over 10 players. In a bid to maintain their competitiveness, copper foil suppliers are focusing on product innovations and launches to serve larger customer. Case in point,
Targray develops battery-grade copper foils that are primarily used as current collectors of anode in LIBs. The Cu foil portfolio of the company include rolled annealed (RA) foils, ED copper foils, and roll-clad foils that combine high conductivity of copper with tin, aluminum, and silver to offer distinct performance advantages.
Industrie De Nora S.p.A. leverages electrolytic process optimization and electrodeposition cell design, enabling to function at significantly reduced electrodes gap and develop ultra-thin copper foils.
Schlenk AG manufactures copper foils and strips as per end-use specifications. Their 'Coil Calculators' allow customers to calculate key numbers and thereby gather detailed insights on requirements of projects.
Arcotech Ltd. produces high-quality copper foils in various grades that are developed from grade I copper cathode. In addition, the company offers several grades as per specific requirements – low-residual phosphorous copper, electrolytic tough-pitch copper, and deoxidized high-residual phosphorous copper.
Moreover, market players are investing in capacity expansions, for instance, Doosan Corp. has announced to establish new copper foil unit for battery applications in Hungary. This unit is expected to begin with additional capacity of 50,000 tons for copper foils, sufficient for batteries of 2.2 million EVs.
Copper Foil Market Future Outlook – Continuous Innovations in Copper Foils to Complement LIB Performance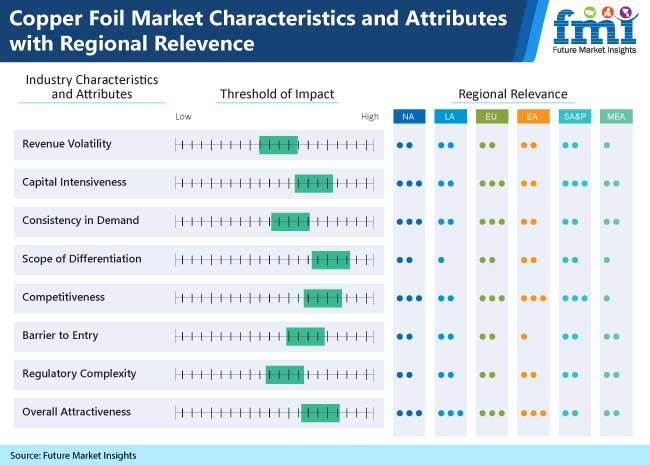 Lithium?ion batteries (LIBs) have become an integral component of portable electronics and EVs owing to their prolonged service life, high energy density, and eco-friendly nature. That said, their electrochemical characteristics are usually hindered by lack of advanced electrode materials.
Electrolytic copper foils are generally utilized in LIBs as there are no restrictions on possible length and they are simple to create slimly. However, these high-end copper foils also accent low mechanical strength and are subject to warping.
Responding to the situation, think tanks have developed innovative ultrasonic peening method to create unique copper foils with microcrystalline morphology cover. The formed microcrystalline Cu-graphite electrode exhibits enhanced conductivity, greater linking strength with graphite molecules, and sturdier corrosion resilience to electrolyte compared to conventional copper foils, thus boosting storage performance of LIBs.
In addition, post ultrasonic peening on surface of copper foils, factors such as cycling, capacity, and rate performance of Cu-graphite electrode significantly improved in LIBs.
Moving ahead, innovators have also developed plasma?induced nitrogen doping technique that is touted to offer adequate active locations for Li nucleation to improve stability of Li deposition on copper oxide (CuO) nanosheets spread across copper foils and enhance electrical conductivity to substantially decrease excessive potential of Li nucleation. This can be extended to other modified current collectors for stable Li metal anode.
Such innovations in copper foils are offering novel ideas for developing long-life and large-capacity electrode materials for LIBs.
Key Questions Answered in the Report:
What will be the revenue size of copper foils market from 2020 to 2030?
Which application area is the primary consumer of copper foils globally and why?
What are the factors driving the global copper foils market?
Which trends and innovations are expected to transform the global copper foils market in near future?
Who are the leading players in the copper foils market?
General FAQs:
1. Does the market report offer detailed background of mentioned players?
Apart from the market players covered in the report, we deliver insights about other players that are associated with the global copper foil market.
2. Can I receive market report created as per particular region (s)?
Although the market report is structured according to global trends and industry dynamics, our analysts can also provide reports for particular regions or countries as per your needs.
3. Can we get market size both in terms of value and volume of any year?
Yes, we provide market size both in terms of value and volume of any year within the specified historic and projection timeframe.
Copper Foil Market: Segmentation
Grade
Application
Printed Circuit Boards
Heat Exchangers
Batteries
Busbars & Switchgears
Radiators
Electrical Equipment (Transformers, and Cables)
Others
Thickness
0.01 to 0.1 mm
0.1 to 1mm
1mm to 3mm
3mm to 12mm
12mm to 25 mm
25 mm to 60 mm
Region
North America
Latin America
Europe
South Asia & Pacific
East Asia
Middle East & Africa (MEA)
Need specific information?
Talk Show:
The Rise of Intelligent Packaging
Personalized, Connected and Sustainable
November 18, 2021
11:00-11:45 AM PST (USA & Canada)
This is a LIVE session