An Incisive, In-depth Analysis on the Front Office Bpo Services Market
This study offers a comprehensive, 360 degree analysis on the Front Office Bpo Services market, bringing to fore insights that can help stakeholders identify the opportunities as well as challenges. It tracks the global Front Office Bpo Services market across key regions, and offers in-depth commentary and accurate quantitative insights. The study also includes incisive competitive landscape analysis, and provides key recommendations to market players on winning imperatives and successful strategies.
Business Process Outsourcing (BPO) enables industries in outsourcing their responsibilities or operations of a process to third-party service providers. The front office BPO services are services related to customer interactions such as inbound or outbound sales, help desks, customer service centres, and telemarketing. The front office BPO services also include document management services such as accounting and finance.
Industries focusing on Expansion through Offshoring their Operations to Front Office BPOs
The practice adopted by prominent industries of hiring an external organisation for performing their business functions at front end, such as troubleshooting, and data management has witnessed a substantial upsurge in the recent past. The front office BPO services enable these industries in saving time, and operational & labour costs. Industries have huge expertise on design & development of their products, but fall short of customer services owing to limited bandwidth and lack of access to resources unavailable internally. This further leads the industries towards outsourcing their operations to a front office BPO, which leverages its global knowledge base in accessing world class capabilities.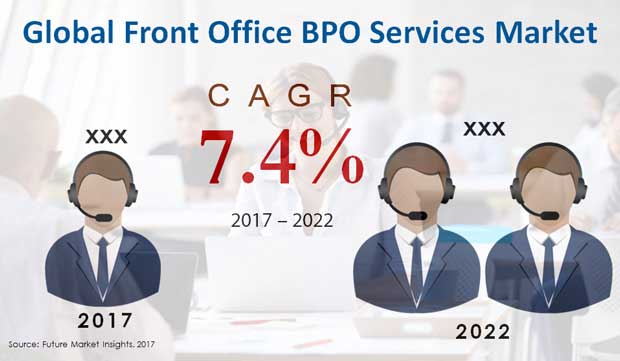 Several predominant industries are focusing on offshoring their operations to front office BPOs for expansion of their businesses, by gaining access to new markets, and relocating their product base or point of service delivery to areas closer to their end-users. Offshoring enables the industries in mitigating risks, with external companies handling their business functions that are challenging to manage & control, meanwhile realising their benefits.
Emergence of Data Protection Provisions & Digital Channel Management Capabilities beneficial for Outsourcers
The global market for front office BPO services has fared well over the recent past, supported by rapid economic expansion and soaring revenue in finance & accounting, human resource, insurance, and customer relations management. A number of competitive benefits are being brought by outsourcers while aiming to win new businesses, with the most lucrative among these being emergence of data protection provisions and digital channel management capabilities. Among decision makers, outsourcing is however considered to be unfavourable, which in turn is likely to limit market expansion efforts.
According to a latest research study developed by Future Market Insights (FMI), the global front office BPO services market will exhibit a high single-digit CAGR during the forecast period 2017 to 2022. Revenues from the global market for front office BPO services are estimated to exceed US$ 200,000 Mn by 2022-end.
North America – Most Lucrative for Global Front Office BPO Services Market
Region-wise, the front office BPO services market is expected to remain the most lucrative in North America, followed by Europe, in terms of revenues. Revenues from the market in North America are estimated to reach approximately US$ 70,000 Mn by 2022-end. However, the market in North America and Europe are projected to reflect relatively lower CAGRs than all the other regional segments through 2022.
On the basis of service, revenues from front office BPO services for document management are expected to witness a healthy increase, to account for over one-third share of the market throughout the forecast period. Document management services are expected to create an absolute $ opportunity of over US$ 16,000 Mn between 2017 and 2022.
Manufacturing, BFSI, and healthcare & pharmaceuticals will remain the most lucrative verticals in the global front office BPO services market. Revenues from front office BPO services for these verticals are projected to collectively account for over half share of the market during the forecast period.
Company Profiles
FMI's report has offered insights on key companies operating in the global front office BPO services market, which include Xerox Corporation, Hewlett Packard Enterprise Co., Convergys Corp., Sitel Worldwide Corporation, IBM Global Services, Williams Lea Limited, Ricoh USA, Inc., Atento S.A., Alliance Data Systems Corporation, and TeleTech Holdings, Inc.
Future Market Insights (FMI) has delivered a comprehensive evaluation of the global front office BPO services market for the forecast period (2017-2022). FMI's report, titled "Front Office BPO Services Market: Global Industry Analysis (2012-2016) & Opportunity Assessment (2017-2022)", provides an all-inclusive analysis on growth of the front office BPO services market across key regional segments, coupled with a five-year forecast on the basis of global perspective. Leading companies in the front office BPO services market are profiled in this report. Product portfolio and market standings of these global leaders are reviewed by the analysts at FMI, to attain accurate information related to their market revenue shares during 2012-2016. By using advanced formulas and calculations, FMI's analysts have used this historical data gathered as a datum for evaluating estimations on market size for the assessment period.
Report Structure
In order to provide future prospects of the global front office BPO services market, an executive summary of the market has been offered in the first chapter of the report. This chapter highlights regional growth of the market during 2017 to 2022, and summarizes forecast on the market value with the aid of metrics including Year-on-Year growth rates, compound annual growth rates, revenue share percentages, and absolute dollar opportunities.
An in-depth analysis of various causative factors influencing growth of the front office BPO services market globally has also been rendered in the report. The report further provides analysis of the market on each parameter, ranging from industry trends & macroeconomics factors to market-specific drivers & restraints. Cost structure and pricing trends in the market are also included in the report, coupled with insights on raw material sourcing strategies, distribution network, and supply chain management. Presence of the market participants has been marked by the report across particular regions by using an intensity map.
In succeeding chapters of the report, a segmentation analysis & forecast on the global front office BPO services market has been provided. The report has precisely segmented the market, by considering the front office BPO services' wide scope in the IT and Telecommunication sector. Company profiles of the market participants are offered in the report's concluding chapters, with information about recent developments made by these market participants. Illustrating present market scenario of the market participants, the report offers information about how these players are boosting their presence across the globe by adopting distinguished expansion strategies.
Market Taxonomy
Key segments covering the global front office BPO services market have been analysed by the report. The report has categorised the market on the basis of service type, vertical, and region. With the help of cross-sectional data, along with country-wise analysis and forecast, the report gives additional information across each segment & its sub-segments.
| Region | Service Type | Vertical |
| --- | --- | --- |
| | Customer Management Services | |
| | Document Management Services | |
| | | Healthcare & Pharmaceuticals |
| | | |
| | | |
| | | |
| | | |
| | | |
| | | |
Research Methodology
A robust & systematic methodology has been used by analysts at FMI for developing the report on global front-office BPO services market. An in-depth primary as well as secondary research has been performed by FMI's analysts to achieve accurate insights on the market share analysis, and the revenue generation of companies included in the report. Conversions of the regional market evaluations have been done by referring to the present currency exchange rates, and these evaluations are further universalised into "US$". The scope of FMI's report is making the market participants understand the front office BPO services market's competition landscape, and help them in developing key strategies for tapping into potential markets by overcoming their drawbacks.
COVID -19 : Impact Analysis
Request the coronavirus impact analysis across industries and markets
Request Covid -19 Impact
CASE STUDIES
See how our work makes an impact.
At FMI, we design strategies that are adaptive, impactful, and implementable.