Introduction
Business Process Outsourcing (BPO) enables industries in outsourcing their responsibilities or operations of a process to third-party service providers. The front office BPO services are services related to customer interactions such as inbound or outbound sales, help desks, customer service centres, and telemarketing. The front office BPO services also include document management services such as accounting and finance.
Industries focusing on Expansion through Offshoring their Operations to Front Office BPOs
The practice adopted by prominent industries of hiring an external organisation for performing their business functions at front end, such as troubleshooting, and data management has witnessed a substantial upsurge in the recent past. The front office BPO services enable these industries in saving time, and operational & labour costs.
Industries have huge expertise on design & development of their products, but fall short of customer services owing to limited bandwidth and lack of access to resources unavailable internally. This further leads the industries towards outsourcing their operations to a front office BPO, which leverages its global knowledge base in accessing world class capabilities.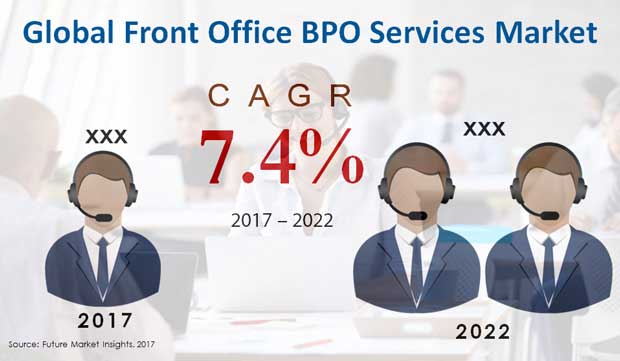 Several predominant industries are focusing on offshoring their operations to front office BPOs for expansion of their businesses, by gaining access to new markets, and relocating their product base or point of service delivery to areas closer to their end-users. Offshoring enables the industries in mitigating risks, with external companies handling their business functions that are challenging to manage & control, meanwhile realising their benefits.
Emergence of Data Protection Provisions & Digital Channel Management Capabilities beneficial for Outsourcers
The global market for front office BPO services has fared well over the recent past, supported by rapid economic expansion and soaring revenue in finance & accounting, human resource, insurance, and customer relations management.
A number of competitive benefits are being brought by outsourcers while aiming to win new businesses, with the most lucrative among these being emergence of data protection provisions and digital channel management capabilities. Among decision makers, outsourcing is however considered to be unfavourable, which in turn is likely to limit market expansion efforts.
According to a latest research study developed by Future Market Insights (FMI), the global front office BPO services market will exhibit a high single-digit CAGR during the forecast period 2017 to 2022. Revenues from the global market for front office BPO services are estimated to exceed US$ 200,000 Mn by 2022-end.
North America – Most Lucrative for Global Front Office BPO Services Market
Region-wise, the front office BPO services market is expected to remain the most lucrative in North America, followed by Europe, in terms of revenues. Revenues from the market in North America are estimated to reach approximately US$ 70,000 Mn by 2022-end. However, the market in North America and Europe are projected to reflect relatively lower CAGRs than all the other regional segments through 2022.
On the basis of service, revenues from front office BPO services for document management are expected to witness a healthy increase, to account for over one-third share of the market throughout the forecast period. Document management services are expected to create an absolute $ opportunity of over US$ 16,000 Mn between 2017 and 2022.
Manufacturing, BFSI, and healthcare & pharmaceuticals will remain the most lucrative verticals in the global front office BPO services market. Revenues from front office BPO services for these verticals are projected to collectively account for over half share of the market during the forecast period.
Company Profiles
FMI's report has offered insights on key companies operating in the global front office BPO services market, which include Xerox Corporation, Hewlett Packard Enterprise Co., Convergys Corp., Sitel Worldwide Corporation, IBM Global Services, Williams Lea Limited, Ricoh USA, Inc., Atento S.A., Alliance Data Systems Corporation, and TeleTech Holdings, Inc.
Market Taxonomy
Region
North America
Latin America
Europe
Japan
APEJ
MEA
Service Type
Customer Management Services
Document Management Services
Vertical
BFSI
Manufacturing
Healthcare & Pharmaceuticals
Retail & Consumer Goods
IT & Telecommunication
Aerospace & Defense
Education
Services & Logistics
Other Vertical
Need specific information?