Rise in Internet Penetration Paving the Way for Global Furniture Polish Market Growth
From an estimated market size of US$ 8,433.7 Mn in 2019, Furniture Polish Value Sales are expected to reach US$ 13,101.3 Mn by 2027, expanding at a CAGR of 5.0%
The global furniture market has been witnessing significant growth in terms of value sales, which can be attributed to the rising demand from various countries, especially those in Asia-Pacific and North America. Attributing to the rise in the number of customers in the global furniture industry, the industry has been evolving in terms of product offerings as well as quality.
With the increase in the number of furniture installations in household and commercial sectors, maintaining furniture and protecting it from dust and other external factors has become crucial. Various types of furniture are used to provide spacious interior looks to a household as well as commercial spaces and furniture eventually requires periodical maintenance, which necessitates the use of furniture polish.
Furniture polish is a non-foaming neutral liquid used for coatings to provide finishing touches to various carpentry and woodworks. Furniture polish finds a wide range of applications in household as well as commercial sectors as it can clean and polish any kind of furniture, ranging from wooden desks, panels, kitchen cabinets, table tops to woodwork.
Emphasis on Innovation and New Product Launches by Furniture Polish Companies
Consumer perception and buying behavior have been constantly changing with the new trends in various markets. The global furniture polish market has been witnessing a similar trend with its large customer base. With the use of various types of base materials such as hardwood gaining traction in the furniture industry, customers now seek furniture polish capable of maintaining the look of such hardwood furniture for a long span of time.
As a result, various furniture polish manufacturers have been strategizing on introducing new variants of furniture polish products to cater to the varying demand from its target customers. For instances, in 2015, Bona US, one of the key players in the global furniture polish market announced the launch of a new line of furniture polish under the brand name 'Bona Wood Furniture Polish', which is a liquid-based product that cleans and protects hardwood furniture. Furniture Polish Wipes are another innovation inline, these wipes are beneficial in removing sticky spills and stains, and also helps in protecting furniture from dust and allergens.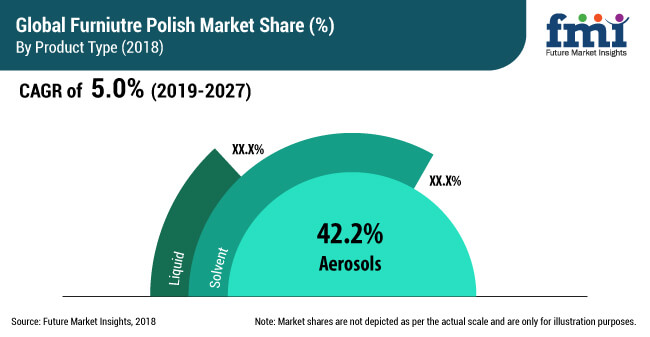 Mergers and Acquisitions - A Key Factor Driving Value Sales
The confluence of various factors, such as the expansion of customer base and varying consumer perception, has compelled various key furniture polish manufacturers to opt for key strategies in the view of generating sales in the global market. Mergers and acquisitions have been considered as one of the key strategies adopted by various furniture polish manufacturers to generate sales as well as expand operations in domestic and international markets.
For instance, in 2017, Axalta Coating systems, one of the marquee players in the global furniture polish market acquired The Valspar Corporation's North American Industrial Wood Coatings business for US$ 420 Million. Valspar Corporation specializes in the production of various furniture polish products for the North America market.
Internet Penetration - A Key Influential Macroeconomic Factor Driving Market Growth
The average internet penetration around the globe has been rising at a significant rate with 2.8 Billion people aged above 15 years connected to the internet. Various e-commerce channels such as Walmart, Tesco and Amazon have been considered as the preferred e-commerce platforms for purchasing products. This critical macroeconomic factor has been paving way for the global furniture polish market growth in terms of value and volume sales.
Attributing to this, several key furniture polish manufacturers now consider online platforms as a key tool in triggering demand as well as sales for their various furniture polish products. For instance, in 2018, Sherwin-Williams – a prominent player in the global furniture polish market – launched an online tool that provides detailed specifications of its various furniture polish products for the North America market.
Multinational Players are Relatively Highly Concentrated on a Global Scale, as Compared to Local & Regional Furniture Polish Manufacturers
The global furniture polish market is primarily characterized by the presence of a large number of regional and multinational companies. Detailed profiles of furniture polish companies have also included in the global furniture polish market report to evaluate their strategies, key product offerings, and recent developments.
Some of the key players profiled in the global furniture polish market study include Altana, Cleenol Group Ltd., Liberon Limited, Reckitt Benckiser Group plc (Old English), S.C. Johnson & Son, Inc. (Pledge), The Sherwin-Williams Company, PPG Industries Inc., Akzo Nobel N.V., Axalta Coating Systems, Masco Cabinetry, LLC, RPM Wood Finishes Group, Blend well Chemicals, Milsek Furniture Polish Inc., Golden Star Inc., Blanchon UK Ltd, Movac Group, Chestnut Products, Teknos (UK) Ltd, Symphony Coatings Group Ltd and Bona US.
World's Most Profilic Intelligence Engine
Get Access To The World's Largest Market Research Database. Ngage with a revolutionary intelligence engine that scale and pricing that flexes as per your needs
Sign Up Now
Key Segment
On the basis of product type
On the basis of source
alkyd
melamine
polyester
lacquer
others
On the basis of end use
household
corporate offices
hospitality
educational institutes
restaurants & cafes
furniture manufacturers
others
On the basis of sales channel
wholesaler/distributors
supermarket/hypermarkets
specialty stores
online stores
Need specific information?