Golf Cart Market - Key Research Findings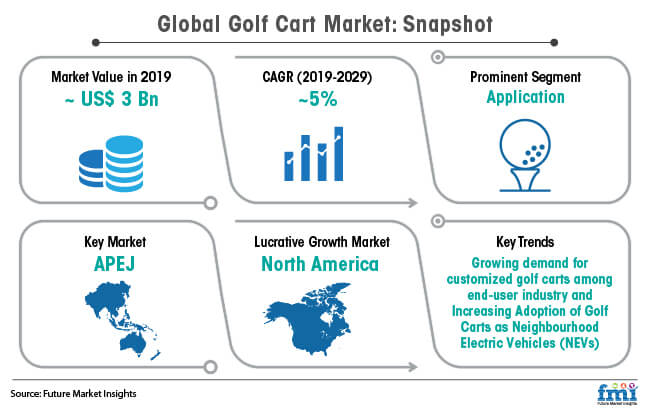 The golf cart market is estimated to be valued at ~US$ 3 Bn by 2019-end.
The golf cart market is projected to rise at a CAGR of ~5% during the forecast period of 2019-2029.
Electric golf carts are anticipated to witness relatively high demand as compared to heir gasoline-driven counterparts, on the account of various factors such as eco-friendliness, zero carbon emission and complete elimination of noise.
Rapid growth in the tourism and hospitality industry along with increasing demand for custom-designed golf carts such as speed-modified golf carts and personal golf carts have significantly resulted in the growth of the golf cart market in regions such as North America, Europe, and Asia.
Solar-powered golf carts are expected to garner significant traction during the forecast period amid growing inclination of end users towards the use of renewable energy.
Growth prospects of the golf cart market will continue to remain high in North America, on the back of increasing demand for personalized golf carts along with growing areas of application in college campuses and military bases.
Environmental and economic benefits of newer version of golf carts, in addition to use of alternative fuels, lower operational costs, smaller sizes are likely to account for greater gains in the market.
The golf cart market in countries such as China, Mexico, India, and Brazil is likely to grow significantly, with swift growth in urban population, which has boosted the culture of hi-tech & smart housing ventures, amusement, and theme parks.
Important Factors Shaping the Golf Cart Market
Adoption of Golf Carts for Promotional Activities
Apart from their traditional use in golf course, golf carts are increasingly employed for promotional and marketing activities and short distance transportation at airports and resorts. In an attempt to attract a large number of customers, various end users are modifying golf carts to accommodate their advertisement boards and banners.
For instance, in India, manufacturers are showing interest and putting immense efforts in deploying golf carts at Chennai airport and providing free transportation to passengers and finding sponsors that are willing to publicize and endorse their amenities or products.
Increasing Application Scope of Golf Carts in Different Verticals
The use of golf carts has been gaining increasing momentum in sports events, airports, resorts, golf clubs, golf tourism, hospitals, railway stations, military bases, college campuses, and housing projects. Moreover, golf carts are safer, easy to drive, cheaper means of transport, and provide ease of operation.
Electric golf carts that offer significant environmental advantages over conventional gasoline or diesel-driven vehicles are likely to witness robust demand in the coming years. The ability to eliminate emission of greenhouse gases, ozone forming toxins, noise pollution will remain instrumental in growing demand for electric golf carts and consequently for golf cart batteries as well.
In recent years, the use of golf carts as a means public transport has been becoming popular, as they can be used as a substitute for fossil-fuelled passenger cars. Furthermore, golf carts are emerging as a significant part of industries for internal transportation. As a result, growth of the manufacturing sector, especially in developing countries, is expected to create healthy growth opportunities for manufacturers of golf carts.
Increasing Number of Golf Cart Rental Services
With uptake of car rental services globally, awareness regarding the use of golf carts as a means of internal transportation, has also witnessed an increase in various events such as expos, symposiums, tradeshows, exhibitions, and weddings. However, the use of golf carts in such events is limited to a couple of days or weeks, thereby end users are showing preference for rental services.
Event management firms are increasingly opting for golf cart rentals to meet their internal transportation needs, which is likely to complement the market growth. In order to cater to changing demand and maintain their position in the market, most of the domestic manufacturers are focusing on extending their golf cart rental services.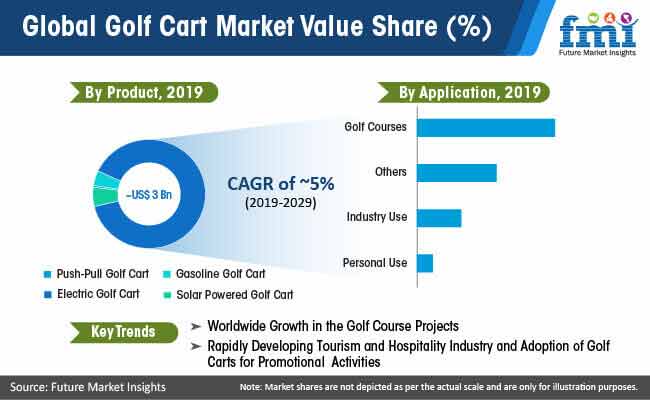 Golf Cart Market Structure Assessment
The golf cart market shows a fair level of fragmentation, wherein tier-2 players grasp majority of the revenue share.
Various market players are continuously focusing on offering customized golf carts according to end-use industry requirements and areas of application.
Emerging market players in the golf cart market are improving their product handout by investing in research and development activities and offering innovative golf carts.
Significant number of golf cart manufacturers are targeting to enter North America, Western Europe, and Asia, where infrastructure development activities are increasing.
Some of the major frontrunners have established their foothold in the golf cart market - E-Z-GO, Columbia ParCar Corp, Garia Luxury Golf Car, EverGreen Electrical Vehicles, Club Car, LLC, Hitachi Chemical Co., Ltd., Xiamen Dalle Electric Car Co., Ltd, Yamaha Golf-Car Company, Maini Material Movement Pvt. Ltd., and Cruise Car, Inc. These companies are set to contribute significantly to the global turnover generated from the automotive industry.
Market Segmentation
The global golf cart market is segmented in detail to cover every aspect of the market and present complete market intelligence to the reader.
Product
Electric golf carts
Push-pull golf carts
Solar-powered golf carts
Gasoline golf carts
Application
Golf Course
Personal Use
Industry Use
Rental Services
Others
Operation
Ownership
Region
North America
Latin America
Western Europe
Eastern Europe
APEJ
MEA
Japan
Need specific information?