Gummed Tape Market Outlook
The gummed tape market will witness a notable growth pace over the assessment period. Typical applications for gummed tapes start from the e-commerce sectors to the pharmaceuticals sector. However, the higher initial cost of utilizing gummed tapes, the majority of which is the cost of procuring the dispenser hinders the market sales. Furthermore, these are not widely accessible in contrast to plastic packing tape also limits the market growth.
In order to cater to the ever-changing Gummed Tape Market demands of the consumer, there have been consistent technical developments, and launching new projects to improve the strength of gummed tape in addition to the advancement of high tech water-activated tape dispensers to enhance efficiency and to be more authentic. For instance,
In response to rapidly rising e-commerce shipping volumes and consumer awareness pertaining to the environmental impact, IPG has launched Curby a line of curbside-friendly products, to promote a circular economy and help resolve the E-commerce expansion challenges. Furthermore, IPG recently passed the testing protocol of WMU OCC-E (Western Michigan University OCC Equivalency) for its Water-Activated Paper Tapes (unreinforced). This makes it the foremost certified eco-friendly carton seal tape.
As COVID-19 pandemic is holding the world in its grip, the government are forced to impose the social distancing measures imposed to tackle the pandemic, which resulted in shut down of public spaces from offices and courts to shops and train stations or have had to make adjustments to ascertain that people will adhere to government regulations. The gummed tape market has been negatively affected by the onset of the COVID-19 outbreak. Several gummed tape manufacturers are assisting government and frontline workers by supplying adhesive for specialist signage and hazard warning tapes but these products have become even more sought after. And quality is vital as these products are required to be reliable and be able to endure different usage and environments.
Fiber-reinforced Tapes Capture over 90% Market Share
Influenced by their excellent tear and abrasion resistance as well as better shelf life, fiber-reinforced tapes continue to define stakeholders' bottom lines. As fiber-reinforced tapes account for over 90% share of market revenue, manufacturers are heavily focused on the backing material. By 2020, the sales of fiber-based packaging tapes will cross the US$ 1 Bn mark. However, they are likely to lose a slight share to paper gummed tapes due to manufacturing complexities as well as raw material expensiveness.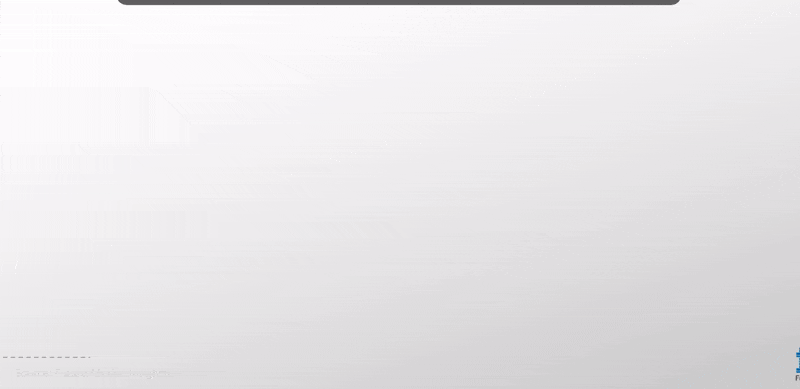 Opportunities Revolving Around Asian Markets
In the present scenario, North America and Europe are the epicenter of the global gummed tapes market growth. These developed regions reflect worthwhile sales opportunities, owing to the presence of industry giants and leading technology pioneers.
However, rapid emergence of verticals such as e-Commerce and electronics & electrical, in Asian countries – China, and India – is influencing manufacturers to realign their tactics. Cheaper availability of raw materials, strong presence of local vendors, and increasing cross-border trades are further boosting the market attractiveness in these developing economies.
Presence of Alternative Materials – A Potential Threat to Market Growth
Amidst the growing demand for packaging solutions that are environmentally sustainable, the global gummed tapes market – while flourishing – is facing the challenge of presence of alternative materials such as BOPP packaging tapes and heat-activated tapes. Paper gummed tapes are considered ideal for lightweight packaging, yet, can be replaced by relatively inexpensive pressure-sensitive tapes. However, as these alternatives lag behind in terms of mechanical properties, the overall gummed tapes market is poised to witness healthy growth in the coming years.
How Growth will Unfold
Manufacturers of gummed tapes would continue to reap maximum returns from the shipping & logistics industry throughout the period of projection. Accounting for nearly one-fifth of global adoption, the prominence of gummed tapes in this end-use category is fueled by rising demand for tamper-evident packaging formats during transportation. While the use of gummed tapes in the general industries and food & beverage sector are also attracting huge investments from manufacturers, their application is likely to gain a boost in the metalworking industry.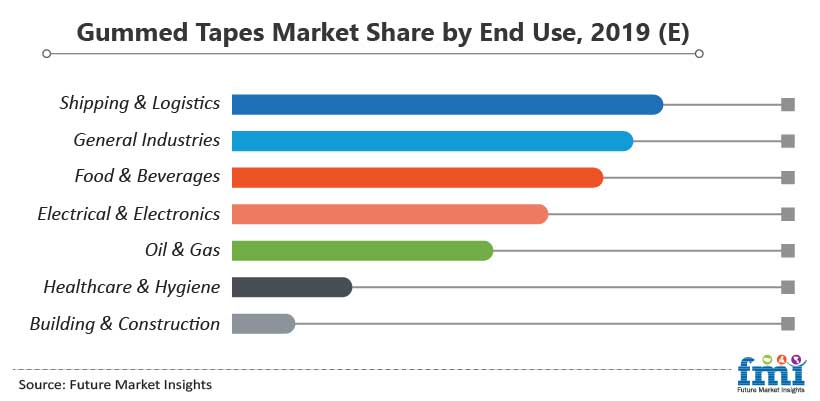 FREQUENTLY ASKED QUESTIONS ABOUT GLOBAL GUMMED TAPES MARKET
What is the current and future market status of gummed tapes?
The global gummed tapes market is projected to witness significant growth in the foreseeable future, owing to their numerous applications in key end-use industries, and is expected to expand 1.8X its current market value by the end of 2029.
Why are gummed tapes gaining traction?
Gummed tapes are manufactured from natural adhesives such as paper and potato starch, which increases adhesive bonding when activated by water. The backing material used for making gummed tapes - reinforced fiber - offers tear-resistance, which makes them tamper-proof. Additionally, gummed tapes are sustainable for cold and hot environmental conditions.
Which end-use industries hold potential growth opportunities for manufacturers?
The demand for gummed tapes is consistently increasing from shipping and logistics industries, as these tapes offer high adhesive strength for corrugated box packaging and damage-free transportation of products. As per FMI analysis, shipping and logistics industries account for a majority of the market share in 2019, and are expected to maintain their dominance by the end of 2029. Building & construction, electrical & electronics, and automotive industries are also expected to offer substantial prospects for players in the gummed tapes market.
What are the factors driving the growth of the gummed tapes market?
Rising demand for corrugated packaging in the logistics and shipping sector is boosting the sales of gummed tapes across different regions. As water-activated gummed tapes form mono-material and ensure tamper-evident packaging, their use for the sealing of corrugated boxes is expected to rapidly increase during the forecast period. Furthermore, rapid industrialization and cross-border trade boost the sales of global gummed tapes. Demand for eco-friendly and recyclable packaging solutions is another factor propelling growth of the gummed tapes market.
What is the degree of competition in the gummed tapes market?
The global gummed tapes market is dynamic in nature. 3M Company, Intertape Polymer Group Inc., and Shurtape Technologies, LLC are some of the leading manufacturers operating in the global gummed tapes market. Along with these players, Can-Do National Tape, Loytape Industries SDN.BHD., Neubronner GmbH & Co., and Ibergum, S.A. collectively hold 1/4 of the total revenue share.
Which region is estimated to lead in terms of consumption of gummed tapes in the global market?
In terms of sales and market growth rate, East and South Asia are the fastest growing regions in the global gummed tapes market. The gummed tapes market in East Asia is projected to register an impressive CAGR during the forecast period of 2019-2029.
Gummed Tape Market Report Scope
Attribute

Details

Forecast Period

2014-2018

Historical Data Available for

2019-2029

Market Analysis

US$ Mn for Value and Mn. Sq. M for Volume

Key Regions Covered

North America, Europe, Latin America, East Asia, South Asia, Oceania, and Middle East & Africa (MEA)

Key Countries Covered

U.S, Canada, Mexico, Brazil, Peru, Chile, Poland, Germany, Italy, Spain, United Kingdom, Nordic Region, Benelux, Rest of Europe, China, India, Japan, Korea, Indonesia, Malaysia, Singapore, Taiwan, Thailand, Rest of South Asia, Australia, New Zealand, GCC, Turkey, South Africa, and Rest of MEA

Key Segments Covered

Backing Material, Product type, Adhesive Type, Application, End Use and Region

Key Companies Profiled

3M Company
Intertape Polymer Group Inc.
Shurtape Technologies, LLC
Can-Do National Tape
Loytape Industries SDN.BHD.
Neubronner GmbH & Co.
Ibergum, S.A.

Report Coverage

Market Overview, Key Market Trends, Key Success Factors, Demand Analysis, Market Background, COVID-19 Analysis, Segmental Analysis, Regional Profiling, Market Structure & Competition Analysis

Customization & Pricing
GUMMED TAPE MARKET TAXONOMY
The global gummed tapes market is segmented in detail to cover every aspect of the market and present complete market intelligence to readers.
Backing Material
Paper Gummed Tape
Fiber-reinforced Tape
Product Type
White Gummed Tapes
Brown Gummed Tapes
Adhesive Type
Starch Adhesives
Other Adhesives
Application
Box & Carton Sealing
Splicing
Others
End Use
Shipping & Logistics
Building & Construction
Food & Beverages
Electrical & Electronics
Automotive
Healthcare & Hygiene
Metalworking
Oil & Gas
General Industries
Consumer Goods
Region
North America
Latin America
Europe
South Asia
East Asia
Oceania
Middle East & Africa
Need specific information?
Talk Show:
The Rise of Intelligent Packaging
Personalized, Connected and Sustainable
November 18, 2021
11:00-11:45 AM PST (USA & Canada)
This is a LIVE session