Mono Propylene Glycol Market Size to Surpass US$ 5 Bn by 2029
Owing to its unique chemical characteristics such as high insulation resistance and hygroscopic properties, mono propylene glycol is among the most commonly used chemical in a wide range of industrial applications. Market growth is mainly attributed to the significant rise in demand for mono propylene glycol in a wide range of end-use industries such as chemicals, food & beverage, paints and coating, and pharmaceuticals. By 2029, manufacturers are expected to witness lucrative sales opportunities in these rapidly-growing end-use industries, especially in the chemicals industry, and the market is expected to cross the valuation of over US$ 5 billion.
Frequently Asked Questions About mono propylene glycol market
What is the mono propylene glycol revenue opportunity, and how will it develop over the next 10 years?
The global mono propylene glycol market revenue was worth US$ 3 Bn in 2018, and is expected to grow at a CAGR of 4.5% during the forecast period 2019-2029.
What are the key trends disrupting the demand for mono propylene glycol?
Major trends affecting the mono propylene glycol demand are the dwindling fossil fuel resources for producing different varieties of petrochemical products and increasing adoption of bio-based chemicals.
How are key market players gaining benefits from bio-based chemicals?
Key players in the market are determined to attain sustainability in the coming years by developing and commercializing bio-based chemicals. Moreover, growing investments in the production of bio-based mono propylene glycol will open new revenue avenues in the global marketplace.   
What is the growth prospect of technical grade mono propylene glycol over the forecast period?
Growing use of technical grade mono propylene glycol as reinforced plastic laminates for marine construction is expected to mark a revenue share of close to US$ 3 Bn by the end of 2029, registering moderate growth rate during 2019-2029.
How will the unsaturated polyester resins contribute to the market growth?
Developing economies such as Brazil, China, and India are observing increasing investments for infrastructural development and expansion of the building and construction industry which is catapulting the demand for unsaturated polyester resins. The result is expected to lead to increased application of mono propylene glycol in unsaturated polyester resins, contributing around US$ 1.5 Bn by 2029.
Which region is expected to grow rapidly in the global mono propylene glycol market?
Sales of mono propylene glycol remain maximum in North America and will continue to grow at a moderate pace over the forecast period. Rising investment in the infrastructure & construction sectors in the U.S along with growing usage of mono propylene in pharmaceuticals and food & beverage industries are influencing the market growth.
Technical Grade Retains High Sales Potential
One of the most prominent applications of mono propylene glycol is in the production of unsaturated polyester resins, and this indicates heightened demand for technical grade products among end users. More than half the revenue share of the global market is accounted by technical grade mono propylene glycol, and this scenario will continue to prevail in the coming years. The demand for food grade mono propylene glycol will also increase rapidly in the near future owing to its burgeoning consumption in the food industry. Leading manufacturers would target food additive manufacturers to gain profits.
North America Leading, with High Demand from Animal Feed Industry
The demand and sales of mono propylene glycol remain significant in North America, despite the presence of stringent regulatory framework. The region accounts for more than one-fourth revenue share of the global market. Leading players in the North American market are targeting animal feed manufacturing companies to boost their sales in the region. While developed markets continue to lead the curve with high consumption of mono propylene glycol, sales in East Asia will also increase at a significantly high CAGR over the next decade.
Mono Propylene Glycol to Replace Ethylene Glycol
Growing sales of mono propylene glycol are also attributed to its demand as a less toxic alternative for ethylene glycol in many of its applications. Leading players in the market are boosting their product sales in ethylene glycol-based products such as cosmetics and personal care products. To capitalise on the higher efficiency and lower toxicity of mono propylene glycol over ethylene glycol, stakeholders in the market are likely to enter new industrial landscape in the coming years. Furthermore, market players are also foraying in the automotive and air transportation industry, where ethylene glycols had historically been used.
Consumption of technical grade products remains high
Demand for food grade products will increase rapidly
Unsaturated Polyester Resins (UPR) remain the primary application
Adoption in production of paint & coating to gain momentum
Chemicals industry remains the largest end user
Pharmaceuticals industry to create new opportunities
Synthetic mono propylene glycol gobbles a significant share
Bio-based mono propylene glycol to witness high demand
How Growth will Unfold
While the chemicals industry continues to account for more than half the revenue share of the global market for mono propylene glycol, leading players are foraying into new industrial areas to explore untapped sales potential and opportunities. The demand from cosmetics & personal care and pharmaceuticals industries, as mono propylene glycol is well-known as a pharmaceutical excipient. Various pharmaceutical applications such as local anesthetics, formulation of drugs and medicines, antiseptic and vaccines, and vitamins will contribute to the growth of mono propylene glycol market.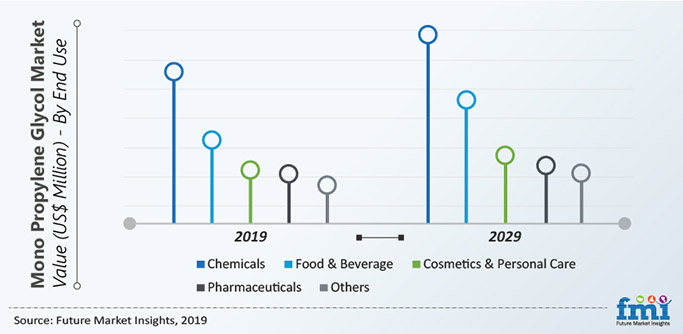 * This data is only a representation. Actual data may vary and will be available in report.
Click Here To Know How The Growth Will Unfold
Custom Market Research Services
FMI offers custom market research services that help clients to get information on their business scenario required where syndicated solutions are not enough.
Overview
Mono Propylene Glycol Market Analysis 2019-2029
A recent market study published by FMI on the mono propylene glycol market includes global industry analysis for 2014-2018 & opportunity assessment for 2019-2029, and delivers a comprehensive assessment of the most important market dynamics. After conducting thorough research on the historical as well as current growth parameters of the mono propylene glycol market, the growth prospects of the market are obtained with maximum precision.
Mono Propylene Glycol Market Taxonomy
The global mono propylene glycol market is segmented in detail to cover every aspect of the market and present complete market intelligence to the reader.
Grade
Technical
Food
Pharmaceutical
Application
Unsaturated Polyester Resin (UPR)
Polyester Fiber Production
Food Additive
Heat Transfer Fluid
Pharmaceutical Solvent
Liquid Detergent
Paints & Coating
Other Industrial
End Use
Chemicals
Cosmetics & personal care
Pharmaceutical
Food & Beverage
Others
Region
North America
Latin America
Europe
South Asia & Pacific
East Asia
Middle East
Africa
How the research was conducted?
Primary Research
Chief Executive Officer
Vice President
Sales Head
Product Manager
Marketing Head
Deputy Manager -Marketing & Communications
Marketing Manager
Sales Manager
Distributors
Customer Service Representative
Current market dynamics and challenges
End-use Industry Segment Split and Authenticity
Yesteryear trends
Market characteristics
Competition structure and market structure
Strategic growth initiatives
Market segment splits and authenticity
Near-term and long-term market growth prospects
Opinions on market projections and validity of assumptions
Secondary Research
OICA
World Bank
IEA
U.S. Environmental Protection Agency
European Commission
Primary Interview Splits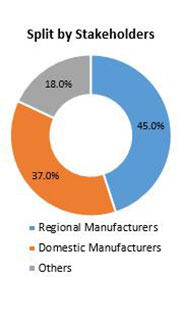 To Learn More About our Comprehensive Perspective on Mono Propylene Glycol Market,
Get in touch
COVID -19 : Impact Analysis
Request the coronavirus impact analysis across industries and markets
Request Covid -19 Impact
CASE STUDIES
See how our work makes an impact.
At FMI, we design strategies that are adaptive, impactful, and implementable.