About the Report
North America is the leading revenue contributor in the global pulmonology devices market. This is due to the continuous development of innovative products by leading and emerging vendors in developed countries such as the U.S. and Canada. Bronchoscopes and minimally invasive surgeries have major advantages in terms of efficiency and ability to accelerate the time taken for diagnosis and treatment of lung cancer at the same time.
Key players are striving hard to develop and achieve regulatory approvals for new procedures and interventions. Companies such as CONMED Corporation, Olympus, Cook Medical Incorporated are launching new products in the pulmonology devices market. Moreover, the number of surgeries performed in hospitals is expected to increase due to the rise in the number of technologically advanced hospitals. Additionally, increase in government support for improving the health care sector, especially in Asia Pacific, Latin America, Africa, and the Middle East is estimated to boosts the market
In its new study, FMI offers insights about key factors driving demand for pulmonology devices. The study points toward single-use bronchoscopes being the most sought-after due to the Increasing adaption of single-use bronchoscopes in lung cancer. COPD by indication hold more than thirty percent market share, globally. The report also tracks global sales of pulmonology devices in 20+ high-growth markets, along with analyzing the impact COVID-19 has on the medical device industry in general, and pulmonology devices in particular.
Future Outlook for Pulmonology Devices Market Looks Brighter in Comparison to Historic Growth
The number of Bronchoscopy procedures conducted demonstrated a declining trend between 1990 and 2005. However this trend reversed and there was a sharp rise in the number of procedures conducted each year 2005 onwards. Moreover, favorable reimbursement implemented for outpatient procedures is another trend, which is expected to increase in the future. The pulmonology devices market is anticipated to benefit from the rising incidence of numerous pulmonary disorders such as acute bronchitis, COPD, lung cancer, asthma and other related respiratory disorders.
Additionally, the market is expected to witness an increase in the adoption of pulmonology devices with advanced technological and safety features. Moreover, rise in public awareness regarding the risks of lung cancer and the benefits of early treatment have increased the adoption rates substantially.
The increasing adoption of diagnostic and therapeutic pulmonology devices is likely to continue owing to the increasing in population of aged people in the world. This will create opportunities for the expansion of the pulmonology devices market size over the forecast period, which is projected to expand at a CAGR close to 10.7% through 2030.
According to the World Health Organization (WHO), the number of cases rose to 113,820,168 and the number of deaths is estimated around 2,527,891 as of 01 March 2021. The increasing respiratory disease complications due to COVID-19 is expected to create lucrative growth opportunities in the pulmonology devices market over forecast period.
Patients of asthma and COPD are more susceptible to COVID-19 infection, which is anticipated to create growth opportunities for the pulmonology devices market. Government and non-government institutions are increasingly focusing on the rate of morbidity and mortality due to COVID-19 by improving patient care. This also is expected to create lucrative growth opportunities for growth.
What Is The Impact Of Safety Concerns Associated With Pulmonary Devices?
Some worries are connected with the use of reusable/reprocessed endoscopes and supportive instruments. Key factors considered while option for reusable endoscopes and accessories are cost savings and reduction of medical waste. As they cost less which makes the treatment affordable.
For example, in developing countries such as India, each new aspiration needle can cost up to US$ 200. However, unacceptable sterilization techniques can lead to severe complications and infections such as transferable infections and blood loss. This is likely to hamper the growth of the pulmonary devices market.
How Will Rising Prevalence Of Respiratory Disorders Boost Growth?
Rise in prevalence of respiratory disorders such as lung cancers, asthma, chronic obstructive pulmonary disorders (COPD) and cystic fibrosis each year will boost the market growth. According to World Cancer Research Fund, lung cancer is one of the most common causes of death in 2018 and there were 2 million new cases of lung cancer reported in the year.
Similarly, according to the Centers for Disease Control and Prevention (CDC), COPD was the third primary cause of death among US women Over 50% of the adult population with pulmonary disorders and tumors was not aware of the condition. Some of the primary causes of pulmonary disorders comprise exposure to changes in temperature, allergens, smoking, respiratory infection, and environmental pollution. For example:
In the U.K., lung cancer is the third most common cause of cancer, accounting for 13% new cases of cancer. According to Europe COPD coalition 2016 findings, nearly 5% to 12% adults in Europe may be suffering from severe COPD
Growing prevalence of pulmonary disease has increased the demand for novel techniques for accurate diagnosis and treatment. Some of the common factors considered responsible for respiratory conditions are smoking, air pollution, industrial & chemical pollutants, which decrease the quality of air, and increase in geriatric population.
These factors are often considered responsible for increase in the morbidity and mortality due to pulmonary diseases in developing countries. This will in turn fuel the demand for pulmonary devices.
How High Cost Equipment Limit the Market Growth?
Some of the pulmonary device such as endobronchial devices are expensive and categorized as "capital items" by health care institutions and organizations. Manufactures of endoscopic devices include novel techniques and various budget allocation considerations before making the buying decision.
This cost also varies depending on a country's regulatory policy and availability of products. Cost of some of the consumables and accessories may be relatively low. Additionally, expenditure incurred on equipment maintenance service is another factor which adds to the financial burden of end users. In emerging countries such as India and China, a small share of the overall GDP (4% to 6%) is spent on health care. The percentage share is even lower in countries such as Indonesia and Malaysia. These factors are likely to restrain the pulmonology devices market.
Will COVID19 Outbreak Increase Pulmonology Devices Sales?
Due to the COVID 19 pandemic outbreak, there has been significant decline in adoption of reusable flexible bronchoscope due to the risk of spread of infection. There were cases of spread in infection even through reprocessed reusable devices which led to healthcare professionals preferring single-use bronchoscopes.
On the other hand, following the outbreak, the American Association of Bronchology and Interventional Pulmonology issued guidelines regarding the use of single-use/ disposable bronchoscopes for bronchoscopy procedure. Hence, bronchoscopy being aerosol generating procedure led to increasing demand for disposable/ single-use bronchoscopes during the pandemic.
In Europe, single-use bronchoscopes are used extensively in the treatment of COVID-19 patients, while in North America and Australia, hospitals seek to avoid bronchoscopy for COVID-patients altogether.
Country-wise Insights
How are Technological innovations Creating Scope for Expansion in U.S.?
Technological innovations in pulmonology imaging devices have widened the scope of application for medical devices thus expanding the customer base. Technological advancements play a very important role in boosting the minimally invasive surgery products sales.
The US based manufacturers are striving to introduce technologically advanced products to overcome challenges such as charring of tissues caused due to overheating of electrodes to enhance their device performance.
Similarly, launch of narrow band imaging endoscopes, confocal micro endoscopes, and high-definition cameras for endoscopes have increased the demand for these devices.
The advent of robot-assisted endoscopic procedures have resulted in the transformation of the pulmonology devices sector. Intuitive Surgical is a pioneer of this technology. Several U.S based companies are looking for entering this field. Along with this, minimally invasive, diagnostic and surgical procedures performed by using the robotic technology are adding value to the market. All the above-mentioned technological innovations have given confidence to end-users of endoscopic devices. This factor, in turn, would be driving the market in the next few years.
Why Is Demand for Pulmonology Devices Surging In The U.K?
Rising prevalence of pulmonary disorders is expected to drive the pulmonology devices market in U.K. According to the Eurostat database in 2015, share of deaths due to respiratory diseases highest in the United Kingdom. Europe was the second-leading revenue generator in 2016, owing to significant revenue contributions from Germany and the U.K.
A rise in the number of hospitalization among the geriatric population with respiratory problems was recorded in the Western European countries. Moreover, Global vendors are collaborating with leading universities, such as National Institutes of Health, to gain significant clinical evidence for their products
How are Market Consolidation Activities Influencing Pulmonology Devices Market in Japan?
Manufacturers in Japan offer affordable endoscopy devices for pulmonary disorders. For instance, companies such as Olympus Corporation and Boston Scientific are focusing on the manufacturing of wireless endoscopy systems and biopsy devices. Also, the domestic firms are focus on the development of low-cost products.
Vendors are also inclined toward strengthening their manufacturing units and distribution channels in Japan, which is projected to increase their market presence and drive the pulmonology devices sales in the near future. Moreover, presence of a large geriatric population in Japan with a well-established healthcare market, is estimated to propel the demand for endobronchial ultrasound surgeries, as elderly people are at higher risk for conventional surgeries.
Why is Brazil Considered Most Attractive Market in Latin America?
Brazil is a relatively untapped market as compared to developed countries, which presents significant opportunities for growth of the pulmonary devices market. The prevalence of lung cancer, COPD, asthma, and other non-pulmonary diseases in the country is anticipated to increase in the next few years
Demand for improved and advanced screening tests in Brazil is rising gradually, with increase in government support, awareness programs, and improvement in economic conditions of people in the country. Economic growth and health care reforms have led to increased government funding for research in the health care sector
Growth in population, presence of high unmet medical needs, and rise in health care-related customer expectations led by improvement in their economic condition have increased the demand for health care services in Brazil. In addition, rise in per capita and disposable income has enabled people to avail expensive medical treatment in Brazil and Mexico.
Furthermore, changes in lifestyle are expected to boost the Latin America market during the forecast period. Hence, focus on the Brazil market is likely to enable developers and providers of these (endoscopy) products to witness high growth in revenues and gain market share in the next few years.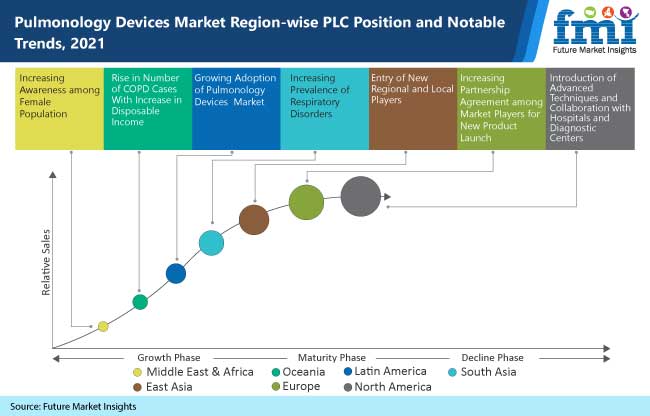 Category Insights
How is Increasing prevalence of COPD Impacting the Pulmonology devices Industry?
Improvement in healthcare policies in various countries such as Germany, the U.K. and Japan has resulted in increasing adaption for various treatment diagnostic and services, which in turn has increased life expectancy of the people
Rising diagnostic rate of respiratory disease is expected to fuel the growth of the pulmonology devices market. Moreover, high prevalence of chronic obstructive pulmonary disorder (COPD) among the older population has been noted. Population aged 45 years or above are at higher risk of respiratory diseases.
According to the Global Initiative for Chronic Obstructive Lung Disease, in 2019, 65 million people suffer from chronic obstructive pulmonary disease (COPD) and 3 million die from it each year, making it the third leading cause of death. COPD is not curable, but can be managed by proper medication. These programs encourage people to adopt early diagnosis and medication, which is expected to result in increased revenue for the global pulmonology devices market over the forecast period.
Why Single-Use Bronchoscopes Hold a Highest Share in Global Market?
Bronchoscopy procedures are routinely used in the clinical seating, with approximately 5 Mn are undertaken per year in the U.S. alone. These procedures are generally regarded as safe and are an established procedure. Moreover diseases such as cancer, chronic obstructive pulmonary disorders owing to rise in risk factors such as smoking, pollution is driving a large market.
The rising prevalence of pulmonary fibrosis, idiopathic pulmonary fibrosis, occupational sarcoidosis, interstitial pneumonitis, and pulmonary hemorrhage are other factors driving the market. Presently, advancements in technology have led to the development of the Bronchoscopes, with an expansion of potential applications. Growing miniaturization has resulted in growing adoption of advanced thin bronchoscopes with minimally invasive features
Who are Leading End Users of Pulmonology Devices?
Hospitals are expected to remain leading end users as they continue to receive significantly higher patient footfall than other categories. Better access to healthcare professionals and advanced procedures within hospitals is contributing to their growth. The consistently rising demand for latest medical procedures besides improved patient care will boost sales of pulmonary devices in hospitals.
Competitive Landscape
Some of the leading players operating in the market are Boston Scientific Corporation, CONMED Corporation, Olympus Corporation, Cook Medical Incorporated, and Ambu A/S Major Manufacturers. These companies are focusing on the development of a wide range of advance products. Moreover, key players in the pulmonology devices market are focusing on enhancing their global and regional presence through acquisitions and collaboration strategies.
For instance, on In February 2019, the company acquired privately-held Buffalo Filter LLC, a leader in surgical smoke evacuation technologies. The company's comprehensive product portfolio includes smoke evacuation pencils, smoke evacuators, and laparoscopic solutions.
In January 2019, Cook Medical Inc completed the agreement with Whitaker Park Development Authority Inc. to acquire manufacturing facility at Winston-Salem's Whitaker Park.
Some of the leading companies operating in the market are:
Boston Scientific Corporation
CONMED Corporation
Olympus Corporation
Cook Medical Incorporated
Medi-Globe GmbH
Ambu A/S
Verathon, Inc
United Medical Surgical Services Ltd
Hunan Vathin
Micro-Tech (Nanjing) Co., Ltd
Merit Medical Systems
*The list is not exhaustive, and only for representational purposes. Full competitive intelligence available in the report.
Scope of Report
Attribute

Details

Forecast Period

2020-2030

Historical Data Available for

2015-2019

Market Analysis

USD Million for Value and Units for Volume

Key Regions Covered

North America, Latin America, Europe, East Asia, South Asia, Oceania, and the Middle East & Africa

Key Countries Covered

US, Canada, Brazil, Mexico, Argentina , Germany, U.K., France, Italy, Spain, Russia, China, Japan, South Korea, India, Thailand, Indonesia, Malaysia, Australia, New Zealand, South Africa, GCC Countries

Key Segments Covered

Product, Indication, End User, and Region

Key Companies Profiled

Boston Scientific Corporation
CONMED Corporation
Olympus Corporation
Cook Medical Incorporated
Medi-Globe GmbH
Ambu A/S
Verathon, Inc
United Medical Surgical Services Ltd
Hunan Vathin
Micro-Tech (Nanjing) Co., Ltd
Merit Medical Systems

Report Coverage

Market Forecast, Company Share Analysis, Competition Intelligence, DROT Analysis, Market Dynamics and Challenges, and Strategic Growth Initiatives

Customization & Pricing
Key Questions Answered in Report
Which is the most lucrative market for pulmonology devices?

The U.S currently leads the global market for pulmonology devices and is expected to continue exhibiting high demand through the forecast period.

Which is the top-selling pulmonology device?

Demand for single-use bronchoscopes is expected to remain high in the near future, especially due to higher degree of prevalence.

For which indication are pulmonary biopsy devices mostly used?

In lung cancer pulmonary biopsy devices are mostly used in all the regions

How is COVID-19 outbreak fuelling the demand for pulmonology devices?

Patients of asthma and COPD are more susceptible to COVID19 infection, which is anticipated to create growth opportunity for the pulmonology devices market.
Enquiry before Buying
Is this research conducted by FMI?
Yes, the research has been conducted by expert analysts of FMI, through a combination of primary and secondary research. To know more about how the research was conducted, you can speak to a research analyst.
What research methodology is followed by FMI?
FMI follows a methodology that encompasses demand-side assessment of the market, and triangulates the same through supply-side analysis. This methodology is based on the use of standard market structure, methods, and definitions. Request a detailed methodology.
Who are the respondents for primary research?
FMI speaks to stakeholders across the spectrum, including C-level executives, distributors, product manufacturers, and industry experts. For a full list of primary respondents, please reach out to us.
What are the sources of secondary research?
FMI conducts extensive secondary research through proprietary databases, paid databases, and information available in the public domain. We refer to industry associations, company press releases, annual reports, investor presentations, and research papers. More information about desk research is available upon request.
Is a sample of this report available for evaluation?
Yes, you can request a sample, and it will be sent to you through an email.
How can I buy this report?
FMI provides a secure online payment system to buy reports seamlessly. You can buy the report securely and safely.
Pulmonology devices Market by Category
Product
Pulmonary Biopsy Devices

Single- Use Biopsy Forceps
Cytology Brushes
Microbiology Brushes

Endobronchial Ultrasound (EBUS) Needles

Endobronchial Ultrasound Fine Biopsy Needles
Endobronchial Ultrasound Transbronchial Aspiration Needles

Airway Stents

Silicon Stents
Nitinol Stents
Stainless Steel Stents

Airway Extraction Baskets
Single-Use Bronchoscopes
Indication
Lung Cancer
COPD
Foreign Body Extraction
Tracheal and Bronchial Stenosis
Others
End User
Hospitals
Pulmonology Clinics
Ambulatory Surgical Centers
Region
North America
Latin America
Europe
East Asia
South Asia
Oceania
MEA
Need specific information?