Ablation Devices Market to Value US$ 8 Bn in 2029
The healthcare industry has been aggressively shifting towards patient-centric models, where low cost, greater clinical efficacy, reduced hospitalization rate, and minimal invasion are top concerns. Amidst these step-change transformations, the global ablation devices market will surpass US$ 8 Bn in 2029, expanding at a double-digit CAGR. As the healthcare sector is responding to the COVID-19 pandemic in tandem with patients' ever-evolving behaviors, market players are navigating future-proof strategies to deal with the human and economic challenges ahead.
Report Scope
Report Metric

Details

Base year considered

2018

Actual estimates/ Historical data

2014 - 2018

Forecast period

2019 - 2029

Forecast units

Value (USD) Mn

Segments covered

Product Type, Application, End-User, and Region

Regions covered

North America (US & Canada), Europe (UK, Germany, France, Spain, Italy, Russia, BENELUX and Rest of Europe), Latin America (Brazil, Mexico, and  Rest of LA), East Asia (China, Japan and South Korea) South Asia (India, Indonesia, Malaysia, Thailand and Rest of South Asia), Oceania (Australia  and New Zealand) and MEA (GCC, South Africa, Turkey, Northern Africa and Rest of MEA)

Key Players

Medtronic Plc, Boston Scientific Corporation, and Abbott Laboratories  

Major 10 players covered.

Report coverage

Revenue forecasts, company shares, competitive landscape, growth factors, and trends
Ablation Devices Market - Key Research Findings
The global ablation devices market in 2018 was valued US$ 3 Bn. The market is expected to expand at a CAGR of 11% during the forecast period of 2019-2029.
Growth in the prevalence of chronic diseases, emergence of next generation ablation products, increase in technological innovation, and increase in the number of ablation procedures are the primary factors for the growth of the ablation devices market. Moreover, increasing inclination towards the use of ablation devices and rising prevalence of chronic diseases, mainly cardiovascular diseases and tumorigenic cancer, are factors expected to drive the market growth.
Collectively, Europe and North America are expected to account for major part of the revenue share in the global ablation devices market by the end of 2029.

North America will continue to be a prominent regional market for ablation services due to the increasing prevalence of cardiac and cancer diseases and increase in government support towards building quality healthcare infrastructure

Advanced ablation catheters remain the most preferred product type in the global ablation devices market. Advanced ablation catheters comprise cryoablation catheters, irrigated tip RF ablation catheters, and laser ablation catheters.

Cryoablation catheters are growing at a significant rate, owing to their established record of effectiveness and safety in the treatment of arrhythmias, particularly in peri-nodal procedures. These have been clinical used in Europe, Canada, and the U.S. for several years.

In terms of end user, hospitals and clinics will continue to be prominent end users for ablation devices. This is attributed to the availability of ablation devices and skilled personnel for better clinical management of various diseases across several medical domains.
In terms of technology, radiofrequency accounted for a major revenue share, owing to its lesser potential risk and side effects, lesser recovery time, and being used on patients suffering from multiple tumors.
In terms of function, the automated or robotic segment is expected to grow at a significant rate over the forecast period. Automated or robotic functionality entails the procedure suited for complex arrhythmias on account of its efficacy, reliability, and significant reduction in X-ray exposure, for both, patient and operator.
Key Factors Shaping the Ablation Devices Market
Rise in Prevalence of Chronic & Cardiovascular Diseases
Growing prevalence of chronic diseases and cardiovascular disorders, and inclination towards minimally-intrusive medical procedures, are critical factors for market growth. Atrial Fibrillation (AF) is anticipated to affect 17.9 million in Europe by 2060, and 12 million individuals in the U.S. by 2050, as indicated by the Centers for Disease Control and Prevention (CDC),
Moreover, growing geriatric population combined with rising life expectancy is expected to propel market growth over the forecast period. Susceptible towards chronic diseases is seen more among the geriatric population, driving the demand for effective viable treatment, which thus supports the growth of the ablation devices market. As indicated by the World Health Organization (WHO), the total population aged 60 years or more will touch 2 billion by 2050 from 900 million in 2015.
Increasing Demand for Radioactive Ablation Device and next generation ablation devices
Over the past years, it has been noted that, radioactive frequency ablation provides greater clinical benefits than next-generation ablation devices such as endometrial ablation devices. However, Second-generation ablation devices also offer advantages such as shorter recovery time, fluid overload, etc., which is expected to increase the demand for ablation devices.  Further, first-generation devices also have many advantages in terms of treatment outcomes, such as lower risk of equipment failure as well as vomiting, nausea, and uterine cramping. This is expected to increase the growth of the ablation devices market over the coming years.
Substantial Increase in Number of Ablation Procedures
Catheter ablation is a safe, durable, and effective method to manage arrhythmias, due to which, it is preferred for life-long medical treatment, and is expected to increase the demand for ablation products. As per the American Heart Association, there has been substantial increase in hospital ablation procedures in the United States. Rise in the volume of catheter ablations for arrhythmias were seen for older patients and those with significant comorbidities. The advantage of non-invasive procedures has attracted individual to adopt ablation procedures, which is further expected to increase the growth of the ablation devices market.
Growth of the Market in Emerging Economies
Increasing prevalence of chronic and cardiovascular diseases, and other diseases, in the Asia Pacific region, is offering a strong impetus to the growth of the ablation devices market. The launch of advanced technological devices prominently accounts for the growing popularity of ablation devices across developing regional markets. Consistent rise in the number of manufacturers and distributors is likely to contribute to the growth of the ablation devices market in the near future.
Ablation Devices Market: Structure Analysis
Key players continue to increase their market share with the launch of new products in the market.
Major players focus on inorganic growth strategies to have a strong hold on targeted in-licensing and acquisitions through expanding R&D activities and distribution channels, particularly specialist retail chains.
Prominent players continue to address the unmet needs in the ablation devices market through continuous product technological innovation.
The ablation devices market is characterised as a consolidated space, and is likely to remain dynamic, growing at a steady pace throughout the forecast period. Approximately 65% - 80% share of the market is held by tier-1 players.
Key players continue to focus on expanding treatment options through the continued development of technologies and expansion of product offerings, global commercial expansion, and clinical science investments.
Stakeholders Target Advanced Ablation Catheters for Sustained Profits
Advanced ablation catheters are considered as a viable alternative management strategy, and are frequently utilized in the treatment of paroxysmal atrial fibrillation (AFib). Under the category, irrigated tip RF ablation catheters are expected to significantly boost market revenue growth. Cryoablation catheters exhibit greater level of efficiency and safety in the treatment of arrhythmias, particularly in perinodal procedures, and thus, are seeing an adoption upsurge. Further, the need to achieve better clinical outcomes in treating a majority of arrhythmias and certain types of structural heart diseases is bolstering the adoption of advanced ablation devices.
Developed Regions Maintain Positive Trend
Together, the ablation devices markets in North America and Europe procure around 70% of total revenue generation. The governments in these regions are significantly investing in healthcare infrastructure in an effort to address the expanding patient pool of cardiac and oncological disorders. While North America's ablation devices market hit the billion-dollar mark in 2019, the market in Europe will follow the same in 2020. Looking ahead, rapid penetration of state-of-the-art medical equipment and healthcare technologies in Asia is offering further opportunities of growth and profitability in the region.
Upsurge in Ablation Procedure Incidence to Fuel Growth Engine
Ablation devices are a safe, durable, and effective method to manage arrhythmias, due to which, they are highly preferable for prolonged medical treatment. The American Heart Association (AHA) has reported substantial increase in hospital ablation procedures in the US. In addition, rise in the number of catheter ablations for arrhythmias has been observed for geriatric patients and patients with significant comorbidities - around thrice in the recent past. Furthermore, the non-invasive nature of the ablation procedure has attracted huge attention of various healthcare centers, thereby projected to boost the adoption of ablation devices in the near term.
Advanced ablation catheters stay atop
Standard ablation catheters to gain traction
Radiofrequency technology remains highly preferred
Microwave technology to pick pace
High usage in cardiovascular disease treatment
Application in cancer treatment to slide
Conventional ablation devices hold leading value proportion
Automated robotic ablation devices to show noteworthy CAGR
How Growth will Unfold
Radiofrequency ablation (RFA) systems offer advantages of reduced risk of side effects and lesser recovery period, and are considered suitable for patients with multiple tumors. FMI finds that, the usage of the RFA method would surge more than twice over the decade ahead. Microwave ablation (MWA) devices also showcase clinical outcomes identical to RFA, yet, the method exhibits shorter mean ablation versus RFA. While market players continue to reap substantial returns from both these treatment modalities, MWA would see notable rise in its application in the coming years.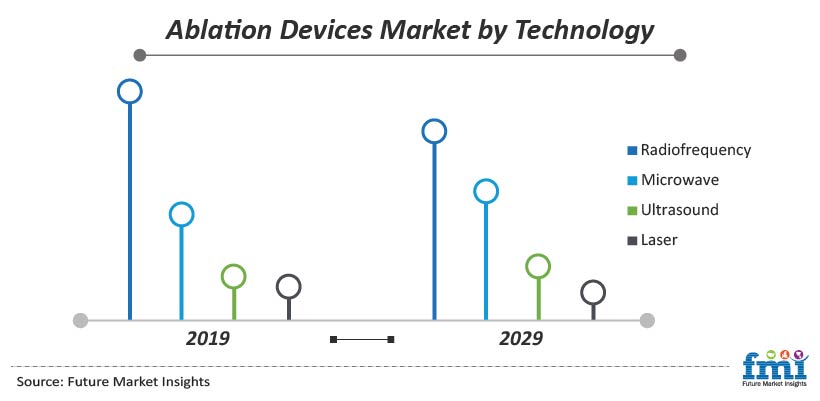 * This data is only a representation. Actual data may vary and will be available in report.
Click Here To Know How The Growth Will Unfold
Custom Market Research Services
FMI offers custom market research services that help clients to get information on their business scenario required where syndicated solutions are not enough.
Overview
A recent market study published by Future Market Insights (FMI) on the ablation devices market includes global industry analysis of 2014-2018 and opportunity assessment for 2019-2029, and delivers comprehensive assessment of the most important market dynamics. After conducting thorough research on the historical as well as current growth parameters of the ablation devices market, growth prospects are obtained with maximum precision.
Ablation Devices Market Taxonomy
The global ablation devices is segmented in detail to cover every aspect of the market and present a complete market intelligence approach to the reader.
Product Type
Bipolar Energy Ablation Devices
Cryotherapy Ablation Devices
Hydrothermal Ablation (HTA) Devices
Thermal Balloon Ablation Devices
Advanced Ablation Catheters

Cryoablation Catheters
Irrigated tip RF Ablation Catheters
Laser Ablation Catheters

Standard Ablation Catheters

Conventional Radiofrequency Ablation Catheters

MRI Guided Neurosurgical Ablation

MRI Guided Laser Therapy Systems
MRI Guided RF Ablation Systems
MRI Guided Focused Ultrasound Systems
Accessories
Technology
Laser
Radiofrequency
Microwave
Ultrasound
Others
Application
Cardiovascular
Cancer
Urological
Ophthalmic
Others
Functional
Automated Robotics
Conventional
End User
Hospitals
Ambulatory Surgical Centers
Clinics
Regions
North America
Latin America
Europe
South Asia
East Asia
Oceania
MEA
How the research was conducted?
Primary Research
Marketing Directors
Product Managers
Business Development Officers
Production Managers
Sales Executives
Industry Experts

Interventional Cardiologist
Cardiac Surgeon

Current Market Dynamics and Challenges
Yesteryear Trends
Market Characteristics
Market Performance and Growth Quadrants
Strategic Growth Initiatives
Near-term and long-Term Market Growth Prospects
Market Segment Splits and Authenticity
Opinions on Market Projections and Validity of Assumptions
Secondary Research
Associations

American Heart Association
Heart and Stroke Foundation, Canada
British Heart Foundation

Factiva
Company Press Releases
Annual Reports and Investor Presentations
Research Papers
Government Websites and Publications
Primary Interview Splits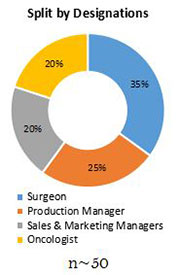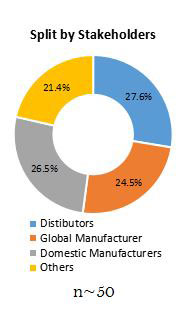 To Learn More About our Comprehensive Perspective on Ablation Devices Market,
Get in touch
COVID -19 : Impact Analysis
Request the coronavirus impact analysis across industries and markets
Request Covid -19 Impact
CASE STUDIES
See how our work makes an impact.
At FMI, we design strategies that are adaptive, impactful, and implementable.