Ablation Devices Market by Product Type (Bipolar Energy Ablation Devices, Cryotherapy Ablation Devices), Technology, Application (Cardiovascular, Cancer, Urological, Ophthalmic & Others), Functional, End User & Region - Forecast to 2019 – 2029
Ablation Devices Market - Analysis, Outlook, Growth, Trends, Forecasts
April 2020

REP-GB-11254

300 pages
Stakeholders Target Advanced Ablation Catheters for Sustained Profits
Advanced ablation catheters are considered as a viable alternative management strategy, and are frequently utilized in the treatment of paroxysmal atrial fibrillation (AFib). Under the category, irrigated tip RF ablation catheters are expected to significantly boost market revenue growth.
Cryoablation catheters exhibit greater level of efficiency and safety in the treatment of arrhythmias, particularly in perinodal procedures, and thus, are seeing an adoption upsurge. Further, the need to achieve better clinical outcomes in treating a majority of arrhythmias and certain types of structural heart diseases is bolstering the adoption of advanced ablation devices.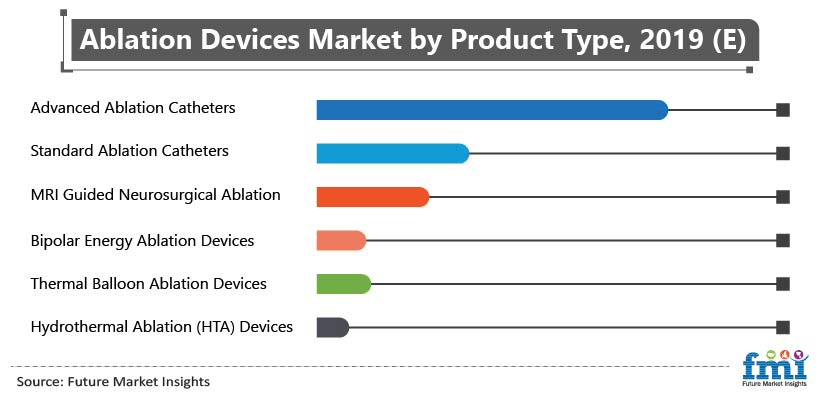 Developed Regions Maintain Positive Trend
Together, the ablation devices markets in North America and Europe procure around 70% of total revenue generation. The governments in these regions are significantly investing in healthcare infrastructure in an effort to address the expanding patient pool of cardiac and oncological disorders.
While North America's ablation devices market hit the billion-dollar mark in 2019, the market in Europe will follow the same in 2020. Looking ahead, rapid penetration of state-of-the-art medical equipment and healthcare technologies in Asia is offering further opportunities of growth and profitability in the region.
Upsurge in Ablation Procedure Incidence to Fuel Growth Engine
Ablation devices are a safe, durable, and effective method to manage arrhythmias, due to which, they are highly preferable for prolonged medical treatment. The American Heart Association (AHA) has reported substantial increase in hospital ablation procedures in the US.
In addition, rise in the number of catheter ablations for arrhythmias has been observed for geriatric patients and patients with significant comorbidities - around thrice in the recent past. Furthermore, the non-invasive nature of the ablation procedure has attracted huge attention of various healthcare centers, thereby projected to boost the adoption of ablation devices in the near term.
How Growth will Unfold
Radiofrequency ablation (RFA) systems offer advantages of reduced risk of side effects and lesser recovery period, and are considered suitable for patients with multiple tumors. FMI finds that, the usage of the RFA method would surge more than twice over the decade ahead. Microwave ablation (MWA) devices also showcase clinical outcomes identical to RFA, yet, the method exhibits shorter mean ablation versus RFA. While market players continue to reap substantial returns from both these treatment modalities, MWA would see notable rise in its application in the coming years.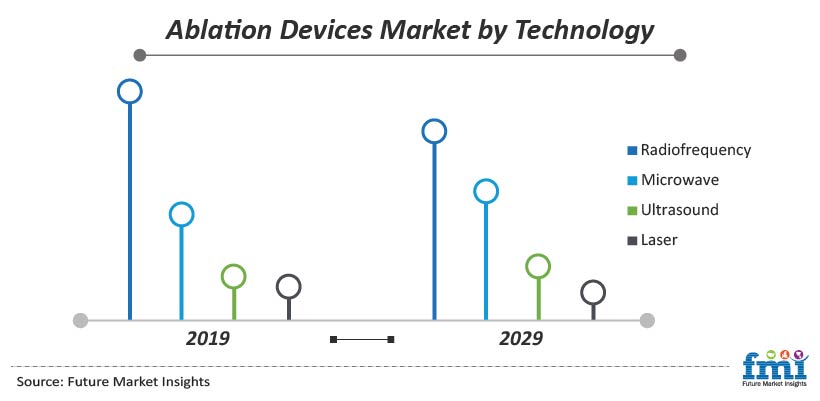 World's Most Profilic Intelligence Engine
Get Access To The World's Largest Market Research Database.
Sign Up Now
ABLATION DEVICES MARKET TAXONOMY
The global ablation devices is segmented in detail to cover every aspect of the market and present a complete market intelligence approach to the reader.
Product Type
Bipolar Energy Ablation Devices
Cryotherapy Ablation Devices
Hydrothermal Ablation (HTA) Devices
Thermal Balloon Ablation Devices
Advanced Ablation Catheters

Cryoablation Catheters
Irrigated tip RF Ablation Catheters
Laser Ablation Catheters

Standard Ablation Catheters

Conventional Radiofrequency Ablation Catheters

MRI Guided Neurosurgical Ablation

MRI Guided Laser Therapy Systems
MRI Guided RF Ablation Systems
MRI Guided Focused Ultrasound Systems
Accessories
Technology
Laser
Radiofrequency
Microwave
Ultrasound
Others
Application
Cardiovascular
Cancer
Urological
Ophthalmic
Others
Functional
Automated Robotics
Conventional
End User
Hospitals
Ambulatory Surgical Centers
Clinics
Regions
North America
Latin America
Europe
South Asia
East Asia
Oceania
MEA
Need specific information?
Our Clients