An Incisive, In-depth Analysis on the Gan Power Devices Market
This study offers a comprehensive, 360 degree analysis on the Gan Power Devices market, bringing to fore insights that can help stakeholders identify the opportunities as well as challenges. It tracks the global Gan Power Devices market across key regions, and offers in-depth commentary and accurate quantitative insights. The study also includes incisive competitive landscape analysis, and provides key recommendations to market players on winning imperatives and successful strategies.
High demand in the consumer electronics industry and varied applications of GaN transistors expected to boost the growth of the GaN (Gallium Nitride) power devices market in Japan
The Japanese electronics industry is one of the largest consumer electronics industries in the world. With a large revenue share, demand for semiconductors is high and GaN power devices being compact, efficient and with low capacitance, result in minimising energy losses during charging and discharging. This is likely to encourage demand in the market and subsequently drive overall market growth.
GaN is widely used in transistors and due to its enhanced properties such as high thermal conductivity, high voltage potential and large critical fields, these devices offer high switching frequencies and high power density enabling transistors to operate at high voltage levels. These transistors have applications in various fields and provide good results, which is another factor driving market growth. For instance, in Jan 2016, Fujitsu Limited, which is a Japan based IT equipment manufacturing company, developed a GaN high-electron mobility transistor power amplifier with the world's highest output performance for wideband wireless transmissions, which was 1.8X greater than before, enabling over 30% greater range for a high-speed wireless network.
Increasing research and development initiatives in GaN substrate is also responsible for the growth of the Japan GaN power devices market. Due to features of GaN technology such as high breakdown voltage, high switching frequency and miniaturisation, demand for GaN power devices has been increasing and continuous research is being done by research centres in Japan in order to determine and increase efficiencies of GaN. For example, a few years ago, a team of researchers from the Institute of Industrial Science at the University of Tokyo developed a new technology for creating GaN LEDs on the glass substrate. With the help of this development, manufacturing costs can be cut down along with actualising OLED light panels.
Shrink path of semiconductor power devices is one of the main factors restraining the growth of the GaN power devices market in Japan
One of the factors hampering the growth of the Gallium Nitride power devices market is the shrinking path of semiconductor power devices. With increasing high current density in GaN devices, problems related to existing assembly and interconnect technologies are increasing. The major problems include low impedance interconnects, higher thermal resistance and lower thermal capacitance per chip demanding higher chip temperature and better thermal interconnects. The need to handle higher current densities per package and the same heat flow coming from smaller footprints to be removed from the ambient environment is also growing. These factors continue to remain a challenge for the GaN power devices market in Japan.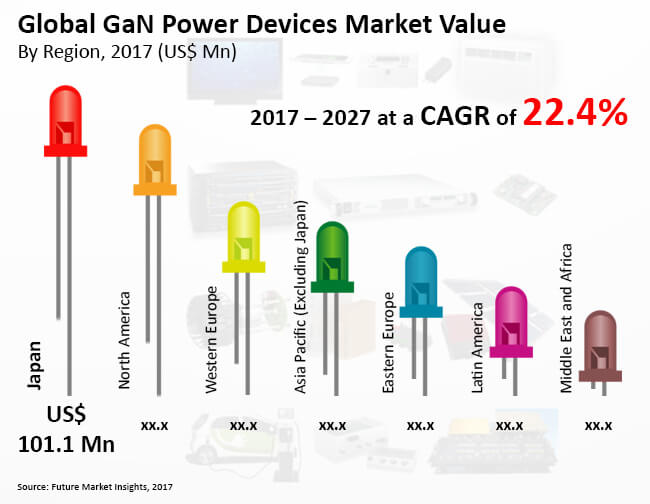 Japan GaN power devices market anticipated to register a high CAGR during the period of forecast
In terms of value, the Japan GaN power devices market registered a CAGR of 17.8% from 2012–2016 and is expected to exhibit a CAGR of 23.1% from 2017–2027. In 2017, the Japan GaN power devices market is expected to be valued at more than US$ 100 Mn and is projected to reach more than US$ 800 Mn by the end of 2027. The GaN power devices market in Japan is expected to represent incremental opportunity of a little more than US$ 700 Mn between 2017 and 2027. The Japan regional market is projected to be the most attractive market in the global GaN power devices market during the forecast period in terms of value. However, in terms of year on year growth, the Latin America GaN power devices market will register high Y-o-Y growth rates throughout the forecast period.
GaN power devices are expected to witness high demand in the coming decade because of their compact size and the provision of more offerings with technology such as GaN Si. Established players as well as start-ups in the global GaN power devices market need to focus on GaN Si, which is expected to have high potential in the years to come. However, as the cost of the two-inch substrate is much higher than the cost of a larger six-inch silicon substrate, the prices of GaN power devices are expected to drop during the forecast period. GaN materials offer higher efficiencies than silicon, leading to greater energy savings in devices like power electronics, laser diodes, and light-emitting diodes; however, the future of GaN is likely to be shaky as it is likely to face off against silicon substrates.
Interesting findings like these are covered extensively in our new report titled "GaN Power Devices Market: Global Industry Analysis (2012-2016) and Opportunity Assessment (2017-2027)." According to our analysts, GaN power device providers can focus on expanding their presence in Brazil, Mexico, GCC Countries and Turkey, where governments have been taking the initiative to adopt innovative technologies for efficient utilisation of power sources.
Our report highlights the main factors accountable for the downfall in prices of GaN power devices in the near future
Hydride vapour phase epitaxy (HVPE) is an epitaxial growth technique often employed to produce semiconductors such as GaN. However, because of the decrease in the cost of ammonothermal substrate in the future, HVPE substrate costs are anticipated to fall by 2020

Newer materials such as aluminium nitride (AlN) are ideally suited to very low wavelength, Ultra violet-LED, green laser diode and high switching frequency power electronics applications, and can be an effective alternative to bulk GaN, resulting in the fall of prices in future
Industry professionals are trying to be well versed in the regulatory requirements and also standard bodies such as the Institute of Electrical and Electronics Engineers or IEEE are working to ensure that the published standards are up to date. IEEE is one of the world's most important standards organisations. One of the standards such as the IEEE standard 802 and its various constituent standards relating to computer networking have become ubiquitous. Other standard bodies in addition to the IEEE have a major influence on industry adoption including the International Electrotechnical Commission (IEC), the American National Standards Institute (ANSI), the International Organization for Standardization (ISO), the Society of Automotive Engineers (SAE), European Committee for Standardization (CEN), and a large number of regional and national standards bodies worldwide.
Report Structure
We have taken a detailed overview of the parent market while covering the global GaN Power Devices market. The changing market dynamics of GaN Power Devices have been taken into consideration to get a crystal clear picture of the overall market. The report also highlights recent industry trends and developments, market strategies of key players and their product offerings, market segmentation and market size by volume and value. This report also consists of historical demand trends, GaN Power Devices growth rate, the financial performance of top companies across the seven regions, macro-economic indicators such as GDP and population growth and the influence of increasing disposable income. Besides, market definition, types and applications of GaN Power Devices, demand and supply side drivers, and global market restraints, opportunities and trends have also been included in this exclusive report.
Research Methodology
We have adopted a systematic research approach while inspecting this market. In-depth secondary research is used to arrive at the overall market size, top industry players, top products and industry associations. Our analysts have formulated a detailed discussion guide in order to conduct comprehensive industry interviews. Data thus obtained is validated using the triangulation method wherein primary and secondary research data along with Future Market Insights' analysis contribute to the final data.
Market Segmentation
By Technology

By Wafer Material

By Wafer Size

By Industry

By Region

4H-SiC MOSFET

HEMT

Others

Less than 150mm

150mm-500mm

More than 500 mm

Consumer Electronics

Energy & Utilities

Automotive

IT & Telecom

Others

North America

Latin America

Europe

Asia Pacific

Middle East & Africa (MEA)
COVID -19 : Impact Analysis
Request the coronavirus impact analysis across industries and markets
Request Covid -19 Impact
CASE STUDIES
See how our work makes an impact.
At FMI, we design strategies that are adaptive, impactful, and implementable.