An Incisive, In-depth Analysis on the Organic Beef Meat Market
This study offers a comprehensive, 360 degree analysis on the Organic Beef Meat market, bringing to fore insights that can help stakeholders identify the opportunities as well as challenges. It tracks the global Organic Beef Meat market across key regions, and offers in-depth commentary and accurate quantitative insights. The study also includes incisive competitive landscape analysis, and provides key recommendations to market players on winning imperatives and successful strategies.
Grounded beef segment by type is expected to account for a relatively high value CAGR in the global organic beef meat market over the forecast period
The processed meat segment is anticipated to remain dominant in terms of revenue share during the forecast period due to the advantage of reduced preparation time for processed meat. The processed meat segment is estimated to be valued at about US$ 6,700 Mn by 2017 end and is expected to increase at a CAGR of 6.7% over the forecast period. The segment is expected to be valued at more than US$ 12 Bn by the end of 2027, creating an absolute $ opportunity of more than US$ 350 Mn in 2017 over 2016 and an incremental $ opportunity of more than US$ 6,000 Mn between 2017 and 2027. The segment is likely to grab more than 75% market share during the projected period. In terms of value, the processed meat segment is projected to be the most attractive in the global organic beef meat market during the forecast period.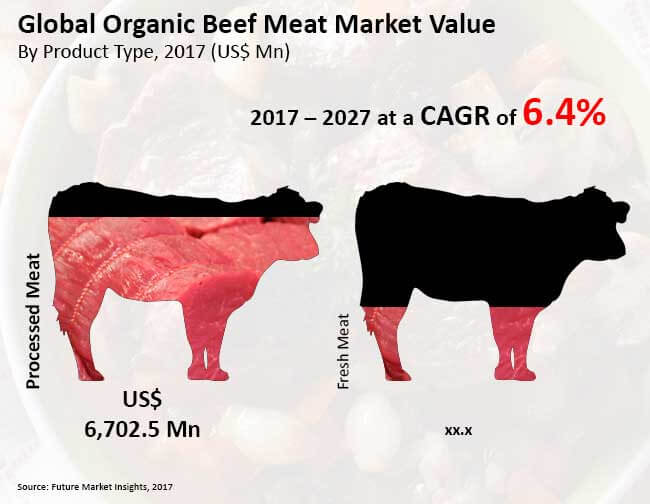 Increasing consumer preference for organic food and easy availability of organic beef through retail chains likely to boost the global organic beef meat market between 2017 and 2027
In developed markets, organic food products are preferred over conventional products as consumers opt for products that are natural with fewer chemicals and additives. Organic food products do not have additives or chemicals and offer the required nutrients, thereby gaining higher trust and adoption than conventional food products. Although high prices of these specialised products are restricting product acceptance by the middle-class population, rising disposable income and increasing focus on healthy living support demand for these products.
A substantial percentage of total sales of organic beef takes place through the organised retail format in Western Europe. With economies of countries in the region growing, the retail chain is also expected to exhibit substantial growth. Owing to increasing preference for organic food products, retail chains are increasingly offering such products and this is expected to fuel demand for organic beef across the globe.
Increasing market penetration is one of the major factors driving the growth of the global organic beef meat market. Growing consumer awareness and preference for natural and organic foods owing to associated health benefits has fuelled the shift in preference for organic food in day-to-day edibles by consumers, especially in Eastern Europe. Organic beef products are anticipated to gain popularity due to the organic wave in the region over the forecast period.
Due to the availability of natural resources in the countries of Latin America, companies have easy access to raw material cultivated for the production of organic products. In Latin America, Brazil and Argentina are the most prominent countries contributing towards the production of organic beef. For instance, in 2017, according to the report published by the Research Institute of Organic Agriculture (FiBL) and International Federation of Organic Agriculture Movements (IFOAM) – both non-profit organisations – over 70% of the total organic agricultural land in Latin America constitutes permanent pasture land.
Global organic beef meat market structure
The global organic beef meat market is primarily characterised by the presence of a large number of regional and multinational companies. An approximate share of 40%-45% is accounted for by multinational players who are also the price regulators of the global market. North America and Western Europe are the two main regions to target due to increasing number of health conscious consumers and increasing demand for organic food and beverages in these regions. Companies such as Tyson Foods Inc., JBS Global, Danish Crown and others are the major players in the organic beef meat market. Regional players and local players account for a market share of 30%-35% and 20%-25% respectively. These players largely operate in the U.S., U.K. and Australia markets and their major target audience includes consumers seeking organic processed meat.
Our analysts have come up with a comprehensive analysis of the global organic beef meat market in a new publication titled "Organic Beef Meat Market: Global Industry Analysis (2012-2016) and Opportunity Assessment 2017–2027." As the name suggests, we have forecasted the global organic beef meat market across different geographical regions and on the basis of the various market segments and have provided a critical assessment of the opportunities available to all the companies operating in the global organic beef meat market over a 10-year forecast period 2017 – 2027. Primarily, we have focussed on highlighting the numerous developments that are likely to take place in the global organic beef meat market in the years to come. Our analysts have studied the market extensively and have identified multiple drivers, restraints, and trends that are expected to influence the global organic beef meat market and consequently the business operations of the leading as well as second-in-line players operating in the global organic beef meat market. Through extensive research, our analysts have studied how the different market dynamics are likely to impact the current environment and future scenario of the global organic beef meat market, thereby providing useful insights to market players to plan their differentiating strategies capable of evolving with the changing market landscape.
Report Description
Our report on the performance of the global organic beef meat market for the period 2017– 2027 begins with an overview of the market followed by key definitions and an executive summary that gives a 360o view of the revenue forecast of the global organic beef meat market. We also present the market taxonomy in this section where we segment the global organic beef meat market on the basis of meat type, sales channel, and region. In the next section, we do a deep dive into the key market dynamics and present our independent analysis of the various factors, challenges, and market trends that we feel will define the market in the next few years. The following sections quantify our analysis of the global organic beef meat market by presenting data on the market size along with key performance metrics.
We have devoted the last section of the report to study the market performance of some of the top companies operating in the global organic beef meat market. We have profiled a few of the leading market players and presented a detailed analysis of their overall business performance and a comprehensive evaluation of their short-term and long-term business and go-to-market strategies. This section is intended to provide report audiences with a dashboard view of the competitive landscape of the global organic beef meat market.
Market Taxonomy
By Type

By Sales

By Region

Processed Meat

Ground Beef

Steak Beef

Chucks

Patty

Others

Direct Sales

Indirect Sales

Modern Trade

Convenience Stores

Online Retailers

Independent Retailers

Others

North America

Western Europe

Eastern Europe

Latin America

APEJ

Japan

Africa

Middle East
Research Methodology
Future Market Insights leverages secondary research extensively to ascertain the overall size of the global organic beef meat market and top industry players. In addition, our experienced team of analysts has gathered relevant market insights and data by speaking to the various manufacturers of organic beef and other key stakeholders based in various countries. We have then sliced and diced this massive amount of data gathered through primary and secondary research and validated it using different methods such as the triangulation method and have finally scrutinised the data using advanced tools to glean pertinent qualitative and quantitative insights into the global organic beef meat market.
Macro-economic indicators such as food industry outlook, food and beverage spending, organic beef meat consumption patterns, and others have been considered to arrive at the indicated market numbers. Top-down approach has been used to assess market numbers for each segment while bottom-up approach has been used to counter-validate the reached market numbers.
Organic Beef Meat Market Reports - Table of Contents
Harish Tiwari
Global Head - Business Development
CASE STUDIES
See how our work makes an impact.
At FMI, we design strategies that are adaptive, impactful, and implementable.