Organic Lamb Market By Product Type (Raw Lamb, Processed Lamb), Sales (Direct Sales, Indirect Sales), End Use (Household, Food Industry) & Region - Forecast to 2017 - 2027
Organic Lamb Market - Analysis, Outlook, Growth, Trends, Forecasts
October 2017

REP-GB-5340

282 pages
Organic Lamb Market Overview
[282 Pages Report] The organic lamb market is valued at US$ 135 Mn in 2021. It is set to grow at 2.7 % CAGR through 2027.
Processed lamb is more popular than its raw counterpart in the organic lamb market and estimated to push past US$ 30 Mn by 2027.
Western Europe and North America hold the lion's share in the organic lamb market and are anticipated to remain strong for the foreseeable future.
The IFOAM and FiBl Organic International 2017 report data shows that the global organic food market is valued at US$ 80 billion, pointing to huge scope for the organic lamb market. Developed countries in particular, show a marked preference for organic food as it is more natural with fewer additives and chemicals. Organic lamb provides the necessary nutrients without any added preservatives and has been able to gain higher trust in the market from consumers.
Different Varieties of Lamb Products Provide Choice to Customers
Key stakeholders in the organic lamb market deliver their products to end-customers through a number of distribution channels. These players offer a wide variety of specialized lamb cuts including breast, dried lamb, leg cut, ground lamb, etc. diversifying their product portfolio and thereby catering to a much larger customer base. For e.g. – Eversfield Organic Ltd., a UK based company that produces and sells organic lamb, sells directly to their customers through its ecommerce platform.
Processed Lamb More Popular than Raw Lamb in Organic Lamb Market
Processed lamb is anticipated to remain dominant over the course of the forecast period because of several advantages with reduced preparation time being one of them. The processed lamb segment had a revenue share of approx. 2/3rd in organic lamb market, is expected to gain 66 BPS, have a volume of more than 45,000 MT, and be worth almost US$ 160 million by end 2027.
An incremental dollar opportunity of just under US$ 40 million makes the processed lamb segment well worth the while of key stakeholders in the organic lamb market.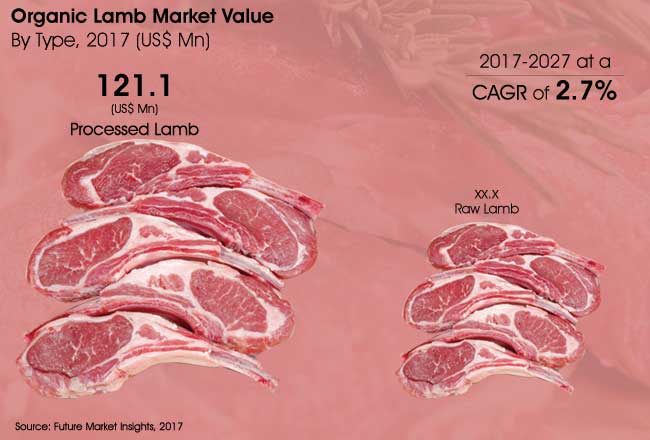 High Rearing Cost Stifles Growth in Organic Lamb Market
Organic lamb needs to be reared under extremely strict guidelines that depend on the regulatory bodies of the country. The livestock diet needs to contain feedstuff that is 100% organic and there can be no antibiotics or growth promotants fed to them. Along with this, extra care has to be taken of the livestock to adhere to these stringent guidelines and appropriate procedures have to be in place, making it an expensive and time-consuming process. This cost is naturally passed onto the final consumer, making the cost of organic lamb high and hampering the growth prospects of the organic lamb market.
Rearing Uncertainty and Trust Deficit Challenge in Organic Lamb Market
The rearing of organic lamb depends entirely on the health and wellbeing of the livestock. The prohibition of some medicines such as antibiotics can make livestock highly vulnerable and any sick or injured sheep treated with such medication cannot be sold in the organic lamb market. In addition to this, the high cost and low availability of organically certified feedstuff and forage is a constraint that needs to be overcome in the organic lamb market.
Furthermore, the poor organic certification infrastructure in emerging economies has resulted in customers there being uncertain of the quality and authenticity of organic lamb. Nonetheless, the APEJ processed lamb market alone is on track to push past US$ 30 million by 2027.
World's Most Profilic Intelligence Engine
Get Access To The World's Largest Market Research Database.
Sign Up Now
Organic Lamb Market Taxonomy
By Product Type
By Sales
Direct Sales
Indirect Sales

Modern Trade
Convenience Stores
E-Retailers
Specialty Stores
Others
By End Use
Household
Food Industry

Soups
Frozen Snacks
Ready Meals
Others (Bakery, Mea)
By Region
North America
Western Europe
Eastern Europe
Latin America
APEJ
Japan
Middle East & Africa
Key Questions Answered in the Report
What is the size of organic lamb market?
In 2021, organic lamb market is valued at US$ 135 Mn, and expected to grow at 2.7 % CAGR.
Which are the leading companies in organic lamb market?
The major players in the organic lamb market are Windy N Ranch, Stream Farm, Irish Country Meats Ltd., Shepherd's Lamb, and Thomas Food International Pty Limited.
Need specific information?
Our Clients