Dog Food Market Snapshot
The dog food market value is expected to reach US$ 44.83 Bn in 2021. According to Future Market Insights (FMI), the overall sales in the market will total US$ 81.65 Bn by 2031, rising at a CAGR of 6.2% for 2021-31.
The market for organic dog food is swelling as a result of paradigm shift from traditional dog food to healthier and more organic ingredients. Sales prospects for fresh and made-to-order dog food is higher than ever before.
Additionally, monoprotein dog food is predominantly effective for treating pets with allergies and intolerances. As per FMI, overall sales in the market will be up by 5.1% year on year growth in 2021, primarily spurred by rising pet ownership worldwide.
Key Points Covered in Dog Food Market Study
Market estimates and forecast 2016-2031
Key drivers and restraints impacting market growth
Segment-wise, Country-wise, and Region-wise Analysis
Competition Mapping and Benchmarking
Brand share and Market Share Analysis
Key Product Innovations and Regulatory Climate
COVID-19 Impact on Dog Food Market and How to Navigate
Recommendation on Key Winning Strategies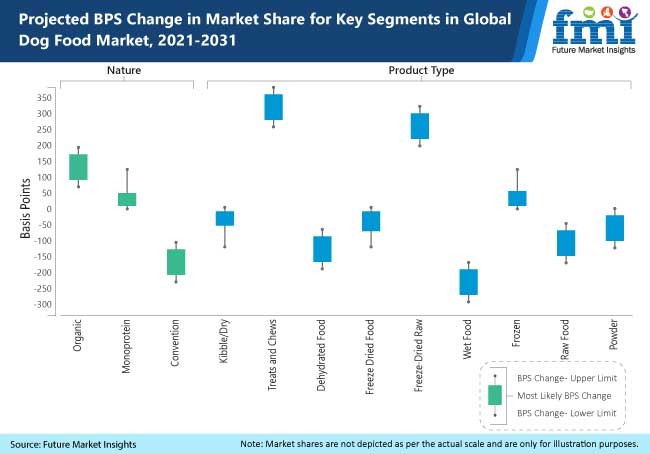 2016-2020 Dog Food Market Outlook in Comparison to 2021-2031 Growth Forecast
The humanization of pets is becoming a common subject in animal care programs around the world. On an emotional level, owners consider their dogs as members of the family and are increasingly concerned about their nutritional needs. This encourages owners to seek out high-quality pet food. FMI observes that pet owners are not hesitant to go the extra financial mile.
Cultural trends have a big impact on the rise in pet ownership. Pet ownership and pet-loving lifestyles are becoming increasingly popular among customers. This style is popular among generation Z and millennial to some extent.
Owners are becoming more concerned about their pets' weight as a result of the increasing awareness, and many are now opting for more expensive therapeutic weight loss meals. Obese pets are establishing a unique dog food marketplace for suppliers to explore business options. Thus, the market grew at a CAGR of 5.0% between 2016 and 2020. Forecasts for progress remain optimistic, with the market predicted to grow at a CAGR of 6.2% between 2021 and 2031.
The price of dog food is one of the aspects considered by pet owners before making their purchase decision. Several customers have expressed their concern about the prices of dog food, which are comparatively higher across many countries. High prices of dog food are likely to hinder the market expansion.
Will Acquisitions Remain a Key Growth Strategy among Market Players?
Pet owners are becoming cautious about their pets' health. They want to feed their pets high-quality nutritional supplements for healthy development. The demand for pet supplements is rising rapidly across the globe due to which market players are focusing on acquisitions to expand their product portfolio, geographical presence, and to strengthen distribution.
For Instance, in August 2020, Manna Pro Products acquired Doggie Dailies, a premium dog supplement brand. The aim behind the acquisition was to solidify Manna Pro's presence in the pet supplement space and capitalizing on a rapidly growing e-commerce market for pet products.
Does Third Party Certification have an impact on Dog Food Market?
Quality certification is very important to gain an edge in the competitive market. Quality certification plays a very important role in any product, as it ensures quality and quantity of the product bought. Certifications also ascertain the grade of food. Consumers in the dog food market also trust products that are approved by regulatory bodies such as FSSAI, GFSI, ISO, FDA, KOSHER, HALAL.
Will Dog Food Sales Increase as a Result of E-Commerce Expansion?
Dog food sales are expected to soar as a result of expanding ecommerce network. For the rising industry of dog food, electronic media has provided a new sales channel. It gives users access to a large selection of products Manufacturers of dog food often bear this in mind when they seek to build their global business through e-commerce.
Chewy has been eating the competition since 2012 and has established itself as one of the most authentic sources of dog food. Chewy has developed a particular position in the online market with its outstanding customer service methods, thorough product information, and instructive yet funny advertising videos.
Several other companies are expected to join the bandwagon as they seek to strengthen their footprint globally. FMI has identified this as a key trend enabling growth in the market.
Country-wise Insights
Has COVID-19 Spurred Dog Food Sales in the U.S.?
According to the study, the U.S. is estimated to account for 84.4% of the North America market in 2021. The novel coronavirus-induced lockdown contributed to the increase in pet adoption, and manufacturers are aiming to maintain the pace. During the lockdown, e-commerce, premiumization, and science-based offers caused impressive growth in the dog food market and the pet food sector as a whole.
Pets have shown to be the best companions in difficult situations. There was an extraordinary increase in dog adoptions and fostering in the U.S., resulting in increased demand for dog food products, prompting producers to expand production capacity.
Will Canada Position Itself as an Attractive Dog Food Market?
According to the latest report, the demand for dog food in Canada is expected to be valued at US$ 2,727.1 Mn in the year 2021.
Supermarkets and hypermarkets are the primary distribution channels for dog food in Canada. Grocery stores offer competitive pricing and a wide array of pet foods to choose from.
Therefore, hypermarkets and superstores such as Sobeys, Wal-Mart, Loblaws, and others are driving sales in the Canada pet food market. This convergence of convenience, variety, and pricing appeals to consumers in Canada, which is expected to have significant impact on the sales of dog food in Canada.
How Intense is Competition in the Thailand Dog Food Market?
According to FMI's analysis, the Thailand market is forecast to grow at a CAGR of 8.9%. The real potential for progress in the dog food market lies in evolving markets such as Thailand which are reckless and becoming hotbeds in global markets.
Emerging markets are offering greater potential for manufacturers to address pet owners' dietary shifts toward high-value products while catering to local needs and tastes. This can be attributable to strong growth in the number of pet owners, rapid urbanization, and increasing disposable incomes. This fuels a rising wave of new growth markets for manufacturers across Thailand.
Will Rising Pet Humanization Affect Growth in Japan?
In East Asia, Japan accounted for 31.1% of the market share in 2021 with Notable Compound growth of 6.2% over the forecast period. The surge in pet ownership among younger generations in Japan and pet humanization have been influenced by social networking and the adoption of the western lifestyle. As a result of these factors, dog food consumption is expected to increase in Japan.
What are the Factor Driving the U.K. Market?
In Europe, the UK is will account for 20.4% of the market share and reach a valuation of US$ 2.3 Bn in 2021.
The growing demand for frozen dog food in the UK is one of the key reasons behind the growth of the dog food market. The perception of consumers in the UK towards the health of pets is changing, resulting in the growing demand for frozen and freeze-dried dog foods.
One of the primary factors driving the frozen and freeze-dried dog foods market in the UK is the growing trend of nuclear families. Furthermore, rising pet health awareness is one of the primary drivers of market d in the United Kingdom.
Category-wise Insights
Why is Organic Dog Food High in Demand?
Organic dog food demand is expected to grow at a CAGR of 6.9%. Consumers are more concerned than ever before about the ingredients in dog food. A growing number of pet owners are looking for comparable qualities in their pet food with organic foods gaining popularity in human consumption.
They expect their dog food be free of artificial colors, preservatives, pesticides and tastes, as well as synthetic hormones, and antibiotics. Hence, to capitalize on the current market trend, dog food manufacturers are launching newer brands with a diverse range of organic dog food options.
What is Driving Insect Protein Dog Food Sales?
As per the study, the insect-derived source will surpass US$ 2.8 Bn in the year 2021 and it is expected to grow with a CAGR of 8.0%. Product launches will remain a key factor driving growth in this segment.
For instance- Scout & Zoe's, which is dog food and treat manufacturing company based in the United States, launched its newest product line called Super Fly for dogs, in 2020.
Why is Wet Food Highly Sought-after?
According to FMI's analysis, wet food product type will total US$ 6.5 Bn in the year 2021 and it is forecast to grow at a CAGR of 4.3%. Wet dog food ensures that dog gets all of the proteins, vitamins, and minerals it needs to stay healthy and hydrated. Wet food is ideal for young pets who are unable to chew because of missing teeth, misaligned jaws, or small mouths.
Which Pet Type will hold a Dominant Position?
The adult Dog category is estimated to account for 58.6% of the market and reach a valuation of US$ 26.26 Bn in 2031. Demand in the segment is expected to grow at a healthy pace over the forecast period. The high appetite of adult dogs due to their active nature is one of the key reasons behind the dominance of adult dogs in the pet type category.
Which is the Preferred Packaging Type and Distribution Channel for Dog Food?
In packaging type, bags are estimated to account for 36.9% of the market share in 2021. Demand in the segment is expected to increase at a CAGR of 4.5% over the forecast period.
In terms of distribution channel, online retailers are expected to remain preferred choice. Overall sales via online channels will total US$ 6.6 Bn in 2021.
Electronic media gives users access to a large selection of products, which is one of the chief growth drivers of the online retailers segments.
Competitive Landscape
Market players are focusing on improving product quality and increasing production capacity. They also are looking to expand their distribution channel and launch various food products
For Instance Bond Pet Foods Inc., which is a biotechnology company started in 2017, has launched its first product. The company is developing fermentation-based protein sources that do not require the use of live animals or meat. Its Protein-Packed Dog Treat Bar provides at least 29% protein per bar and is created with dry yeast protein.
In June 2021, NUTRO introduced a new creative advertising campaign called "Dogs Give Everything 100 Percent," which celebrates how NUTRO. FEED CLEAN recipes provide dogs with the energy they need to live a full and active life. The campaign, created by BBDO New York, promotes the brand's relaunch and emphasizes that when dogs are at their best, they are the perfect example of how to get the most out of life.
Scope of Report
Attribute

Details

Forecast Period

2021-2031

Historical Data Available for

2016-2020

Market Analysis

USD Million for Value

Key Countries Covered

US, Canada, Germany, U.K., France, Italy, Spain, Russia, China, Japan, South Korea, India, Thailand, Malaysia, Indonesia, Australia, New Zealand, GCC Countries, Turkey, Northern Africa, and South Africa

Key Segments Covered

Nature, Source, Product Type, Pet Type, Packaging Type, Distribution Channel, and Region

Key Companies Profiled

Evanger's Dog & Dog Food Company, Inc.
Nestlà Purina Pet Care
Hill's Pet Nutrition
Affinity Petcare SA
Nutro Products Inc.
Unicharm PetCare Corp.
Total Alimentos SA
Nutriara Alimentos Ltda.
The J.M. Smucker Company
Dave's Pet Food
Boulder Dog Food Company
Real Pet Food Company Pty Ltd
Burgess Group PLC
Freshpet
Party Animal, Inc.
Rollover Pet Food Ltd.

Report Coverage

Market Forecast, Company Share Analysis, Competition Intelligence, DROT Analysis, Market Dynamics and Challenges, and Strategic Growth Initiatives

Customization & Pricing

Available upon Request
Key Questions Answered
What is the demand outlook for dog food market?

The dog food market will register growth at 6.2% CAGR between 2021 and 2031.

What is the current dog food market size?

The dog food market is expected to total US$ 44.83 Bn by the end of 2021. In terms of volume, it is expected to surpass 10,413,401 MT

At what rate will dog food sales rise post pandemic?

Dog food sales will recover at an impressive pace, registering 5.1% year on year growth in 2021.

Who are the top players in the dog food market and what is their contribution towards sales?

Mars Incorporated,Purina, The J.M.Smicker Company,Hill's Pet Nutrition, Affinity Petcare SA, Freshpet, Iams, Real Pet Food Company Pvt Ltd, Evanger's Dog & Cat Food Company,Inc. Burgess Group PLC are the leading companies in the dog food market. They are expected to account for 30% to 40% of sales through 2021.

What is the North America dog food market outlook?

Demand for dog food will increase at 5.2% CAGR in North America between 2021 and 2031.

At what rate will the demand for dog food rise in Europe?

The Europe dog food market is expected to register 6% CAGR over the course of the assessment period.

Who are the key exporters of dog food?

Germany, UK, Thailand, France, and Netherland are the key exporters of dog food.

What are the key trends shaping the dog food market?

Rise in pet ownership, focus on pet humanization, and surging availability across online channels will shape the future of the dog food market.

What is the outlook for dog food sales in South Korea and Japan?

Japan is expected to account for 31.3% of dog food sales in East Asia, while South Korea will contribute over one-fourth of sales registered in the region in 2021.
Dog Food Market by Category
By nature:
Organic
Monoprotein
Conventional
By source:
Animal Derived

Fish
Chicken
Duck
Beef
Pork
Venison/Game
Lamb
Turkey

Plant-derived
Insect- derived

Crickets
Mealworms
Black soldier flies
By product type:
Kibble/Dry
Treats and Chews

Pastes
Cremes / Cream-Snacks
Crunchy snacks
Chew sticks
Tablets
Biscuits
Jerky
Rawhide

Dehydrated Food
Freeze Dried Food
Freeze-Dried Raw
Wet Food
Frozen
Raw Food
Powder
By pet type, Dog Food market is segmented as:
By packaging type:
Pouches
Bags
Can
Bottles & jars
Folding cartons
Tubs & Cups
By distribution channel:
Store-based Retailing

Hypermarkets/Supermarkets
Convenience Stores
Mom and Pop Stores
Pet Stores
Discounters
Independent Grocery Retailers
Drugstores
Other Retail Formats

Online Retailers
By region:
North America
Latin America
Europe
East Asia
South Asia
Oceania
MEA
Need specific information?
Talk Show:
The Rise of Intelligent Packaging
Personalized, Connected and Sustainable
November 18, 2021
11:00-11:45 AM PST (USA & Canada)
This is a LIVE session