GaN Micro LED - A New Macro Force in Digital Displays and Smart Lighting
Over the years, technologies empowering digital experiences have steadily disrupted business models and markets. Each transformation in the technology industry is typically illustrated by a leap forward in how today's consumers interact with and apply technology in their daily lives. From large frames to desktop PCs; tube televisions to projectors; plasma screens to LCDs; and now from OLEDs to Micro-LED, high-tech screen technologies continue to witness a massive wave of transformation and innovations. Although LCDs and rapidly maturing OLED displays have been the high-end electronic display of choice, they are power hungry and do not offer high level of brightness; therefore, the manufacturers' war for innovation supremacy continues.
The next-generation, self-emissive display technology will be more energy efficient, while the smart lighting components will better control lighting, intensity, color, direction, shape by integrating pixelated, non-organic LEDs. With unprecedented advancements in technologies, GaN micro-LED technology promises to fulfill these projections by combining the efficiency of Gallium nitride (GaN)-based LED direct emission and potential for manufacturing microscopic LEDs. To that end, a number of optoelectronic technology solution providers such as Plessey have announced to cease the launch of new lighting LEDs and focus entirely on GaN micro-LED-based displays.
GaN Micro LED Market - Key Research Findings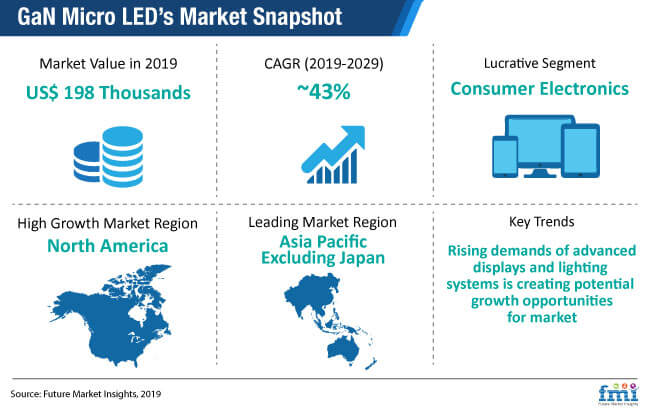 The GaN micro LED market size in 2018 was approximately ~US $148.61 Thousands.
The GaN micro LED market will be increasing at a CAGR of ~43% during the period of forecast for 2019-2029.
The increasing demand for advanced display solutions, automotive applications has been recently driving the growth of GaN micro LED.
Collectively, North America and Asia Pacific Excluding Japan regions likely to account for majority of revenue shares in the GaN Micro LED market by 2029.

Asia Pacific Excluding Japan, due to the strong presence of the micro LED market, is expected to continue to be a prominent regional market for recordable optical disc manufacturers.

The media industry is expected to remain a prominent application area owing to the investments in the advanced display applications.

The media & entertainment industry has witnessed significant growth
Noteworthy application potential of GaN Micro LED has been identified
Key Factors Shaping the GaN Micro LED Market
The GaN Micro LED market is being driven by the demand for automotive and advanced display lighting solutions that enable users to utilize IoT systems in better way with best quality in display and lighting solutions for the long-term management with high growth in future.
The emergence of new technologies, Internet of things (IoT), and high quality Display applications on Demand is impacting the growth of the GaN Micro LED market.
The Gallium Nitride based LED are highly efficient sources for illumination. GaN micro LEDs supports multi gigabit per second Visible light communications (VLC) uses these sources to supplement wireless communications by offering large, license free region of optical spectrum. This solution are boosting customer inclination to use micro LED displays and other solutions such as ambient lighting for interior lamp designs inside the car are among the factors impacting the growth of the GaN Micro LED market.
On the other hand, the growing trends of Internet of Things (IoT) systems is expected to affect the growth of the GaN micro LED market. The development of more efficient high-performance featured GaN LED will be from smartphone industry. The sports and entertainment sector is expected to rely heavily on micro LED as they promise brighter displays and long running mobile devices with faster response time.
The near to eye devices like AR and VR poses higher requirement on size and weight to achieve best user experience. The projection technologies are based on micro display that integrates all pixels showing images or video into monolithic IC module. GaN or InGaN LED can reduce the volume of light source and overall weight with better display contrast. Wafer fabrication technology helps in simplifying the transfer process of micro LEDs. The availability of micro LEDs as a single pixel helps to produce high intensity, collimated light over a small area or to produce useable light at ultra-low current and power. The main advantage of using GaN micro LED is that the optical power and luminous intensity are normalized to the pixel area for display brightness.
The growing adoption GaN RF devices in military, defense and aerospace applications and The use of GaN based LEDs for interior and exterior lighting such as headlights and signal lights, car interior lighting, fog lights, stop lights, and dome lights in the automotive industry has also contributed to the larger market size. The market for GaN based micro LED power devices is expected to grow significantly during the forecast period of 2019–2029 due to superior features such as minimum power loss, high speed switching miniaturization, and high breakdown voltage compared with silicon-based power devices.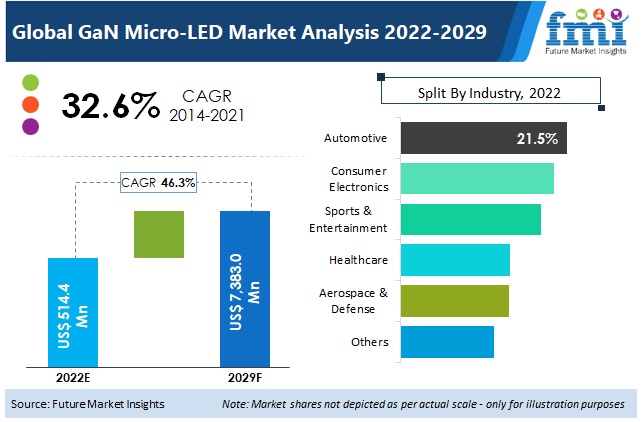 GaN Micro LED Market Structure Analysis
The global GaN micro LED market represents a fairly consolidated competition landscape, where a majority of key players maintain their strategic focus on the development of solid distribution partnerships and joint ventures, thus targeting a firmer global footprint.
The GaN micro LED market has been relatively moderate in size, which remains a key factor for its dynamic competitive nature.
Leading manufacturers of GaN micro LEDs are currently prioritizing R&D and new product developments to capitalize on the booming demands of micro LED sector in North America, Europe, and China.
Portfolio extension is also identified as one of the key developmental strategies adopted by the manufacturers of recordable optical discs.
For a stronger foothold in target markets, GaN micro LED manufacturers will continue to rely on strategies such as mergers and acquisitions and partnerships.
Deeper understanding of the market trends and preferential shifts of end-use segments across various regions are likely to create a bottleneck for prominent players that are seeking to explore the untapped opportunities in the GaN micro LED market.
GaN Micro-LED Market - Moving Beyond LCDs and OLEDs
Following its debut in Samsung's 'The Wall'- a massive modular MicroLED TV, an array of millions of microscopic LEDs is set to oust OLEDs as the next big display technology. An embrace of R&D investment and initiatives has been underway to develop technologies for fabricating highly efficient GaN micro-LEDs for application ranging from TVs to smart watches with no size limit. As the demand for digital visual spikes and human-machine interface remains at the forefront of design and engineering, a rapid ascension of GaN micro-LED sales is on the horizon. Moreover, future expansion of GaN micro-LED market is likely to work in tandem with consumers seeking out latest innovations and increasing incorporation of advanced display technologies that not only eliminate the need of backlight but also appears much brighter than conventional displays. 'Greater efficiency' is a major advantage of GaN micro-LED - enabling reduced power consumption and making it a viable technology for battery-powered products.
Newer consumer trends are deemed to shape the future of GaN micro-LED market. For instance, a widespread adoption of wearable display or near-eye display (NED) devices for virtual reality experience and emerging trends of 'auto-infotainment' bringing a rapid evolution in conventional automotive display units will signify ample sales opportunities to be exploited.
Tracking the Growth Prospects in Developed and Developing Countries
GaN micro-LED technology is becoming a relatively fast contender to watch for display applications in number of industry verticals. Although the global commercialization of GaN micro-LED is still at the nascent phase, it has emerged as an attractive alternative to LCDs and OLEDs for both ultra-small and ultra-large applications. The U.S and EU5 are likely to offer greater opportunities due to strong presence of GaN micro-LED market players. Stakeholders in these regions are also synchronizing their advances through strengthening collaborations with various technology solution providers. In addition, a growing number of Asian players have been demonstrating their progress and latest breakthroughs in the GaN micro-LED technology.
From Niche to Mainstream - Decoding the Journey
Recent studies have suggested that GaN micro-LED will soon become a mainstream; as steep declines in manufacturing costs and subsequent drop in pricing will allow the technology to gradually find acceptance in numerous applications, and further make it suitable of mass market. The key challenge existing today for GaN micro-LED manufacturers is the placement of gallium nitride material onto a substrate. High complexity in design and an increase in the demand for foldable and flexible display technologies for advanced specifications could possibly represent a threat to the development of GaN micro-LED market.
With increased penetration of video-streaming services, today's consumers are rapidly becoming accustomed to consuming information and entertainment on multiple screens at home. Such trends are making inroads into automotive display units in line with growing importance of in-car ambience and near-ubiquity of electric cars, and the result is likely to lead to increased demand for GaN micro LED. Stakeholders are constantly placing their focus on the development of game-changing fabrication technology and tap into massive opportunities to replace incumbent technologies in a wide range of applications.
Mid power micro-LEDs remain preferred
Demand for low power micro-LEDs grows rapidly
Micro-LED displays take the lead
Adoption of micro-LED lighting increases significantly
Use in consumer electronics remains bullish
Demand from sports & entertainment sector rises
How Growth will Unfold
An exponential growth in wearable technology - from fitness trackers and smartwatches to Google Glass and Microsoft's HoloLens - is highly likely to accelerate the mass market of GaN micro-LEDs. Wearable technologies are further changing the face of entertainment, enabling consumers get digitally-enhanced view of the remote environment, thereby potentially raising the need for cutting-edge display technology. GaN micro-LED is slowly making its way to being a solid player in the display market space. Additionally, a drive of innovations in lighting industry and the emergence of smart lighting concept that not only lower the energy demands but also help shape urban spaces and smart cities are expected to prepare greater grounds for GaN micro-LED market.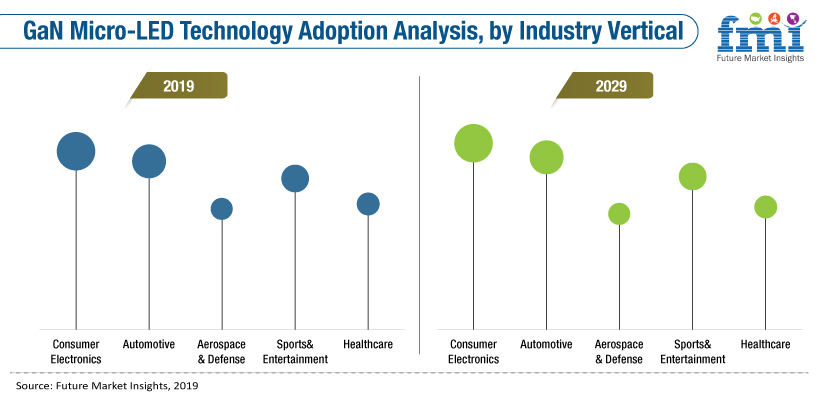 * This data is only a representation. Actual data may vary and will be available in report.
Click Here To Know How The Growth Will Unfold
Custom Market Research Services
FMI offers custom market research services that help clients to get information on their business scenario required where syndicated solutions are not enough.
Overview
GaN Micro LED Market Assessment 2019-2029
A recent market study published by FMI on the GaN Micro LED market includes global industry analysis 2014-2018 & forecast 2019-2029, and offers a comprehensive assessment of the most important market dynamics. After conducting thorough research on the historical as well as current growth parameters of the GaN micro LED market, the growth prospects of the market have been obtained with maximum precision.
Gan Micro Led Market Taxonomy
By Output Power
Low Power (0.15 to 0.7 W)
Mid Power (0.7 to 1 W)
High Power (1 to 6 W)
Ultra-high Power (>6 W)
By Function Type
Display

Near to Eye Devices: AR & VR
Smartwatch
Television
Smartphones
Laptops

Lighting
By Industry Vertical
Consumer Electronics
Automotive
Aerospace & Defense
Sports & Entertainment
Healthcare
Others
By Region
North America
Latin America
Eastern Europe
Western Europe
Asia Pacific Excluding Japan
Japan
Middle East and Africa
How the research was conducted?
Primary Research
C - Level Executives
Marketing Directors
Sales Heads
Production Managers
Distributors Heads
Sales Executives
Product Manufacturers
Distributors
Traders
Industry Experts
End Users
Current Market Dynamics and Challenges
Market Characteristics
Market Performance and Growth Quadrants
Competition Structure and Market Structure
Strategic Growth Initiatives
Near term and long term market growth prospects
Market Segment Splits and Authenticity
Opinions on market projections and validity of assumptions
Secondary Research
Industry Publications

IET Journals
Industrial Product Review
Industrial Automation Magazine

Industry Associations

Automation Industry Association
ISA (International Society of Automation)

Company Press Releases
Annual Reports and Investor Presentations
Research Papers
Government Websites and Publications
Trade Websites
Primary Interview Splits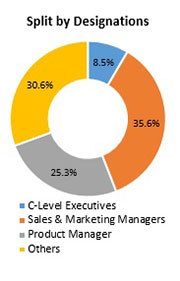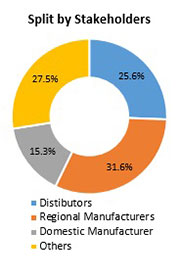 To Learn More About our Comprehensive Perspective on Gan Micro Led Market,
Get in touch
COVID -19 : Impact Analysis
Request the coronavirus impact analysis across industries and markets
Request Covid -19 Impact
CASE STUDIES
See how our work makes an impact.
At FMI, we design strategies that are adaptive, impactful, and implementable.