Vegan Pasta Market By Category (Fresh, Dried), Nature (Organic, Conventional), Source (Wheat, Rice, Legumes, Buckwheat, Oats), Product (Penne, Spaghetti, Elbows, Fettuccine & Linguine, Filled Pasta), Packaging (Boxes, Trays, Packets & Pouches), Distribution Channel (Direct (B2B), Indirect (B2C), E-Commerce (Online Retail)) & Region - Forecast to 2019 - 2029
Vegan Pasta Market - Analysis, Outlook, Growth, Trends, Forecasts
October 2019

REP-GB-10641

223 pages
Vegan Pasta Market Overview
[223 Pages Report] The Vegan Pasta Market is valued at US$ 161.5 Million in 2021. The market is likely to grow at a CAGR of 9% through 2029, reaching US$ 322 Million.
Tier I players account for nearly 10% share in the global vegan pasta market.
The penetration of organic vegan pasta is relatively low than the conventional variants. However, among vegan products that are available in the market, the organic certified vegan pasta is consumed more than the conventional one.
Manufacturers are also focusing on receiving certifications for both, due to ongoing changes in consumers' demand. Most of the products that are launched in the recent times that are certified vegan also contain organic certification.
North America has a high share in the consumption and production of vegan pasta. The consumption is also high in Europe. But the vegan pasta market in North America has high growth rate, and market consolidation in the region will remain key to gaining distinct competitive edge.

In South Asia, the vegan food market has not penetrated as much as in developed countries and this regional market is expected to have low growth rate for the upcoming years.

As the vegan pasta market is in its introductory phase in most of the countries of the globe, there is high opportunity to grow in this market and the manufacturers are continuously launching new products to cater to the changing demands of the consumers.
Key Factors Shaping the Vegan Pasta Market
Growing Popularity of Vegan Pasta among Millennials

Vegan pasta has gained considerable traction in the past few years, and is still a premium product. But, due to the rise in the shift of eating patterns among millennials and more and more consumers becoming vegan or flexitarians, the demand for vegan pasta is expected to increase in the years ahead. However, most of the older population still prefers traditional pasta to other variations that are available in the market.

Presence of Specialty Vegan Stores

Consumers get to know if a product is vegan or not from certifications that are available on the label of the product. Consumers while buying vegan pasta in a regular hypermarkets or supermarkets have to look through products extensively. However, there has been a rise in the launch of specialty stores that only sell an extensive range of vegan products.

This trend is observed more in the U.S. and Australia. This is expected to increase the demand for vegan pasta in these regions. The changing demand of consumers has prompted the hypermarkets and supermarkets in these regions to open a separate aisle for vegan products.

Developed Regions Remain the Largest Markets for Vegan Pasta, Followed by Oceania

Pasta consumption is very high across the globe. But the changing trends and rising health-conscious consumers have led manufacturers to launch products such as vegan pasta catering to consumers' demand. Vegan pasta is quite popular among consumers in North America and Europe.

This is because consumers here are well aware of product such as vegan pasta that are available in the market and the new product launches and are willing to buy products at premium prices as well. The penetration of vegan pasta is relatively less in Oceania. However, the scenario may change in the coming years with emergence of Australia as the third largest vegan product consuming countries in the world, opening a wide window of opportunities for the market players.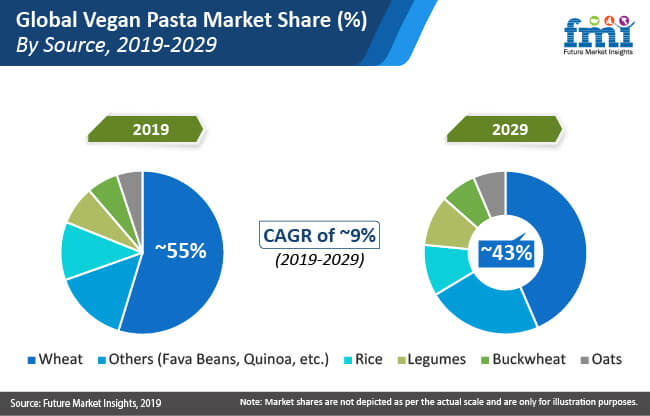 Vegan Pasta Market Structure Analysis
Key manufacturers such as Barilla Group, and TreeHouse Foods Inc., in the vegan pasta market are trying to increase their global presence in developing countries.
Tier I players include Barilla Group, TreeHouse Foods Inc., George DeLallo Company, Windmill Organics, etc., which account for ~10% share in the global vegan pasta market.
Tier II players include Dakota Growers Pasta Co., Schnitzer GmbH & Co. KG, MXO Global, Inc. (Tolerant Organics), Seggiano, Pastificio Lucio Garofalo S.p.A., Bionaturae LLC, and some other players.
Tier III usually consists of unorganized players in the vegan pasta market.
Whole Grain and Legume-Based Vegan Pasta - Rich Nutritional Content, Low Gluten
Myriads of evidence presented that refined carbs pose various risks to human health, including obesity, heart disease, and inflammation. Food manufacturers are rushing to innovation in the space, developing healthier food products including pasta derived from ingredients, such as whole grains and legumes. Organic vegan pasta - spaghetti - consists of a single ingredient - USDA-certified organic brown rice.
In addition, the brown rice vegan pasta is gluten-free, minimizing health-related issues, particularly for consumers suffering from gluten-intolerance. Vegan pasta sourced from legumes encompass lentils – black, red, or green – offering a treasure of nutrients, including protein and fiber (in ample amount) along with various vital nutrients - calcium, iron, and vitamin B6.
Penne and elbows made with quinoa, and black or green lentils provide 20 grams of protein a serving, accompanied by 7g of fiber and affluence of iron. In addition, vegan penne and elbows are non-GMO proven. Although wheat vegan pasta contains gluten, the pasta delivers higher protein and lesser starch versus commercial wheat. The wheat-sourced vegan pasta exhibits richness in antioxidants and minerals - zinc, manganese, magnesium, and iron.
Leveraging the Vegan Trend with Claim
The veganism trend peaked in 2018, boosting a number of businesses in the vegan category. Vegan pasta, one of these beneficiaries, has been especially garnering attention since then as pasta has already been among the most favored convenience foods, globally. Fresh pasta served at restaurants and cafés usually contains eggs.
However, although a majority of packaged pasta seemingly contains ingredients that are plant-based, it would be an overstatement to refer to them all as 'vegan'. Popular brands leading the way in vegan pasta market such as Barilla, Ronzoni, Explore Cuisine, and Mueller's currently offer a variety of pasta with the authenticated vegan claim. These brands prominently see their vegan pasta selling at the all-vegan sections of Walmart, Whole Foods, and Costco.
On the other side, consumers following a vegan or vegetarian diet ought to recheck the ingredients mentioned on packets of store bought pasta. Still in its infancy, vegan pasta market is expected to see robust growth in the near future.
Intensifying Wave of Meat-Free Products in North America and Europe Attracts Market Players
Reports suggest that the production of vegan products in Europe is witnessing a two-fold growth, with the UK topping the list, replacing Germany. About a fourth of consumers in Canada are shifting towards a vegan diet. The demand for plant-based consumables in the US is significantly increasing - ~30% in 2018 – a staunch indicator for vegan pasta producers.
The certifications available on the label of food products provide insights to the consumers regarding vegan or meat-based. Conventional supermarkets incorporate a broad array of food products, making consumers look thoroughly before purchasing the food items. Specialty stores in countries, including the US, are being launched strictly offering a wide range of vegan consumables. As such, manufacturers of vegan pasta set their focus on penetrating into specialty stores.
Stakeholders Leverage B2C Sales Channel and Specialty Stores for Expanded Footprint
Recent surveys find that consumers believe that vegan food items are overpriced, or various food outlets offer limited vegan servings. Citing the opportunity, market forces are targeting the distribution of vegan pasta via indirect sales channel – business to consumer – to achieve an expanded consumer base.
With specialty stores snowballing in developed countries, vegan pasta makers are walking the extra mile to sell the offerings through specialty stores comprehensively. The movement of plant-based consumables is intensifying in countries including the UK, the US, and Australia – a factor driving competitors to channelize vegan pasta to these regions.
How Growth Will Unfold
With the message of vegan and veganism spreading like wildfire across the globe, legacy pasta makers are inclining towards providing plant-based or vegan pasta in a bid to serve the vegan consumers. The demand for healthy and clean label food products is spectating a major uplift, motivating pasta makers to focus on the production of vegan line-ups.
Consumers holding intolerance towards gluten tend to shift away from gluten-based products, particularly meat-based consumables. As a consequence, vegan pasta is set to make forays into the diet of health-conscious and vegan consumers. Although 3D printing technology is in its emerging stage in the food industry, early birds are expected to gain an edge over their market competitors.
World's Most Profilic Intelligence Engine
Get Access To The World's Largest Market Research Database.
Sign Up Now
Key Segment
Category
Nature
Source
Wheat
Rice
Legumes
Buckwheat
Oats
Others (Fava Beans, Quinoa, etc.)
Product
Penne
Spaghetti
Elbows
Fettuccine & Linguine
Filled Pasta
Others (Angel Hair, Farfalle, etc.)
Packaging
Boxes
Trays
Packets & Pouches
Distribution Channel
Direct (B2B)
Indirect (B2C)

Hypermarkets/ Supermarkets
Convenience Stores
Discount Stores
Food and Drink Specialty Stores
Independent Small Groceries

E-Commerce (Online Retail)
Region
North America
Latin America
Europe
East Asia
South Asia
Oceania
Middle East and Africa
Key Questions Answered in the Report
What is the outlook of the Vegan Pasta Market: Beyond Plant-Based?
The Vegan Pasta Market: Beyond Plant-Based is valued at US$ 161.5 Million in 2021. The market is likely to grow at a CAGR of 9% through 2029, reaching US$ 322 Million.
Which are the leading companies in Vegan Pasta Market: Beyond Plant-Based?
Some of the leading companies are Barilla Group, TreeHouse Foods Inc., George DeLallo Company, and Windmill Organics, etc.,
Need specific information?
Our Clients