Introduction
The ongoing trend of veganism is no longer restricted to kitchens. It has become widespread, comfortably encompassing the apparel & footwear industry. Consumer interest in eco-friendly products is a chief growth driver of vegan footwear sales. This trend is unlikely to slow down in the coming years.
The advent of leading shoe-makers will give further impetus to the market. While the origin of ethical fashion trends is often traced to fashion capitals in the U.S. and Europe, they are percolating into emerging nations sooner than expected. Rising focus on cruelty-free fashion and manufacturers' interest to capitalize on the huge scope for expansion are pushing sales across these economies.
Consumers around the world are consciously shifting towards ethical fashion. With this push, the vegan footwear market is forecast to surge at a CAGR of above 7%n in 2020. While temporary suspension of production due to COVID-19 outbreak is likely to stir some troubles, Future Market Insights (FMI) foresees impressive growth ahead for the market.
Multipronged Benefits of Vegan Footwear Fuelling Sales
Consumers today are better informed and have begun questioning manufacturers about the presence of certain materials that are either hazardous to nature or can trigger allergic reactions in wearers.
While it is possible for shoe-makers to respond to these questions, concerns pertaining to animal cruelty are compelling them to shift towards vegan methods. Leather, as we know, is the most common material used for soling and shoe linings. Steered by changing consumer interests, manufacturers are swayed away from it towards more eco-friendly alternatives.
Production of vegan footwear is therefore contributing towards the reduction of carbon footprint. Vegan footwear also have a high scope with regards to their fashion quotient. Keeping in mind style trends that are creating a buzz among consumers, leading brands are investing to make their designs more attractive and appealing.
Besides crisp design and appeal, these shoes are touted to be more comfortable and offer climate control. Vegan footwear manufacturers are therefore scoring high both in terms of comfort and style. This is one of the key factors enabling them to gain edge over conventional leather shoe-makers.
Demand for Reducing Carbon Footprint
Footwear business is undergoing major transformation steered by paradigm shift towards sustainable production. Companies are adopting several structural and policy changes to accommodate novel technologies of production that will help in curbing carbon footprint, protect valuable ecosystems, and significantly reduce pollution.
The vegan footwear drive is backed by several leading names in the fashion industry. Veteran British designer Stella McCartney flagged the trend when she became the first luxury label to become vegetarian in 2001. Her fashion line has shunned the use of leather, fur, and feathers without compromising on quality and design aspects.
While other leading brands such as Gucci, Versace, Burberry, and Chanel have joined the bandwagon and committed to no longer use fur, it is still a long way before vegan footwear takeover the fashion capitals of the world.
This however is unlikely to hold the market back. In the last couple of years several startups and online brands have ventured into the market and are recording accelerated pace of gains.
These companies use synthetic and natural materials for producing footwear. Some have even taken innovation a few notches higher by using hemp as a material for manufacturing shoes. Kannabis Fashion, which derives its name from cannabis, uses hemp as a key source for making canvas shoes.
Slowly and steadily more companies are expected to populate the space. The market for "better than leather" footwear is therefore expected to thrive in the coming years.
Certifications by International Organizations Ring in Change
In the last few years the market for vegan footwear has witnessed influx of several new players. While some of the renowned brands continue to shy away from ethical fashion trends, new companies are at the fore of vegan fashion.
Vegan trend in the fashion industry also is backed by international organizations such as the People for Ethical Treatment of animals (PETA). PETA-approved range of vegan footwear are creating much buzz in the fashion industry.
This has impelled some of the leading brands to jump into the bandwagon. New Look for instance is one of the first luxury retailers brand to have launched a massive range of accessories, bags, and shoes with The Vegan Society Trademark.
Another exemplary fashion retailer Top Shop too joined the trend with its inaugural range of PETA-approved vegan shoe collection. PETA also has recognized Marks & Spencer for its efforts by awarding the title of "Vegan-Friendly High Street Retailer'.
An increasing number of lifestyle and retailer brands are entering into the vegan footwear market. Backed by international organizations, the market will therefore gain considerable momentum in the coming years.
Key Challenges
Veganism trend is becoming very popular among the millennial in the developed countries. The British Retail Consortium (BRC), has issued a new guideline in Feb, 2020 which states 'vegan' declaration is a complex process as many product materials are derived from animals such as glue, dyes, and chemicals among others.
Hence, retailers need to verify the raw materials used in the vegan footwear that it sells. Retailer's assurance on products works as a big factor in terms of sales, which is going to be slow as retailers need to verify raw materials used. Such stringent regulations may hamper the market's growth to an extent
Region-wise Analysis
North America Vegan Footwear Market
The North America market for vegan footwear is extremely lucrative. The vegan shoe trend is considerably widespread in the U.S. Studies suggest that the trend is expected to gain momentum once the economy recovers from the massive jolt of COVID-19 outbreak.
With leading fashion brands and retailers in eyeing to capitalize on changing consumer interests, the North America vegan footwear market is expected to gain significant impetus in the coming years.
The rising number of vegan population in the U.S. is attributable for the swelling demand in the market. The nation has witnessed a sharp rise in vegan population since 2014. According to recent studies, the vegan population in the U.S. has already cross 20 million mark in 2019.
Consumers in the region are highly informed and are showing greater degree of environmental consciousness. This, coupled with their high purchase power will support the expansion of the market.
Request a sample specific to North America market
Europe Vegan Footwear Market
Europe and North America together accounted for above 60% of the global market in 2019. The increasing demand from the U.K. and Germany will support expansion witnessed in Europe.
Key factors supporting growth of the market in Europe are increasing consciousness among consumers and their interest for environment-friendly fashion. Also presence of some of the leading retail brands who are at the fore of driving this change is enabling growth in Europe.
Request a sample specific to Europe market
Asia Pacific Vegan Footwear Market
Veganism is gradually making inroads into Asia Pacific. The fashion industry in the region is increasingly acknowledging cruelty-free and vegetarian materials in their designs. Some of the most celebrated fashion houses have already abandoned the use of furs.
Vegan leathers, which until now enjoyed popularity as a vegan alternative to leather for interior designing, are finding applications in the footwear sector as well. Several leading brands and designers are using vegan leathers for their innovative creations.
Other than this, the Asia Pacific market is also witnessing increasing demand for plant-based materials such as mushroom leather. In India, where a significant percentage of the population is identified as vegetarian, the demand for vegan footwear has skyrocketed.
The demand for handcrafted apparel and shoes is particularly high in the region. PAIO, which is a PETA-certified vegan shoe brand based in India, is creating handcrafted footwear to suit the sensibilities of conscious consumers. Furthermore, the company offers made-to-order solutions for completely customizable designs.
Ethical fashion is gaining popularity across other countries as well, which has led to the spurt of new launches. Coupled with this, the advent of novel players in the footwear industry will give impetus to the Asia Pacific market in the coming years.
Request a sample specific to Asia Pacific market
Category-wise Insights
Shoes Remain Dominant
Based on product, the market for vegan footwear can be segmented into shoes, sneakers, boots, sandals, heels, loafers, and others. Of these, the shoes segment is expected to remain dominant through the course of the forecast period.
Vegan shoe trend has become increasingly popular among both men and women. They are swiftly emerging as popular and sustainable choices for myriad reasons. Vegan shoes, especially those certified by international organizations, are guaranteed to not have contributed towards creating carbon footprint.
In the coming years, the demand for cruelty-free shoes is poised to surge significantly. This will enable the market gain momentum in the near future.
Microfibers Hold Lion's Share
Some of the common types of materials used in the production of vegan footwear are microfiber, polyurethane, recycled plastics, recycled polyester, cotton, hemp, natural fiber, and others.
The focus on using recycled materials is significantly high in the market which is aiding its growth. In the coming years, hemp as well will gain prominence as a key material used for innovative designs.
The rising focus on plant-based material for designing vegan footwear will fuel demand in the hemp segment. Currently, however, microfibers account for lion's share among materials.
Men Constitute Primary End Users
Millennial constitute the most lucrative demography for vegan footwear sales uptick. Veganism as a trend is popular among men and women alike. Likewise, vegan footwear is expected to gain popularity among both men and women end users.
Social media influence and celebrity endorsements of vegan footwear will boost sales among millennial. They also exhibit willingness to spend on latest trends, which is expected to augur well for the overall market.
Indirect Sales Channels Exhibit Hegemony
Traditionally, indirect sales channel have accounted for a significant share in the overall vegan footwear sales as compared to direct sales. Hypermarkets/ supermarkets are expected to remain the most preferred sales channels, followed by multi-brand stores and specialty stores.
Altogether, three sales channels accounted for almost half of the overall share in the market. The sales of vegan footwear through online retailers will however see higher growth as compared to the other sales channels in the near future.
Multi-vendor presence, product comparison, low price offerings in various third party online platforms are becoming a threat to specialty stores, thus reducing the profit margin.
Mass/ Economic Range Holds Dominance
Vegan footwear market is currently dominated by mass/ economic segments in terms of pricing while companies focusing on premium or luxury vegan footwear production as it gaining traction among fashion-conscious millennial.
To increase sales, companies are likely to emphasize on high net individuals as their target audience for luxury or premium vegan footwear. Launching fashionable products can create opportunities for them to establish a strong foothold in the market.
Competitive Landscape
Leading brands within the market are focusing on product launches and consistently improving their designs to stay relevant amid competition. There is also ample focus towards advertising and promotion.
Footwear market is an increasingly competitive one. Rivalry is expected to get fiercer as leading players and luxury brands venture into the market for vegan footwear.
Companies operating in the market are therefore entering into strategic collaborations to gain competitive advantage. Besides this, to guarantee quality and attributes they are seeking certifications from leading international organizations.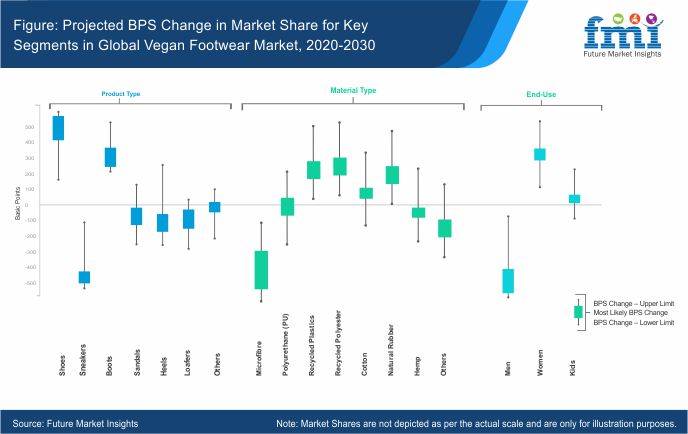 After seeing incredible surge in online searches for vegan fashion and footwear, Marks and Spencer has launched an expansive collection of vegan footwear. Elsewhere, among high street fashion brands, Office has unveiled an online destination for vegan fashion, where it stocks up brands such as Dr Martens and Blowfish.
Net-A-Porter also has joined the bandwagon and upped his game in ethical shoe market with sandals and ankle boots from Nanushka and Veja's vegan suede trainers. With the list of "PETA-approved vegan brands" increasing, FMI expects competition in the market to get fiercer in the coming years.
The list is only indicative – full list of Vegan Footwear key players is available upon request.
Vegan Footwear Industry Report: Scope
| | |
| --- | --- |
| Attribute | Details |
| Forecast Period | 2020-2030 |
| Historical Data Available for | 2015-2019 |
| Market Analysis | USD Million for value |
| Key Regions Covered | North America, Latin America, Europe, East Asia, South Asia, Oceania Middle East & Africa |
| Key Countries Covered | US, Canada, Germany, U.K., France, Italy, Spain, Poland, Russia, China, Japan, South Korea, India, Thailand, Malaysia, Vietnam, Indonesia, Australia, New Zealand, GCC Countries, Turkey, Northern Africa, South Africa |
| Key Segments Covered | Product, End User, Price Range, Material Type, Sales Channel, Region |
| Key Companies Profiled | Nike Inc., Susi Studio, Adidas AG, Matt & Nat, Veerah, Hexa Vegan Shoes, AVESU GMBH, Beyond Skin UKamong, Ethletic, MooShoes, and others |
| Report Coverage | Market Forecast, brand share analysis, competition intelligence, DROT analysis, Market Dynamics and Challenges, Strategic Growth Initiatives |
| Customization & Pricing | |
Key Questions Answered by the Report
What is the vegan footwear market size?

The current valuation of vegan footwear market is expected to surpass US$ 24.8 Bn by the end of 2020. Between 2020 and 2030, the market is expected to record 7.2% CAGR

Which is the largest market for vegan footwear?

North America currently leads the global vegan footwear market and is expected to remain dominant through the course of the forecast period

Which are the top companies in vegan footwear market?

Some of the leading companies operating in the market are Nike Inc., Susi Studio, Adidas AG, Matt & Nat, Veerah, Hexa Vegan Shoes, AVESU GMBH, Beyond Skin UKamong, Ethletic, MooShoes, and others

Who are the primary end users of vegan footwear?

Millennial account for majority sales witnessed in the vegan footwear market. High degree of awareness, coupled with willingness to spend on ethical fashion among millennial, will aid the expansion of the market

What are the various types of vegan footwear available in the market?

Shoes, sandals, heels, boot, sneakers, and loafers are some of the different kinds of vegan footwear available in the market

What is the outlook on vegan footwear market?

The rapidly expanding vegan footwear market exhibits long-term growth potential. Increasing use of sustainable material will boost the production of vegan footwear across the globe.
Key Segments
Product Type
Shoes
Sneakers
Boots
Sandals
Heels
Loafers
Others
Sales Channel
Material Type
Microfibre
Polyurethane (PU)
Recycled Plastics
Recycled Polyester
Cotton
Natural Rubber
Hemp
Others
End User
Men
Women
Kids
Transgender
Price Range
Regional Outlook
North America (U.S., Canada)
Latin America (Mexico, Brazil, Rest of LATAM)
Europe (Germany, U.K., France, Italy, Spain, Poland, Russia, Rest of Europe)
East Asia (China, Japan, South Korea)
South Asia (India, Thailand, Malaysia, Vietnam, Indonesia)
Oceania (Australia, New Zealand)
Middle East & Africa (GCC Countries, Turkey, Northern Africa, South Africa)
Need specific information?
Talk Show:
The Rise of Intelligent Packaging
Personalized, Connected and Sustainable
November 18, 2021
11:00-11:45 AM PST (USA & Canada)
This is a LIVE session