Vegan Cosmetics Market Key Research Findings
The multi-billion dollar worth vegan cosmetics market will witness robust growth between 2020 and 2030. According to Future Market Insights (FMI) Higher demand for cruelty free products will impel growth in the market
Sales via ecommerce is poised to surge yet brick and mortar stores will remain crucial point of sales
Rising veganism trends will give tailwinds to sales witnessed in the global market
Launch of innovative and novel cruelty free cosmetics will be key triggers for consumer demand
Veganism to Soon Become a Mainstream in Cosmetics Industry
Veganism although a niche concept is fast becoming a mainstream in the cosmetic industry. With an incredibly large number of consumers focusing on sustainability, cosmetic brands are compelled to rethink ingredients used in manufacturing. Besides this, overhaul in production is likely as manufacturers choose improving sustainability.
Thanks to the increasing access to information and rising penetration of the internet, modern consumers are rendered better aware than ever before. Coupled with this, soaring environmental concerns and depleting natural resources are causing a momentous shift in their behavior.
Consequently, veganism is witnessing an upward trend, which is unlikely to slow down as per recent studies. The beauty industry is feeling the effect of this movement as environmentally conscious consumers seek more cruelty free products and make sustainable choices.
According to FMI, the vegan cosmetics market is forecast to surpass US$ 20 bn in the next five years. The advent of established players will make veganism a stronger movement in the vegan cosmetics market. Additionally support from various international organizations will guarantee wider reach.
Changing Preferences of Millennial Will Have a Positive Influence on the Market
Studies suggest that millennial account for the dominant buyer power hence the beliefs of this generation are crucial factors driving the beauty industry. Because their choices reflect concerns pertaining to animal cruelty an increasing number of brands are turning to the production of vegan cosmetics.
Ethical consumerism is not limited to millennial, an increasing number of consumers are expressing concerns towards sustainability. Animal cruelty is often a reason enough to change purchase decision among consumers. Besides this, they are rejecting products containing unrecognizable ingredients.
An increasing number of brands are therefore focusing on the production of 100 percent vegan and cruelty free cosmetics. The word "Vegan" naturally draws attention towards a certain kind of diet. But as consumers shift to veganism to abstain from meat consumption aspects such as environmental concern and animal cruelty are influencing their lifestyle change.
At this rate, fashion and entertainment industries have had to change policies to cater to the changing consumer preferences. This trend has progressed into the beauty industry, significantly influencing the vegan cosmetics landscape.
Driven by "Clean Beauty" Trends Leading Brands are Expected to Launch Cosmetics in Vegan Category
The vegan cosmetics market is forecast to expand considerably in the coming years. Protests against animal testing are paving way for the expansion of the vegan cosmetics market. The trend is proliferating at an unprecedented pace in the West and as per FMI very soon it will be widespread across various high potential markets in the world.
According to recent surveys, British women are exhibiting higher inclination towards the purchase of cruelty free cosmetics, with a third of them not strictly following a vegan lifestyle. FMI believes that social trends such as the "clean beauty" has caused a spark in the vegan cosmetics market.
Leading brands are frequently launching products in this category. CoverGirl for instance has kick started 2020 with their brand new range of vegan beauty products, boasting natural ingredients such as aloe extract and milk.
It is interesting to note that CoverGirl isn't alone to tap into the novel veganism trend in the beauty industry. Multiple brands are seeking to capitalize on the trend. Even celebrities are launching their makeup lines in this category to appeal to a larger section of millennial. Singer Kesha for instance has recently unveiled her vegan makeup line called Kesha Rose Beauty.
In November last year, Sally Hansen launched its vegan and plant-based line of nail polishes. Avon was another brand to register its presence. Back in September 2019 it launched a vegan skincare line dubbed as "The Disillery".
The slew of product launches witnessed in the market is indicative of impressive growth on cards for the market. Several new brands have as well sprung up in this category over the last few years, challenging positions of several established names.
Since consumers nowadays are paying more attention towards harmful ingredients the products contain, manufacturers are compelled to change the line of production. Spurred by this, the vegan cosmetics market will exhibit growth at a positive pace.
Smaller Companies and Start-ups are engaging in Activities to Create a Niche
The profusion of smaller companies and start-ups are keenly aware of changing consumer preferences and their focus towards wider environmental concerns. These companies are using smart branding to carefully design and package their products.
They are mostly aiming at differentiating themselves from established competitors; sometimes using an ingredient that is fashion as their unique selling point. Be it aloe vera, avocado, coffee beans, argon oil, or chia seeds, these companies are exclusively focusing on highlighting key natural ingredients in their products to appeal to consumers. These start-ups are targeting to create a niche.
Vegan Approved Logos and Certification – A Key Trend Driving Cosmetics Industry
Support from renowned international organizations has been a chief driver of the vegan cosmetics market. People for the Ethical Treatment of Animals (Peta) for instance release a list of top vegan beauty brands at regular intervals.
Most companies considering appearing in this list as an immense leverage. As a result there is higher focus on vegan certification among cosmetic brands. Peta for instance affiliates companies that produce and sell vegan goods.
Once approved these companies can use Peta approved logo on their tags and labels. Consumers are no longer oblivious to these organizations, their mottos and logos. Naturally products boasting vegan approved logos and certifications will have a clear advantage in a highly competitive beauty industry.
Unprecedented COVID-19 Outbreak has Left the Beauty Industry under Shock
The beauty and personal care industry is probably one of the worst hit sectors amid the pandemic crisis. The industry is now struggling to cope with the shifting consumer behavior. Consumers are likelier to spend on safer products with low risk of contamination and longer shelf life.
In addition to this loss of sales due to shuttered hypermarkets/ supermarkets and departmental stores has significantly hampered growth prospects. Brands are therefore focusing on strengthening their ecommerce presents.
Some of the leading cosmetics brands are offering at-home wellness products to keep their business afloat amid impending slowdown. Since consumers are cutting back their spending on discretionary items, the cosmetics sector in totality make witness loss of sales.
Vegan Cosmetics Market: Region-wise Analysis
According to a survey conducted by The Physicians Committee, nearly 70% of the population in North America have claimed that they are more likely to use vegan and cruelty-free cosmetics.
North America is therefore expected to remain one of the highly lucrative markets for vegan cosmetics. According to the CEO of L'Oréal, demand witnessed in North America is gradually rising and consumers are exhibiting greater inclination for vegan products.
Presently, the cosmetics market in North America is witnessing higher demand for herbal products. This is also aiding the expansion of the vegan cosmetics market in the region. It will also gain from the presence of several leading companies.
In Asia Pacific too the market will witness increasing demand for cruelty free cosmetics. However, the growth of vegan cosmetics may be restricted in China since as per rules cosmetics being sold in the country must be first tested on animals.
Brands conducting animal testing are receiving widespread criticism from various sections of the society. As a result FMI expects soon an increasing number of them to join the bandwagon and start producing vegan cosmetics.
As depicted in the chart below, South Asia Pacific will emerge as a lucrative market for vegan cosmetics. The region exhibits high capital intensiveness and better consistency in demand. It is an added advantage the competitive trends are less fiercer in South Asia Pacific in companies to more established markets in East Asia, Europe, and North America.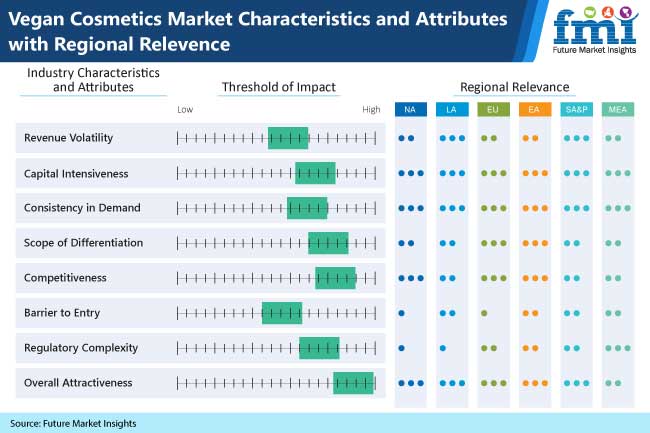 Leading Suppliers in the Vegan Cosmetics Market
Companies operating in the vegan cosmetics market primarily focus on research and development to ensure product launches at regular interval. Because they are operating in a highly competitive environment, these companies give due weightage to consumer preference.
They also consider efficient packaging technologies to address comfort of consumers. Some of them are taking their game a few notches higher by using compostable packaging and agri-based inks for their products.
Some of the leading vegan cosmetic brands are:
Milani
Too Faced
Tarte
Urban Decay
Wet n Wild
Lush
Kat Von D Beauty
Vegan Cosmetics Market: The Way Forward
In the mind of modern day consumers, excellent cosmetics complement a healthy planet. Veganism has therefore permeated a society that is here to stay, compelling all cosmetic brands to use ethical strategies without compromising on the quality of their products.
Even as consumers focus on clean ingredients, they want their products to be highly effective. Attractive packaging of course remains an added advantage. In a way it is important for vegan cosmetics to be as effective and attractive as their synthetic counterparts. However, consumers expect sustainability from the former.
With the vegan cosmetics market forecast to grow remarkably, FMI believes that the trend should no longer be considered a niche. Veganism, sustainability, animal rights, and ethical concerns are pressing issues that are here to stay.
Key Segment
Product Type
Facial Products
Eye Products
Lip Products
Nail Products
Packaging Type
Pumps & Dispensers
Compact Cases
Jars
Pencils and Sticks
Tubes
Others
Consumer Orientation
Price Range
Sales Channel
Wholesalers/ Distributors
Modern Trade
Convenience Stores
Departmental Stores
Specialty Stores
Online Retailers
Others
Region
North America
Europe
Middle East and Africa
East Asia
South Asia
Oceania
Latin America
Need specific information?
Talk Show:
The Rise of Intelligent Packaging
Personalized, Connected and Sustainable
November 18, 2021
11:00-11:45 AM PST (USA & Canada)
This is a LIVE session