Lacrimal Duct Stent Tube Sales to Reach US$ 40 Mn in 2029
The global lacrimal duct stent tube market has been growing on the back of increasing healthcare expenditure in tandem with expanding patient pool for nasolacrimal duct obstruction. As the demand for treatments with minimal invasions as well as better success rates ascends at a healthy pace, the worldwide sales of lacrimal duct stent tubes will value about US$ 40 Mn by 2029 end.
FREQUENTLY ASKED QUESTIONS ABOUT LACRIMAL DUCT STENT TUBE MARKET
Which region is expected to lead in terms of revenue in lacrimal duct stent tube market?
North America remains most lucrative region in terms of revenue and is anticipated to grow at an impressive rate during the forecast period. India, China, and Brazil are expected to be targeted geographies for incremental opportunity for regional and major players.
Which product segment would be most attractive for investments?
Bicanalicular lacrimal duct stent tube emerged as the attractive segment by product type representing 3/4th of revenue share in the lacrimal duct stent tube market. Easier usability, improved patient compliance, material compatibility of bicanalicular lacrimal duct stent with patient without causing any adverse reaction are key pointers in driving growth of the segment.
Which end users would contribute maximum revenue during the forecast period?
Hospitals are expected to hold half of the total market revenue share during the forecast period. Ophthalmic clinics are anticipated to be second most attractive segment owing to increase in number of surgeries and number of cases related to nasolacrimal duct obstruction.
Who are the major players in the lacrimal duct stent tube market?
FCI Ophthalmics, Kaneka Corporation are the key players in the lacrimal duct stent tube market. New product development is the key strategy folowed by these players. Effective marketing strategy among ophthalmologists and cost effectivity are other criterias that manufacturers are competing on.
What complications associated with stent tubes are hampering market growth?
Corneal abrasion is the most common complication encountered during treatment procedure. To overcome this complication, manufacturers in the lacrimal duct stent tube market are focusing on altering the length of stent, material used for manufacturing, etc. The process still has risk of complications, considering the age group in which stenting is carried out. These complications may hamper the potential growth of the market.
Bicanalicular Lacrimal Duct Stent Tube Holds Nearly 3/4th Share
Bicanalicular lacrimal duct stent tubes continue to be top-selling owing to their easier usability, improved patient compliance, material compatibility, and better clinical outcomes. Bicanalicular lacrimal duct stent tubes represent nearly 75% share of global market value which would be a continuing trend in the market through 2029. Further, monocanalicular lacrimal duct stent tubes, though have been observing a healthy adoption rate in the recent past, will see subsequent decline in sales during the foreseeable period.
North America and East Asia at Forefront
The growth of healthcare industry has been inflating in developed regions that are embracing a value-centric business model. This is bolstering the adoption of lacrimal duct stent tubes in developed regions such as North America, which accounted for around 46% revenue share in global market. On the back of rising per capita healthcare spending and numerous government initiatives for integrated healthcare systems in the region, East Asia also remains a key contributor to the global market value. Furthermore, the swelling patient pool for retinal diseases in both the regions is again attracting stakeholders' investments.
Gaining Competitiveness with Product Innovation and Promotional Activities
Manufacturers must focus on product innovations for lacrimal duct stent tubes. For instance, FCI Ophthalmic developed a complete line of BIKA stents - BIKA, BIKA for DCR, and Infant BIKA - covering a range of sizes that will be helpful in treating most of the congenital nasolacrimal duct obstruction (CNLDO) and dacryocystorhinostomy (DCR) cases. Market players should also raise awareness among healthcare professionals about the benefits of devices for nasolacrimal duct obstruction management via promotional activities in order to reap significant returns.
Bicanalicular lacrimal duct stent tube continue to see worthwhile sales
Preference for monocanalicular lacrimal duct stent tube on decline
Hospitals continue to register substantial adoption
Demand from ophthalmic clinics to increase
How Growth will Unfold
By capturing a market share of around 50% throughout the period of projection, hospitals are slated to remain the prominent end-users of lacrimal duct stent tubes. As lacrimal duct stent tubes along with DCR procedure are minimally invasive, their adoption across hospitals has promisingly increased. Moreover, outpatient clinics such as ophthalmic clinics and ambulatory surgical centers (ASC) are showcasing rapid adoption of lacrimal duct stent tubes, which are again garnering manufacturers' attention.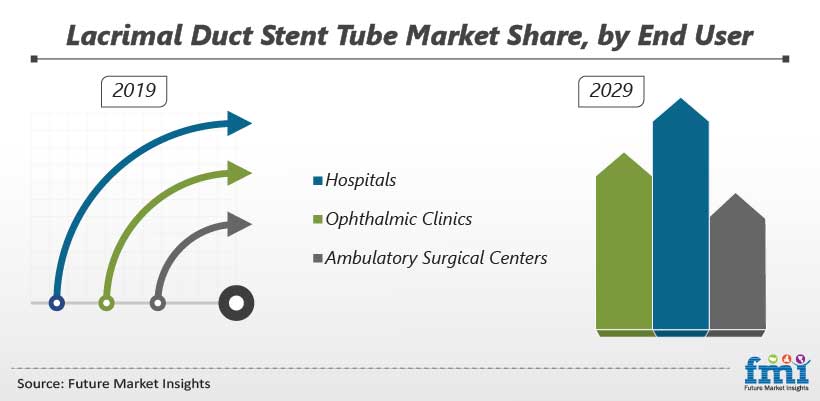 * This data is only a representation. Actual data may vary and will be available in report.
Click Here To Know How The Growth Will Unfold
Custom Market Research Services
FMI offers custom market research services that help clients to get information on their business scenario required where syndicated solutions are not enough.
Overview
Lacrimal Duct Stent Tube Market Analysis 2019-2029
A recent market study published by Future Market Insights (FMI) on the lacrimal duct stent tube including global industry analysis for 2014-2018 & opportunity assessment for 2019-2029, delivers a comprehensive assessment of the most important market dynamics. After conducting a thorough research on the historical as well as current growth parameters of the lacrimal duct stent tube market, growth prospects are obtained with maximum precision.
Lacrimal Duct Stent Tube Market Taxonomy
The global lacrimal duct stent tube is segmented in detail to cover every aspect of the market and present a complete market intelligence approach to the reader.
Product
Monocanalicular Lacrimal Duct Stent Tube
Bicanalicular Lacrimal Duct Stent Tube
End User
Hospitals
Ophthalmic Clinics
Ambulatory Surgical Centers
Region
North America
Latin America
Europe
East Asia
South Asia
Oceania
Middle East & Asia (MEA)
How the research was conducted?
Primary Research
Marketing Directors
Product Managers
Business Development Officers
Production Managers
Sales Executives
Industry Experts
Current Market Dynamics and Challenges
Yesteryear Trends
Market Characteristics
Market Performance and Growth Quadrants
Strategic Growth Initiatives
Near-term and Long-Term Market Growth Prospects
Market Segment Splits and Authenticity
Opinions on Market Projections and Validity of Assumptions
Secondary Research
Associations
American Journal of Ophthalmology
Factiva
Company Press Releases
Annual Reports and Investor Presentations
Research Papers
Government Websites and Publications
Primary Interview Splits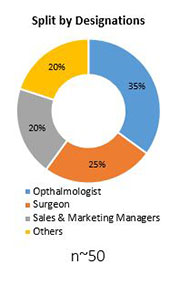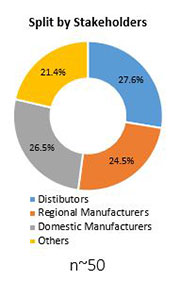 To Learn More About our Comprehensive Perspective on Lacrimal Duct Stent Tube Market,
Get in touch
COVID -19 : Impact Analysis
Request the coronavirus impact analysis across industries and markets
Request Covid -19 Impact
CASE STUDIES
See how our work makes an impact.
At FMI, we design strategies that are adaptive, impactful, and implementable.