Needle-Free Injectors Market by Load (Liquid Injections, Powder Injections, Projectile Injections), Delivery Site (Intra dermal injectors, Intramuscular injectors, Subcutaneous injectors), Application (Drug Delivery, Vaccines, Cosmetic, Others), End User & Region - Forecast to 2021 - 2031
Needle-Free Injectors Market - Analysis, Outlook, Growth, Trends, Forecasts
October 2021

REP-GB-13960

250 pages
Needle-free Injectors Market Snapshot
[250 pages] Global Needle-Free Injectors Market is projected to surge at an impressive rate of 11.9%CAGR between 2021 and 2031, totaling US$ 12.3 Bn in 2021. As per Future Market Insights (FMI), the liquid injections segment will remain most preferred in terms of load, accounting for over 88.4% of sales in the market in 2021.
Despite supply chain restrictions caused due to the COVID-19 outbreak, the market is set to register 11.9% year on year growth in 2021. On the basis of technology, spring-loaded jet injectors currently hold the maximum share among all. However, demand for battery-powered jet injectors is expected to increase at a higher pace, catapulting it to the forefront of the market.
Key Points Covered in Needle-free Injectors Market Study
Market estimates and forecast 2016-2031
Key drivers and restraints impacting market growth
Segment-wise, Country-wise, and Region-wise Analysis
Competition Mapping and Benchmarking
Market Share Analysis
Key Product Innovations and Regulatory Climate
COVID-19 Impact on Needle-free injectors Market and How to Navigate
Recommendation on Key Winning Strategies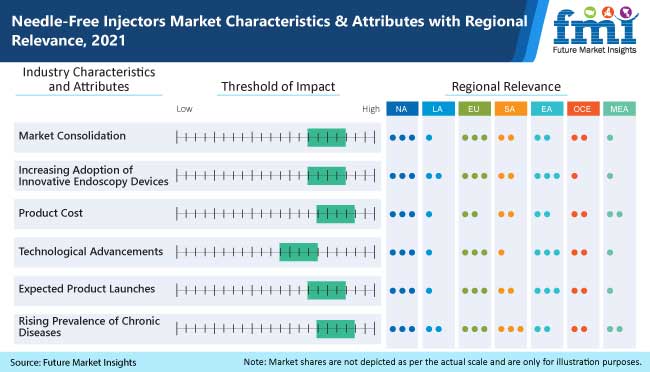 2016-2020 Needle-Free Injectors Demand Outlook Compared to 2021-2031 Forecast
Sales in the needle-free injectors market increased considerably over the last few years due to factors such as the growing incidence of needle stick injuries and rise in the number of parenteral drugs approvals.
People working with hypodermic syringes and other needle equipment are at a greater risk of needle stick injuries. These injuries can mainly occur when people use or dispose needles. Hence, demand for needle-free injectors increased as they are the best alternative for patients and healthcare workers to prevent themselves from needle stick injuries.
Also, needle-free injectors offer faster drug delivery which enhances bioavailability as compared to invasive drug delivery systems. This is resulting in the increasing adoption of needle-free injectors.
On the back of rising demand for vaccinations and biosimilars, the market is expected to register an incremental $ opportunity of US$ 23.9 Bn between 2021 and 2031.
What are the Key Opportunities for Market Players?
Pharmacuetical industries are increasing the adoption of needle-free injectors as need for drug delivery or vaccinations is increasing. Needle-free injectors are preferred over invasive drug delivery systems as they don't cause side-effects such as pain, swelling, or wounds.
Additionally, needle-free injectors are cost-effective, sanitary, fast, and nearly painless. Hence, key players are capitalizing on these benefits to increase their sales in countries with the weaker economic system.
Need for needle-free insulin delivery as a primary treatment option has surged due to the rising prevalence of diabetes and insulin across the globe.
Alongside this, application of needle-free injectors in cosmetic industry is accerlationg at a mounting pace. As per FMI, the cosmetics segment is projected to report maximum growth at a CAGR of 12.6% during the forecast period.
According to the American Society Of Plastic Surgeons, 15.6 million cosmetic procedures took place in the world, among which 2.3 million are cosmetic surgical procedures and 13.2 million are cosmetic minimally-invasive procedures. Hence, the demand for minimally invasive procedures is more as compared to invasive procedures.
Driven by this, needle-free injectors manufacturers are increasing the adoption, generating ample of growth opportunitiues within cosmetic industry.
High Operating Cost of Needle-Free Injectors to Act as a Barrier for Key Players
Key players are facing difficultiues in needle-free injectors manufacturing due to high cost and requirement of complex equipment. Difficulty in procuring certification for needle free injectors and need for sterilization before each batch of production also are proving to be challenges for market players.
Key players often have to spend on high operating costs to meet the aforementioned requirements for manufacturing of needle-free injectors, which also is expected to act as a challenge to growth. Besides this, the easy availability of needle-free injectors alternatives is restraining the market growth during the forecast period.
What is the Impact of the COVID-19 on the Market?
Unprecedented outbreak of COVID-19 is anticipated to have a positive impact on the market. Sales and manufacturing of the market is expected to increase due to growing demand for home-based treatments.
Following the outbreak of COVID-19, to curb the risk of getting infected and reduce the spread of the virus, adoption of needle-free injectors surged within hospitals and diagnostic centers. This has consequenlty spurred the sales of needle-free injectors.
Country-wise Insights
Will the U.S. Remain a Key Needle-Free Injectors Market?
As per Future Market Insights, the U.S. is expected to a leading market across North America, accounting for over 94.0% of the market in 2021. It is expected to continue exhibiting high demand for needle-free injectors through the course of the report's assessment period.
Growth in the market is primarily driven by the rising prevalence of chronic diseases such as diabetes, cancer, and others. With goring preference for non-invasive and minimally-invasive diagnostic care, the adoption of needle-free injectors have increased, especially among home-care patient.
According to Centers for Disease Control and Prevention (CDC), in 2018, approximately 34.2 million cases of diabetes were found with the U.S. With the rising prevalence of diabetes, demand for needle-free injectors will accelerate, especially within geriatric population.
Why is Germany Considered the Most Lucrative Market within Europe?
According to the study, Germany is expected to dominate the Europe, holding 29.4% Europe's market share through 2031. Increasing expenditure in healthcare due to rising awareness among consumers has encouraged them to spend on quality wellness products.
This has led to the surge in needle-free injectors adoption due to the their abiity of faster drug delivery and minimal invasion. Germany is considered to have the highest expenditure on its healthcare system, contribiuting approximately 11% of the GDP in 2018, according to Eurostat.
Alongside this, the presence of key players in the country and development of their product portfolio is also aiding the market growth.
For instance, Gerresheimer Regensburg announced the expansion of its production unit for small batch production of plastics in Wackersdorf, Bavaria, Germany in November 2020.
Why is Japan an Emerging Market for Needle-Free Injectors?
Japan is projected to hold over 34% share in the East Asia market, exhibiting growth at a CAGR of 11.7% during the forecast period. This is predominantly due to the rising cosmetic procedures in the country and technological advancements in healthcare and cosmetic industry.
For instance, according to International Survey on Aesthetic/Cosmetic Procedures Performed in 2018, there were total 224,293 surgical procedures took place in Japan that fuel the market of needle-free injectors.
What is the Outlook in China for the Needle-free injectors market?
In 2020, China led the East Asia market with more than 46.8% share and is projected to expand at a CAGR of 12.0% through 2031. This is mainly due to the need of daily dosage of hormones administration in children and easy regulations by government for approving innovative products.
For instance, the National Medical Products Administration approved needle-free injectors for sale on the domestic market in August, 2017 in China. Also, more than 7 million Chinese children need daily doses of growth hormone who suffer from dwarfism in China which also going to benefits the market.
Category-wise Insights
How is Growing Demand for Projectile Injections Pushing Sales of Needle-Free Injectors?
In terms of load type, the projectile injections segment is expected to expand at a CAGR of 13.9% during the forecast period.
The segment is expected to gain popularity due to the ability for prevention of material clusters that reduces cycle times and as it supports the production of parts with variable and uneven diameters.
Why is the Spring-loaded Jet Injector Technology More Preferred?
Based on technology type, the spring-loaded jet injector segment will dominate the market, holding 47.1% of the revenue share in 2021. Growth in this segment attributed due to its nature to penetrate the skin for delivering a drug or vaccine into subcutaneous, intradermal or intramuscular tissues by creating a narrow stream under high pressure.
Which is the Key Application of Needle-free Injectors?
In terms of application, drug delivery is expected to hold the leading share in the market, accounting for 65.0% of the revenue share in 2021. Rising prevalence of chronic diseases is expected to aid the segment growth. This also has created demand for needle-free injectors in the homecare setting.
Why are Resuable Needle-Free Injectors High in Demand?
With 79.5% of the revenue share, reusable needle-free injectors are expected to dominate the market in 2021. Reusable needle-free injectors are gaining popularity because they can be reused multiple times for drug delivery to a single patient with maximum ease of use.
For example, insulin delivery to the diabetic patient can be done through reusable needle-free injectors for multiple times. This method is cost effective also which plays a prime role in driving its demand in the future.
Who is the Leading End User of Needle-Free Injectors?
Based on the end-user, hospitals are expecetd to be the primary end-user, accounting for over 33.4% market share during the forecast period. Factors such as growing awareness about needle-free injectors, rising prevalence of chronic diseases, and advent of COVID-19 have expanded the patient-pool in hsopitals.
Competitive Landscape
Key players are focusing on the expansion of their brands in emerging regions and manufacturing the newly revised product. Manufacturers are also adopting a slew of expansion strategies scuh as acquisition, new product launches and approvals, agreements, partnerships, and collaborations to strengthen their market presence.
For instance,
Centor, a Gerresheimer Group company, announced the development of a new warehouse at its site in Ohio, US. The company laid the foundation for a new 72,000 sq. ft. warehouse to store its products and avoid dependence on external storage in April 2020.
Gerresheimer acquired Sensile Medical which extended its business model in the direction of OEM for drug delivery platforms, with digital and electronic capabilities for pharmaceutical and biopharmaceutical customers in November 2018.
Antares Pharma collaborated with Pfizer to develop a combination drug-device rescue pen in June 2018.
Scope of the Report
Attribute

Details

Forecast Period

2021-2031

Historical Data Available for

2016-2020

Market Analysis

USD Million for Value, Units for Volume

Key Countries Covered

US, Canada, Brazil, Mexico, Argentina, Germany, U.K., France, Italy, Spain, Benelux, Russia, China, Japan, South Korea, India, ASEAN, Australia, New Zealand, Turkey, South Africa, and GCC Countries

Key Segments Covered

Product type, application, end user, and region

Key Companies Profiled

Gerresheimer AG
Pfizer Inc.
Antares Pharma
CSL Limited (Seqirus UK Limited)
Crossject
Portal Instruments
Ferring Pharmaceuticals
PharmaJet Inc.
PenJet Corporation

Report Coverage

Market Forecast, Competition Intelligence, DROT Analysis, Market Dynamics and Challenges, Strategic Growth Initiatives

Customization & Pricing

Available upon Request
World's Most Profilic Intelligence Engine
Get Access To The World's Largest Market Research Database.
Sign Up Now
Needle-free injectors Market by Category
By Load:
Liquid Injections
Powder Injections
Projectile Injections
By Technology:
Spring-loaded jet injector
Battery-powered jet injector
Gas-powered jet injector
By Delivery Site:
Intra dermal injectors
Intramuscular injectors
Subcutaneous injectors
By Application:
Drug Delivery
Vaccines
Cosmetic
Others
By End User:
Home Care Settings
Long Term Care Centers
By Region:
North America
Latin America
Europe
East Asia
South Asia
Oceania
Middle East and Africa (MEA)
Key Questions Answered in the Report
How much is the needle-free injectors market worth?
The market is expected to reach US$ 36.3 Bn by 2031 on the back of rising healthcare expenditure and growing prevalence of chronic diseases across the globe.
What is the demand outlook of the needle-free injectors market?
market is projected to register high demand during the forecast period, exhibiting impressive growth at 11.4% CAGR.
What are the key trends shaping the needle-free injectors market growth?
Collaborative efforts to launch popular brands by industry players and growing preference for non-invasive diagnostic systems are some of the trends that will fuel the demand.
What factors are driving demands for needle-free injectors?
Rising prevalence of chronic diseases and rising number of parenteral drugs approvals in the developed and developing countries are major driving factors.
Which are the top 5 countries driving demand for needle-free injectors?
The U.S., Germany, China, the U.K., and France are the top 5 countries dominating the .
At what rate will the sales of needle-free injectors increase in Europe?
The Europe market is forecast to grow at a CAGR of 11.2% between 2021 and 2031.
At what rate will the demand for needle-free injectors rise in East Asia?
The East Asia market is set to exhibit growth at a CAGR of over 11.6% during the forecast period.
Which companies are key producers of needle-free injectors?
Pfizer, Inc., Gerresheimer AG, Ferring Pharmaceuticals, and CSL Limited (Seqirus UK Limited) are identified as key players by Future Market Insights.
Need specific information?
Our Clients