Contrast Media Injectors Market Outlook & Key Findings
Contrast media injectors market likely to grow at over 4.9 % through 2030
The rising cost of contrast media injectors is expected to hamper the market growth as most small- and medium-sized hospitals cannot afford them
Extensive research regarding biodegradable contrast media injectors to drive investment in the near future
Unhealthy lifestyle to propagate the use of contrast media injectors in the upcoming period
Research Findings with Regards to Cardiovascular Diseases to Upscale the Market
The WHO states that nearly 31% of deaths across the globe are caused by cardiovascular diseases. In this scenario, it's imperative to have precise diagnostics imaging so as to have better prognosis. This factor is driving the contrast media injectors market as of now and the trend is expected to continue during the forecast period as well.
On the other side, contrast media injectors could be looked upon as a good means for early diagnosis to extend the life-span of those affected.
Further, after findings by researchers in South Korea that patients having a personal and family history of allergic reactions to contrast media stand a greater risk of getting infected in future as well.
Researchers have also stated that the US witnesses close to 88 million CT scans every year with usage of ICM (Iodinated Contrast Media). The patients falling in the above-mentioned category are likely to get HSRs (Hypersensitivity Reactions).
Such patients could be singled out in the first place and administered antihistamines and contrast agent of a different type could be used. This factor is also expected to bolster the contrast media injectors market in the forecast period as the hiccup with respect to allergies would be out of question going forward.
Unhealthy Lifestyle Driving the Contrast Media Injectors Market
As per the European Society of Cardiology (Paris), those living unhealthy lifestyles are more prone to cardiovascular diseases. These lifestyles include smoking, physical inactivity, diabetes, hypertension, smoking, high cholesterol.
This was inferred when 555 out of 1075 people aged 45 and above were reported to have CAD (Coronary Artery Disease). As such, these statistics bring to the notice a fact that several people in their mid-40s are likely to contract cardiovascular diseases; especially with the habits mentioned above.
This factor is expected to increase the demand for contrast media injectors as visits to hospitals will increase following uneasiness. The contrast media injectors market could witness an exponentiation in the forecast period following these visits.
Continuous Technological Advancements to Reduce Human Error
The contrast media injectors market players are emphasizing on production of IT-enabled contrast media injectors to eliminate human error. At present, a few contrast media injectors are being made available that could be connected to the hospital's server through which data could be accessed.
Interfacing could be done through EMR (Electronic Medical Record) system or HIS (Hospital Information Systems) for monitoring/adjusting the dose. This precision is likely to drive the market during the forecast period.
MEDRAD CT Injection System (from Windsong Radiology Group) and Bracco Imaging have made their IT-Enabled injector solutions available through and P3T (Personalized Patient Protocol Technology) and IRiS (Intelligent Radiology Information System).
On similar grounds, Guerbet LLC USA showcased established as well as novel products in contrast media injectors and digital solutions at the "Radiological Society of North America's (RSNA's) 2019 annual meeting.
The other advantages of IT-enabled solutions include monitoring GFR (glomerular filtration rate) and reactions to contrast media. These advantages are expected to catalyze the market in the forecast period.
Magnetic Resonance Imaging (MRI) a Key Growth Driver
The chronic diseases that affect liver, spine, and brain along with injuries in knee joints or at the back have been increasing the demand for MRI scans in the last few years.
As per the OECD (Organization for Economic Co-operation and Development), the number of MRI scans conducted in the US in the year 2018 was 118.9 per 1000 people (up by 1.08% in 2014). This factor is slated to boost the demand for MRI injectors in the near future.
Another factor contributing to the growth of contrast media injectors market is the influx of magnetic frequency MRI injectors. Scientists at the University of Minnesota, in the year 2018, performed human body's MRI using 10.5T MRI machine. Alzheimer's could also be detected using these injectors.
Artificial Intelligence to Provide Faster Results
Bracco Diagnostics, Inc., in Dec 2019, announced the results of comparison between two GBCAs (gadolinium-based contrast agents) through AI. The results stated that Gadavist and ProHance (Gadoteriol) injection made way for similar pattern and degree of contrast enhancement in brain MRI. The results were obtained through multicenter, double blinded controlled, randomized clinical study. So, it could be inferred that AI is the future of contrast media injectors market. It is expected to take a substantial leap in the years to come.
In Nov 2019, Anderson Publishing Ltd. announced launch of novel AI community with an active support from Guerbet, LLC. The objective of this endeavor is to reach out to the imaging professionals with information pertaining to implementation and development in clinical practice.
The National Laboratory for Medicine, in Nov 2019, conducted a study regarding effect of AI-based noise reduction algorithm on aorta CTA (computed tomography angiography) image quality (IQ) at 40 ml contrast medium (CM) and 80 kVp tube voltage. The conclusion drawn was that AI-based noise reduction was able to achieve contrast media reduction in comparison with aorta CTA protocol.
In Aug 2019, Guerbet LLC inked an agreement with IBM Watson Health for co-developing and co-commercializing an AI solution for helping clinicians monitor as well as diagnose patients having prostate cancer. This agreement followed the one signed in Jul 2018 wherein liver cancer was into picture.
High Cost of Contrast Media Injectors: Key Challenge to Growth
Contrast media injectors are a costly course of treatment. As such, medium- and small-sized hospitals need to give a second thought while having them under their umbrella. Plus, CT injectors' cost ranges between US$30,000 and US$40,000 and MRI injectors range from US$35,000 to US$ 40,000. Accessories cost is not included herein. Only ample funding can allow these hospitals to go for contrast media injectors.
Besides, opting for IT-enabled contrast media injectors would add to the overheads as dedicated IT personnel need to be employed over here. These factors are bound to hamper the contrast media injectors market even in the long run.
Contrast Media Injectors: Region-wise Analysis
North America and East Asia continue to be the most lucrative markets for contrast media injectors due to high adoption for disease diagnosis. The U.S. has constantly shown notable annual growth rates, and the contrast media injectors market is expected to grow at over 5.6% in 2020.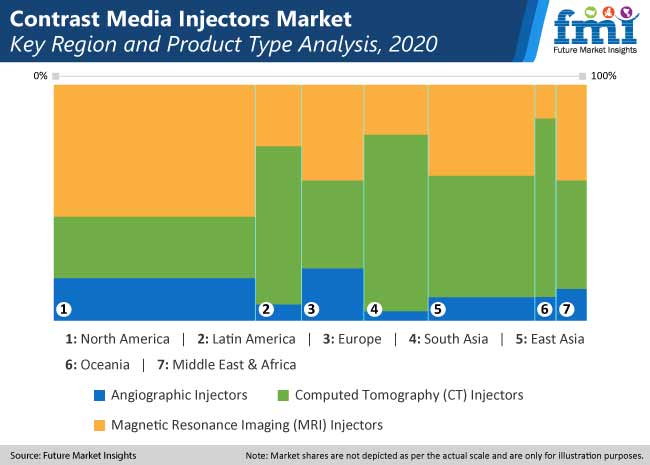 CT injectors are expected to account for more than half of the market share in the forecast period owing to their ability to aid in 3D visual reconstruction. MRI injector is another lucrative category for market players.
India, Germany, and Brazil provide numerous opportunities for contrast media injectors market players. The growing demand for quality healthcare facilities coupled with high patient population are the major factors expected to drive the market in the forecast period.
Leading Players in Contrast Media Injectors Market
The contrast media injectors market players are trying out every possible mode of organic/inorganic growth to sustain themselves in the market. For instance – Windsong Radiology Group acquired MEDRAD Stellant FLEX Injection System to help both – Windsong and Bayer to avert downtime, standardize care, and minimize operational costs.
Shenzhen Anke High-tech Co. Ltd.'s single-head CT SCAN contrast media injector is endowed with injection interruption that facilitates flexible handling of emergencies. Contrast media injectors offered by Ulrich GmbH & Co. KG facilitate user-friendly handling and have been into the market since the last 3 decades with use in MRI and CT.
The above-mentioned players along with the others in the contrast media injectors market include:
Americas
Mallinckrodt (Guerbet SA)
GE Healthcare
Europe
Bayer AG
Ulrich GmbH & Co. KG
Bracco Imaging S.p.A
Medtron
Asia Pacific
Nemoto Kyorindo Co. Ltd
Shenzhen Anke High-tech Co. Ltd
*The list is only for representational purposes not exhaustive. Full competitive intelligence with SWOT analysis available in the report
Contrast Media Injectors: The Way Forward
The ever-increasing demand for minimally invasive diagnostic procedures is expected to give an impetus to the market in the forecast period.
Cost management and collaboration – these should be the two strategies followed by the market players going forward. This will help them reach wider geographies through affable means. At the same time, new product launches should not take a backseat.
Key Segments of Contrast Media Injectors Market
FMI's study on the contrast media injectors market offers information divided into three important segments— product type, end user, and region. This report offers comprehensive data and information about the important market dynamics and growth parameters associated with these categories.
Product Type
Angiographic Injectors
Computed Tomography (CT) Injectors
Magnetic Resonance Imaging (MRI) Injectors
End User
Hospital
Ambulatory Surgical centers
Diagnostics Centers
Region
North America
Latin America
Europe
East Asia
South Asia
Oceania
Middle East and Africa
Need specific information?
Talk Show:
The Rise of Intelligent Packaging
Personalized, Connected and Sustainable
November 18, 2021
11:00-11:45 AM PST (USA & Canada)
This is a LIVE session