A Shift from Space-intensive Cylindrical Drums
Over the years, intermediate bulk containers (IBCs) have been deployed across multiple industrial domains for an array of applications. Market players operating in the packaging industry are in the process of developing cost-effective and sustainable packaging solutions for shipping a range of goods. Further, IBCs have gained recognition as an excellent solution to safer packaging and transportation, for several key industries, including chemical, cosmetics, food & beverages, healthcare, and cosmetics among others.
The numerous advantages that IBCs offer over other alternatives, such as cylindrical drums, account for their global demand growth registered in recent years. As environmental concerns continue to aggravate, and particularly revolve around the growing need for recycling and safe disposal of packaging containers, it is highly likely that IBCs will witness steady growth in demand over the years to come, receiving a strong impetus from increase in R&D activities that target enhanced material capabilities.
IBCs Market – Key Research Findings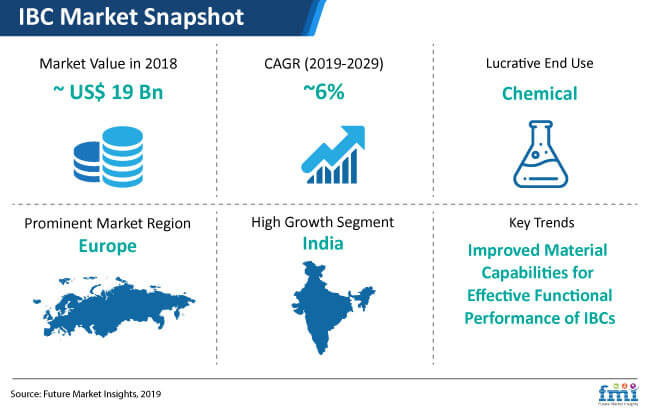 The global IBCs market size in 2018 is ~ US$ 19 Bn.
The IBCs market is projected to grow at ~ 6% during the next ten years.
The chemical segment remains highly attractive regarding the market share of the global IBCs Market during the forecast period. Healthcare & Pharmaceuticals segment create an incremental revenue opportunity of ~ US$ 0.2 Bn.
Emergence of IBCs as a cost-efficient bulk packaging solution over drums fueling the global IBCs market growth.

IBCs account for lower cost of storage and transportation of fluids as compared to drums. The round shape of the drums results into huge unutilized space, while IBCs ensure maximum space utilization. As pallets are mounted to the bottom of the IBCs, the handling is relatively easier compared to drums. Besides, IBCs are capable of draining completely, which is not possible in case of drums. All these factors result into ~ 75% savings in the cost of storage and transportation of fluids with the use of IBCs over drums.

The European region is expected to remain at forefront regarding the market share in the global market during the forecast period. The region is expected to get a significant boost from growing chemical, food & agriculture, and other end-use industries. Also, increasing trade activities across the European region is likely to propel the demand for the IBCs in the coming years.

Germany is likely to remain a heavy-weight regarding chemical production, and growing industrial output in the region is expected to create substantial demand for IBCs in the coming years.

Value chain participants in the IBCs market are focusing on adopting their business prototypes and growth strategies in line, with the increasing adoption of IBCs for packaging and transportation of various products. It is expected that the market will continue to witness several mergers & acquisitions as companies rush to enhance their manufacturing capabilities and broaden their global footprints.
Key Factors Shaping the Global IBCs Market
Rapidly Evolving Cross Border Trade Boosting the Demand for IBCs
Emerging economies are witnessing spectacular growth in the trade volume. Governments of economic capitals such as China and India have numerous ongoing projects, which aim to principally double the volume of the current trade in the next five years, which, in turn, is probable to boost the demand for IBCs. Also, North America has been witnessing a vertical rise in demand for chemical and food applications. One-third of the agricultural land in the U.S. is meant mainly for exports, which drive the necessity for bulk packaging. IBCs offer several advantages such as reusability, leading to their wide applications across various end users. Another factor is their minimum contamination issue since they are manufactured with utmost care and periodic reconditions. Hence, IBCs are likely to gain significant traction during the forecast period.
Increase in Bulk Container Prices Due to Fluctuating Raw Material Prices
Volatility in raw material prices and other input costs have led to an increase in prices of the bulk containers. This fact is exemplified by increase in prices of the IBCs by Greif, Inc. The lack of import is limiting the supply of raw materials. When combined with delayed deliveries, this factor is further escalating the raw material prices and consecutively, limiting the profitability of the bulk container manufacturers.
Improved Material Capabilities for Effective Functional Performance
Gaining from the rebounded performance of the chemicals sector, which is a key end buyer of the bulk industrial containers, manufacturers of IBCs are leveraging their in-house research and development capabilities to innovate products that suits specific requirements. The global IBCs market is reflecting the customized standardization trend, where manufacturers develop products to meet the specific requirements of the end users.
Lucrative Growth Opportunities for the IBCs Market in Emerging Countries
The South & East Asia IBCs market together will account for a momentous share of the global IBCs market. India in South Asia while China in East Asia are projected to register a remarkable growth driven by continuous expansion of the end-use industries and rising trade volume. As manufacturers of IBCs focus on expanding its market presence, they are most likely to eye on developing countries to capitalize on the lucrative growth opportunities. Thus, South & East Asia are foreseen to remain lucrative for the growth of the IBCs market.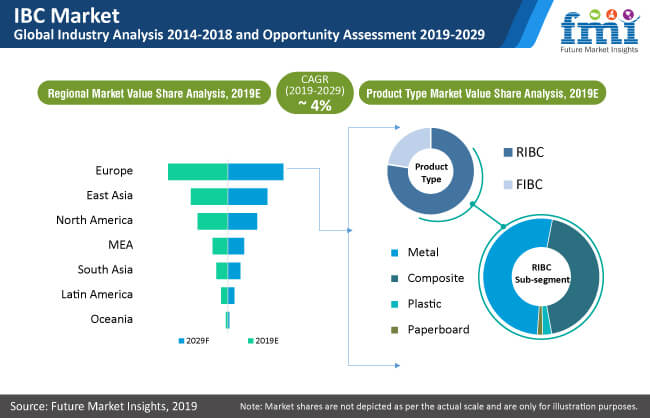 IBCs Market Structure Analysis
The global IBCs market is characterized by the presence of fewer organized players, which significantly influence the global market.
Tier 1 players in the IBCs market have wide product portfolio. Tier 1 companies contribute significantly to the growth of the IBCs Market.
Tier 1 players in the IBCs market are foreseen to increase the global footmark either via mergers and acquisitions or collaborations with the regional manufacturers.
Tier 2 players are characterized by the decent presence overseas, and a good portfolio of IBCs, and tier 3 players include most of the unorganized sectors.
Chemical Industry - Heading Towards Safer and Efficient Logistics with IBCs
For the market players operating in the chemical industry, transportation and storage of dangerous chemical compounds is a complex task. Thus, to solve these problems, intermediate bulk containers have made their presence felt in the chemical and the petrochemical sector. Further, with advancements in technology and additional research, state-of-the-art IBCs are used for safe transportation within the chemical industry. In addition, the surge in transportation activities for chemicals, hazardous materials, fuels, and liquids among others has boosted the demand for IBCs in recent years.
The growing adoption of IBCs in the petrochemical sector has accelerated transportation especially for small-volume shipments. Owing to its robustness, versatility, and reusable properties, stainless steel IBCs have gained attention and acceptance in the chemical industry. Further, stainless steel IBCs are available in an array of sizes ranging from 119 gallons to 793 gallons. Besides, IBCs can also be customized based on the requirement. In addition, stainless steel IBCs also solve cross-contamination challenges as they are easy to clean and can be reused to store and transport different chemicals. Other factors that contribute towards the growing demand for IBCs from the chemical sector include its long-term value and cost-effectiveness.
Opportunities Galore in Europe and North America
In the current scenario, Europe and North America are the front runners in the global IBC market owing to significant advances in the field in the last couple of decades. Further, stringent policies governing the safe disposal and reuse of IBCs in the aforementioned regions have set a strong foundation for market growth in the region. The growing adoption of bag-in-box IBCs in Europe especially within the cosmetic and pharmaceutical industry have boosted the demand for flexible IBCs in the region. In addition, the surge in demand for reliable and robust IBCs from the chemical, food and the agriculture sectors in North America and Europe has propelled market growth in these regions. Established market players in the region are focusing on product innovation and R&D to gain a firm foothold in the market.
Food Industry - Solutions to Overcome One-trip Packaging
The narrowing profits within the food industry has compelled industry players to seek feasible and cost-effective solutions to increase profitability in packaging materials. Efforts are in pipeline to reduce one-trip packaging and re-usage of IBCs could potentially help food manufacturers overcome that challenge. However, re-usage of IBCs in the food sector is likely to be feasible only when hygiene standards are maintained. Further, IBCs in the food industry have to comply with the hygiene standards and pose no threat to human health. Thus, reconditioned flexible IBCs have gradually gained significant amount of popularity in the food industry worldwide. However, the applications of IBCs in the food industry will primarily rely on impact on human health and hygiene among others.
RIBC sales likely to see healthy growth
FIBC sales slated for stable rise through 2029
Plastics account for a majority of shares
Robust growth in preference for metal & paperboard
Chemicals industry to remain leading consumer of IBCs
Robust demand expected from F&B and agriculture industries
How Growth will Unfold
Environmental concerns over recycling and safe disposal of plastic containers will play a vital role in influencing market growth in the coming years. Further, the noteworthy growth of the chemical industry in Europe and North America is further expected to open new avenues for the IBC market in the region. Efficient and cost-effective rectangular IBCs have gained tremendous popularity over cylindrical drums owing to factors including optimum utilization of space and more.
The surge in demand for chemicals, paints, dyes, inks, and more in North America are expected to increase the demand for IBCs in the region. Further, market players in the industry are leveraging the benefits of IBCs to streamline the transportation of hazardous chemicals, solvents, etc. Apart from huge opportunities in the chemical sector, recent trends suggest that the demand for IBCs from the food and the e-commerce sector is expected to grow in the coming years.
In the current scenario, major market players in the IBC market are concentrating on developing cost-effective, sustainable, and reliable packaging solutions. Further, to penetrate the market in the emerging countries, inorganic strategies such as mergers and acquisitions are likely to grow in the coming years.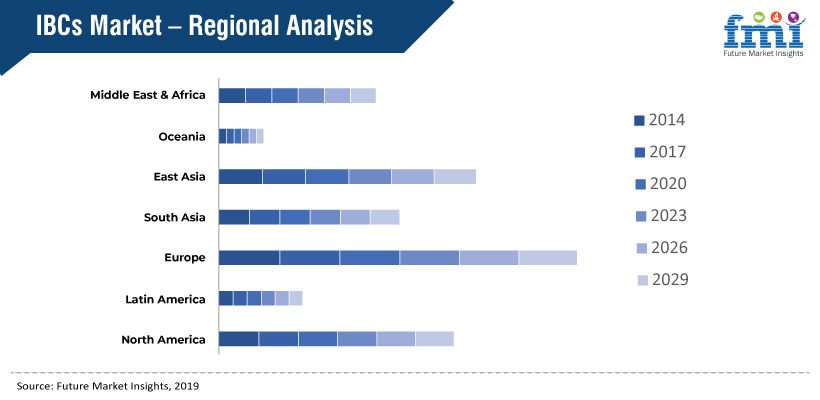 * This data is only a representation. Actual data may vary and will be available in report.
Click Here To Know How The Growth Will Unfold
Custom Market Research Services
FMI offers custom market research services that help clients to get information on their business scenario required where syndicated solutions are not enough.
Overview
The IBCs Market Analysis 2019-2029
A recent market study published by FMI on the IBCs market considers the global industry analysis 2014-2018 & forecast 2019-2029, and offers a comprehensive assessment of the most important market dynamics. After conducting thorough research on the historical as well as current growth parameters of the IBCs market, the growth prospects of the market are obtained with maximum precision.
IBC (Intermediate Bulk Container) Market Taxonomy
The global IBCs market is segmented in detail to cover every aspect of the market and present complete market intelligence to the reader.
By Material Type
Metal & Paperboard
Plastics

Polyethylene (PE)
Polypropylene (PP)
Polyvinyl Chloride (PVC)
By Product Type
RIBC

Metal
Paperboard
Plastic
Composite

FIBC
By Content Type
Liquid
Solid & Semi-Solids
By Capacity Type
RIBC

Up to 1,000 L
1,001 to 1,500 L
Above 1,500 L

FIBC

Up to 500 KG
501 to 1,000 KG
1,001 to 1,500 KG
Above 1,500 KG
By End Use
RIBC

Chemicals
Petroleum & Lubricants
Paints, Inks & Dyes
Food & Beverages
Cosmetics & Personal Care
Healthcare & Pharmaceuticals
Others

FIBC

Chemicals & Fertilizers
Food & Agriculture
Building & Construction
Healthcare & Pharmaceuticals
Mining
Others
By Region
North America
Latin America
Europe
South Asia
East Asia
Oceania
MEA
How the research was conducted?
Primary Research
Primary research interviews with key opinion leaders and other participants were conducted for data collection and validation of the below information:
Key Segments in the IBCs Market
Market Share Analysis
Average Selling Price (US$) and Market Growth
Comparative Analysis
Market Size of IBCs
Key Trends & Developments
Competition & Key Vendor Strategies
Secondary Research
Industry Journals
Association Data
Company's Annual Reports/SEC filings/Investor Presentations
Primary Interview Splits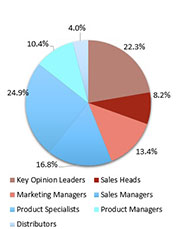 To Learn More About our Comprehensive Perspective on IBC (Intermediate Bulk Container) Market,
Get in touch
COVID -19 : Impact Analysis
Request the coronavirus impact analysis across industries and markets
Request Covid -19 Impact
CASE STUDIES
See how our work makes an impact.
At FMI, we design strategies that are adaptive, impactful, and implementable.