Bulk Chemical Packaging Market By Product Type (Drums, IBCs, Flexitanks), Capacity Type (100-250 Liters, 250-500 Liters, Above 500 Liters), End Use (Consumer Chemicals, Specialty Channels, Basic Inorganic Chemicals, Polymers, Petrochemicals), and Region for 2022-2027
Bulk Chemical Packaging Market - Analysis, Outlook, Growth, Trends, Forecasts
January 2022

REP-GB-8138

160 pages
Bulk Chemical Packaging Market Overview
[160 Pages Report] With a market value of USD 9,498.3 Mn in 2017, the global market for bulk chemical packaging is anticipated to record a CAGR of 6.8% from 2018 to 2028.
| | |
| --- | --- |
| Attributes | Details |
| Estimated CAGR of the Global Market for Bulk Chemical Packaging from 2018-2028 | 6.8% |
| Market Value of Global Market for Bulk Chemical Packaging in 2017 | USD 9,498.3 Mn |
| Estimated CAGR in APEJ (2018-2028) | 8.4% |
Increased demand of bulk chemical packaging solutions in the chemical industry is likely to positively influence the market during the forecast period. Further, the growing adoption of larger and efficient containers is expected to act as a growth driver for the market.
Regionally, APEJ is projected to dominate the global market while expanding at a CAGR of 8.4% during the forecast period 2018 - 2028.
2013-2021 Bulk Chemical Packaging Market Outlook in Comparison to 2022-2027 Growth Forecast
The bulk chemical packaging market is expected to register 6.8% CAGR between 2022 and 2027, up from 6.1% CAGR recorded during 2013-2021.
The sudden outbreak of the COVID-19 pandemic in December 2019 raised the demand for bulk chemical packaging solutions in various parts of the world. This mainly happened because of the increasing consumption of packaged products and growing need for pharmaceutical products.
Further, the invention of vaccines to fight the coronavirus infection, as well as the mass production of sanitizers, disinfectants, protective equipment, and detergents across the globe, drove the chemical distributors, suppliers, and manufactures to work round the clock for ensuring timely availability of bulk chemicals.
In March 2020, for instance, the World Health Organization (WHO) declared that every month, an estimated 89 million medical masks are needed to combat the COVID-19 pandemic. The international demand for goggles will go up to 1.6 million per month, while examination gloves will stand at 76 million.
This showcases that the manufacturing capacity of PPE must be increased to keep up with the high demand and to protect the health of people, thereby driving the need for bulk chemicals, as well as their packaging solutions.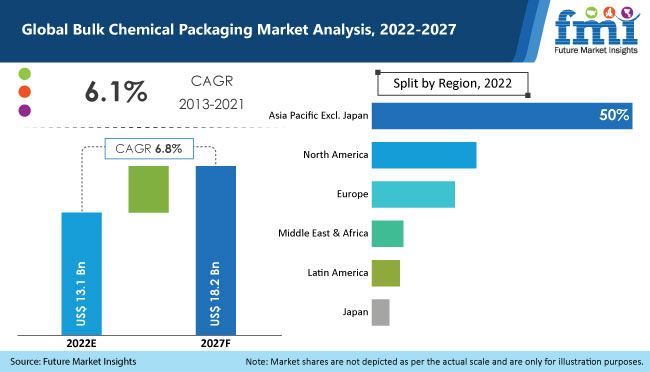 How is Sustainability Playing a Vital Role in Driving the Market?
Rising concerns regarding the increasing amount of plastic packaging waste worldwide is set to lead to a rapid shift of manufacturers towards biodegradable and paper sacks. In December 2021, for instance, Oceana, a nonprofit ocean conservation organization mentioned that Amazon's plastic packaging waste went up to 599 million pounds in 2020. In 2019, it was 465 million pounds, and this shows a surge of 29%. To reduce these waste generations, government bodies of various countries are implementing new regulations to ban the use of plastics in packaging solutions.
However, the COVID-19 pandemic is likely to compel numerous industries to replace reusable plastic bags with single-use ones. The ability of single-use plastics to reduce the risk of transmission of the coronavirus is one of the major factors driving their adoption globally. Thus, many states are expected to temporarily halt the utilization of reusable packaging, thereby creating growth opportunities for single-use plastic packaging manufacturers.
On the other hand, the inclination of people towards sustainable solutions are compelling sack vendors to offer recyclable and innovative sacks for industrial applications. This factor is expected to help the market gain traction in the forthcoming years.
Country-wise Insights
Why is China Considered to be a Lucrative Bulk Chemical Packaging Market?
Increasing usage of steel drums and international bulk containers (IBCs) for safe storage and transportation of hazardous chemicals is anticipated to boost the market in China over the forthcoming years. According to FMI, Asia Pacific excluding Japan (APEJ) bulk chemical packaging market is likely to account for about 49.7% of the share in 2022.
In addition, rising utilization of bulk chemicals in numerous applications, such as agriculture, paints and coatings, electronics, personal care ingredients and cosmetics, and water treatment is projected to bolster the market in China. Besides this, the introduction of strict norms by the government to reduce emissions and increase the adoption of sustainable production methods is set to drive the growth.
In December 2021, for instance, the Ministry of Industry and Information Technology (MIIT) introduced a new five-year plan to accelerate the development of the raw materials industry in China. MIIT also ordered the industry to make digital and green upgrades for balancing supply and demand. The organization aims to reduce carbon emissions through 2025 by including numerous high energy-consuming industries, such as chemicals, cement, and steel. Such norms are expected to push sales in the forthcoming years.
How is the U.S. Bulk Chemical Packaging Market Faring?
Increasing international trade owing to the influence of several factors, such as new trade agreements, high competition, government decisions, industrial activities, and technological development is likely to bolster the market in the U.S. North America bulk chemical packaging market is expected to account for 19.9% of the share in 2022, estimates FMI.
According to the U.S. International Trade Commission, in 2017, the total export of chemicals and other related products surged by US$ 9.1 billion in the country, while the general imports exceeded US$ 8.3 billion. These numbers are anticipated to rise in the near future, thereby boosting the growth in the U.S.
What are the Significant Drivers of the Germany Bulk Chemical Packaging Market?
Growing popularity of online marketplaces and increasing engagement of key players in partnerships and acquisitions are projected to drive the market in Germany over the forecast period. Europe bulk chemical packaging market is set to command about 15.8% of the share in 2022, predicts FMI.
In January 2019, for instance, LANXESS, a reputed specialty chemicals company headquartered in Cologne, launched an online marketplace for chemical products named CheMondis. The development of such business models is anticipated to help bulk chemical manufacturers to move towards digitization, as well as to cater to the needs of various industries, thereby fueling the demand for innovative packaging solutions.
Category-wise Insights
Why are IBCs the Most Preferred Product Type?
Based on product type, the IBCs segment is anticipated to account for the maximum share in the market. Growth is attributable to their ability to efficiently store, transport, and mass-handle solids, pastes, semi-solids, and liquids.
Moreover, this type of packaging is reusable, thereby allowing multiple uses and cleaning. IBCs are ideal for handling bulk chemicals, including dangerous goods or hazardous materials as they have a capacity of up to 1000 liters and are designed to be stackable. In addition to this, the easy availability of flexible IBCs made of woven polyethylene or polypropylene is another factor set to propel the growth of this segment in the upcoming years.
Which is the Dominant Capacity Type?
By capacity, the above 500 liters segment is estimated to dominate the bulk chemical packaging market in the forthcoming years. This growth is attributable to the surging need for various chemicals in large quantities to satiate the ever-increasing demand across various industries.
Further, decreasing prices of crude oil required in the manufacturing of bulk chemicals is set to generate more demand from the construction and healthcare industries worldwide. At the same time, the ongoing expansion of the food and beverage sector, especially in emerging economies is likely to support the growth of this segment by creating demand for novel packaging solutions in high capacities.
Why are Consumer Chemicals Exhibiting High Demand?
In terms of end use, the consumer chemicals segment is set to remain at the forefront in the bulk chemical packaging market in terms of share. Surging demand for perfumes, soaps, detergents, health supplements, and personal care products is anticipated boost sales in the market.
Besides, the rising focus of government agencies on the storage and transportation of consumer chemicals in a hygienic environment is likely to drive manufacturers to produce novel packaging solutions.
Competition Landscape
As per FMI, the top 5 key players operating in the bulk chemical packaging market held approximately 14% of the share in 2021. Most of these players are focusing on expanding their manufacturing capacities to meet the unmet needs of a wide range of industries, as well as to increase their customer base. Meanwhile, some of the other players are engaging in mergers, acquisitions, and joint ventures to change their competitive position or the nature of their businesses. For instance:
In September 2021, Advanced Tooling Systems (ATS), one of the leading engineering service providers headquartered in the U.S., opened a new division for the supply of complete packing line solutions and packing equipment. The company aims to cater to the high demand for packaging solutions from end markets, such as chemicals, food, and beverage, pharmaceutical, automotive, and cosmetics.
In September 2020, Mauser Packaging Solutions, a manufacturer of sustainable packaging solutions based in the U.S. acquired EuroVeneta Fusti Srl (EVF) through the joint venture NCG-Maider in Italy. This acquisition would enable the former to expand its offering of steel drum packaging and plastic industrial packaging. At the same time, it would enable Mauser to strengthen its position in the Italian market by reconditioning its IBC services.
Scope of Report
Attribute

Details

Forecast Period

2022-2027

Historical Data Available for

2013-2021

Market Analysis

Units for Volume and US$ Bn for Value

Key Regions Covered

North America, Latin America, Europe, the Middle East & Africa, and Asia Pacific excluding Japan.

Key Countries Covered

United States, Canada, Brazil, Mexico, Germany, UK, France, Italy, Spain, Nordic, Russia, Poland, China, India, Thailand, Indonesia, Australia and New Zealand, Japan, GCC countries, North Africa, South Africa, others.

Key Market Segments Covered

Product Type, Capacity Type, End Use, and Region

Key Companies Profiled

Greif Inc.
C.L.Smith Company
Schutz Container Systems, Inc.
Industrial Container Services (ICS)
Three Rivers Packaging Inc.
TPL Plastech Ltd.
Milford Barrel Co. Inc.
Enviro-Pak Inc.
Orlando Drum & Container Corporation
Fibrestar Drums Limited
Great Western Containers Inc.
Patrick J. Kelly Drums, Inc.
International Paper Company
Berry Global Inc.
Sealed Air Corporation
DS Smith Plc.
Hoover Ferguson Group
Snyder Industries Inc.

Pricing

Available upon Request
World's Most Profilic Intelligence Engine
Get Access To The World's Largest Market Research Database.
Sign Up Now
Bulk Chemical Packaging Market by Category
Product Type:
Drums
IBC's
Flexitanks & Others
Capacity Type:
100-250 Liters
250-500 Liters
Above 500 Liters
End Use:
Consumer Chemicals
Specialty Channels
Basic Inorganic Chemicals
Polymers
Petrochemicals
Region:
North America
Latin America
Europe
APEJ
Middle East & Africa (MEA)
Key Questions Answered in the Report
What is the Growth Outlook of the Global Bulk Chemical Packaging Market?
The global market for bulk chemical packaging is estimated to increase in value at a CAGR of 6.8% during the forecast period.
Who are the Key Players of the Global Bulk Chemical Packaging Market?
Milford Barrel Co. Inc., Fibrestar Drums Limited, and TPL Plastech Ltd. are some of the key players of the market.
Need specific information?
Our Clients