Bulk Container Packaging Market Outlook (2022 to 2031)
[198 Pages Report] The global bulk container packaging market is slated to witness a stellar CAGR of 6.3% between 2022 and 2031, reaching US$ 34.1 Billion by the year 2031.
| | |
| --- | --- |
| Attribute | Details |
| Bulk Container Packaging Market Size (2022) | US$ 18 Billion |
| Projected Market Value (2031) | US$ 34.1 Billion |
| Global Market Growth Rate (2022 to 2031) | 6.3% CAGR |
| Collective Value Share: Top 5 Companies (2022E) | 15% |
The growth of the business of shipping industrial chemicals in bulk amounts has led to innovation in the production of different bulk containers. Apart from this, the demand for better and non-contaminated food and beverage delivery is enabling wider adoption of bulk containers. The hiking usage of these bulk containers in industrial sectors is expected to continue as a favorable business across the globe.
Don't pay for what you don't need
Customize your report by selecting specific countries or regions and save 30%!
How The Market Progressed Till June 2022?
| | |
| --- | --- |
| Particulars | Details |
| H1 2021 | 3.1% |
| H1 2022 Projected | 4.2% |
| H1 2022 Expected | 4.5% |
| BPS Change - H1, 2022 (O) - H1, 2022 (P) | (+) 30 ↑ |
| BPS Change - H1, 2022 (O) - H1, 2021 | (+) 140 ↑ |
Future Market Insights predict a comparison and review analysis of the dynamics of the bulk container packaging market, which is principally subjected to an array of industry factors along with a few definite influences concerning high initial CAPEX expenditure and not economical for a site-to-site transfer.
Some new advances that have taken place in the market include the use of bulk containers equipped with a tracking-enabling system to allow customers to know the status of their respective products directly. In March 2022, the Mondi Group expanded its production and warehouse capacity for containerboard mills to serve customers more efficiently.
The market for bulk container packaging is expected to surge by 140 basis share points (BPS) in H1-2022 (O) against comparison with H1-2021, according to an FMI analysis. However, when comparing the H1-2022 projected and H1-2022 outlook period, a rise in BPS change by 30 BPS has been noticed.
The key reason for the change in the growth rate is due to low contamination risk, high payload, and low weight which is anticipated to accelerate the growth of the market. Despite these possibilities, the increasing trade of bulk products further propels the demand for bulk container packaging across the globe.
Bulk Container Packaging Demand Analysis (2015 To 2021) Vs Market Outlook (2022 To 2031)
The requirement of bulk shipping and storing of materials in warehouses has invented the need for bulk container packaging. An entrepreneur named Malcom McLean invented a cost-effective and efficient alternative to moving cargo between New Jersey and Texas in 1956. From then onwards people are preferring the method of "containerization" for transporting bulk shipping materials.
The food & beverage and pharmaceutical industries have remained key to the market for bulk container packaging and it is anticipated that the growing business and startups in the food industry are going to boost the business bulk container packaging market.
Further, consumers' need for versatile and spill-proof shipping containers has resulted in an increasing demand for bulk container packaging. Such containers keep the stored contents safe even in turbulent journeys. End-users are targeting a single solution to address both - economic transportation and effective storage of the product.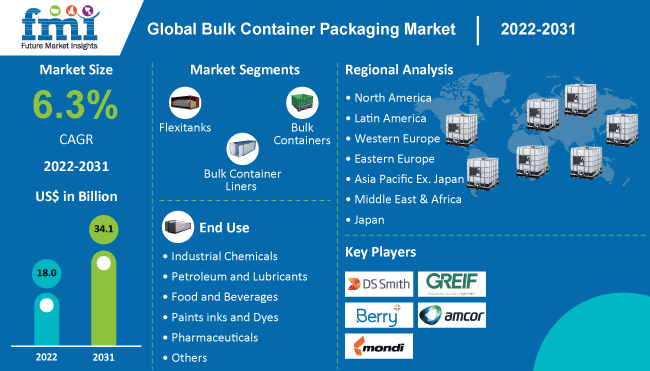 Therefore, flexible and collapsible bulk containers are gaining more popularity these days. This offers the added benefit of minimizing shipping expenses during the return journey and ensures the quality of the stored product.
According To FMI's Analysis, Sales Of Bulk Containers Increased 1.2 Times Between 2015 And 2021
Bulk containers are primarily used for the storage and transportation of large volumes of liquid substrates such as solvents and the most aggressive chemicals. On the other hand, high-quality plastic material-based bulk containers are extremely useful for food and beverage storage, which ensures the optimum freshness of consumable products. Together, industrial chemicals and food & beverage industries are estimated to hold the major pie in the global market during the forecast period.
Impact Of Covid-19 On Bulk Container Packaging Market
With the outbreak of Covid-19, the gains from the global bulk container packaging market did shrink significantly between March 2020 and September 2021. As such, the y-o-y growth rate in the year 2020 was reduced by nearly 5% in comparison with 2019.
Restrictions on dine-in restaurants and the slowdown of online food and beverage ordering activities have had an adverse impact on the growth of the food and beverage industry and disrupted the supply chain process. Therefore, a significant influence regarding the demand for bulk container packaging among food and beverage end-users is witnessed.
The post-Covid era is witnessing an increase in the trade of pharmaceutical products and chemicals among various countries. Manufacturers are emphasizing on sterile bulk container packaging for ensuring product safety of medicines and drugs during transit, which would boost the sales of bulk container packaging in the global market.
What's With Bulk Container Packaging Gaining Traction?
"Handiness with regards to Transportation to take the pie"
Bulk container packaging ensures easy maneuverable and transportability of large volumes of the product. It is made up of same dimensions of cargo pallets, which results in easy maneuvering of the container using forklifts.
Flexitanks and flexible bulk containers are the ideal packaging solutions for Returnable Transport Packaging (RTP) as they consume less space during the return journey and minimize transport costs.
As per FMI's analysis, a higher profitability margin is expected with the expanded use of large-sized, higher-value reusable bulk containers that are cost-efficient over small containers having shorter life-spans. Therefore, the global bulk container market is estimated to expand at a growth rate of 7% in next decade.
Get the data you need at a Fraction of the cost
Personalize your report by choosing insights you need
and save 40%!
What's Catalysing The Demand For Bulk Container Packaging?
"Escalating Demand for Plastic-based Packaging Solution is Acting as a Catalyst".
Surging demand for plastic-based packaging solutions such as pails and drums over any other solution made from various materials including metal and glass is a trend that has grasped the industrial bulk packaging market through the years. From a manufacturing viewpoint, the implementation of plastic products helps in achieving economies of scale.
Additionally, the use of plastic material as raw ingredients helps various manufacturing companies to meet their required criteria for the development of the most favorable products consisting of various properties including durability, lightweight, reliability, etc.
Dangerous goods include radioactive materials along with flammable, explosive, toxic, and hazardous products. So for that, the trading activities of these goods are increasing the consumption of plastic drums for industrial applications, which has been contributing to the expansion of the drums market.
The use of these plastic drums helps manufacturers to satisfy customers by allowing them to choose their preferred color from a huge number of options, which, in turn, enhances the marketing and advertisement array of their products. The manufacturing companies are expected to shift their focus towards bio-compostable materials (plastics) to produce bulk containers for maintaining sustainability in the market over the years.
What's The Key To Market Consolidation?
"Extensive Research to be the Key to Market Consolidation"
The escalated application of bag-in-box IBC liners across various industries (especially in the pharmaceutical and cosmetic industries) is fueling the growth of the IBC liners market. These are replacing "Sputniks" or stainless steel containers widely equipped with steam-sterilized aseptic valves. Some of the leading companies are investing in extensive research to gain a competitive advantage.
For instance: Bag-in-box is being used widely in the USA According to Hein Haerinck (EMEA Sales, CDF, Belgium ), these IBCs (Intermediate Bulk Containers) are trending in Europe as these bags use less plastic and are cost-effective. Along with CDF's bag-in-box IBC, the Q-big packaging company is also boosting the growth of the IBC market, which, in turn, is accelerating the bulk container packaging market with the help of its T-shaped liners.
Bag-in-Box containers, as compared to conventional packaging types, provide more hygienic as well as safety features. They offer greater convenience in packaging, storage, and transportation along with low space utilization. BIB containers also reduce logistics costs and provide more brand recognition to the manufacturer.
Regulatory Impact On Global Sales?
"Clean Room Packaging to Dominate"
Amid the COVID-19 pandemic, the end-users are having more emphasis on clean room packaging and sterile packaging for the large volume transportation of direct consumable products. The government bodies of various countries have the maximum focus on contamination-free transit of such products.
Therefore, key players are manufacturing bulk containers that satisfy US FDA's regulations and provide sterile bulk containers to the pharmaceutical and food and beverage industries.
Furthermore, end users have more proclivity towards the use of lightweight shipping containers. Therefore, demand for plastic-based bulk containers is prominently increasing in various countries. However, some of the regulatory bodies have defined rules for using plastic as a packaging material.
Therefore, key players are manufacturing their products as per the materials suggested by the government. However, this has less impact on the sales of plastic bulk containers packaging market, as this type of packaging solution is looked upon as a tertiary packaging format.
Country-Wise Insights
FMI team deeply analyzed the top five countries in the global bulk container packaging market and reached the conclusion that the United States market is expected to outpace the other countries during the forecast period. This market is expected to create an incremental revenue opportunity of nearly US$ 4.6 Billion by the end of 2031.
Increasing industrial production activities are anticipated to support heightened demand for bulk container packaging. More inclination towards large-sized foldable bulk containers among end-users has been witnessed in the past year. However, tough rivalry in the USA market is anticipated due to the presence of many strong and organized players.
This is further raising the entry barriers for new players and small-scale industries. To survive in the cutthroat competition in the target market, manufacturers are increasing the production of flexible and foldable bulk containers that are gradually replacing the bulk containers in various end-use industries.
Research states that Germany exported nearly 15% of the global medicines and drugs to the rest of the countries in 2019. The demand for bulk container packaging in Germany is expected to remain high, on the back of increasing export and developments of medicines and drugs in the country.
As per FMI's analysis, Germany accounts for nearly 12% market share in the top five countries of the global bulk container packaging market. The high volume transit of medicines and drugs is creating the need for sterile storage bulk containers.
Saudi Arabia has overtaken Russia's place and become the largest crude oil exporter to China. FMI's research, showed an increase in exports in October 2019 in comparison with the month before, according to the published customs data of China's General Administration.
According to the data, Russia was the top crude oil supplier to China in 2017 and 2018, and now Saudi Arabia sends an average of 1.98 million barrels per day of crude oil to China. This has marked a jump of 77% from 2018 to 2020.
Category-Wise Insights
The flexible bulk container packaging is estimated to hold more than 3/5th value share in the global market and is expected to increase further by 250bps of current market share during the forecast period. As per FMI, this growth is anticipated due to cost minimization on returnable transportation and space savings. FIBCs are versatile and optimize handling and transportation. They, thus, improve the material handling system and supply chain.
Accounting for over 90% of the overall share through the forecast period, the bulk container segment continues to account for the bulk of demand. Growth in the demand for drums, pails, and other rigid containers along with containers equipped with bulk containers continues to persist.
The primary aim of bulk containers is to maintain the integrity of the product and reduce the risk associated with the product during shipment. The technology offers several advantages. For instance - trackers available for tracking the container's location are expected to boost the sales of the market.
Exploring the untapped region for exports will create ample opportunities for the growth of the bulk container packaging market. Eastern Europe has high fresh produce of organic food products. Shipping of these organic products across various regions will further strengthen the use of bulk bags in this region.
Flexible Intermediate Bulk Containers (FIBCs) are best suited for the export of food products. FIBC bags are replacing corrugated boxes as they have comparatively high durability and are also lightweight. Similarly, there are various products that are not exported to other regions due to ineffective packaging types. FIBCs ensure that the product is shipped in its original form to the importers and is highly cost-effective.
Use of the bulk bags for the transportation of products (otherwise not exported) is expected to create high opportunities for not only the growth of the bulk container packaging market but also the economy of Eastern Europe.
Competitive Landscape
Some of the players are focusing to make recyclable products to maintain sustainability.
CDF has collaborated with WestRock company to redesign the shape, functional features, and benefits of recyclable IBC packaging solutions made from the recyclable component HDPE to work with more efficiency and maintain sustainability in the industry.
Bulk Container Packaging Industry Report Scope
Attribute
Details
Forecast Period
2022 to 2031
Historical Data Available for
2015 to 2021
Market Analysis
USD Million/Billion for value and '000 Units for Volume
Key Regions Covered
North America, Latin America, Western Europe, Eastern Europe, Asia Pacific excluding Japan, Oceania Middle East & Africa (MEA), and Japan.
Key Countries Covered
The USA, Canada, Germany, the UK, France, Italy, Spain, BENELUX, Poland, Russia, China, Japan, India, Association of Southeast Asian Nations, Brazil, Mexico, Australia, New Zealand, GCC Countries, Turkey, Northern Africa, South Africa.
Key Segments Covered
Product, Material, End-use, and Region
Key Companies Profiled

Greif, Inc.
Berry Global, Inc.
Sealed Air Corporation
DS Smith Plc
Mondi Group
Bemis Company, Inc.
International Paper Company
Winpak Ltd
Mauser Group B.V
Hoover Ferguson Group

Report Coverage
Market Forecast, brand share analysis, competition intelligence, DROT analysis, Market Dynamics and Challenges, Strategic Growth Initiatives
Customization & Pricing
Available upon Request
Key Segments Covered In Bulk Container Packaging Industry Research
Product:
Flexitanks
Bulk Containers

Flexible Bulk Containers
Rigid Bulk Containers

Bulk Container Liners
Material:
Plastic

HDPE
LDPE
LLDPE
PP
PVC
Others

Metals
Others (Wood, Fiber, Paper Board)
End Use:
Industrial Chemicals
Petroleum and Lubricants
Food and Beverages
Paints, Inks, and Dyes
Pharmaceutical
Others
Region:
North America
Latin America
Western Europe
Eastern Europe
Asia Pacific Excluding Japan
Middle East and Africa (MEA)
Japan
Frequently Asked Questions
The global Bulk Container Packaging market is expected to be worth US$ 18 Billion by the year 2022.
The market for Bulk Container Packaging is expected to reach US$ 34.1 Billion by 2031, expanding at a CAGR of 6.3%.
From 2015 to 2021, Bulk Container Packaging's sales expanded at the rate of ~5%.
Greif, Inc., Berry Global, Inc., Sealed Air Corporation, DS Smith Plc, Mondi Group, Bemis Company, Inc., International Paper Company, Winpak Ltd, Mauser Group B.V., and Hoover Ferguson Group.
Bulk Container Liners hold more than 50% of the market share.