About the Report
The bulk containers packaging landscape has made significant gains over several years, largely on the back of a mushrooming industrial chemicals market and demand for better and non-contaminated food and beverage delivery. As sustainability concerns heighten, manufacturers are spurred to introduce lighter, highly durable and eco-friendly alternatives across their portfolios. Revenue pools are broadening even further as packaging companies seek to track delivery and transport progress, compelling vendors to offer real-time automated tracking solutions.
In its new study, ESOMAR-certified market research and consulting firm Future Market Insights (FMI) offers insights about key factors driving demand for bulk containers. The report tracks the global sales of bulk container packaging in 20+ high-growth markets, along with analyzing the impact COVID-19 has had on the packaging industry in general, and bulk container in particular.
How Bulk Container Packaging Sales will Grow in the Future?
The global bulk container packaging market rose at 1.2x between 2016 and 2020. While primarily used for handling solvents and volatile chemicals, these containers are also effective for food and beverage storage, both likely to emerge as key end-use industries.
However, demand was significantly curtailed with the outbreak of the COVID-19 pandemic, with the annual growth rate across 2020 decelerating by nearly 5%. Restrictions on manufacturing activities due to stringent lockdowns disrupted the supply chain process across the chemical manufacturing segment. Fortunately, a spike in online food & beverage consumption helped sustain demand.
At the same time, the trade of pharmaceutical products and chemicals among various countries has spiked since the last quarter of 2020. This is likely to heighten expansion prospects in the post-pandemic scenario. Emphasis on sterile packaging is bound to increase, providing significant innovation and R&D opportunities for key manufacturers. Based on these projections, Future Market Insights estimates the market to surge at a value CAGR of 7% through 2030.
How is Flexible Packaging Generating Sweet Spots?
As public pressure on reducing the environmental impact of packaging gains force, bulk container packaging manufacturers are seeking to incorporate flexible alternatives by incorporating polymer-based and lightweight material. Flexitanks, are the ideal packaging solutions in this respect as it consumes less space, as they are capable of handling larger volumes and minimizes transport cost.
The maximum volume for each flexitank is 24,000 liters, capable of shipping approximately 50% more cargo compared to bottled consignments, 40% more than drums, and 15% more than intermediate bulk containers (IBCs). Furthermore, it costs 33% less to transport goods via flexitanks, thus leading to their heightened popularity.
As per FMI's analysis, higher profitability margins are expected while using large-sized, higher value reusable bulk containers which are cost-efficient over small containers having shorter life spans.
Escalating Adoption of Plastic-based Packaging Amplifying Demand
Amongst all materials, plastic-based packaging is expected to remain the most preferred, in spite of growing plastic waste disposal concerns. From a manufacturing viewpoint, plastics help in achieving economies of scale due to their durability, lightweight, and reduced overhead costs.
Opportunities abound across the recycled plastics segment. Studies conclude that as of 2015, the recycling of non-bottle plastic packaging containers such as deli containers, lids, and dairy tubs amounted to nearly 1.3 billion pounds across the U.S., representing a four-fold increase since 2007. Hence, manufacturers have been able to effectively augment their presence across the region.
In addition, the uptake of plastic containers has increased for transporting hazardous goods such as radioactive material, flammables, explosives, and chemical products. Thus, industrial applications are contributing to the expansion of the drums market Manufacturing companies are expected to shift their focus towards bio compostable materials (plastics) to produce bulk containers for maintaining sustainability.
Why R&D Is Key to Consolidation in Bulk Container Packaging Market?
Escalated application of bag-in-box IBC liners across various industries (especially in the pharmaceutical and cosmetic industries) is fueling growth of the IBC liners market. These are replacing "Sputniks" or stainless steel containers widely equipped with steam-sterilized aseptic valves.
Prominent manufacturers are investing in research and development to gain a competitive advantage. For instance, CDF's bag-in-box packaging has proven highly effective in maintaining consistency and quality standards across production lines. To further enhance this experience, the company has developed a line of fully automatic and semi-automatic filler machines to enhance production capacity.
Likewise, Q-big packaging company is also boosting the growth of the IBC market which in term is increasing the growth of bulk container packaging market with the help of its T-shaped liners.
Bag-in-Box containers as compared to conventional packaging types, provide more hygienic as well as safety features. They offer greater convenience in packaging, storage, and transportation, and low space utilization. BIB containers also reduce the logistics costs and provide more brand recognition to the manufacturer.
What is the Regulatory Impact on Bulk Container Packaging Sales?
As hygiene concerns mount amid the pandemic crisis, emphasis on clean and sterile packaging have prompted government bodies to encourage focus on contamination-free transit of such products. Therefore, key players are manufacturing bulk containers compliant with FDA regulations and providing sterile bulk containers to the pharmaceutical and food and beverage industries.
Furthermore, end users have more proclivity towards use of lightweight shipping containers. Therefore, demand for plastic based bulk containers is prominently increasing in various countries. However, some of regulatory bodies have defined rules for using plastic as a packaging material.
Therefore, key players are manufacturing their products as per the materials suggested by government. However, this has less impact on the sales of plastic bulk containers packaging market, as this type of packaging solutions are considered as a tertiary packaging format.
Bulk Container Packaging Manufacturers Eyeing Opportunities in New Markets
Exploring untapped regions for exports will create ample opportunities for the growth of the bulk container packaging market. For instance, Eastern Europe generates high fresh produce of organic food products, thus strengthening the use of bulk bags in this region. Flexible Intermediate Bulk Containers (FIBCs) are most suitable for the export of food products.
FIBC bags are replacing the corrugated boxes as they have comparatively high durability and are also light weighted. Similarly, there are various products which are not exported to other regions due to ineffective packaging types. FIBCs ensure that the product is shipped in its original form to the importer and are highly cost effective.
Use of bulk bags for the transportation of products, otherwise not exported, is expected to create high opportunities for not only the growth of the bulk container packaging market but also, the Eastern Europe economy.
Country-wise Insights
How Big is the Opportunity in the U.S. for Bulk Container Packaging Companies?
The United States market is expected to outpace other countries during the forecast period, reaching nearly US$ 5 Bn, by 2021-end. Increasing industrial production activities is anticipated to support heightened demand for bulk container packaging.
The National Fire Protection Association (NFPA), in its Flammable and Combustible Liquids Code permits three types of IBCs in an industrial building. These include metal, rigid plastic and composite. The standard provides that only liquids with a close up flash point of 38o C or greater are permitted to be stored in these containers.
As per U.S. Energy Information Administration, the U.S. is a prominent producer of petroleum and other liquids. It has imported an average of 5.3 Mn barrels per day of crude oil from various countries. Such increasing trade activities leads FMI to predict heightened attractiveness of bulk container packaging, creating lucrative growth opportunities for the key players in future years.
China to Experience Heightened Investment for Bulk Container Packaging
The Chinese bulk container packaging market is expected to be valued at US$ 1.3 Bn by 2021-end, with extensive applications across the food & beverages and industrial chemicals segments respectively. Furthermore, a burgeoning shipping and logistics industry is also fueling enhanced bulk containers adoption.
Valued at over 2 trillion yuan, the Chinese packaging industry is fostered by a boom in e-commerce activities, with over 60% of B2B research and half of the purchases shifting to online platforms. Hence, demand for specialized bulk containers to transport and deliver key end-use products is witnessing a significant upsurge.
Over the years, the global shipping industry has made significant progress, attributed to burgeoning international trade volumes. Amongst all countries, China appears to be the most promising shipping hub. As of 2011, the number of container units handled by the East Asian giant exceeded 150 million, with annual throughput registering a 35% growth since 2015.
Prominent manufacturers such as China COSCO Shipping, China Shipping Group, Sinotrans, The China Navigation Company, Nan Fung Group and Orient Overseas Container Line are at the forefront of manufacturing bulk containers, contributing significantly to the bulk container packaging market growth.
Throughput of Russian Seaport is Creating Opportunities for Bulk Container Packaging Market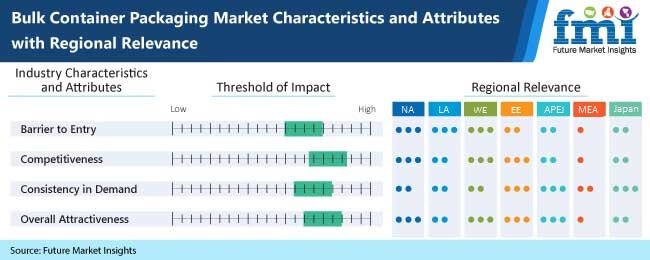 While U.S. will lead the market of bulk container packaging, Saudi Arabia will overtakes Russia for being largest exporter to China, according an independent research, handling dry bulk cargo has increased by 4.2% in Russia. In January-August 2020, seaports of Russia had handled 544.2 million tonnes bulk containers. In the report, it is stated that the handling of dry cargo containers including mineral fertilizer- cargo totaled 259.4 and handling of liquid bulk cargo including liquid food totaled 284.8 million.
Opportunities Abound across German Pharmaceutical Industry
According to Germany Trade and Investment (GTAI), Germany is the 4th largest European pharmaceutical market. In 2019, pharmaceutical sales amounted to € 46.4 billion, with over 500 pharmaceutical companies situated across the region. It exported nearly 15% of the global medicines and drugs to rest of the countries.
The demand for bulk container packaging in Germany is expected to remain high, on the back of increasing export and developments of medicines and drugs in the country. This has encouraged the emergence of numerous pharmaceutical packaging giants across the landscape.
As per FMI's analysis, Germany accounted for nearly 12% market share in the top five countries of global bulk container packaging market. The high volume transit of medicines and drugs is generating the need for sterile storage bulk containers. Trade of these products with different countries is anticipated to create lucrative growth opportunities for the bulk containers packaging market in the next half-a-decade.
Category-wise Insights
Flexible Bulk Containers Remain Lucrative
The flexible bulk container packaging is estimated to hold over 3/5th value share in the global market and expected to increase further by 250bps of current market share during the forecast period.
As per FMI, this growth is anticipated due to cost minimization on returnable transportation and space saving. FIBCs are versatile and optimizes handling and transportation. Thus it improves material handling system and supply chain.
Why Bulk Containers Category Accounts for 90% Share?
Accounting for over 90% of the overall share through the forecast period, bulk container segment continue to account for bulk of demand. Growth in the demand of drums, pails, other rigid containers along with containers equipped with bulk containers is driving adoption.
The primary aim of bulk containers is to maintain the integrity of the product and reduce the risk associated with the product during shipment. The technology offers several advantages. For instance trackers available for tracking the container's location is anticipated to boost the sales of the market.
High Adoption of Plastic Bulk Containers
By material type, plastic bulk containers, especially HDPE plastics, account for the maximum share in the market. The segment is expected to be valued at over US$ 6 Bn by 2021-end, registering an annual growth rate of 4%.
HDPE plastics are highly cost-effective, offer high temperature resistance, are non-leaching, UV-resistant and appropriate to store several chemical solvents. Hence, the material is suitable for packaging and transporting industrial solvents.
Competitive Landscape
Some of the players are focusing to make recyclable products to maintain sustainability. For instance: CDF collaborated with WestRock company to redesign the shape, functional features, and benefits of recyclable IBC packaging solution made with the recyclable component-HDPE to work with more efficiency and maintain sustainability in the industry..
Some of the leading companies operating in the market are:
Greif, Inc.
Berry Global, Inc.
Sealed Air Corporation
DS Smith Plc
Mondi Group
Bemis Company, Inc.
International Paper Company
Winpak Ltd
Mauser Group B.V
Hoover Ferguson Group
Braid Logistics (UK) Limited
Qingdao LAF Packaging Co. Ltd.
My Flexitank Industries Sdn Bhd
SIA Flexitanks Limited
Environmental Packaging Technologies, Inc.
Snyder Industries, Inc
Schuetz GmbH & Co. KGaA
Büscherhoff Spezialverpackung GmbH & Co. KG
Bulk Lift International, Inc
Shandong Anthente New Materials Technology Co. Ltd
*The list is not exhaustive, and only for representational purposes. Full competitive intelligence with SWOT analysis available in the report.
Scope of the Report
Attribute

Details

Forecast Period

2021-2031

Historical Data Available for

2016-2020

Market Analysis

USD Million for value and '000 Units for Volume

Key Regions Covered

North America, Latin America, Western Europe, Eastern Europe, Asia Pacific excluding Japan, Oceania Middle East & Africa and Japan.

Key Countries Covered

US, Canada, Germany, U.K., France, Italy, Spain, BENELUX, Poland, Russia, China, Japan, India, ASEAN, Brazil, Mexico, Australia, New Zealand, GCC Countries, Turkey, Northern Africa, South Africa.

Key Segments Covered

Product, Material, End use, and Region

Key Companies Profiled

Greif, Inc.
Berry Global, Inc.
Sealed Air Corporation
DS Smith Plc
Mondi Group
Bemis Company, Inc.
International Paper Company
Winpak Ltd
Mauser Group B.V
Hoover Ferguson Group

Report Coverage

Market Forecast, brand share analysis, competition intelligence, DROT analysis, Market Dynamics and Challenges, Strategic Growth Initiatives

Customization & Pricing
Key Questions Answered in the Report
Q1. Which is the most lucrative market for bulk container packaging?
US currently leads the global market for bulk container packaging market. Sales in US will be over 30% of total demand throughout the forecast period.
Q2. Which is the top-selling bulk container packaging item?
Flexible bulk containers are highly sought-after in every market. The demand for containers is expected to remain high in the near future.
Q3. How bulk containers satisfy the requirement of end users?
Plastic bulk container is a lightweight packaging solutions which ensures easy moving of the container using forklift. Further, flexible bulk containers and flexitanks reduces cost of return transportation. Besides this, bulk container ensures spill proof and sterile storage of the consumable products.
Q4. Which are some of the leading companies offering bulk container packaging?
Some of the leading companies offering, Greif, Inc., Berry Global, Inc., Sealed Air Corporation, DS Smith Plc, Mondi Group among others.
Q5. Which sector is accountable for driving sales of bulk containers?
The rising growth of industrial chemicals and food & beverage industry in the world is fuelling the demand for bulk containers.
Key Segments
Product
Flexitanks
Bulk Containers

Flexible Bulk Containers
Rigid Bulk Containers

Bulk Container Liners
Material
Plastic

HDPE
LDPE
LLDPE
PP
PVC
Others

Metals
Others (Wood, Fiber, Paper Board)
End Use
Industrial Chemicals
Petroleum and Lubricants
Food and Beverages
Paints, Inks and Dyes
Pharmaceutical
Others
Region
North America
Latin America
Western Europe
Eastern Europe
Asia Pacific Excluding Japan
Middle East and Africa (MEA)
Japan
Need specific information?