Bulk Bags Market By Capacity (Small, Medium, Large), Design (U-Panel Bag, Four Side Panel, Baffle, Circular/ Tabular, Cross Corner, Others), Filling & Discharge (Open Top & Flat Bottom, Duffle Top & Flat Bottom, Open Top & Spout Bottom), End User Industry (Chemicals & Fertilizers, Food, Construction), Region – Forecast to 2022-2028
Bulk Bags Market - Analysis, Outlook, Growth, Trends, Forecasts
December 2021

REP-GB-6964

275 pages
Bulk Bags Market Snapshot
[275 Pages Report] The bulk bags market is estimated at US$ 5.3 billion in 2022 and is projected to reach US$ 8.0 billion by 2028, at a CAGR of 6.0% from 2015 to 2021.
The study conducted by FMI estimates that the global bulk bags market value will expand 1.6x during the forecast period which is expected to generate lucrative investment opportunities for manufacturers. Newly released data from bulk bags market analysis shows that global demand of overall bulk bags market is estimated to reach year-on-year (YoY) growth of 6.9% in 2021.
FMI team also analyzed that across the whole of Asia Pacific ex. Japan, total sales of bulk bags are projected to reach US 855 Mn in 2021. The cumulative share of bulk bags market in Eastern Europe and Western Europe is expected to hit almost 35.0% in 2021. The incremental opportunities for these regions combined are expected to be a whopping US$ 974.3 Mn.
| | |
| --- | --- |
| Market Size 2022 | US$ 5.3 Bn |
| Market Size 2028 | US$ 8.0 Bn |
| Value CAGR (2022-2028) | 7.1% |
| Collective Value Share: Top 3 Countries (2022E) | 34.7% |
Bulk Bags Market Historic and Forecast Outlook
Due to its distinct features such as affordability, versatility, customizable, etc., and inherent properties the bulk bags have revolutionized commercial and industrial packaging, shipping, and transportation. The widespread and rapid adoption of jumbo bags is due to its exceptional benefits compared to alternative rigid containers.
The rise in applications of bulk bags has observed as their usage spanned across industries like chemical, food, agriculture, construction, mining, pharmaceutical, etc. Over the years, the use and popularity of big bags have increased dramatically owing to their cost-effectiveness and ease of use. The low carrying cost coupled with higher efficiency in loading and unloading of goods and merchandise increases the demand for bulk bags market.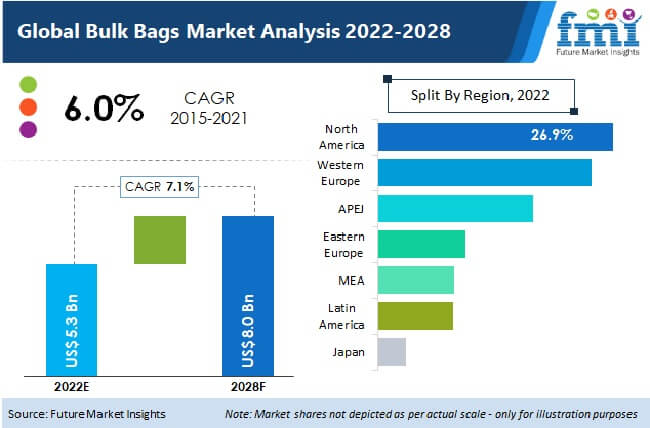 How are Technological Advancements Such as Modified Atmosphere Packaging (MAP) Used to Maximize the Product's Shelf Life Reshaping the Bulk Bags Market Dynamics?
The producers, suppliers, and distributors of chemicals, food, seeds, etc. supply their products to the markets across the globe; thus the shelf-life stability of the products is crucial. Consumers prefer products without any artificial preservatives and additives. This has led to the modified atmosphere packaging (MAP) as the go-to technology for enhancing the product's shelf life.
The MAP is an advanced packaging technology that can be applied to adjust oxygen and CO2 levels within the packaging. The MAP technology is not harmful to the consumers and the environment. The manufacturers of FIBC's are using MAP technology in their product range.
For instance,
In June 2021, Greif, Inc. enhanced MAPGuard with MAP technology to extend the shelf life of the products. MAPGuard is Greif Company's flexible intermediate bulk containers (FIBC) range.
How Customization Trend Positively Influencing the Bulk Bags Market?
Depending upon the nature of the products the bags can be tailor-made according to fabric type, capacity, bulk bags accessories (cord locks, document pouches, etc.), food-grade and non-food grade, etc.
The FIBC bags in different colour fabric enhances the aesthetics also help in colour code products storage. These bags are an apt packaging solution for advertising as brand logos and other details can be printed on the FIBC bag fabric. Thus customization makes these big bags as the most convenient packaging options to transport and store a wide range of products in bulk quantities.
What is the Impact of COVID-19 Pandemic on the Global Bulk Bags market?
The Covid-19 pandemic had an immediate and widespread impact on the manufacturers, supply chains, global markets, and the bulk bags market was no exception. Jumbo bags are widely used in storing, carrying, and transporting food and pharmaceutical products. Across the globe, challenges such as logistical delays in shipping the bags were experienced. The potential delays in product delivery due to supply chain disruptions and growing demand for the food-grade bulk bags.
Bulk Bags market Country-wise Insights
How Big Is the Opportunity for Bulk Bags Market in the U.S.?
The bulk bags market in the U.S. is showcasing a significant 81% market share in North America in 2021. According to Trade Map, the U.S. exported 20,317 Tonnes and imported 149,960 Tonnes bags & sacks. In the United States, U-Panel design bulk bag has become industry standard. The bulk bags are often used in emergencies such as hurricane flooding, rivers overflowing, mudflows, etc. To protect human lives and property from natural disasters manufacturers are designing bags, also to sustain such disasters huge bulk bags are required.
How will Germany Contribute the Growth of Bulk Bags Market?
The Germany market is expected to hold 17% market share by 2028 in the Western Europe region. According to the European Chemical Industry Council, the chemical industry is a vital part of Europe's economy and Europe is the second-largest chemical producer in the world. In Germany, the increasing demand for safe and secure shipping of chemical products has generated a demand for bulk bags market. The bulk bags are designed and manufactured as per the recommendations of the United Nations in transporting hazardous materials.
According to European Intermediate Bulk Container Association, bulk bags are considered as the essential industrial products for vital industries such as pharmaceuticals, food, agriculture, chemicals, and oil and gas industries during the pandemic. The manufacturers are now focusing on hygienic bulk bags to ensure safety and security, which is expected to favor the growth of bulk bags market in Germany.
What will be the impact of India on the Bulk Bags Market?
According to the FMI analysis, India is projected to hold nearly 15.7% of the market share in APEJ in the next ten years. According to Indian Flexible Intermediate Bulk Container Association, India experienced the introduction of FIBC bags in the early 1990s and has now grown to be a frontline manufacturer across the globe. The Indian domestic market growth for bulk bags is at a slow pace, while nearly 90% of production is exported generating excellent foreign exchange earnings. Thus, the domestic and export bulk bags market are envisaged huge growth potential. India is a fast-growing country experiencing a surge in demands for bulk bags due to remarkable growth in food, agriculture, chemicals, fertilizers, construction, and mining industries. The growing number of businesses and number of rising manufacturers, technological advancement, and availability of cheap labour force and raw materials add to the bulk bags market growth in India.
Bulk Bags market Category-wise Insights
Why is Type C Being Most Preferred Fabric Type for Manufacturing Bulk Bags?
According to the analysis done by FMI, the type C segment is expected to hold ~43.0% market share till the year 2028. The fabric type C bags are conductive bulk bags and are used for the transportation of flammable powders, solvents, and liquid combustible materials. They provide a maximum level of antistatic protection to protect the safety of the workers and are specially designed to handle and disperse any electrical charge created during packaging and transportation. All these factors are making type C fabric type bulk bags popular amongst customers worldwide.
Which End User Industry offers Lucrative Growth Opportunity for Global Bulk Bags Market?
Chemicals and fertilizers are the most lucrative end user industry segment in the bulk bags market and are expected to hold a significant market share of ~41.2% by 2028 as the end user are looking for products that are reducing the risk of static shock and safe packaging solutions to store chemicals, powders, and other harmful materials. In chemical factories, safety and efficient operations are the utmost priority. The bulk bags are highly resistant to water, chemicals, fire, contamination, and severe external conditions and have high strength, excellent weight load and, good chemical resistance features. Due to all these factors, the chemical industry is opting for bulk bags.
Bulk Bags market Competitive Landscape
As the consumption and adoption of bulk bags is increasing, the key manufacturers of bulk bags are focusing on innovation also cost-saving solutions that reduce freight cost, elimination of the pallets, partnership and, sustainability.
In 2020, Greif, Inc. introduced SealGuard™ the next generation of FIBC's. It is a result of a customer-centric innovative approach to resolve the challenges in the current FIBC applications.
AmeriGlobe L.L.C introduced EZ Loop® bag, this bag eliminates the cost of the pallets and enhances ease of use and stability.
Berry Global Inc. manufactures flexible intermediate containers (FIBC) using FDA-approved materials like durable woven polypropylene.
Scope of Report
Attribute

Details

Forecast Period

2022-2028

Historical Data Available for

2015-2021

Market Analysis

US$ Million for Value and '000 Units for Volume

Key Regions Covered

North America, Latin America, Western Europe, Eastern Europe, APEJ, Japan, and the Middle East & Africa (MEA)

Key Countries Covered

U.S., Canada, Brazil, Mexico, Germany, Italy, France, U.K., Spain, Poland, Russia, GCC Countries, South Africa, China, and India

Key Segments Covered

Capacity, Fabric Type, Design, Filling and Discharge, End User Industry and Region

Key Companies Profiled

Conitex Sonoco
AmeriGlobe L.L.C.
Greif, Inc.
Halsted Corporation
LC Packaging International BV
Rishi FIBC Solutions PVT. Ltd.
BAG Corp.
Sackmaker J&HM Dickson Ltd.
Emmbi, Inc.
Bulk Lift International, LLC.
Langston Companies Inc.
MiniBulk Inc.
RDA Bulk Packaging Ltd.
Jumbo Bag Ltd.
Yixing Weinet Packing Bag Co., Ltd.
Yantai Haiwan Plastic Products Co., Ltd.
Taihua Group
Bang Polypacks

Report Coverage

Market Forecast, Company Share Analysis, Competition Intelligence, DROT Analysis, Market Dynamics and Challenges, and Strategic Growth Initiatives

Customization & Pricing

Available upon Request
World's Most Profilic Intelligence Engine
Get Access To The World's Largest Market Research Database.
Sign Up Now
Bulk Bags Market by Category
By Capacity:
Small (upto 0.75 cu. m)
Medium (0.75 to 1.5 cu. m)
Large (Above 1.5 cu. m)
By Fabric Type:
Type A
Type B
Type C
Type D
By Design:
U-Panel Bag
Four Side Panel
Baffle
Circular/ Tabular
Cross Corner
Others
By Filling and Discharge:
Open Top & Flat Bottom
Duffle Top & Flat Bottom
Open Top & Spout Bottom
Spout Top & Spout Bottom
Spout Top & Flat Bottom
Others
By End User Industry:
Chemicals & Fertilizers
Food
Construction
Pharmaceutical
Mining
Others
By Region:
North America
Latin America
Western Europe
Eastern Europe
APEJ
Japan
Middle East & Africa
Key Questions Answered in the Report
What is the Bulk Bags Market Growth Driver?
The bulk bags are safe and durable packaging solutions and have the lowest package to product weight ratio. Due to the integrated lifting loops, they can be transported and stored without pallets which further reduces the cost. These bags are tear-resistant, lightweight, strong, and durable, sturdy thus enhancing transportation while shipping the products across the globe. There is a high demand for bulk bags in the chemical industry as the bulk bags safely handles severe temperatures and corros
Who are the Key Players of the Bulk Bags Market?
The top five companies operating in the global bulk bags market are Berry Global Inc., Conitex Sonoco, AmeriGlobe L.L.C., Greif, Inc., and Intertape Polymer Group. These players are estimated to hold nearly 15% to 20% share in the global bulk bags market.
What is the Bulk Bags Current Market Valuation?
The market valuation of bulk bags is expected to be US$ 4.9 Bn by 2021.
What is the Global Market Demand Overview for Bulk Bags?
The global bulk bags market will undergo a rise in demand after the slightly sluggish impact of the COVID-19 pandemic. As per FMI, the global bulk bags market is projected to expand at a CAGR of 7.1% between 2022 and 2028.
What is the Key Trend which is driving the Global Bulk Bags Market?
Nowadays, customers prefer to customize their bags as per their requirements, the bulk bags can be customized in any dimension which will propel the bulk bags market. Using sustainable products is the need of the hour, manufacturers are focusing on producing sustainable bulk bags, due to this, and the demand for bulk bags will tremendously increase.
At What Rate will the Bulk Bags Market Grow in APEJ?
According to FMI analysis, the APEJ market for bulk bags is anticipated to register a CAGR of 9.9% between 2022 and 2028.
Which are the Top 5 Countries Exhibiting High Demand for Bulk Bags?
The U.S., China, Canada, Russia and GCC Countries are the top 5 countries exhibiting high demand for bulk bags in the market.
Need specific information?
Our Clients