Value-based Oral Antiseptics Products Gaining Higher Acceptance
Value based oral antiseptics products are receiving more acceptance among consumers in emerging and economically poor countries due to their cost cutbacks and associated health benefits. In fact the outlook for entire oral care industry has changed over last 15 years, and the matter of change has affected preventive supplies like oral antiseptics as well.
With rise in disposable income observed in population reaching urban lifestyle, the oral antiseptics market would observe a clinical change in current trends. Value based products are receiving more acceptance among consumers in emerging and economically poor countries due to their cost cutbacks and associated health benefits. A large portion of consumer base is directed to use oral antiseptics, due to the rise in poor dental condition present.
Distributors and Their Efficient Role in Encouraging the Market
Distributors are often looked as middle man in any industry that requires the product to be shipped to a selective class of consumers. They influence the market to have sustainable growth through its reach towards the end user. Oral antiseptics is a dental consumable which is required for dental prevention and manufactures working in this oral antiseptics industry is dependent on distributors to advance their products to the consumers as direct sales is highly present.
Distributors definitely take a share in the market value chain for oral antiseptics with its attested service claims, but generates a loyal company-consumer relationship and tangible benefits. Distributors also provide market intelligence to consumers with change in trends and price adjustments required for oral antiseptics.
In this industry for oral antiseptics, the products are more driven towards the consumers by the distributors. As the market involves both OTC and prescription based products, there has been a demand for over the counter pain medication that are used for acute pain by dental patients. It requires assistive market intelligence within a long chain of working bodies.
Small scale oral antiseptics producers who lack supply routes and storing space tend to lose product reach, distributors play an important role in assisting such companies offering by narrow space of revenue generation.
All such factors and examples play an important role in oral antiseptics market revenue over the period and leave a clear efficient role of distributors in the oral antiseptics market.
Limited Competition Offers Attractive Room for Growth
It is still a moving opportunity for dental care manufacturers involved in oral antiseptics market. Observed discomfort and consequences with strong oral antiseptics which includes alcohol, chlorhexidine, chlorine dioxide and more tends to support and helps in the growth of herbal medicinal products such as herbal oral antiseptics solutions.
The market for such alternative is projected to expand over the period, with equal results and less no. of physical discomfort reported in such alternatives. The market for herbal oral antiseptics is still less competitive than most other market in oral antiseptics. There are very few players actively participating in this segment of oral antiseptics.
Companies like The Natural Dentist comes up with herbal solutions, their anti-gingivitis solutions contain 20% aloe vera extract which works as an antiseptic solution and could be used as a replacement for strong compound based oral antiseptics. Aesop Mouthwash, georganics coconut oil pulling mouthwash, auromere ayurvedic mouthwash are few examples of such herbal oral antiseptics used as a dental prevention substitute for strong compound based oral antiseptics.
This opportunity lies with all of the major oral antiseptics manufacturers and also new market players planning to enter the market with new set of product offerings. Diverse product range would help in attracting more certain consumer base and result in the overall expansion of the oral antiseptics market.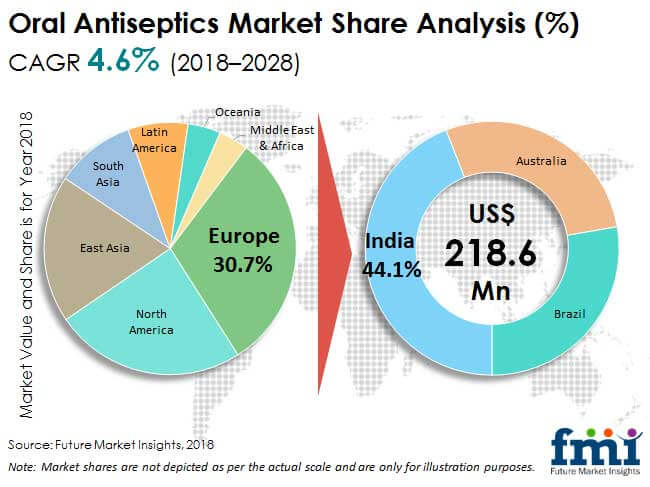 Competitive Landscape
The report consists a proper assessment of companies operating in the oral antiseptics market. This section provides a detailed understanding of most competitors in the oral antiseptics market. Companies like Revive Personal Products Company, Procter & Gamble, 3M, Dentsply Sirona, Colgate-Palmolive, Johnson & Johnson, Dentaid SL, ICPA Health Products Ltd, Cipla Inc. and Church & Dwight Co., Inc. are profiled in this report.
The oral antiseptics report provides latest information and key dynamics involved in the market. Current market structure and leaders of this growing market with all all-encompassing data on each oral antiseptics manufacturers is present in this report. An inclusive analyst opinion and commentary is present for each participant with brief insights in this oral antiseptics market.
About the Report
The report on oral antiseptics published by the company includes detailed insight related to the industry. The report provides a comprehensive information about the structure of this concerned market with knowledge and key inclusions required to be a part of this industry and about the most important market characteristics involved in this market, involving both demand and supply trends for the oral antiseptics market.
Additional Questions Answered
Additionally, the report also answers rather important question from this market which contains valuable information, critical questions such as:
Which product type is the latest and is estimated to grow with parallel health benefits
What should be the strategies for manufacturers in order to sustain themselves in this competitive oral antiseptics market?
Research Methodology
The process of market research involves extensive secondary research of the concerned oral antiseptics market. Analysts try obtain industry-validated historic and current data about the demand for oral antiseptics across the globe.
Comprehensive secondary research with assisted primary research is carried, the detailed oral antiseptics market value (US$ Million) is obtained. There are different steps in order to counter validate the final numbers, qualitative data and market understanding is converted into quantity giving out a prime market value for the industry.
Key Segment
Based on geographical region
North America
Europe
Latin America
South Asia
East Asia
Oceania
Middle East & Africa (MEA)
Based on product type
Cetylpyridinium Chloride based
Chlorhexidine Gluconate based
Herbal and Essential Oils
Based on distribution channel
Retail Pharmacy
Supermarket/Hypermarket
E-commerce
Drug Stores
Need specific information?