Floral Flavour Market Outlook
The floral flavour market is anticipated to grow at a moderate pace during the forecast period. As per the data found by our analysts, the increasing proclivity of consumers towards purchasing clean-label goods is likely to lead to an uptick in the demand for the naturally-sourced ingredients that floral flavours are.
Consumers are showing an aversion towards artificial flavourings while resonating with colour-enhancing and flavour-inducing natural and organic floral flavour. As a result, the demand for these flavours is likely to grow during the forecast period. Owing to this demand, the focus of manufacturers is on the development of floral products that are free from chemicals as well as artificial flavourings.
Food and beverages industry that is bringing the floral flavours from the garden to plates, cups, and glasses. Given the myriads of benefits that certain flowers hold, consumers are relying on the plant-power for improving their health. In 2018, Whole Foods declared floral flavours as one of the top trends with functional mushrooms and super powders, which has attracted more consumers towards floral flavours.
Besides this, numerous studies have come to light to prove that edible flowers can be a healthier alternative to sugar, as they possess subtle aroma and sweet taste. Drinks such as Chamomile tea and Lavender Lattes are turning household drinks for their anti-inflammatory properties as well as for fighting depression, anxiety, and insomnia. Such an increase in the number of beverages derived from florals is showing strong growth prospects for the floral flavour market during the forecast period.
The effect of coronavirus was evident on the floral flavour market as the distorted supply chains and unfunctional restaurants brought about a reduction in the demand. However, some of the floral teas that were believed to have mood-enhancing powers experienced a spike in their demands.
Natural Floral Flavours to Capture 2/3rd of Total Revenue
Popularization of trends such as natural, clean-labelled food consumption has caused a radical upheaval in the F&B industry, which in turn, has potentially raised the demand for natural floral flavours. Accounting for relatively high revenue share, manufacturers have specifically targeted this category over artificial floral flavours.
In addition, strong focus has been placed on organic variants, as a response to mounting concerns regarding the use of chemical-based ingredients in F&B products. Moreover, new companies positioning themselves as cleaner and greener alternative to mainstream flavours are rapidly growing in number.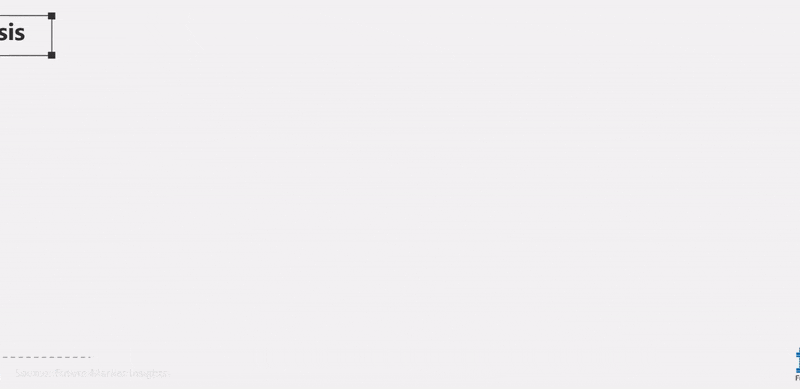 APEJ to Overtake Developed Markets by 2024
While growth prospects of the floral flavour market remained high in the U.S. and EU5, the market in Asia Pacific excluding Japan (APEJ) would acquire the leading position by 2024. Led by China and India, the regional food industry continues to defy gravity and is clearly following the evolving consumer trends such as natural ingredients and clean products.
With consumers in this region focused on better-for-you products, FMI expects a surge in demand for natural and organic floral flavours in the following years. Abundance of raw materials and unique ecological diversity are further working to the advantage of market players.
Floral Flavours - Not Just Flash-in-the-Pan Fad
Floral flavours have been in trend within the foodservice and processed food sectors. They remain among the most important and unique product features that determine the success or failure of a particular offering, amid competition. In order to stay ahead of the curve and fulfill consumer interest in cuisines from other countries, F&B manufacturers are increasingly incorporating floral flavours in their products. Such strategic moves are a solid indication that the trend is here to stay, and the market is set for a quantum leap in growth.
How Growth will Unfold
Worldwide use of hibiscus in new food and beverage products is on a significant rise, attributing to its natural origin and slightly tangy profile. Consumers are further drawn to hibiscus for its certain health benefits in lower body temperature and cholesterol levels.
In addition, as consumers' quest for authentic and unconventional taste experiences is increasing, floral flavour manufacturers are exploring untapped potential of other raw materials. While demand for rose is rapidly increasing, manufacturers are focusing on increasing the production of elderflower and chamomile-based flavours to capitalize on growing popularity of fusion and plant-based beverages.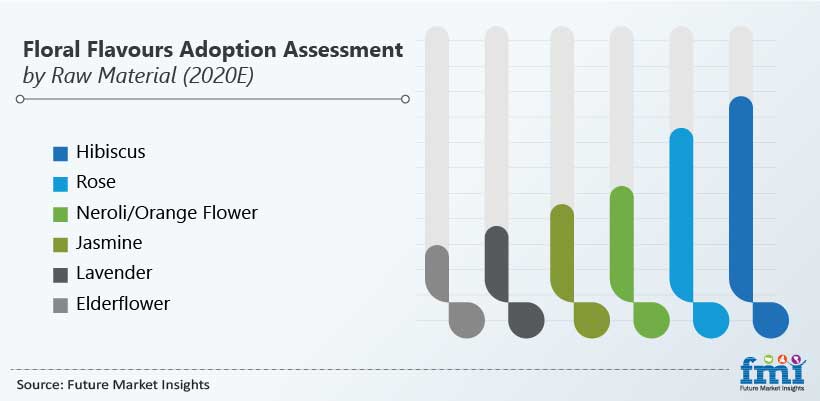 Floral Flavour Market Report Scope
Attribute

Details

Forecast Period

2016-2018

Historical Data Available for

2019-2027

Market Analysis

US$ Mn for Value and MT for Volume

Key Regions Covered

North America, Western Europe, Eastern Europe, Latin America, Asia Pacific Excl. Japan, Japan, and Middle East & Africa (MEA)

Key Countries Covered

U.S, Canada, Mexico, Brazil, Rest of Latin America, Argentina, Germany, United Kingdom, France, Italy, Spain, Nordic Region, Benelux, Rest of Western Europe, Russia, Poland, Rest of Eastern Europe, China, India, ASEAN, Australia, New Zealand, Rest of APEJ, Japan, GCC, Turkey, Israel, South Africa, and Rest of MEA

Key Segments Covered

Raw Materials, Product Type, End Use, Region

Key Companies Profiled

Givaudan S.A.
Symrise AG
International Flavors & Fragrances Inc.
Firmenich SA
Sensient Technologies Corporation
Takasago International Corporation
Frutarom Industries Ltd.
Robertet SA
S H Kelkar and Company Limited
International Taste Solutions Ltd.
Dohler GmbH
Blue Pacific Flavors, Inc.
Archer Daniels Midland Company
Fona International, Inc.
Jean Gazignaire S.A.
Fleurchem Inc.
Comax Flavors
Abelei Inc.
Kerry Group plc.
Mane SA

Report Coverage

Market Overview, Key Market Trends, Key Success Factors, Demand Analysis, Market Background, COVID-19 Analysis, Segmental Analysis, Regional Profiling, Market Structure & Competition Analysis

Customization & Pricing
FREQUENTLY ASKED QUESTIONS ABOUT GLOBAL FLORAL FLAVOUR MARKET
How would the global market for floral flavour progress over the following years?
The global floral flavour market is poised for a robust CAGR over the period of forecast, 2019 - 2027. Towards the end of 2022, the market for floral flavours is most likely to surpass the million-dollar market in revenues.
Which trend is the most critical in shaping the growth of floral flavour market?
The food and beverage industry is witnessing an influx of floral flavours, greatly impacted and influenced by the shifting dietary patterns of urban consumer demographic. With the ever-growing concerns about health and wellness, consumers are inclining towards naturally-derived flavours in their food and beverage products.
Which consumer population is particularly the target of floral flavour market players?
Floral flavours are indicative of the micro-trend of premiumisation and sophistication which is prevalently followed by millennials. Food and beverage manufacturers are taking into account the changing preferences of the millennial consumer population.
Which are the most lucrative F&B categories upholding the demand for floral flavours?
Demand for floral flavours continues to bloom in various F&B product categories, including ice teas, chocolates, chips, cookies, flavoured water, flavoured spirits, and floral flavoured bakery and snack items.
Will high production costs of floral flavours continue to challenge the market growth?
High costs associated with the production, processing, and preservation of natural and organic flavours continue to challenge their market growth to a certain extent. However, manufacturing costs of floral flavours is particularly way higher than other natural flavours, which remains the longstanding limiting factor for market growth. Manufacturers are however investing efforts in price reduction.
What are the prominent players in floral flavour market up to?
The market is highly organized, particularly in developing and emerging economies. Key market players are focusing on product launches to expand their customer base, which is indicative of the growing consumer preferences for botanical flavours. New launches in the U.S. especially aim at delivering herbal and floral notes to the palate, in addition to providing relaxing properties.
World's Most Profilic Intelligence Engine
Get Access To The World's Largest Market Research Database. Ngage with a revolutionary intelligence engine that scale and pricing that flexes as per your needs
Sign Up Now
FLORAL FLAVOUR MARKET TAXONOMY
The global floral flavour market is segmented in detail to cover every aspect of the market and present complete market intelligence to readers.
Raw Material
Hibiscus
Lavender
Neroli/ Orange Flower
Rose
Elderflower
Jasmine
Cherry Blossom
Chamomile
Violette
Product
Natural
Organic
Artificial
End Use
Food

Dairy
Yogurt
Ice-cream
Others
Bakery
Sponge Cakes
Cookies
Breads
Confectionary
Snacks
Fats and Oils

Beverages

Alcoholic
Non-alcoholic
Herbal Teas
Soft Drinks
Health Drinks
Flavoured Water

Others (Cigars, Tobacco, Pharmaceuticals, etc.)
Region
North America
Latin America
Western Europe
Eastern Europe
Asia Pacific Excl. Japan (APEJ)
Middle East and Africa
Japan
Need specific information?