Flavor Drops Market By Flavour Type (Apple, Black Tea, Cherry, Berries, Chocolate, Green Tea & Others), Content Type (Regular, Sugar Free), Sales Channel (Institutional Sales, HoReCa, Retail Sales), End Use (Alcoholic Drinks, Non Alcoholic Drinks), Nature (Organic, Natural, Vegan) & Region - Forecast to 2021 - 2031
Flavor Drops Market - Analysis, Outlook, Growth, Trends, Forecasts
November 2021

REP-GB-14223

250 pages
Flavor Drops Market Snapshot
[250 Pages Report] Demand in the flavor drops market is expected to reach US$ 87.8 Mn in 2021, according to the latest Future Market Insights (FMI) study. The market value is expected to surpass US$ 172.8 Mn by 2031 at a CAGR of 7.0% between 2021 and 2031.
Rising demand for ingredients derived from natural resources in food and beverages will result in high sales of flavor drops. Besides this, product launches will create a conducive environment for the market growth.
According to FMI, the flavor drops market will account for 3% of the global flavor enhancer market in 2021.
| | |
| --- | --- |
| Estimated Flavor Drops Market Value (2021E) | US$ 87.8 Mn |
| Estimated Flavor Drops Market Year Value (2031E) | US$ 172.8 Mn |
| Value CAGR (2021-2031) | 7% |
Flavor Drops Market Outlook 2021-2031 in Comparison to 2016-2020
As per Future Market Insights (FMI), the global flavor drops market grew at a CAGR of 5.7% between 2016 and 2020. Flavor drops are often used to improve flavor of beverages, while providing nutritional advantages.
Flavor drops come in a variety of tastes and include active substances to enhance a drink's flavor. These ingredients are especially designed for non-alcoholic beverages, such as sports nutrition or for supplements catering to special dietary requirements.
Some of the top market players offering improved flavor drop packaging to make it more convenient to carry for consumers. Flavor drops are increasingly sold in hotels and other hospitality establishments, making them a statement of luxury and convenience for customers. Consumers can access this primarily through internet with a tiny portion dispersed through store-based retailing.
The sales of flavor drops also is driven by the demand for fresh, real, and natural flavor experiences all across the world. Consumers are emphasizing on authentic and natural-tasting food in various markets including China, Brazil, Poland, and India, which is fuelling the demand for fruity taste and, in turn, propelling the flavor drops market growth.
As per FMI, the market is predicted to grow at a CAGR of 7.0% between 2021 and 2031.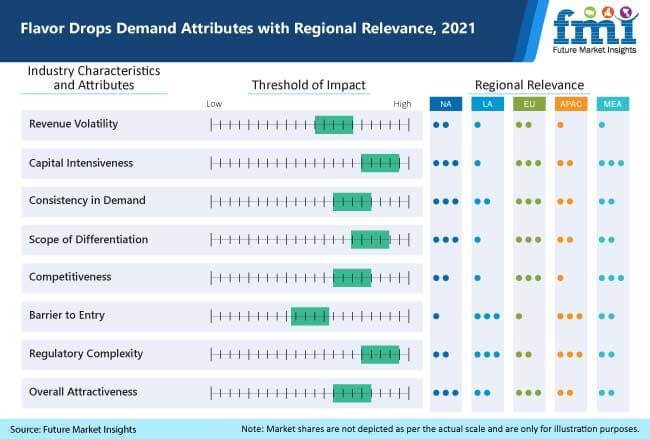 Why are Leading Flavor Drop Producers Focusing on Product Innovation?
The beverage industry has changed over the years as a result of constant product innovation and development. The narrative began with a simple cola-flavored soda in the 1990s and has since expanded to include a wide range of drinks with diverse features such as infused flavor, additional antioxidants, and other attributes.
Customers' increased need for bright flavors and more palatable drinks has spawned a slew of new beverage concepts, including functional beverages, infused beverages, flavored water, and fusion beverages, among others.
Citrus flavor drops are gaining popularity among consumers due to their nutritional benefits and lively flavor, and as a result, leading beverage firms are incorporating citrus flavors into their product lines.
Product innovation in flavor drops for coffee also is on card, creating attractive opportunities for growth of the market.
How is Application as Nutrition Driving Flavor Drops Market?
Consumer interest in nutrition is increasing as health consciousness grows and the incidence of chronic diseases rises around the world. Flavor is increasingly becoming a differentiator for nutritional products.
The protein market has evolved from a niche sports arena to a highly competitive mainstream market, and demand for food and beverages tailored to certain health advantages, lifestyles, and types of exercise is increasing. Therefore it has become critical to get flavors correct when it comes to nutrition.
Furthermore, shifting consumer trends such as increase in the preference for high-quality nutritional food according to their nutrient profile is projected to encourage the development of flavor drops for protein shakes and nutrition. This will contribute towards the flavor drops market growth in the coming years.
Latent Opportunities in Established Market
Mature markets are marked by significant demographic and consumer behavioral shifts, which tend to define the global demand-supply balance paradigm. With health consciousness and environmental sustainability as broad indications of consumer demand, governments in industrialized economies are implementing more severe food manufacturing regulations, compelling corporations to either conform or exit the market.
Consumers in the flavor drops market as well are eager participants in this growing wave, expecting that the food they eat is certified, healthy, and functional to satisfy their daily nutritional needs, and has comprehensive supply chain traceability to assure acceptable levels of food safety and sustainability.
Food and beverages (F&B) enterprises who willingly comply with global environmental standards and food safety certification criteria will have a bright future. In this context, innovation across the value chain is a no-brainer – effectively harnessing automation and robots to adapt to the new food revolution driven by customer tastes and preferences has become most crucial success requisite in the flavor drops market.
What is the Impact of COVID-19 on the Flavor Drops Market?
Since the outbreak of the worldwide pandemic, there has been a greater focus on foods and beverages that may aid in immunity. This includes an increase in vitamin C content as well as general vitamin and mineral fortification. Citrus has remained the most popular fruit during the epidemic as people sought to strengthen their immune systems.
Gut health is becoming more closely related to overall health and immunity, and there has been a growing trend of digestive health claims and sophisticated claims in foods, rather than simply saying high fiber content.
With digestive health being more widely recognized as an important component of overall well-being, sales of flavor drops with attractive nutrition profile will grow.
Thus, consumers are looking and considering other natural sources that offer perceived health benefits. They also are expressing an interest in nutrition products that contain 'health-boosting' flavors such as citrus.
This trend is expected to continue through the forecast period, propelling growth in the global flavor drops market.
Country-wise Insights
What is driving the U.S. Flavor Drops Market?
The U.S. flavor drops market is projected to register growth at a CAGR of 6.9%. The key factors driving the market are the increasing demand for functional ingredients infused drinks. Surging focus on health and wellness will remain a chief growth driver in the U.S.
The market's expansion is also fueled by the ongoing advancements in the food industry. Higher demand for flavors derived from natural ingredients will aid expansion in the U.S. Flavor drops are in high demand for application in non-alcoholic beverages.
Will the China Flavor Drops Market Exhibit Strong Growth?
According to FMI's analysis, China is forecast to grow at a CAGR of 8.0%. Plants, herbs and spices, fruits and vegetables, and microbial fermentation are all sources for natural flavor drops. Natural flavor drops are in high demand in China because of the growing interest in nutritionally enhanced and natural products.
Lifestyle of consumers in China has changed as a result of globalization and modernization. This also has affected their food and beverage preferences, fuelling the demand for tastes and enhancers. Previously, people used natural ingredients in drinks to add flavor, but this has now become an industrial requirement to meet the needs of China's large food and beverage producers.
Why is Spain Flavor Drops Market Considered Attractive?
According to FMI analysis, the Spain flavor drops market is forecast to grow at a CAGR of 7.9%. Spain is the EU's sixth-largest food and beverage exporter and the tenth-largest globally.
Natural food flavors generated from spices and herbs are in high demand in Spain, and this trend will continue in the future years. Despite Spain being the largest producer and exporter of flavor drops and the fact that Spanish consumers are seeking healthier food ingredients, natural food flavors have seen minimal increase in the domestic market.
What is Favoring Growth in Germany Flavor Drops Market?
According to FMI's analysis, the Germany market is forecast to grow at a CAGR of 4.4%. With increasing health awareness, maximum number of consumers in Germany are meticulously inspecting a product's label before purchasing it. As a result of customer awareness, manufacturers have begun to replace synthetic flavor with natural flavor drops.
Growing consumer demand for processed foods and expectations for safer and healthier ingredients have necessitated the development of clean-label components in a variety of applications. As a result of the rising demand for more natural products, there has been an increase in interest in the development of new natural flavor compounds for use in the food sector.
The health-enhancing properties of natural flavor drops, combined with the organic properties in natural products, are also increasing their adoption.
Category-wise Insights
Why are Organic Flavor Drops High in Demand?
The demand for organic flavor drops is expected grow by 9.1% CAGR through the assessment period. Wellness is a subjective goal, as seen by the rise in customized food and beverage consumption. Consumers are more interested in leading healthy lives, which has resulted in increasing consumption of foods and beverages with potential health benefits.
As a result, manufacturers are being pushed to utilize organic and healthier components in their food and beverage items as customer demand for preventative healthcare grows. Vitamins, antioxidants, flavonoids, and other nutrients abound in organic taste drops. As a result, organically derived flavor drops are widely acknowledged by health-conscious groups as a healthier alternative to regular flavor drops.
Will Sugar Free Flavor Drops Segment Exhibit High Growth?
The sugar free flavor drops segment is expected to register healthy growth at 7.3% CAGR and is expected to hold a market share of more than 79%.
Aside from diabetes, the sugar free flavor drops market is also driven by consumer awareness about food and nutritional intake. Rising popularity of Keto diet and other lifestyle regimes that eliminate sugar from diets will create a conducive environment for flavor drops sales.
How is Rising Demand for Non-Alcoholic Drinks Driving Flavor Drops Market?
Demand in the non-alcoholic drinks segment is expected to grow at 6.8% CAGR between 2021 and 2031.
In Western countries, a growing number of people do not have adequate gut health, as seen by the high prevalence of functional problems and organic gastrointestinal (GI) diseases. Their lifestyles, resulting in changes in food choices that contribute to high sodium intake and gastrointestinal health difficulties.
Probiotics have therefore become more popular around the world as a way to promote gut health. Demand for non-alcoholic drinks is increasing, owing to developed taste among consumers across the globe, which is expected to lead to higher application of flavor drops in non-alcoholic drinks over the forecast period.
Why is Online Retailing Preferred for Sales of Flavor Drops?
Online retailers segment is expected to register healthy growth at 10% CAGR. Electronic technologies are being used more frequently in the flavor drop supply chain. E-commerce has grown in importance as a platform for both manufacturers and customers. Flavor drop producers can promote and sell their products on a global scale, as well as connect with a far larger consumer base, thanks to internet commerce.
Furthermore, consumers benefit from the use of e-Commerce since they have easier access to products. Consumers also get the option to compare products and pricing on the same platform, which makes decision-making easier. Considering this, online retailing is expected to remain preferred sales channel in the flavor drops market.
Competitive Landscape
Packaging is essential for preserving food quality, avoiding food waste, and lowering the usage of preservatives in food. The packaging has a significant role in confining food, safeguarding it from chemical and physical damage, and supplying customers and marketers with important information.
Some of the leading flavor drop manufacturers are paying attention to consumers' overt and covert wants and preferences as the global demand for flavor drops continues to grow.
The focus has invariably shifted to incorporation of advanced packaging that conveys the brand message. As manufacturers are focusing on inducing a sense and perception of 'healthy' in their offerings, the packaging designs and materials have also witnessed changes in label regarding product offerings.
Scope of Report
Attribute

Details

Forecast Period

2021-2031

Historical Data Available for

2016-2020

Market Analysis

USD Million for Value

Key Countries Covered

Austria, US, Canada, Germany, U.K., France, Italy, Spain, Russia, China, Japan, South Korea, India, Thailand, Malaysia, Indonesia, Australia, New Zealand, GCC Countries, Turkey, Northern Africa, and South Africa

Key Segments Covered

Flavor Type, Content Type, Sales Channel, End Use, Nature, and Region

Key Companies Profiled

Capella Flavor Drops
GymBeam
ESN Flavor Drops
Women's Best
SodaStream (bubly Drops)
GymQueen-tasty Drops
Beyond Water
The Blue Ingredient OK
MiO
SweetLeaf- Water drops
The Skinny Food Co
Pure Flavour
Prozis- Yummy Drops
Others

Report Coverage

Market Forecast, Company Share Analysis, Competition Intelligence, DROT Analysis, Market Dynamics and Challenges, and Strategic Growth Initiatives

Customization & Pricing

Available upon Request
World's Most Profilic Intelligence Engine
Get Access To The World's Largest Market Research Database.
Sign Up Now
Flavor Drops Market by Category
By Flavour Type:
Apple
Black Tea
Cherry
Berries
Chocolate
Citrus
Fruit Punch
Ginger
Lemon
Green Tea
Vanilla
Others
By Content Type:
By Sales Channel:
Institutional Sales
HoReCa
Retail Sales

Modern Trade
Convenience Store
Departmental Store
Traditional Store
Franchise Outlets
Specialty Store
Online Retailers
Other Sales Channel
By End Use:
Alcoholic Drinks
Non Alcoholic Drinks
By Nature:
Organic
Natural
Vegan
Conventional
By Region:
North America
Latin America
Europe
East Asia
South Asia
Oceania
MEA
Austria
Key Questions Answered in the Report
What is the flavor drops market size?
The flavor drops market is valued at US$ 87.8 Mn in 2021.
What is the flavor drops market demand outlook?
The flavor drops market will grow by 7% CAGR between 2021 and 2031.
Who are the top 5 players in the flavor drops market?
My Protein, Capella Flavor Drops, GymBeam, (ESN Flavor Drops) Fitmart GmbH & Co. KG, and Wisdom Natural Brands®. – SweetLeaf are the top 5 market players.
What is driving demand in the flavor drops market?
Increasing demand for flavor ingredients with impressive nutrition profile will drive sales in the food and beverages sector.
What are the key trends shaping growth opportunities for flavor drops market?
In order to cater to the dynamic consumer preference and gain competitive edge, market players are focusing on product differentiation. Innovations in flavor and deriving flavor drops from organic sources also remain chief growth trends impacting the flavor drops market growth.
What is the North America flavor drops market outlook?
The flavor drops market in North America is expected to grow by 7% CAGR between 2021 and 2031.
At what rate will the Europe flavor drops market grow?
The Europe flavor drops market will exhibit growth at 6.3% CAGR between 2021 and 2031.
Which are the top 5 countries driving flavor drops demand?
The US, UK, Germany, China, and France are the top five countries driving the flavor drops demand.
At what will the demand for flavor drops rise in Japan?
The demand for flavor drops will grow by approximately 9% in Japan by 2031.
Need specific information?
Our Clients