Floral Extract Market - Key Research Findings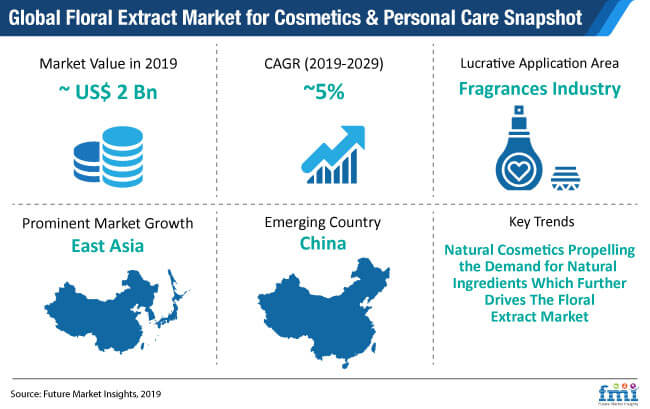 The global floral extract market size likely to reach ~US$ 2 Bn by 2019.
The floral extract market is expected to grow at a CAGR of 5% during the forecast period of 2019-2029.
Increasing usage & demand for natural products has been recently driving the floral extract market for cosmetics & personal care industry.
Collectively, North America and Europe are likely to account for half of the revenue shares in floral extract market, by the end of 2029.

In floral extract market, Europe, attributes the strong demand for flowers, will continue to be a prominent regional market for floral extract manufacturers.

The fragrance segment is expected to remain the prominent application area to invest in, for floral extract market players.

The fragrance industry has witnessed significant growth over the recent past, the perfume segment remains the key focus category.

Noteworthy application potential of floral extract market has been also identified in the skincare segment followed by body care & toiletries.

The distillation method is the most used technique for floral extract market across the world. Steam distillation is widely used for essential oil extraction and very popular in floral extract market. Some flowers are too delicate for the distillation process. In that case, another popular method which is known as solvent extraction is used into floral extract industry
Growing demand for organic products have led the manufacturers in producing organic flower extraction. However, the market share remains high for natural flower extraction. The growing demand for organic products are expected to have higher growth rate in forecast period and contributes a significant volume share in floral extract market.
Key Factors Shaping the Floral Extract Market
Demand for natural cosmetics opens up opportunity for natural ingredients
In today's world, consumers are more aware about health & environment. Consumer's demand for natural cosmetics boost the demand for natural ingredients. The natural ingredient market is growing due to its beneficial properties such as have anti-wrinkle agents, lightening/whitening agents, healing agents etc. Healthy living is considered as the current trend in natural cosmetics market that drives the demand for ingredients coming from floral extract market.
Some of the manufacturers are now focusing on natural ingredients performance indicator rather than its origin of that ingredient. Manufacturers are more focused on the usage, and benefits which directly or indirectly accelerates the floral extract market.
An emergence of socially-conscious consumer
In recent time, a new global trend has been observed as the emergence of socially-conscious consumers. This phenomenon has changed the purchasing criteria of consumers across the world. Due to the increasing awareness, the consumers demand for natural or organic products which in result, put pressure on manufacturers for production of natural ingredient mixed or organic products.
Rising health & environment concern also generate demands for such cosmetic products which are eco-friendly in ways. The global socially conscious consumers want to purchase such product which are good for them as well as for the planet. In this way, floral extract market products which are completely natural and/or organic, are healthy and does not harm the society. Thus, a growing demand for natural products from floral extract market, especially essential oil have been observed in floral extract market.
Increased direct sourcing by cosmetic producers
Cosmetic producers prefer to source flower extracts or ingredients directly form floral extract producers to avoid intermediaries that do not produce any value in the supply chain. Direct sourcing helps in improving – price, traceability, marketing opportunities etc. on the entire value chain. Thus the cosmetic producers have an advantage on price & value chain control. The direct souring can be seen mostly for floral essential oil which holds the highest volume share into the floral extract market.
Legislative developments for producers
In last few years, there are several developments can be recorded in terms of registration, evaluation, authorisation and restriction of chemicals (REACH), the Nagoya Protocol and the upcoming allergen legislation for fragrances. Organic certification and production is also a part of legislative development that helps in regulating the floral extract market in different ways.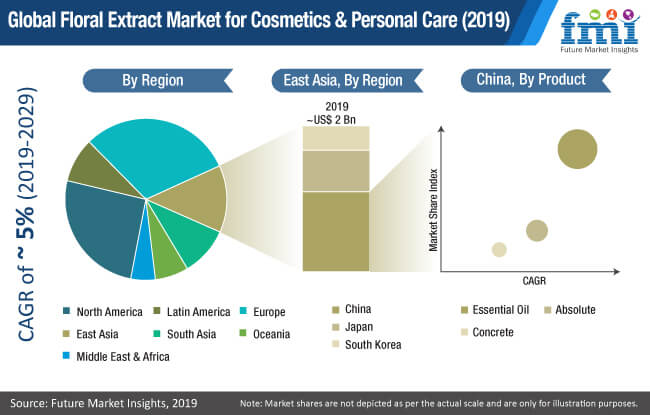 Floral Extract Market Structure Analysis
The global floral extract market represents a fairly consolidated competition landscape, where a majority of key players maintain their strategic focus on the development of solid distribution partnerships and joint ventures, targeting a firmer global footprint.
Most of the manufacturers from floral extract market use the distillation method for technique for floral extraction while other methods are also used in the industry
Jasmine remains the key flower the in floral extract market. There is a wide usage of Jasmine flower for its oil extraction. Apart from essential oil, the industry also produces concrete and absolutes from the flowers.
The floral extract market has been relatively moderate in size, which remains a key factor for its dynamic competitive nature.
Leading manufacturers from floral extract market are currently prioritizing R&D and new innovations to resonate with the booming consumption of natural cosmetic products such as fragrances and skincare products
For a stronger foothold in target markets, manufacturers from floral extract market will continue to rely on inorganic strategies, such as mergers and acquisitions.
Floral Extract - Face-lifting the Beauty Industry
Popularization of trends, such as 'natural beauty' and 'clean beauty' has led to a radical upheaval in the cosmetics and personal care industry in recent years. As celebrities and influencers worldwide are peddling questionable science and theories on conventional makeup and skin care, several companies have been responding to mounting concerns about certain chemicals used in beauty products. Additionally, new brands positioning themselves as 'cleaner' alternatives to mainstream are rapidly growing in number.
Consumers, mostly women, are on the journey of exploration, while a large generational shift of younger consumers are rejecting conventional products and seeking out natural products in all categories. Consequently, the business of beauty continues to defy gravity, and is clearly moving where the consumer is going – natural ingredients and clean products.
As several categories of cosmetics and personal care continue to explode with more natural and clean products, Future Market Insights (FMI) sheds light on the 'floral extract market', in its new business intelligence. Primarily created to add color and enhance olfactory experience, floral extracts have been used in beauty products for ages, and are still continuing to make a significant impact on the industry.
Leveraging Growing Awareness about 'Safe to Use' Ingredients
An exponential increase in the demand for floral extracts has been parallel to the rise of 'natural' beauty industry, in the view of consumers becoming afraid of chemicals and starting to look for products which are deemed to be 'safer'. Floral extracts not only offer a natural substitute to chemical-based ingredients but also possess multi-functional properties including medicinal, healing, restorative, and antioxidant, thereby capturing significant attention from consumers.
In past few years, essential oils and aromatherapy industry has been increasingly gaining prominence in both developed and developing countries, and the result is likely to lead to increased demand for floral extracts. In an attempt to maintain a healthy lifestyle, today's consumers are turning into products and practices that not only enhance the physical appearance but also help improve health and wellness.
While floral extracts have covered the ground in essential oils and aromatherapy, the recent backlashes against traditional beauty companies and the greater awareness of clean ingredients among consumers will remain instrumental for rapid adoption of floral extracts for cosmetics and personal care products. Moreover, cosmetics manufacturers are sourcing the ingredients directly from floral extract producers to improve traceability and avoid intermediaries.
Will Developing Countries Offer New Growth Opportunities to Market Players?
The demand for floral extracts is currently based on rapidly changing cosmetic industry, increasing interest in natural extracts that align with 'clean beauty' trend, and the green movement sweeping across the fragrance industry. North America and Europe continue to offer greater opportunities for floral extract manufactures, due to emergence of large number of beauty brands focusing entirely on natural and organic ingredients.
Ever-expanding beauty and fragrance industry in developing countries of Asia Pacific, on the account of unprecedented urbanization, increased incomes, sprung in number of working women, and growing importance of men grooming products, will signify ample growth opportunities for the stakeholders.
'Green Technology' Integration to Dictate Floral Extract Manufacturers' Development Strategies
While the 'natural' and 'chemical-free' trends in personal care are set to shape the future of floral extract market, the impact of 'green technology' has been recently noticeable in this market. Distillation and solvent extraction have long been extraction methods of choice among the manufacturers.
However, in recent times, manufacturers are placing their focus on applying supercritical fluid (CO2) extraction method to obtain essential oils and other skin bioactive extracts from different flower sources. Moreover, superficial fluid extraction method serves as a sustainable alternative to conventional extraction methods and the resulting extracts are free from residual solvent.
Ever-changing consumer trends will continue to impact the growth of floral extract market. For instance, apart from bringing significant changes in F&B industry, the rise of veganism has transformed almost every aspect of the beauty industry. With strong desire for cosmetics to be cruelty-free, many brands are focusing on bringing vegan perfumers and personal care products devoid of animal-based ingredients into the markets, thereby potentially raising the demand for plant-based products such as floral extracts.
Further, as cosmetics and personal care industry is taking to a whole new level through 'personalized' products, floral extract manufacturers are likely to witness a period of sustained demand.
New Cosmetics Regulations - New Growth Opportunities
Although the terms such as 'natural' and 'clean', used interchangeably in a number of cosmetic products, continue to influence purchasing decisions of the consumers, they are not covered under the regulations of governing bodies, such as FDA. Furthermore, the authorized ban on more than 1300 chemicals from being used in beauty products by the European Union has complemented rapid consumer shift towards 'free-of-chemicals' products.
Such factors have pushed cosmetic manufacturers to voluntarily cut these chemicals from their products and embrace newer plant-based and chemical-free ingredients such as floral extracts. As the cosmetic industry regulatory legislation that has been languished for years is closer to becoming a law, with the introduction of FDA Cosmetic Safety and Modernization Act and the proposal of Personal Care Products Safety, the demand for natural ingredients such as floral extracts will continue to be on an upward swing.
Key Segment
By Extracts
Concretes
Absolutes
Essential Oil
Others
By Nature
By Source
Jasmine
Rose
Lavender
Tuberose
Mimosa
Marigold
Lotus
Ylang Ylang
Frangipani
Chmapaca
Others
By Method
Solvent Extraction
Distillation
Enfleurage
Others
By Application
Creams, Lotion

Facial Cleansers & Toner
Serum
Sunscreen
Facepacks/Masks
Anti-Ageing & Anti-Pollution Products

Haircare

Shampoos & Shower Gel
Conditioner & Serum
Hair Rinses
Hair Color & Dye
Hair Oil & Tonics

Makeup

Facial Products
Eye Products
Lip Products
Nail Products

Body Care & Toiletries

Soap
Body Wash
Massage & Bath Oil

Fragrances

Perfumes
Deodorants
Colognes
By Region
North America
Latin America
Europe
South Asia
East Asia
Oceania
MEA
Need specific information?
Talk Show:
The Rise of Intelligent Packaging
Personalized, Connected and Sustainable
November 18, 2021
11:00-11:45 AM PST (USA & Canada)
This is a LIVE session