OTT Content Market By Content Type (Video, Audio, Games, Mobile Applications, Communication), Access Type (OTT Streaming Devices, Desktops & Laptops, Smartphones & Tablets, Smart TVs, Others), Revenue Model (SVOD Services, AVOD Services, TVOD Services, Live Streaming Services, Others) & Region – Forecast 2022 – 2030
OTT Content Market - Analysis, Outlook, Growth, Trends, Forecasts
December 2021

REP-GB-2070

322 pages
OTT Content Industry Snapshot
[322 Pages Report] FMI recently published a report on the global OTT content market. According to the study, the worldwide OTT content streaming market reached a valuation of around US$ 74.7 Bn in 2021, and is slated to surge at a CAGR of 17.4% to reach US$ 315.6 Bn by 2030.
According to FMI's detailed analysis, OTT content market revenue accounts for 90% share of the overall streaming services market. Subscription video on demand (SVOD) services, with the highest market share, will largely contribute to the growth of OTT content revenue across the assessment period of 2022 to 2030.
| | |
| --- | --- |
| OTT Content Market Size (2021) | US$ 74.8 Bn |
| Sales Forecast for OTT Content (2030) | US$ 315.6 Bn |
| Global Market Growth Rate (2022 to 2030) | 17.4% CAGR |
| Market Share of Top 5 Companies | 50% |
Demand Analysis of OTT Content (2015 to 2021) Vs Market Outlook (2022 to 2030)
As per Future Market Insights' published report, the global OTT content market was valued at US$ 74.8 Bn in 2021.
Easy access to high fidelity data network along with consistent speed enables a buffer-free experience for users, which is primarily responsible for driving the adoption of over-the-top media services.
Emergence of live streaming and virtual reality technology is a great opportunity for major players to develop innovative offerings in the over the top streaming market. Increase in the adoption of high speed broadband along with rising demand for smartphones and smart televisions is contributing to the growth of OTT content revenue.
Players in the market are continuously upgrading their product portfolios to meet increasing demand in the competitive global OTT streaming market.
The impact of government regulations is moderate and demand for regional content on OTT platforms is comparatively high. New players are looking to partner with telecom providers and outsource OTT content, while the main strategy of distributors is to source content from different OTT players.
As viewers demand the most trending content, OTT content distributors need to buy such content from OTT content providers, which lets the content providers have an upper hand, hence, limiting the bargaining power of distributors.
All of these factors are expected to drive OTT content market growth at a 17.4% CAGR across 2022 to 2030.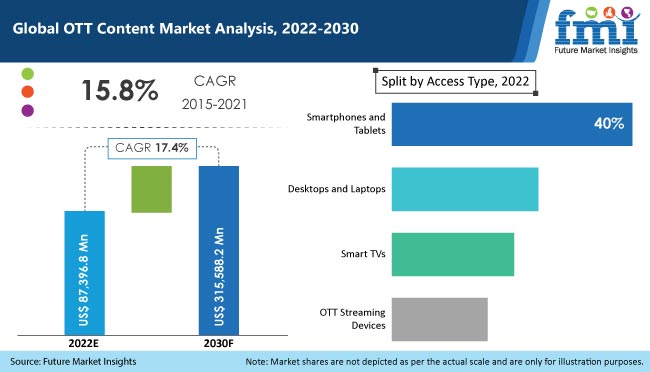 Which Region is a Lucrative Market for OTT Content Providers?
North America is projected to emerge as a dominant market for OTT content. The North American regional market is projected to expand 1.6X by 2030. The over the top contnet market is continually being pushed forward by the expanding amount of capital and investment in the content development sector.
Owing to proliferation in the demand for over-the-top media services, the over the top content market in the region has witnessed the introduction of a few third-party mobile applications offering innovative OTT content (VoD) features.
Leading OTT content providers in the region are focusing on expanding their customer base by offering content through various OTT channels, i.e., through OTT apps on smartphones and dedicated VoD services.
OTT Content Market - Country-wise Analysis
What is the OTT Content Demand Outlook for the U.S.?
The U.S. is among the highest spenders on animated content creation, globally. One of the major factors encouraging animation content creation is the presence of The Fox Broadcasting Company, one of the largest creators of animation content for prime time television.
Moreover, new services such as AT&T, ESPN, Turner Sports, and Crown Family Media Networks have gained a lot of momentum in the United States, fueling OTT streaming content market growth.
To capitalize on the increasing popularity of animation content, leading animation content providers are signing distribution deals with U.S.-based OTT platforms.
Why is Demand for OTT Content Set to Continue Surging in China?
The OTT market in China is expected to increase at an exponential rate as telecom providers integrate OTT services into their internet services.
Furthermore, growing use of mobile devices as well as government rules governing content on video streaming platforms are facilitating the rapid uptake of OTT services.
Moreover, continuous advances in internet services are expected to fuel streaming services market growth in China.
OTT Content Market - Category-wise Insights
Will High Smartphone Penetration Drive Demand Growth of OTT Content?
Smartphones and tablets are expected to account for nearly 40% share of the OTT content market by 2022.
In 2019, smartphone use reached 65% globally, according to the GSMA Mobile Economy Report. As a result of this, demand for mobile services is projected to increase.
Growing mobile subscriptions and use of mobile-connected devices, particularly smartphones, are driving market growth. Smartphones and tablets are gaining a lot of traction and are quickly becoming the preferred mode of communication and information consumption.
Additionally, with rapid adoption of 4G services in developing countries and the First World moving towards advanced telecommunications technologies, mobile internet diffusion is anticipated to accelerate over the coming years.
Optimal pricing of 4G-enabled phones has led to increasing smartphone penetration in various regional consumer markets, leading to a surge in demand for OTT content.
Which Revenue Model is Triggering Most Demand for OTT Content Streaming?
At present, OTT content and related services are an attractive and feasible alternative to traditional entertainment channels. Growing preference for OTT content channels can be attributed to expanding content libraries and affordability relative to conventional TV subscriptions.
Subscription video on demand (SVOD) services led by Netflix, Amazon, and Hulu, are very popular among users owing to the affordable pricing structure. Some OTT apps, in addition to providing messaging services, also provide the capabilities that a broadcast channel delivers to its subscribers.
Subscribers stream interesting videos, audio, and worldwide news to a huge group of many other users with high increasing adoption. This diverse set of applications will boost the uptake of SVOD services.
COVID-19 Impact on OTT Content Market
The COVID-19 pandemic has a beneficial impact on over the top streaming market growth because of ongoing rise in demand for OTT services.
The temporary closure of multiplexes, box offices, and entertainment zones boosted demand for OTT streaming platforms significantly. Many countries enacted lockdown laws to prevent the virus from spreading, forcing citizens to stay at home.
OTT services became a key source of entertainment as individuals were forced to stay at home. Consumers love that these streaming services can be accessed on their smartphones, tablets, laptops, and smart TVs.
This demand was mostly due to the continued rise in online communications services as a result of the imposed lockdowns, since a growing number of viewers communicate through various online platforms.
Furthermore, as demand for new OTT content has increased dramatically, a growing number of OTT service providers are making some of the existing content available for free and launching new content on their platforms.
OTT Content Market - Competitive Landscape
Key companies providing over the top content are strategically cooperating with telecom providers, content suppliers, streaming partners, and others to increase their market reach.
These companies are growing their businesses by collaborating and partnering with local service providers. To garner consumer attention, market players are focused on product innovation as well as investing in the creation of new streaming services and platforms.
For instance,
In May 2021, miniTV a free online streaming app was launched by Amazon, Inc.
The industry is aiming to mass customer engagement with this tactic, as well as numerous services such as e-Commerce, billing, delivery service, and more.
OTT Content Industry Report Scope
Attribute

Details

Forecast Period

2022-2030

Historical Data Available for

2015-2021

Market Analysis

Value in US$ Mn

Key Regions Covered

North America
Latin America
Europe
East Asia
South Asia & Pacific
Middle East & Africa (MEA)

Key Countries Covered

U.S.
Canada
Mexico
Brazil
Mexico
Argentina
Germany
Italy
France
U.K
Nordic
Spain
Japan
China
India
Malaysia
Thailand
Australia
GCC Countries
South Africa
Turkey

Key Market Segments Covered

Content Type
Access Type
Revenue Model
Region

Key Companies Profiled

Akamai Technologies, Inc.
Brightcove, Inc.
Google, Inc.
Hulu LLC
Limelight Networks, Inc.
Roku, Inc.
Tencent Holdings Ltd.
Alphabet Inc.
Comcast Corp.
Sirius XM Holdings Inc.
Spotify Technology SA
The Walt Disney Co.

Pricing

Available upon Request
World's Most Profilic Intelligence Engine
Get Access To The World's Largest Market Research Database.
Sign Up Now
Key Segments Covered in OTT Content Industry Survey
OTT Content Market by Content Type
OTT Video Content

Entertainment & Infotainment
Food, Travel & Fashion
Gaming & Sports

OTT Audio Content
OTT Games Content
OTT Mobile Applications Content
OTT Communication Content
OTT Content Market by Access Type
OTT Streaming Devices
Desktops & Laptops
Smartphones & Tablets
Smart TVs
Others
OTT Content Market by Revenue Model
SVOD (Subscription-based Video on Demand) Services
AVOD (Advertising-based Video on Demand) Services
TVOD (Transactional Video on Demand) Services
Live Streaming Services
Others
OTT Content Market by Region
North America OTT Content Market
Latin America OTT Content Market
Europe OTT Content Market
East Asia OTT Content Market
South Asia & Pacific OTT Content Market
Middle East & Africa (MEA) OTT Content Market
Key Questions Answered in the Report
The term OTT refers to any streaming service that offers content over the internet.
How big is the OTT streaming market?
The global OTT content market is set to generate revenue of US$ 315.6 Bn by 2030, and expected to rise at a CAGR of 17.4% from 2022 to 2030.
What are OTT platform examples?
Amazon Prime Video, Netflix, Disney+, Hulu, Peacock, CuriosityStream, Pluto TV, and Google, Inc. are major OTT content streaming companies.
Which region will largely contribute to the growth of global OTT content revenue?
North America, with 50% of the global market share, will largely contribute to the growth of worldwide OTT content revenue.
What are the main OTT business models?
The three main business models applied to OTT are SVOD, TVOD, and AVOD.
What was the historical CAGR of the OTT content market?
From 2015-2021, the OTT content market registered a CAGR of 15.8%.
Need specific information?
Our Clients