Padded Mailers Market Key Highlights
Widespread Consumption of Protective Packaging Solutions to Increase Demand for Padded Mailers
The manufacturing industry across the globe is undergoing massive transformation in every sectors, be it electronics, pharmaceuticals, and others. Packaging manufacturers offer padded mailers to provide safety and protection to packaged products with high performance capability.
For padded mailer manufacturers, it is essential to provide durable packaging solutions to gain consumers' confidence as damaged packaging can affect their repurchasing decisions. Henceforth, padded mailers enhance consumers' experience, ensuring product safety.
Substantial increase in the number of online shoppers as well as retail stores are expected to fuel the demand for padded mailers. Therefore, the padded mailers market is strongly dependent on manufacturing and e-Commerce industries. Adoption of padded mailers for packaging products such as motor vehicle parts, electronics products, and industrial machinery parts is also rising.
E-Commerce Segment to Drive Demand for Padded Mailers
Padded mailers are prominent protective packaging solutions used to package various products across various end-use industries. In recent years, it has been observed that the e-Commerce market has grown drastically across the globe. Rapidly expanding e-Commerce market translates high demand for packaging products.
Product protection and safe delivery are considered as highly important among key end users. Owing to benefits such as cost-effective, space saving, and lightweight properties that padded mailers offer, their demand is expected to have a positive outlook during the forecast period.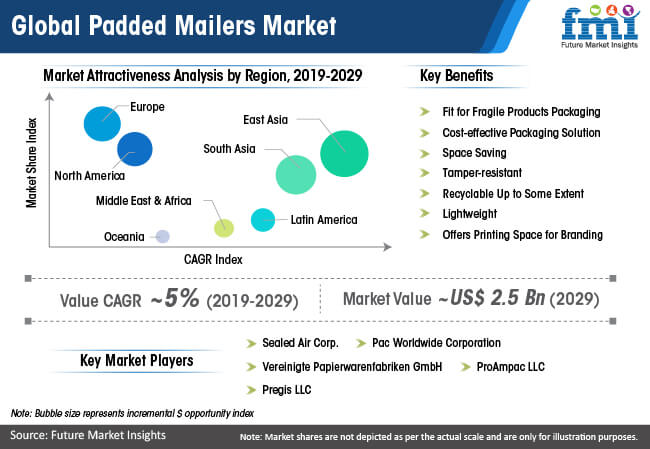 Padded Mailers Market Structure Analysis
Key players operating in the padded mailers market are Sealed Air Corp., Pregis LLC, ProAmpac LLC, Polyair Inter Pack Inc., Storopack Hans Reichenecker GmbH, Polycell International Corp, Jiffy Packaging Co Limited, Vereinigte Papierwarenfabriken GmbH, 3M Company, and Pac Worldwide Corporation.
Among key players, 3M Company, Sealed Air. Corp., Pregis LLC, and ProAmpac LLC are identified as Tier 1 market participants.
The global market for padded mailers consists of a large number of unorganized and regional players that are segregated as Tier 3 players, which include BETA (ShenZhen) Package Products Co.Ltd., Wanpow Plastic Industries Sdn. Bhd, ARIV PAK Mailers HQ, and Suzhou Star New Material Co., Ltd, among others.
FMI study observed that padded mailer manufacturers primarily use polyethylene for manufacturing padded mailers as this material is relatively cost-effective than kraft paper. Manufacturers are also focusing on providing customized padded mailers as per customer requirements. For instance,

In November 2018, Pac Worldwide Corporation launched a durable, lightweight bubble mailer to reduce the holiday packaging waste. The PACjacket3 system provided by the company has a multi-layered structure of coextruded polyethylene film to form the package exterior.
Pac Worldwide Corporation offers customization in design and printing for branding and promotion.

Europe is expected to remain prominent in terms of market value share as compared to other regions. It is anticipated to hold more than ¼ of the total market share by 2023.
Padded Mailers Market to Exhibit over 1.5X Growth During 2019 - 2029
Witnessing moderate expansion at below 5% CAGR during 2014 - 2018, the global market for padded mailers is set to exhibit more than 1.5X growth between 2019 and 2029. Prominently driven by the growing demand for protective packaging solutions, padded mailers continue to gain traction, particularly within the E-commerce industry.
The thriving consumer electronics industry is also significantly contributing to padded mailer sales over the recent past. Increasing warehousing of automotive equipment and pharmaceutical products will also remain among the key boosters to the growth of padded mailers market through the next decade.
Polyethylene to Soon Overtake Kraft Paper
Although kraft paper has been the material of choice among padded mailer manufacturers, polyethylene overtook it in the previous year in terms of revenue generation. In addition, kraft paper is relatively expensive as compared to polyethylene, with a single unit costing ~US$ 0.15. LDPE (low density polyethylene) and LLDPE (linear low-density polyethylene) will remain highly preferred materials in global padded mailers market.
However, with regulatory concerns surrounding plastics, there are strong chances of other alternative materials replacing polyethylene in padded mailers. During the latter half of the forecast period, polyethylene would witness a gradual decline in its market share against alternatives such as paper cushions, and inserts and drivers. Recyclable plastics are also emerging attractive.
Asian Markets Generating Substantial Demand
Growing at a promising rate, East Asia will surpass North America for the first time in 2022, and Europe in the next few years. The region is followed by South Asia in terms of growth rate. In protective packaging industry, Asia Pacific (APAC) is foreseen to outpace its regional counterparts, primarily attributed to surging demand from food & beverages and consumer electronics industries.
FMI's analysis reveals that as E-commerce expansion in Asia is peaking, the demand for padded mailers will heighten rapidly, particularly in fast developing economies such as India, China, and Indonesia. In-transit safety and security of delicate electronic goods and other product categories continue to generate demand for protective packaging formats such as padded mailers.
Bioplastics - Potential Game-Changer in Padded Mailers Market
Manufacturers of padded mailers and bubble mailers have been majorly banking on plastics as a starting material. However, as the industry accelerates its shift towards non-plastic, sustainable material alternatives, recyclable and bioplastics are emerging lucrative. FMI reveals that worldwide production of bioplastics surpassed 2 MT units in 2018, with ~65% of volume share held by the packaging industry.
Prominent players in padded mailer market are also opting for recyclable bubble sheets. Polycell Corporation is developing eco bubble incorporating a mixture of oxo-biodegradable additives and polyethylene resins, which can be partially degraded. Jiffy Packaging Co. Limited is manufacturing green bubble, containing 50% of recycled materials.
How Growth Will Unfold
Although manufacturing and warehousing industries have been leading their way in terms of demand for padded mailers, the progress of pharmaceutical and electrical & electronics industries also reflects massive opportunity facing durable and protective packaging manufacturers. Padded mailer sales in E-commerce will exceed the market value of US$ 1 Bn by the end of forecast period, a majority of which comes from developed regions.
While developed regional markets will continue to reap the first-mover advantage in case of E-commerce adoption, developing regions still continue to struggle with the increasing demand for warehousing space for E-commerce expansion. This remains a key factor influencing consumption of space-saving padded mailers in developing markets.
World's Most Profilic Intelligence Engine
Get Access To The World's Largest Market Research Database. Ngage with a revolutionary intelligence engine that scale and pricing that flexes as per your needs
Sign Up Now
Key Segment
Material
Kraft Paper

White Kraft Paper
Brown Kraft Paper

Polyethylene
Fiber-based
Closure
End Use
Manufacturing & Warehousing

Pharmaceuticals
Electrical & Electronics
Automotive & Allied Industries
Food & Beverages
Cosmetics & Personal care
Others (Agriculture & Healthcare)

e-Commerce
Shipping & Logistics
Region
North America
Latin America
Europe
South Asia
East Asia
Oceania
Middle East & Africa
Need specific information?