Personal Mobility Devices Market Outlook & Key Findings
According to Future Market Insights (FMI), the personal mobility devices market is forecast to exhibit a CAGR of 6% between 2020 and 2030
Rising demand for mobility scooters is indicative of a lucrative market for novel designs with advanced features
Electric scooters, hover boards, unicycles among others to scale higher an popularity as users look for better convenience and style
Demand from East Asia and South Asia will surge exponentially, giving impetus to the global market
Aged population are likely to exhibit higher demand for mobility devices due to a higher incidence of age-related health problems in them
Walking Aids are Likely to be in High Demand as Less Expensive Mobility Devices
Among various personal mobility devices, the sales of walking or mobility aids have considerably picked up in the last few years. FMI reports a higher demand for walkers, canes, and crutches as an increasing number of people around the world face mobility challenges.
According to the Centers for Disease Control and Prevention (CDC) around 23% of adults suffer from arthritis in the U.S. One among four of arthritis patients reports severe joint pains. Consequently, the personal walking aids are in higher demand.
Not only are they less expensive compared to other personal mobility devices, they are designed to help transfer the bodyweight, indirectly reducing stress on legs. The rising incidence of injuries and osteoporotic fracture is expected to fuel demand for walking or mobility aids.
The demand for products available in the market may vary from one country to another. As explained in the chart below, top 7 countries will exhibit a higher demand for walking aids, whereas mobility scooters are still at their nascent stage hence occupy a comparatively lower share, which is less than 15% in all the major markets.
Wheelchairs are expected to remain at the second-leading position on account of higher rate of adoption across all the prominent countries.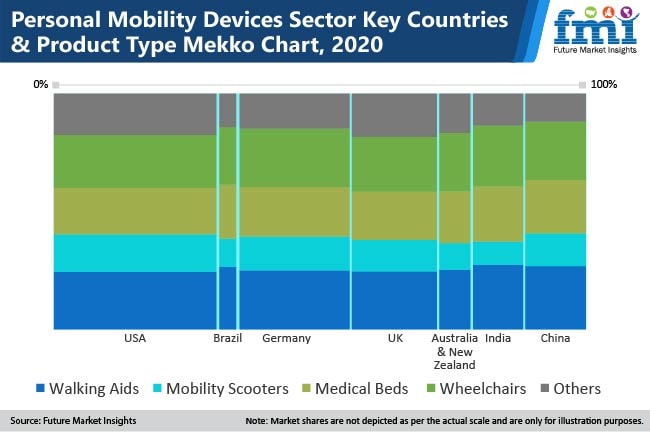 Relative Novelty of Personal Mobility Devices Besides their Quickness Has brought them Under Spotlight
The relative quickness and novelty of personal mobility devices have spurred their demand around the world as people look for easier and more fun ways of moving around. Hence motorized bicycles and other mobility devise are currently enjoying the spotlight.
Technological innovations aimed at increasing mobility and usefulness are paving way for the market's growth in the near future. Ripe with innovations, the personal mobility devices market is forecast to surpass US$ 12 Bn by the end of 2020.
Future Market Insights projects growth to skyrocket especially in the coming decade. While several other markets are reeling under the unprecedented impact of COVID-19 outbreak, the situation has been an eye opener.
The demand for stretchers are other mobility devices are higher than ever as people look for convenient and safer modes of mobility. As a direct outcome of the ongoing situation, higher demand from the U.S., Italy, Germany, France, India among other countries are reported.
While supply chain disruptions are creating obstructions to growth, FMI sees this as a temporary bottleneck, which the market will soon be able to overcome. As soon as coronavirus passes, growth rate should accelerate, which is indicative of promising future ahead.
Sales of Personal Mobility Devices are Often Linked to Higher Incidence of Disabilities among Aged Population
Personal mobility devices are expected to witness increasing demand especially in high-income countries. Some of these countries have a higher percentage of aged population.
Rapid changes in demography are expected to exacerbate the situation since people aged 60 or above are likelier to witness functional limitations.
Aging is regarded as one of the common causes behind immobility. Besides with age, older people become more vulnerable to injuries and underlying health conditions could cause partial impairments.
Against this backdrop, personal mobility devices are likely to be in high demand. Modern assistive technologies not only designed to help people respond to health related challenges but offer improved features to help them remain productive despite age or impairment.
Personal mobility devices offer significant benefits to people aged above 60 and older adults. For instance, they provide them better safety and prevention from falls or accidents, greater independence and mobility, and improved social connectivity.
The rising aging population is therefore often linked to the expansion of the market. Besides age related complications, the rising incidence of injuries and road accidents is expected to underpin growth in the market.
State-of-art Innovations in Personal Mobility Devices Are Expected to Transform Healthcare
According to the World Health Organization (WHO), nearly 15% of the world's population live with some or the other form of disability. This easily adds up to over 1 billion people around the world. The United Nations cites increasing risk of disability on account of the increasing life expectancy of people around the world.
On an average, older people are at higher risk of disability. Thanks to novel designs of mobility devices, this section of population could be provided with full or equal participation in every walk of life.
With improved mobility, people are not only allowed to reach their full potential at workplaces but these designs can help in extending their independence. The rising demand for mobility devices is spurring investment in innovations.
For instance, novel designs of wheelchairs were launched in the market in the last couple of years. Some of the leading names such as WHILL are exploring generative designs to create smart designs for more agile and lightweight personal mobility electric vehicles.
The idea of empowering users with a more convenient lifestyle and better mobility companies have invested in self-balancing wheelchairs that can climb up and down staircases without any difficulty.
Swiss company Küschall has claimed to innovate the lightest wheelchair in the world made using graphene material. These novel designs also promise better safety. For instance Küschall promises that its state-of-the-art wheelchairs is designed to prevent arm fatigue and potential injuries.
Innovations are observed in several other categories. Spurred by such endeavors, the global personal mobility devices market will exhibit impressive rate of growth over the course of the forecast period
High Cost Remains a Key Challenge Inhibiting Sales of Personal Mobility Devices
Some of the personal mobility devices are very expensive, which as per experts can impede growth of the market. Production and innovation of mobility devices often require huge capital investment. Research and development are not inexpensive affairs as well, inevitably resulting in higher cost of personal mobility devices.
The situation gets murkier for potential buyers in countries exhibiting higher cost of healthcare. Nonetheless, favorable reimbursement policies on purchase and rental of these devices have come to the aid. In the coming years, key players are expected to focus on making their products less expensive and more accessible, which would help in the expansion of the market.
Personal Mobility Devices: Region-wise Analysis
North America and Europe are expected to hold dominance in the global personal mobility devices market. FMI projects these regions to cumulatively account for over 40% of the global market. In North America, the U.S. alone boasts a dominant 80% share
Besides lucrative growth prospects in high income countries, the market is forecast to witness rising demand in South and East Asia. Countries such as India, China, and Australia, as per FMI, represents attractive opportunities for the companies operating in the market.
Besides rising geriatric population, the demand witnessed in these countries are backed by the overall modernization of the healthcare infrastructure. Likewise, motorized vehicles will be in higher demand in South and East Asia as people showcase improved willingness to spend on greater scope for entertainment and adventure.
Leading suppliers in Personal Mobility Devices Market
The personal mobility devices market offers lucrative prospects for new entrants. The influx of new and small scale companies has fuelled diversification of businesses. Companies are primarily focusing on customization to cater to specific consumer requirements.
FMI profiles some of the leading companies operating in the market. These include:
Americas
Sunrise Medical LLC
GF Health Products Inc.
Stryker Corporation
Hill-Rom Holdings Inc.
Invacare Corporation
Europe
Ottobock Holding GmbH & Co. KG
Klaxon Mobility GmbH
Drive Medical GmbH & Co. KG
Personal Mobility Devices Market: The Way Forward
Future Market Insights projects the personal mobility devices market to exhibit growth at an impressive rate over the course of the forecast period. Aided by the rising demand for motorized vehicles besides assistive technologies, the market will gain significant impetus in the coming years.
The demand for personal mobility devices is poised to surge in the coming years. The need for more sustainable and eco-friendlier solutions will boost sales in the market. However, the necessity of motorized vehicles may depend upon economic development in particular markets.
Nonetheless, innovations intended to make these devices more sustainable will enable growth in the market. Through technical improvements of engines to discovering novel fuel sources, these new models of transport are expected to generate support from stakeholders.
In the coming years, the market will gain momentum at an accelerated pace. Growth is expected to be underpinned by introduction of novel designs for mobility scooters, transfer lifts, and automated rollators.
Higher focus towards customization will be a defining trend. For instance, Segway's Personal Transporter, which is a laser-enabled rollator launched by TOPRO is especially designed for Alzheimer's patients.
Key Segment
Product Type
Walking Aids
Mobility Scooters
Medical Beds
Wheelchairs
Others
End-user
Hospitals & Clinics
Long Term Care Centres
Households
Others
Sales Channel
Wholesalers/Distributors
Online Retailers
Multi-brand Stores
Specialty Stores
Region
North America
Latin America
Europe
East Asia
South Asia & Pacific
MEA
Need specific information?