An Incisive, In-depth Analysis on the Phototherapy Lamps Market
This study offers a comprehensive, 360 degree analysis on the Phototherapy Lamps market, bringing to fore insights that can help stakeholders identify the opportunities as well as challenges. It tracks the global Phototherapy Lamps market across key regions, and offers in-depth commentary and accurate quantitative insights. The study also includes incisive competitive landscape analysis, and provides key recommendations to market players on winning imperatives and successful strategies.
According to a recently published report by Future Market Insights, the global market for phototherapy lamps is anticipated to reach US$ 4.1 Bn value by the end of 2026. During the forecast period, the global phototherapy lamps market is anticipated to expand at a CAGR of 6.8%. Medical organizations across the globe are actively installing phototherapy lamps in their operating rooms to keep up with the growing adoption of phototherapy as a treatment option. New technologies in phototherapy are influencing the production of lamps, and companies are focusing creating safest light sources to avoid the risks of skin burns among patients.
The study has analysed the global phototherapy lamps market on the basis of products, which includes LEDs, halogen lamps, and UV lamps. Comparatively, these three products are developed on the conventional lighting technologies. However, manufacturers are using varied configurations to provide advancements in their offerings. The report has revealed that the demand for halogen-based phototherapy lamps is expected to be high in Europe, while UV-based phototherapy lamps and LEDs will be in great demand across North America during the forecast period.
LED to Remain Top-Selling Products Through 2026
The study reveals that the demand for LED lamps is anticipated to remain high in the global phototherapy lamps market through 2026. Over the years, LEDs has successfully replaced fluorescent tubes as source of light for phototherapy lamps used in treatment of neonatal jaundice. Efficiency of LED technology in phototherapeutics has driven the sales of LED phototherapy lamps in the global market. Moreover, LEDs are comparatively safer options with respect to patient safety and operations, which has also supported their growing sales in the global phototherapy lamps market. By the end of 2026, nearly US$ 1.6 Bn worth of LED lamps are anticipated to be sold in the global phototherapy lamps market.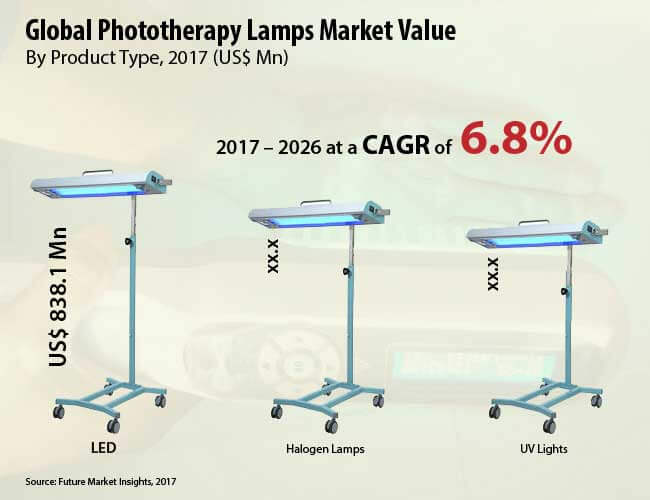 In 2017, Halogen Lamps worth nearly US$ 600 Mn will be sold globally
Towards the end of the forecast period, halogen lamps are anticipated to lose traction as a key product segment in the global phototherapy lamps market. The capabilities of halogen lamps in delivering high intensity light over small surface areas will continue to drive their sales in the global market. However, the expensive costs of phototherapy lamps made of halogen lamps will be a key restraint for their sales in the near future. Moreover, the risks of burns associated with the use of halogen-based phototherapy lamps has further curbed their use in phototherapeutics. Over the forecast period, halogen-based phototherapy lamps are estimated to register a sluggish CAGR in terms of global revenue growth.
UV Lamps to Register 7.3% CAGR throughout the forecast period
The demand for UV-based phototherapy lamps, on the other hand, is anticipated to witness an impressive growth during the forecast period. The study reveals that growing applications of UV technology in the field of healthcare will continue to support the use of UV lamps in phototherapy. Demand for UV phototherapy lamps is also expected to be fuelled by easy procurement of raw materials used in production of these lamps. Moreover, the patient risks with UV phototherapy lamps are relatively lower compared to halogen lamps. By the end of the forecast period, UV-based phototherapy lamps being sold in the global market are expected to bring in over US$ 1.3 Bn in revenues.
Future Market Insights (FMI) has composed a comprehensive report on global phototherapy lamps market for the forecast period (2017-2026). The report provides insightful forecasts related to global phototherapy lamps market's growth, and examines the market in detail, while providing important market dynamics inclusively. Additionally, the report provides intelligence on recent trends, impeding factors, and augmenting factors affecting expansion of the market. The report also engulfs analysis on data appertaining to multiple market parameters.
Report Structure
The report's starting chapter represents an executive summary of the global market for phototherapy lamps. An abstract of global phototherapy lamps market has been delivered in this chapter. Moreover, important market numbers including historical CAGR (2012-2016) and forecast CAGR (2017-2026) have been rendered, particularly concerning the market segments. In terms of sales expansion and revenue collected from phototherapy lamps sales worldwide, data on financially rewarding regions for expansion of the phototherapy lamps market has been delivered in the report.
A chapter titled overview succeeds the global phototherapy lamps market's executive summary, and includes the definition of "phototherapy lamps", which follows an incisive market introduction. The overview chapter indicates clear scenario of the global phototherapy lamps market's scope. The chapters proceeding overview shed light on key dynamics guiding growth of phototherapy lamps market globally, and comprises imperative points including the global economy, bottom line of enterprises, and fiscal stimulus.
Market Taxonomy
The report propounds insights on global market for phototherapy lamps through segmentation analysis. The global market for phototherapy lamps has been divided into key segments namely, product type, application, end-user, and region. The market share comparison, and revenue comparison, along with Y-o-Y growth comparison of the market segments are incorporated in the report, to deliver the most significant & relevant market numbers pertaining to segmentation analysis. Global phototherapy lamps market is characterized regionally into Latin America, North America, Asia-Pacific excluding Japan (APEJ), Japan, Middle East & Africa (MEA), and Europe.
| Region | Product Type | End User | Application |
| --- | --- | --- | --- |
| | | | |
| | | | |
| | | | |
| | | | |
| | | | |
| | | | |
Competition Landscape
Analysis on the global phototherapy lamps market's competition landscape has been provided in this report, along with information on active industries contributing significantly to expansion of the market. Occupancy of key market participants has been tracked with an intensity map. By identifying key market participants in detail, this chapter offers Insights on these players based on SWOT analysis, key developments, company overview, product overview, and key financials associated with the market players is also comprised. The competition landscape is an indispensable chapter for the report readers, as it provides all necessary knowledge pertaining to the companies, along with novel strategies employed by them for gaining a competitive edge.
Research Methodology
An extensive research methodology is utilized by FMI's analysts for developing market research reports, and delivering accurate forecasts and insights pertaining to the intended process or product. This research methodology employed relies entirely upon primary & secondary researches, to achieve necessary information on global phototherapy lamps market. Primary research includes bulk of research efforts coupled with information obtained from telephonic interviews & interactions through e-mails. The secondary research involves analysis of company websites, annual reports, different national, stock analysis presentations, and international databases. The analysts then validate the information harnessed, for ensuring its authenticity and authoritativeness to clients.
COVID -19 : Impact Analysis
Request the coronavirus impact analysis across industries and markets
Request Covid -19 Impact
CASE STUDIES
See how our work makes an impact.
At FMI, we design strategies that are adaptive, impactful, and implementable.