An Incisive, In-depth Analysis on the North America And Europe Phototherapy Treatment Market
This study offers a comprehensive, 360 degree analysis on the North America And Europe Phototherapy Treatment market, bringing to fore insights that can help stakeholders identify the opportunities as well as challenges. It tracks the global North America And Europe Phototherapy Treatment market across key regions, and offers in-depth commentary and accurate quantitative insights. The study also includes incisive competitive landscape analysis, and provides key recommendations to market players on winning imperatives and successful strategies.
Family physicians are playing a crucial role in diagnosing psoriasis in Canada
In Canada, the majority of the psoriasis patients are mainly diagnosed by family physicians rather than by dermatologists. The reason behind this is the lack of dermatologists and related services in Canada. For instance, according to a report published by the Economist Intelligence Unit, Canada had less than 2 dermatologists per 100,000 individuals in 2015, which is very less when compared with European countries. It has also been observed that family physicians typically prefer topical therapies than biologics/phototherapy to treat psoriasis conditions, while dermatologists prefer phototherapy more than the other available therapies/medications. This recent trend is boosting the phototherapy segment. While in the U.S. the growing population of adult women suffering from acne and psoriasis is an important factor driving revenue growth of the phototherapy segment. The population of adult women is rising with higher rates in North America than in European countries such as Germany, Italy, France and Spain. The growth in women adult acne conditions in North America is mainly due to increase in male hormonal (androgens) levels in females.
Complementary therapies to treat psoriasis conditions and combination therapies are recent trends in Western Europe, which are creating a positive impact on the phototherapy segment in the regional market
Complementary therapies such as balneotherapy along with UV radiation is quite popular in Western European countries. Balneotherapy is the oldest treatment method available to treat the psoriasis condition. In this treatment, the patient undergoes a bath in high mineralized brine, which causes a mechanical removal of skin scales and increases the sensitivity of skin to UV radiation. Combination therapies are set to witness high potential in austerity driven markets in Europe as noted by many clinic managers. Faltering out-of-pocket expenses for a service that is considered as a desire or luxury coupled with a tricky pricing of combination treatments involving a device and a drug are factors successfully helping in generating revenue in the market. This trend is very prominent in countries such as the U.K. and Spain.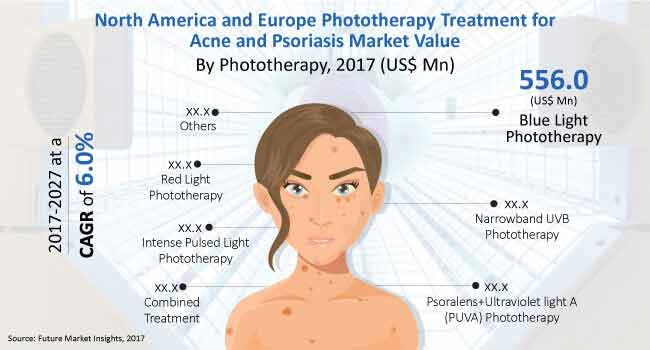 Approved by the FDA to treat acne and psoriasis, blue light therapy dominates the North America and Europe phototherapy treatment market
By phototherapy type, blue light therapy dominated the North America and Europe phototherapy treatment market for psoriasis and acne, and is expected to be the most lucrative segment over the forecast period, with a market attractiveness index of 3.3. By the end of 2027, the blue light phototherapy segment is projected to reach more than US$ 1,000 Mn, expanding at a CAGR of 6.7% over the forecast period. Revenue from the Narrowband UVB phototherapy segment in the North America and Europe phototherapy treatment market for psoriasis and acne is expected to grow 1.9x by 2027 end as compared to that in 2017. The Red Light Phototherapy and Intense Pulsed Light (IPL) Phototherapy segments represent the lowest market attractiveness index of 0.3 each.
Availability of various treatments for acne and psoriasis and declining reimbursement rates are expected to hamper the growth of the phototherapy segment
Various treatments are currently available in the market to treat acne and psoriasis conditions. For instance, to treat acne conditions various drugs are available in the market such as topical/oral antibiotics and retinoid and chemical peels, among others. Due to a lot of available treatment options, physicians prescribe different treatments according to the patient's skin nature and availability of drugs. Owing to the many treatment options, very few physicians prescribe phototherapy to patients. Furthermore, availability of non-office based treatments to treat acne and psoriasis conditions has a negative impact on the growth of the phototherapy segment. Furthermore, the decline of reimbursement pay and lack of adequate phototherapy units in the market are projected to hamper revenue growth of the phototherapy segment over the forecast period.
The opportunity analysis covered to understand the North America and Europe phototherapy treatment market for acne and psoriasis, makes this new publication an exclusive one. After a thorough study of the market, our expert team of analysts in the healthcare domain went the extra mile to offer in-depth insights into the market. While studying the market the first important feature we have observed is that this market is likely to witness moderate growth during the 10 year projected period. After a detailed study of the future scenario of the overall market, it was easy for our analysts to identify the macroeconomic factors such as the economic burden of skin diseases and societal habits influencing the phototherapy treatment market for acne and psoriasis in North America and Europe. The report titled "Phototherapy Treatment Market for Acne and Psoriasis: North America and Europe Industry Analysis 2012 – 2016 and Opportunity Assessment 2017 – 2027" provides detailed information on how the lack of robust clinical evidence on various disease conditions is limiting the growth of the phototherapy treatment market for acne and psoriasis in the regions of North America and Europe.
One astonishing fact we have come across while inspecting this market is that even in the most developed regions such as North America and Europe, not much research has been done on the other light therapies used in the treatment of acne and psoriasis conditions except blue light and UVB therapy. On the other hand while covering the disease epidemiology we have observed that prevalent cases of acne and psoriasis were remarkable in both the regions especially Europe in 2015.
Is the home-based phototherapy system a solution to limit the rising incidents of the disease?
Usually, phototherapy is an office based treatment procedure. However, lack of sufficient phototherapy units and the majority of phototherapy centres being located in urban areas are forcing patients to choose alternative treatments for their dermatological conditions. An increasing adoption of home-based phototherapy systems is creating huge opportunities for manufacturers. Home based phototherapy reduces patient hassles like transportation issues and the long waiting time in clinics, among others. In addition to this, it also reduces the direct and indirect medical costs of patients.
Our unique analysis of the classification of markets in various segments
According to our analysis, North America represents the most lucrative market, followed by Western Europe and Eastern Europe.
Hospitals end user segment dominates the global market; however, home care settings are becoming the choice of service for patients
Blue light therapy is gaining more traction in phototherapy owing to its benefits in treating acne
Plaque psoriasis sub-segment dominates the market in the psoriasis disease segment due to rise in psoriasis patient population
International monoclonal antibody conference reports – our key source while researching this market
While inspecting the North America and Europe phototherapy treatment market for acne and psoriasis in detail, we have referred to the annual reports, publications, and presentations of product providers. Our analysts have also considered key winning strategies followed by phototherapy treatment market for acne and psoriasis product manufacturers. We have carried out systematic and exhaustive secondary research to analyse the required data points to arrive at the overall market numbers. Detailed questionnaires have been developed for each node in the value chain to extract the required market information through primary research interviews. Data acquired through research is represented using charts, infographics, presentation of key findings by region and providing strategic recommendations and actionable insights for critical decision making.
North America and Europe Phototherapy Treatment for Acne and Psoriasis Market – Taxonomy
By Disease Type

By Phototherapy Type

By End User

By Region

Psoriasis

Guttate Psoriasis

Inverse Psoriasis

Pustular Psoriasis

Erythrodermic Psoriasis

Plaque Psoriasis

Acne

Acne Vulgaris

Acne Conglobata

Acne Fulminans

Gram-Negative Folliculitis

Acne Rosacea

Pyoderma Faciale

Blue Light Phototherapy

Red Light Phototherapy

Intense Pulsed Light (IPL) Phototherapy

Narrowband UVB Phototherapy

Psoralens+Ultravioletlight A (PUVA) Phototherapy

Hospitals

Dermatology Clinics/Skin Care Centres

Wellness Centres

Home Care Settings

North America

Western Europe

Eastern Europe
COVID -19 : Impact Analysis
Request the coronavirus impact analysis across industries and markets
Request Covid -19 Impact
CASE STUDIES
See how our work makes an impact.
At FMI, we design strategies that are adaptive, impactful, and implementable.