Water Treatment System Market Outlook and Key Findings
The global water treatment system market is projected to value around US$ 112 Bn in 2030
Water treatment segment to witness rising momentum in coming years
Adoption in desalination process to surge through 2030
Municipality spaces to offer lucrative investment opportunities
North America and Europe currently lead the global adoption
Water Treatment System Market Analysis – Imperative to Serve Communities and Industries
Demand for potable water is experiencing exponential rise annually, with growing global population and pollution levels. Water bodies that have been the conventional sources of drinking water for individuals are also getting affected by alarming rates of ecological burden. Water treatment systems are affordably priced to enhance their reach across varied economic strata of consumers.
Industrialization has considerably contributed to water pollution, especially in urban locations, over the past century. Unregulated disposal of chemical materials and debris from construction activities has rendered certain water sources unfit for usage.
Another factor which envisages the use of water treatment is in industrial processes where water hardness levels, pH levels, TDS contents to optimal levels are desired by the respective end use industries as raw water intake source involves seawater, freshwater and groundwater with each source having specific contents.
Water treatment systems portray an instrumental role in protecting human lives from such disorders. Water retrieval and purification is gaining top priority as standard practice industrial sector.
By employing effective water treatment systems, industrial processes that require water on sites have significant opportunity to achieve two goals,
Water purification and reuse curbs business' gross water footprint and, subsequently, its effect on surroundings
Decreasing water and utility usage linearly translates into progressive cost savings that can further be used to grow businesses instead of addressing overhead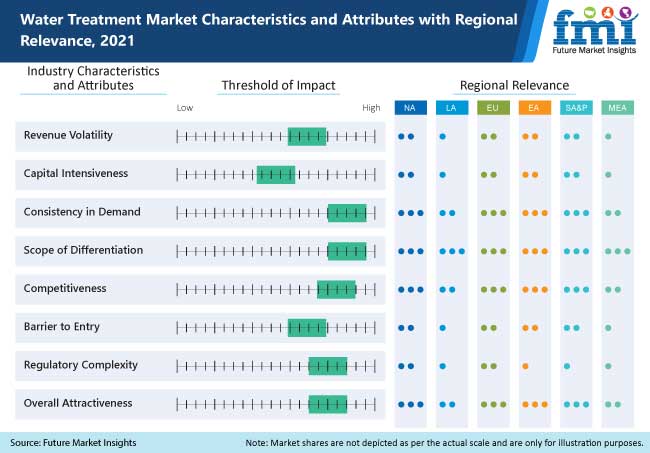 Water Treatment Systems – Standard Practice in Industrial Processes
Several facets of industrial sector are leveraging umpteen benefits of industrial water and wastewater treatment system. Industries produce voluminous quantity of water every day for numerous purposes. However, the quality of water consumed is critical in production processes. In particular, purified water helps in curbing adverse impacts that occur due to contaminated water.
Industrial water treatment system for food and beverage industry assures easy fulfilment of stringent quality and consistent requirements, from producing potable water processing to aiding disinfect water before discharge. The mandated operating certification standards for industries is now being issued on the basis of approved water treatment systems in several industry verticals.
In similar fashion, cosmetics industry also accent for industrial water treatment system that yields 100% pure water. The disinfected water helps in maintaining product quality throughout manufacturing processes, which further improves shelf life of products.
Further, in paint industry, purified water is essential for manufacturing water-based paints. UV disinfection industrial water treatment system coupled with wastewater treatment plants enable treatment of several aspects of wastewater, which is used to clean mills and containers, as well as wash floors to manufacture next batch of paints.
Thinking Smart with IoT-enabled Water Treatment Systems
While the Internet of Things (IoT) has reflected its potential in manufacturing and production-centric sectors, the onset of this cutting-edge technology is becoming apparent in water industries and sewage management. Solutions crafted from IoT are poised to create long-reverberating ripples that will help these end-use sectors significantly.
Smart water treatment systems driven by IoT enhance the reliability of existing water facilities by gathering and analyzing data more effectively. Adoption of data analytics and IoT enable better management of water infrastructure as well as reduced non-revenue water losses, yet drive key transformations to the ways with which water facilities and companies operate.
IoT has paved way for "Internet of Water", linking every system and player in water supply chain - treatment plants, raw water, utility companies, distribution pipes, companies and customers - and equipping decision-makers with crucial insights on status of water resources and equipment used in this vertical.
IoT-enabled water treatment systems provide market player the opportunity to upgrade productivity and efficacy while improving customer service. Moreover, given the amount of labor and time required to gather water and transfer it to treatment sites, IoT is emerging as a much-needed alternative.
UN surveys state that water scarcity will have direct effect on about 20% of global population by 2025, and indirect influence on remaining inhabitants as well as economic structures. Smart water treatment systems based on IoT help eliminate the possibility of these predictions and reverse the damage caused due to imprudent consumption of water resources.
IoT is a disruptive force for water treatment utilities as it enables uninterrupted water supply in these water-scarce times to individuals residing in remote and isolated areas sans any trouble. In the time to come, the new-ahead technology in water treatment system market is expected to fuel production rate of water that will help facilitate supply among the ever-growing population.
Water Treatment System Market Regional Analysis – East Asia to Outpace Developed Regions
At present North America and Europe lead the pack in global water treatment system market, collectively capturing about 45% revenue share.
The US Environment Protection Agency (EPA) has introduced Safe Drinking Water Act of 1974 that defines criteria for quality of drinking water supplied. Coupled with its peers, the agency implements several technical and financial programs to protect residents from imminent threat of infections. Such trends are likely to benefit the North America water treatment system market in the coming years.
About 97% of households in western and central Europe are connected waste water treatment facilities, while the number drops to around 70% in southern, south-eastern and eastern Europe. That said, urban waste water treatment currently are focusing on addressing challenges such as changes in demographics, climate change, and emergence of pollutants, thereby, attracting huge attention of stakeholders.
Water networks in Asia Pacific (APAC) are getting more complicated and extensive due to climate change, rapid urbanization, non-revenue water, and underdeveloped or ageing water infrastructure. Such challenges are translating into action items including, optimizing the performance of existing supply systems, planning and running water facilities, and managing ever-growing water demand.
In a bid to address these action items, water treatment system market players are progressively adopting innovative technologies and smart network systems to analyze infrastructure lifecycle possibilities. Moreover, Asia is anticipated to spearhead the market for Point-of-use (POU) technologies over decades ahead.
FMI further states that while North America and Europe have been leading the water treatment system market, these developed regions are expected to lose their value share to East Asia towards the end of forecast period.
Water Treatment System Market Players – Manufacturers to Gain Market Foothold with Product Launches
The global water treatment system market is characterized by presence of prominent players accounting for leading share of market value. In an effort to address the possible entrance of new players, key players are launching product offerings as well as are forming mergers & acquisitions (M&A) to expand their regional footprint.

Hitachi Aqua-Tech Engineering Pte Ltd has collaborated with Filinvest Development Corporation (FDC) to deliver water solutions across the Philippines. The joint venture will offer water treatment engineering such as construction and installation, design, and operation & maintenance for water treatment plants including, recycled water, desalination, and sewage treatment for internal FDC operations and external customers in private and public sectors.
Flow-Tech Industrial has introduced no-chemical water treatment systems particularly for heavy industrial use cases such as mineral extraction processes, power plants, large-scale breweries, and pulp and paper mills.
Clariant has rolled out waste water treatment plant (WWTP) at zero-liquid discharge site in India. The facility is likely to treat about 300 kL of waste water daily. The WWTP features myriads of highly effective methods to allow purification and removal of contamination at various phases.
Toshiba Corporation has taken up a contract from Indian government for establishment of two sewage treatment facilities as well as their operation and maintenance (O&M). These STPs are associated with sewage construction projects initiated by the country's government to clean up River Ganga.
Water Treatment System Market Future Outlook – COVID-19 to Highlight the Significance of Wastewater Analysis
Wastewater analysis is emerging as crucial way to examine community transmission of COVID-19. While polluted, unprocessed wastewater does not pose contagion risk, it provides medium of propelling infection rates in societies, and a potential early-warning system for new disease outbreaks.
Case in point, in the Netherlands, evidence of coronavirus were monitored in untreated wastewater six days before the first case was registered. Japan has already started to gather weekly specimens from treated and untreated sewage. Specimens from 15 sewage treatment facilities will be frozen and accumulated until techniques to extract and analyze the coronavirus come into existence.
Furthermore, the National Environment Agency – Singapore - has commenced pilot monitoring program to scan wastewater specimens. Such methods work favorably in places with efficient wastewater collection and management systems.
The COVID-19 pandemic will spur the demand for safer, and cleaner water and more reliable and efficient wastewater treatment across the world. This is likely to push the progress towards sustainable development goals (SDG) on water and wastewater.
However, the public health crisis is strengthening another trend - weakening trust in public facilities. As such, developers of water treatment systems worldwide must upgrade their communication and management practices substantially.
Key Segment
By System Type
Preliminary Treatment
Water Treatment
Membrane Bio-Reactor (MBR)
Reverse Osmosis (RO)
Micro-Filtration (MF)
Nano/Ultra Filtration (NF/UF)
Disinfectants (UV, Ozone)
Sludge treatment
Activated Sludge
Sludge Thickening & Dewatering
Sludge Drying
Other Sludge Treatment Technology
By Application
Process Water/ Water Treatment
Waste Water Treatment
Zero Liquid Discharge
Desalination
By End Use
Residential Buildings
Commercial Buildings
Municipality
Industrial
Chemical & Petrochemicals
Oil & Gas
Mining & Metals
Food & Beverage
Pharmaceuticals
Thermoelectric Power Plants
Semiconductors
Pulp & Paper
Sugar Mills
Textiles
Leather
By Region
North America
Latin America
Europe
East Asia
South Asia & Pacific
Middle East
Africa
Need specific information?
Talk Show:
The Rise of Intelligent Packaging
Personalized, Connected and Sustainable
November 18, 2021
11:00-11:45 AM PST (USA & Canada)
This is a LIVE session