Water Treatment Technologies Witnessing Technological Sophistication
Municipal water treatment primarily relied on conventional treatment processes such as granular media filtration, chemical clarification through water or sludge treatment chemicals, and chlorination. However, in the last couple of decades, a noteworthy transition in the water treatment market was observed as alternative treatment technologies gradually gained popularity. The change in trend is due to advancements in water treatment technology, increase in R&D activities, and growing demand for potable water especially in the developing regions worldwide.
Further, awareness building up around the catastrophic effects of consuming impure water has increased in recent years leading to a growing demand for efficient, reliable, and cost-effective water treatment technologies. In the coming years, stringent government regulations, growing adoption of water treatment systems, innovative and cost-effective water treatment technologies will remain the key to the development of the global water treatment market.
Water Treatment Market - Key Research Findings
The global water treatment market size in 2018 was ~US$ 46 Bn.
The water treatment market is expected to grow at a CAGR of ~7% during the forecast period of 2019-2029.
Increasing fresh water demands and rising water scarcity is estimated to be among the prime factors compelling increased spending on water treatment technologies.
Collectively, North America and East Asia, are estimated to account for half of the revenue shares in the water treatment industry by the end of 2029.

North America, attributing to high investment for water and wastewater treatment in the U.S. will continue to be a prominent regional market for water treatment manufacturers.

The process water treatment is expected to remain as the prominent application area to invest in, for water treatment market players.

Developing nanotechnology for efficient process water treatment has been highly demanding application.
Noteworthy application potential of water treatment has been identified in process water and waste water treatment.
Key Factors Shaping the Water Treatment Market
Rising Demand for Uninterrupted Supply of Potable Water
Swift growth of the population and rising number of private households and residential areas owing to the rapid urbanization driving the demand for potable water for various domestic or household purposes.
It is doubtful whether municipal water utilities are capable of providing uninterrupted supply of sufficient volumes of usable water in developing and underdeveloped regions.
The total volume of municipal wastewater produced per day is estimated to be ~684 million m3 globally, and the total capacity of tertiary and advanced reused water produced per day is ~30 million m3, which has led to the rise in the demand for water recycling activities to meet the domestic water requirements. Due to which there has been a rising trend in water reuse projects such as Australia's Western Corridor, Singapore NEWater, and Orange County New Blue Water program in California, to deliver high-quality treated water that can be used to augment the potable water supply.
Stringent Government Regulations towards Water Treatment and Conservation
The increasing demand for eco-friendly (chemical-free) produced water treatment technologies is expected to drive the growth of the global water treatment systems market.
Moreover, stringent government regulations related to the impact of untreated water on the environment and reinjection policies in various sectors, are estimated to drive the growth of the global water treatment systems market.
Agencies such as the European Water Association (Europe), India Water Works Association (India), and Environmental Protection Agency (U.S.), among several other government authorities, are proactively engaged in framing policies and regulations for water treatment for disposal or reuse purposes. For instance, in the U.S., EPA (Environmental Protection Agency) has made it mandatory for industries to treat water before it is disposed out of the facility. Specifications pertaining to maximum permissible contamination levels have been framed in this regard.
Rapid Technological Advancements
Non-chemical methods of water treatment such as those involving the use of filters, reverse osmosis, and polymer membranes, are expected to witness relatively high growth as compared to conventional methods, especially for industrial and municipal water treatment plants. The use of membranes can eliminate the cost of tertiary treatment systems.
Increased awareness and concern towards the climate change and need for the use of more sustainable water treatment systems are likely to result in the growing demand for water treatment technologies involving lower chemical consumption.
Adoption of Smart City & Smart Water Ideology
Smart cities consist of six important sectors that works collectively to achieve a common goal of making a city more sustainable, efficient, and liveable for its residents. These sectors are smart energy, smart public services, smart integration, smart buildings, smart water, and smart mobility.
Smart water is a very crucial vertical of the smart city plan due to the fact of limiting natural resources and increasing per capita consumption. Smart water technologies include those that automate monitoring and metering, treatment and distribution functions, loss and leakage, and metering and usage. These 'smart' components are a suite of automation and monitoring technologies tied together by a network-based human interface and control component. The adoption of smart water ideology is projected to further drive the sales of the water treatment market globally.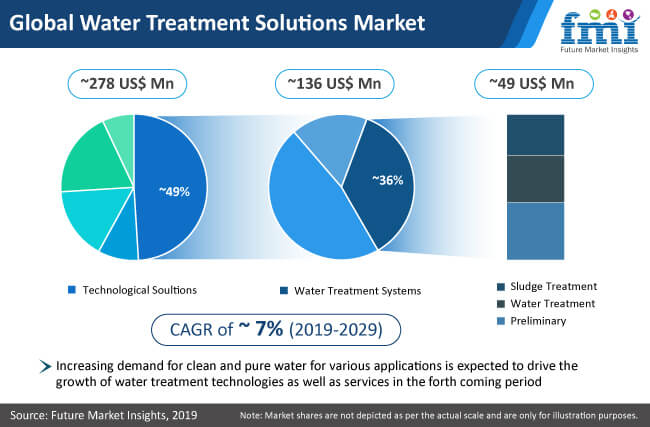 Water Treatment Market Structure Analysis
The global water treatment market represents a fairly consolidated competition landscape, where a majority of key players maintain their strategic focus on the development of solid distribution partnerships and joint ventures, targeting a firmer global footprint.
The water treatment market has been relatively moderate in size, which remains a key factor for its dynamic competitive nature.
Prominent manufacturers of water treatment are currently prioritizing R&D and new product launches to resonate with the growing consumption of eco-friendly coatings in North America, Europe, and China.
Portfolio extension is also identified to remain as one of the key developmental strategies adopted by manufacturers of water treatment.
For a stronger foothold in target markets, water treatment manufacturers will continue to rely on inorganic strategies, such as mergers and acquisitions.
Deeper understanding of the market trends and preferential shifts of end-use segments across various regions are likely to create a bottleneck for prominent players, focusing on untapped opportunities in the water treatment market.
Efficiency and Low Operational Costs - Key to Adopting New Technologies
Water treatment plants are complex systems that primarily consist of hydro-mechanical, electrical, automation, and monitoring equipment. However, in recent years, the focus on reducing operating costs and enhancing efficiency at the same time have gained the center of attention. Water treatment technologies are influenced by three main factors including, discovery of new contaminants, evolving water treatment standards, and costs. However, as water treatment continues to move away from the traditional approach, technologically advanced water treatment alternatives including, membrane bio-reactor (MBR), reverse osmosis (RO), micro-filtration (MF), and Nano/Ultra filtration (NF/UF) have gained immense popularity in recent years.
In the current scenario, the adoption of new technologies in water treatment depend on several factors such as low capital and operational costs, ease of operations, enhanced water quality, low waste production, and higher efficiency among others. Besides, as technological advancements continue to take giant strides towards illustrating reliability and adaptability in large-scale municipal water treatment plants, their adoption is set to witness a notable growth in the coming years.
Nanotechnology Set to Shape the Future of Efficient Water Treatment
Currently, rapid innovations in the field of nanotechnology are gradually revolutionizing water treatment processes. Further, the integration of microorganisms in bio-microelectronic devices are also playing a crucial role in the development of the global water treatment market. One of the primary reasons for the growing adoption of nanotechnology is the ease at which it syncs with existing water treatment concepts. Furthermore, nanotechnology is gaining acceptance in the water treatment sector owing to high efficiency and performance of membranes and enhanced hydraulic conductivity. In addition, research is in full swing to explore the possibilities of fabrication of membranes from nano materials for decomposition of compounds which are toxic in nature at the time of the treatment.
In the current scenario, the technology is also being tested to offer efficient segmentation of bimetallic nanoparticles, metals, zeolites, mixed oxides, and carbon compounds from waste water resources. Improvement in membrane configurations and use of advanced membrane chemicals and functionalities will create new opportunities for the development of highly efficient pumping and energy recovery systems.
Opportunities in East Asia on Rise
The focus on developing modern water treatment infrastructure in the developing regions will also remain one of the biggest driving factors for market growth in the foreseeable future. Efforts to improve water quality, meeting demands from the household and domestic sector, and striking a balance between the demand and supply ratio will fuel market growth in East Asian countries including, Japan, South Korea, and China. Due to the positive impact of macro-economic parameters including, growing population, urbanization, and industrialization, the investment in the housing, municipality, and industrial sectors has steadily increased in East Asia.
Process water treatment expected to grow at a steady pace
Robust growth anticipated for waste water treatment
Water treatment accounts for more than 1/3rd market share
Sludge treatment likely to pick pace
High demand from the industrial sector
Municipal sector set to remain a key end user
How Growth will Unfold
The players involved in the water treatment industry are eyeing lucrative opportunities in Asia-Pacific and MEA due to the growing demand for potable water, increase in industrialization, and high demand from domestic and the household sector. Furthermore, the construction and housing industry in the developing regions such as India and China will create unprecedented opportunities for the water treatment market in Asia.
Further, in MEA, the looming scarcity of natural water resources has generated a significant demand for water treatment facilities owing to the surge in applications in the domestic and industrial sector.
Considering the pace at which companies are penetrating the water treatment industry, development of innovative products and solutions is expected to remain the primary focus for the market players. Further, the adoption of new technologies will continue to play a pivotal role in the development of the global water treatment market. In addition, collaborations and tie-ups with domestic EPC companies and municipalities could prove to be the key in increasing product sales and contract bidding. The applicability of newer technologies is expected to grow as manufacturers continue to focus on research and development and the development of cost-effective water treatment alternatives.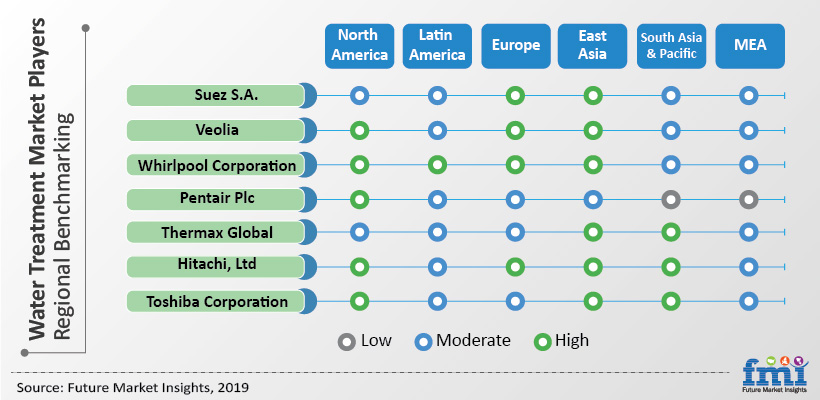 * This data is only a representation. Actual data may vary and will be available in report.
Click Here To Know How The Growth Will Unfold
Custom Market Research Services
FMI offers custom market research services that help clients to get information on their business scenario required where syndicated solutions are not enough.
Overview
Water Treatment Market: Global Industry Analysis 2014-2018 & Opportunity Assessment 2019-2029
A recent market study published by FMI on the water treatment market includes global industry analysis 2014-2018 & opportunity assessment 2019-2029, and delivers a comprehensive assessment of the most important market dynamics of the market. After conducting a thorough research on the historic as well as current growth parameters of the water treatment market, growth prospects of the market are obtained with maximum precision.
Water Treatment Market Taxonomy
The global water treatment market is segmented in detail to cover every aspect of the market and present a complete market intelligence approach to the reader.
By System Type
Preliminary
Water Treatment

Membrane Bio-Reactor (MBR)
Reverse Osmosis (RO)
Micro-Filtration (MF)
Nano/Ultra Filtration (NF/UF)
Disinfectants (UV, Ozone)

Sludge treatment

Activated Sludge
Sludge Thickening & Dewatering
Sludge Drying
Other Technologies
By Application
Process Water Treatment
Waste Water Treatment
Zero Liquid Discharge
Desalination
By End Use
Residential Buildings
Commercial Buildings
Municipality
Industrial

Chemical & Petrochemicals
Oil & Gas
Mining & Metals
Food & Beverage
Pharmaceuticals
Thermoelectric Power Plants
Other Industries
By Region
North America
Latin America
Europe
South Asia
East Asia
Oceania
Middle East and Africa
How the research was conducted?
Primary Research
C - Level Executives
Marketing Directors
Product Managers
Business Development Officers
Production Managers
Procurement Heads
Sales Executives
Distributors
Traders
Raw Material Suppliers
Industry Experts
End Users
Current market dynamics and challenges
Yesteryear trends
Market characteristics
Market performance and growth quadrants
Competition structure and market structure
Strategic growth initiatives
Near-term and long-term market growth prospects
Market segment splits and authenticity
Opinions on market projections and validity of assumptions
Secondary Research
Industry Publications

World Bank and Government Websites
FAO
OECD
UNESCO

Factiva
Company Press Releases
Annual Reports and Investor Presentations
Research Papers
Government Websites and Publications
Trade Websites
Primary Interview Splits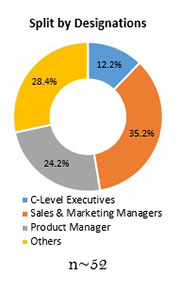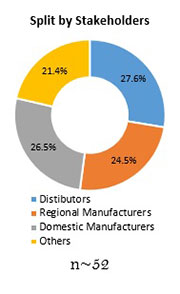 To Learn More About our Comprehensive Perspective on Water Treatment Market,
Get in touch
COVID -19 : Impact Analysis
Request the coronavirus impact analysis across industries and markets
Request Covid -19 Impact
CASE STUDIES
See how our work makes an impact.
At FMI, we design strategies that are adaptive, impactful, and implementable.