Water and Waste Water Treatment Chemicals Market
Market Insights on Water and Waste Water Treatment Chemicals covering sales outlook, demand forecast & up-to-date key trends
Water and Waste Water Treatment Chemicals Market By application (Industrial, Municipal), technology (Tertiary treatment, Secondary treatment, Primary treatment), product (Biological, Membrane Separation, Sludge) & Region Forecast to 2019 - 2029
Introduction
The chemical sector has always been exposed to boisterous competition development, which frequently translates to flutter developments in the industry – as a result of strategic realignments by market actors. Water and wastewater treatment chemicals market is no different, and a recent report in competition in global water and wastewater treatment chemicals market released by Future Market Insights (FMI) presents an elucidated view of the same.
The report titled 'Global Water and Waste Water Treatment Chemicals Market - Competition Blueprint - 2019' is second in line publication by the Ireland-based competition intelligence research firm FMI, which regularly tracks competition development in the chemical sector and provides a matrix based assessment of company ranking on multivariate parameters.
The competition blueprint report on Global Water and Waste Water Treatment Chemicals Market, identifies Ecolab Incorporated (including Nalco Holdings), Kurita, Berwind Corporation and Dorf Ketal in "Industry Titan' category, whereas other prominent market actors such as, but not limited to CLIF, FMC Corporation, Kemira, Suez in dominator category.
Competition Blueprint is a four-dimensional matrix developed by FMI, which takes 15 parameters into consideration and classifies each parameter into three strategic indices i.e. Growth Lever Score Index, Portfolio Lever Score Index and Operational Efficiency Lever Index. Over 50 companies across the globe engaged in water & Wastewater Treatment Chemicals production have been evaluated and benchmarked on 15 pre-defined attributes.
A cumulative score of each company has been clubbed with the respective Market Share Index and a detailed matrix is developed.
It is interesting that companies that account for higher market share than their peers have not been able to fare good and rank among industry titans. Factors such as speed to market, response time to cater the request, capacity utilization rate, management leadership along with strategic priority alignment with water and wastewater treatment chemicals, limit the performance of such companies and despite being dominant, those companies are less likely to exhibit the best performance over the coming years.
Global water and wastewater treatment chemical market was valued at less than US$ 25 Bn in 2014; by 2019-end, market valuation is likely to reach US$ 30 Bn. The outlook on the market also remains positive, with market revenues likely to grow at over 4% annually in the next five years.
Water treatment chemicals find applications across a number of end-user industries where they are used to prevent corrosion and scaling of various equipment and utilities. With proper use of water wastewater treatment chemicals, the efficiency of utilities such as plastic & steel pipes, ooling tower and boilers can be increased significantly, which in turn, leads to enhanced production and higher energy efficiency.
High process efficiency, in turn, lowers operational costs, influencing manufacturers to use water & wastewater treatment chemicals extensively during the process. These chemicals help in the reliable operation of the overall water and wastewater treatment equipment infrastructure.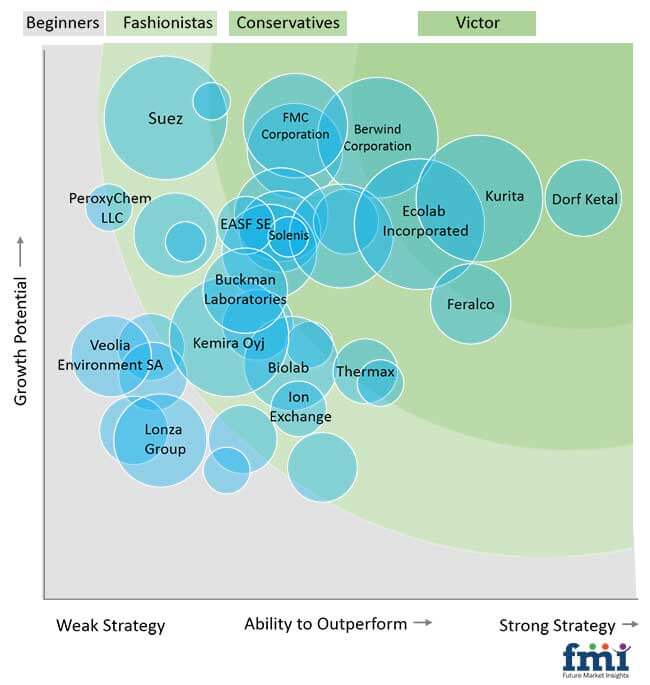 Download Report Brochure
Stakeholders in the water and wastewater treatment chemical market are also exposed to their share of risks. Considering the long-term need to treat process water, various end-user industries are installing wastewater treatment equipment such as multiple effect evaporators for water treatment as opposed to water treatment chemicals.
Residue salt from these water treatment equipment can be sold in open markets, adding more value to the use of these equipment for process water treatment.
This brings the need for water and wastewater treatment chemicals producers to realign strategy as per market need. Companies failing to do so eventually stand in contender and laggard category in the competition matrix and viz.a.viz losing market footprint.
Key strategies adopted by market actors that have been highlighted in the report by FMI include industry-focused solution, acquiring segment specialist regional players, and spin-off.
Talk to Analyst
Find your sweet spots for generating winning opportunities in this market.
Talk to Analyst
Key Segments
By application
By technology
Tertiary treatment
Secondary treatment
Primary treatment
product type
Biological
Membrane Separation
Sludge
Disinfection
Others
Become a MarketNgage Insider
A unified Market Research Subscription Platform, built for today's disparate research needs.
Frequently Asked Questions
Table of Content
Market Edge Scope
Water and Wastewater Treatment Chemical
Preface
Introduction
At a Glance : Global W & WWT Chemical Market Competition Structure
Competition Matrix and Relative Player Positioning
Victor
Conservatives
Fashionistas
Beginners
Key Findings of Market Edge in Global W & WWT Chemical Market Edge
Regional Highlights on Competition
Computed Parameters and Relevance
Player Proposition in the Market
Albemarle Corporation / Martinswerk
ALTIVIA Chemicals LLC
Chembond
American Water Chemicals
BASF SE / Solenis
Berwind Corporation
BioLab
Buckman Laboratories International Incorporated
Vasu Chemicals
Chemours Company
Chemtrade Logistics Income Fund/General Chemical Holding
Danaher Corporation / ChemTreat
Dorf Ketal
DowDuPont
Donau Chemie Ag
Dubois Chemicals
Ecolab Incorporated / Nalco Holdings
Evonik Industries AG
Feralco
FMC Corporation
GEO Specialty Chemicals Incorporated
Genesys International Corporation Ltd.
H2O Innovation Inc.
Helamin Technology Holding Group
Huntsman International Llc
Hydrite Chemicals
Ion Exchange
K+S AG / Morton Salts
KA Steel Chemicals/Olin Corporation
Kemira Oyj
King Lee Technologies
Korn GmbH
Kurita
Lonza Group (Previous Arch Chemical) / Platinum Equity
Occidental Petroleum Corporation/OxyChem
Ovivo Incorporated
PeroxyChem LLC
Reverse Osmosis Chemicals International
SNF SAS
Suez
Thermax
Tronox Limited
Veolia Environnement SA
Wujin Fine Chemical Factory Company Limited
ShanDong XinTai Water Treatment Technology Co., Ltd.
Westlake Chemicals
Appendix A : Methodology and Competitiveness Index Computation Approach
Appendix B : Relevance of Competition Groups
Note to the Reader
Safe Harbor Statement
List of Tables
NA
Talk to Analyst
Find your sweet spots for generating winning opportunities in this market.
Talk to Analyst
List of Charts
NA