KEY FACTORS SHAPING POWER TOOL GEARS MARKET
Rise in Metal Fabrication and Wooden Operations for Varied Purposes
Growth in woodworking and metal fabrication works, and also metal hammers at construction sites and some products in automotive garages, is estimated to provide strong growth outlook for the power tool gears market. In emerging countries of South Asia Pacific, increasing use of power tool gears in power tools is anticipated to develop the market. Also, in developed regions such as the U.S. and Europe, the trend of timber usage and adoption wooden parts is on the rise, which will also provide numerous growth opportunities for the market
High Powered Tools and Ease in Operations to Drive Market Growth
Development of new advanced power tools by numerous manufacturers is increasing end-user customer's proclivity towards these products. The new features included in power tool gears, such as noise reduction and lightweight products with powerful performance will also push market growth. Increasing introduction of cordless power tools that provide easy manoeuvrability and safe and easy operations is also helping the market reach new growth avenues.
As gears are installed as a medium to transmit power, higher power itself implies the need for more durable and capable gear sets. With a rise in the development of high power gear tools, the need for more durable gear sets will increase at a prominent pace. Ease in operations imparted by these products is also elevating their acceptance for home use purposes.
Impact of COVID 19 Pandemic
The global economy has taken a massive hit due to the spread of the novel coronavirus across the globe. According to recent findings, even in the best possible scenario, the global economy is anticipated to witness a fallout of US$ 2.3 trillion. As per the International Monetary Fund (IMF), around 170 countries are projected to witness negative per capita income growth.
All this economic downfall is anticipated to curb the manufacturing and sales of power tool gears. Although, the downfall is anticipated for the near term, after which, the power tool gears market is expected to recover from the losses.
Rising Demand for Professional Purposes Propelling Sales of Power Tool Gears
For professional operations, the use of power tools in increasing, thereby boosting sales in the market. Smooth operation and even cuts are the main factors attracting professional end users towards these products. In the manufacturing of products in woodworking and metalworking operations, the drills and saw cuts needs to be precise in order to manufacture rugged and durable products. Also, in professional power tools, there is the requirement of higher gear sets to handle high-powered tools.
With increasing demand for wooden products and metal fabrication, there is more requirement to increase production output from woodworking and metalworking manufacturing facilities, thereby increasing the customers for power tool gears.
Market of South Asia Pacific and East Asia to Provide Lucrative Growth Opportunities
In terms of growth, the South Asia Pacific and South Asia power tool gears markets are anticipated to expand at a promising pace. Due to increasing manufacturing of power tool gears in countries such as India and China, these two regions are collectively to account for 40% of the market share by 2030.
POWER TOOL GEARS MARKET: STRUCTURE ANALYSIS
The global power tool gears market is decently fragmented, due to the presence of numerous players. The market is anticipated to retain the same structure throughout the forecast years.
Porite Group, hGears, Zhejiang Oliver manufacturing Gear Co. Ltd, and Zhejiang Fore Intelligent Technology Co., Ltd. are identified as key participants in the global power tool gears market.
Manufacturers active in the market are aiming for product diversity; these players are working to elevate their manufacturing capacity to increase their production output.
Base year considered - 2019
Actual estimates/Historical data - 2015 - 2019
Forecast period - 2020 - 2030
Market Value (2019) - US$ 2.7 Bn
Segments covered -End Use, Gear Type, Application, and Region
Regions covered - North America, Latin America, Europe, East Asia, South Asia, Oceania and MEA
Key Players -Porite Group, hGears, Zhejiang Oliver manufacturing Gear Co. Ltd, and Zhejiang Fore Intelligent Technology Co., Ltd.
Report coverage - Revenue forecast, company share, competitive landscape, growth factors, and trends
Spur Gears Remain Highly Preferred; Spiral Gears Close in
Accounting for nearly 1/3 of total demand, spur gears continue to witness higher demand than helical gears, owing to ease of installation and high power transmission efficiency. In addition to high reliability and offering constant velocity, spur gears lack slippage and are ideal for limited spaces, which continues to fuel demand.
On the other hand, growing demand for cost-effective tools providing long-lasting performance with minimal need for repairs and replacement is compelling manufacturers to increase the production of spiral gears. However, movement restrictions and paralyzed supply chain in the time of the COVID-19 pandemic are causing manufacturers to revisit their growth strategies.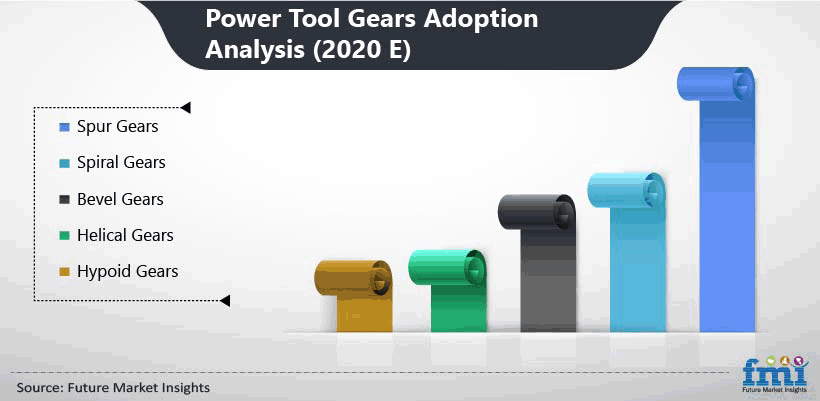 North America Leads the First Wave of Growth
North America will continue to maintain its lead in the global power tool gears market, despite a sustained standstill in 2020 due to coronavirus-related disruptions. Growing popularity of DIY culture in developed markets has been boosting the demand for power tools, and subsequently the sales of power tool gears. A greater need for lighter, faster, and powerful tools for DIY consumers is opening new growth avenues for market players in the region.
Lucrative opportunities are expected East Asia and South Asia with the reopening of factories in China and resuming of construction operations. Manufacturers in these regions are also putting protocols in place to maintain the continuity of production and supply.
The Future Lies in Cordless Power Tools
Power source requirements and high risk of output fluctuations and interrupted power supply have been key challenges for the operation of power tools, resulting in the introduction of cordless options. Additionally, the emergence of new cordless battery technology, advanced electronics, and powerful innovative tools has been opening new windows of opportunities for key players in the power tool gears market.
Heavy duty power tools are also expected to jump on the cordless wagon, thereby compelling market players to identify and leverage white spaces in their selling points. While the future appears promising with the rise of smart power tools and brushless motor technology, manufacturers will need to take immediate measures as a response to the current COVID-19 related disruptions.
How Growth will Unfold
Grinding machines remain a key application area of power tool gears, on account of the growing need for powerful performance to improve the speed of construction operations. Rising application of power tool gears in DC cordless screw drivers and drills is expected to result in increased market share, amidst power tool companies putting emphasis on R&D activities for cordless technologies to accelerate the shift away from conventional corded tools.
With these companies hanging their hat on new trends and innovations, key players in the power tool gears market should be looking at a future of tools becoming more compact and lightweight, and rapidly respond to newer demands to stay ahead of the curve.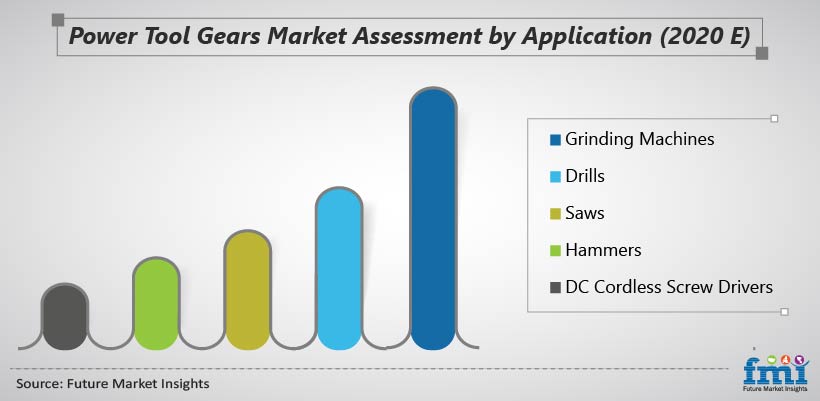 POWER TOOL GEARS MARKET TAXONOMY
The global power tool gears market is segmented into four segments in detail to cover every aspect of the market and present complete market intelligence to the reader.
End User
Professional
DIY (Consumer)
Gear Type
Bevel Gears
Spiral Gears
Spur Gears
Helical Gears
Hypoid Gears
Application
Grinding Machines
Drills
Hammers
Saws
DC Cordless Screw Drivers
Region
North America
Latin America
Europe
South Asia Pacific
East Asia
MEA
Need specific information?