Power Tools Market Outlook and Key Research Findings
The power tools market outlook remains bullish with strong market fundamentals expected to sustain momentum
The USD 32 billion market is likely to maintain growth rates of nearly 6% through 2020
Demand from North America and EU5 likely to remain stable
Growing focus on efficiency at low-cost will induce a shift from pneumatic to cordless power tools
Power Tools Market Analysis – Demand for Electric Power Tools on the Rise
In the last five years, power tools have eaten into the market share of hand and other conventional tools. Sales, pegged at 88 million units in 2016, rose to 200 million units in 2019, in tandem with broader market developments.
While pneumatic power tools don't have the risk of immediate obscurity, growing preference for electric power tools will influence manufacturer to broaden their offerings in this category.
The high growth attributed to electric power tools is fuelled by innovations in li-ion battery technology.
Further, a spurt in refurbishing and remodelling projects in the household consumer base will continue to drive demand for electric power tools.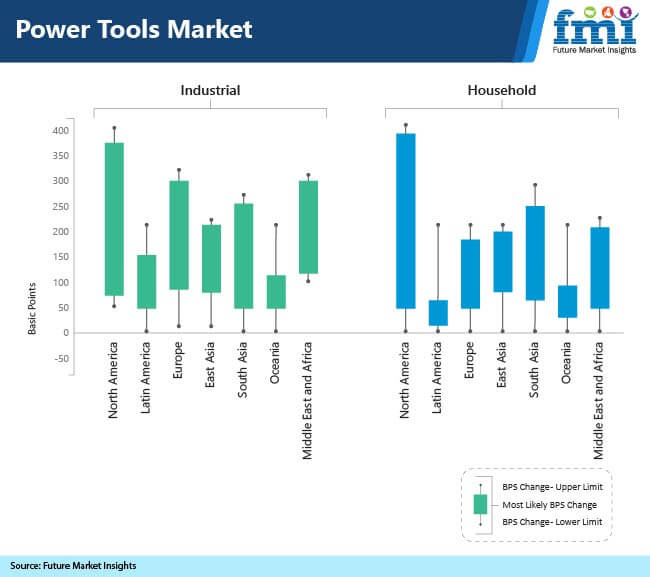 Industrial Uses Slated for High Growth, Fuelled by Green Machine tools for Energy Consumption Reduction
According to Future Market Insight's cutting-edge analysis, power tools will witness high adoption in the industrial sector thus propelling the market to reach a valuation of US$ 58.2 Bn in 2030. Although the market for power tools is witnessing recessionary headwinds in the ongoing pandemic, the industrial segment will sufficiently rebound through mid-term with projected growth of 3% in terms of production and volume.
Concerns abound around the impact of manufacturing on the environment which accounts for almost 20% of global greenhouse emissions in which US trumps with 30% of energy usage. There is thus a need for a strategy to institute greener manufacturing in terms of power tool design, operation and process.
Green manufacturing for power tools will help manufacturers to circumvent frivolous overheads and operating costs. A process called as Minimum Quantity Lubrication ( MQL) has been extensively studied to crimp on energy and incur savings. All power tools and machine tools have a cooling system in them to reduce heating. By this methodology, 3 to 4 times less cutting fluid is used to cool the tool with slight modifications in machines cooling system. This must be practised to prevent early wear and tear of the tool.
Power tools Consumption Pattern – Cordless Power Tools Remain Top Selling Category with Spotlight on Saws
Prima facie, one of the biggest reasons for the soaring popularity of power tools is its advanced technology. Highly durable, cordless power tools are capturing the attention of a sizeable consumer base on back of their significantly long run times. Added to that is the effervescent battery technology that is fuelling their use.
Cordless power saws are seeing high uptake in construction and industrial settings. Stylized versions include milter, chain, circular and reciprocating. These are soaring on popularity on back of safety, ergonomics light weighting and power capacity.
Saws with a reduced diameter weigh one half as much as saws with bigger diameters and can still make a deep, 3 inch cut in a single stroke. Thinner blades deliver performance at with significantly lower cut times, safer features and better visibility. In dark places, LED lights (built in to the saw) yield precise accuracy at the time of cutting and more safety.
Power Tools Market Analysis by Region – Asia Pacific Remains Market Frontrunner
Regionally, Asia Pacific is likely to be the largest consumer and producer of power tools accounting for nearly 30% of the total market value. A veritable boom in the construction sector and the soaring popularity of the DIY trend is paving the way for a sizeable consumer market within this region.
Over the last 7 years China has emerged as a manufacturing powerhouse. Through 2018, China's growth in the power tool market was nearly double that of the global average.
The region also boasts of a flourishing export base with a large chunk of power tools exports going to western regions. Closing in are Europe and North America, the other key markets, cumulatively accounting for ~62% of the market share. The combination of cordless power tools and Li-ion batteries is driving growth within these two regions.
The Road Ahead for Power Tool Manufacturers
Power tools have proven themselves as efficacious in eliminating frivolous and strenuous manual labour. Here is our take on some exciting and riveting trends that are driving the power tools market.
Long battery life is complementing cordless power tools. The advent of Li-ion batteries is set to offer higher energy density and greater efficiency, thus allowing it draw more electricity and work longer than its conventional variants.
Li-ion technology took a quantum leap approximately 15 years back. Now almost every manufacturer has his own nuanced power tool technology using these batteries
Novel lithium chemistries that use a mix of lithium-cobalt and lithium manganese are now being utilized in high voltage applications making it easy to use these in strenuous industrial and construction end uses
Batteries which are able to change their voltage in accordance with power drawn from the tool are trend-setting additions in the power tools market landscape
Flat head grinders are making immense headway with greater accessibility to narrow angles and tighter, confined spaces
The COVID-19 crisis has proliferated the DIY trend wherein more and more people are buying these tools to do minor household jobs. With stringent lockdowns and the non-availability of labour, this is fast becoming a prevalent trend in the market.
Smart tools which can be easily programmed through apps to configure torque and speed is boosting market prospects for power tools
Chargers with 'renew' capabilities are set to gain massive traction. These chargers wait for the battery to completely discharge before re-charging. Each battery thus gets a deep cycle refresh.
As innovations in battery technology abound, the biggest hurdle for manufacturers is the cost which makes up 40%- 50% of the total cost of the power tool system
Power Tools Market Pricing Analysis
Raw materials predominantly used in power tools are steel and aluminium. The COVID-19 crisis is creating a lot of volatility in the pricing of raw materials. With manufacturing facilities shuttered and dampened demand, steel prices are fluctuating.
Raw material availability is also dependent on demand dynamics and government regulations. With fluctuating costs of aluminium and steel, the cost of raw material is also bound to increase or decrease.
This will have a significant impact on the power tools market in the near term which is set to witness a marginal downturn. In order to sustain through the slowdown, manufacturers will look at stabilizing the pricing of power tools through diversification and newer pricing strategies.
Power Tools Key Challenges – Li-ion Batteries Present Safety and Charging Concerns
Battery packs of Li-ion are considered by many industrial facilities as unsafe. Recent tests conducted on them found that the packs burst into flames if a nail was to penetrate them. Obviously, with millions of cordless power tools being liberally used in industrial sectors, this is bound to pose a hurdle.
Li-ion batteries also have a shorter lifecycle and tend to deteriorate faster. With novel offerings in the power tools arena, manufacturers claim that their newer tool systems are incompatible with traditional li-ion battery packs.
Power Tools Market Manufacturers – Opportunities Rife in Bluetooth and Inductive Charging
Market players have left an indelible impact on the market with their astute business expansion strategies and myriad offerings. Many of these players are expanding their reach in high growth regions such as China and US which are home to substantial tool using sectors such as industrial, automotive and construction.
A newer realm is being witnessed in charging technology for high-end electronic devices. Companies such as Bosch and Milwaukee have innovated on novel battery platforms that have solutions for myriad problems faced by end users in terms of charging and durability. Inductive charging, based on wireless transmission of alternating magnetic fields is a new technology that is currently only being offered by Bosch.
Through inductive charging the battery can stay in the tool whilst being charged thus obviating the need to remove batteries. This has proved to be a boon for front line industrial workers who are working on tight schedules and time constraints.
Dewalt's Bluetooth-enabled power tools consist of a 20V Lithium-ion battery. The batteries within these tools are able to pair up with apple and android devices smarty to control the power tool functionalities in a remote manner.
Alerts are sounded if the battery charge has neared completion or is low. For owners chary of lending, the battery of these smartly operated tools has a time-out feature that enabled the battery to shut down after a certain amount of time has lapsed.
Market Taxonomy
Product Type
Drilling and Fastening tools

Drills, Fasteners & Drivers
Wrenches

Hammers
Cutting Tools

Jigsaws
Reciprocating saws
Circular saws
Band saws
Sheers and Nibblers

Material Removal Tools

Sanders & Polishers
Grinders

Routers
Other Power Tools
Operation Type
Corded Power Tools
Cordless Power Tools
End Use
Industrial Enterprises
Commercial Carpenters, Joiners and Masonry Service Providers
DIY/ Individual
Sales Channel
Online Sales

B2C Platform
B2B Platform

Offline Sales

Bulk Suppliers
Retail Suppliers
Region
North America
Latin America
Europe
East Asia
South Asia Pacific
Middle East & Africa (MEA)
Need specific information?