Sachet Packaging Machines Market By Product Type (VFFS, HFFS), Machine Lane (Single Lane, Multi Lane), Application (Granules, Powders, Liquids, Pastes), End-Use, Capacity & Region - Forecast 2019 - 2029
Sachet Packaging Machines Market - Analysis, Outlook, Growth, Trends, Forecasts
March 2019

REP-GB-6681

231 pages
Sachet Packaging Machines Market - Key Research Findings
Global sachet packaging machines market size in 2018 – nearly US$ 464 Mn
The sachet packaging machines market is expected to register a CAGR of 6% CAGR over 2019-2029.
According to a whitepaper published by Bosch Packaging Technologies (one of the largest manufacturers of sachet packaging machines), the average worldwide market value for sachet packaging market is around US$ 5.2 Bn.
East Asia and Europe will remain the largest regional markets for sachet packaging machines.
The presence of large and local food manufacturers offering products in smaller quantities is expected to fuel the demand for sachet packaging machines.
South Asia holds high growth potential for the sachet packaging machines market.
The South Asia sachet packaging machine market includes a country-level analysis for India, Thailand, Indonesia, and Rest of South Asia. The sachet packaging machines market in the South Asian region is fragmented in nature with the presence of medium-to-large local players in the market.
Packaged food manufacturers are spreading their sales to emerging countries by selling the products in sachets for consumers who prefer unit dose packaged products over family-size packaged products.
Sachet packaging machines with a capacity of 201 to 350 (sachets/min) will remain the most preferred
Significant capacity and reliability of sachet packaging machines with a capacity of 201 to 350 (sachets/min) will enable them to dominate sachet packaging machines market in terms of market share. Packaged food manufacturers with huge production volume are opting for sachet packaging machines with 7-10 lanes, and even up to 20 lanes, with each lane having a capacity of 60-80 sachets/min.
Sachet Packaging Machines Market - Outlook
The sachet packaging machines market is anticipated to grow at a steady pace during the forecast period. The factors driving the growth of the sachet packaging market include a rise in demand for nutraceuticals and pharmaceuticals. Besides this, the food and cosmetic industries have also been active end users of the industry, as customers prefer small-sized packaging more than the bigger ones.
One of the key benefits of using sachet packaging machines is the ease of manufacturing. Besides this, the key players operating in the sachet packaging machines market are investing in automating their products to reduce the overhead costs of the end users. Yet another significant boost to the sachet packaging machines market comes from the ability of these machines to offer sachets for pastes, liquids, powders, and granules.
Given the rising focus on the hygiene factor, market players have been developing the sachet packaging machines in a way that the fillers are easy to clean. In addition, they offer the convenience to monitor and control the processing of the sachet packaging machines from anywhere. Investments have also been made towards providing customization for smaller operations and improving the aesthetics of these machines.
Addition of numerous categories of the pharmaceuticals during the pandemic added momentum to the growth of the sachet packaging machines market. Demand for the packaging of immunity boosters in the form of oral dosage powder, gels, injectables, ophthalmic, oral liquid dosage, capsules, tablets, and granulation is also contributing to the advancement of the sachet packaging machines market.
Manufacturers have been eyeing on the developing countries for the growth and expansion, owing to the establishment of the pharmaceutical industry in China, India, and similar geographies. Besides this, there has been a behavioural shift in consumers, who opt for small-sized packaging of products. In addition, end-use industries also find it easy to send out samples to users to promote their products.
Top 4 Factors Shaping the Sachet Packaging Machines Market
Consumer demand for small-sized packs surges
Individual small portion packs or pharmaceutical unit dose packs such as sachets are convenient for consumers in terms of handling and storage, leading to gain in traction across the globe. For instance, drink mixes for bottled water provide great convenience as they are easy to transport due to their low weight and small size. The hospitality industry relies on sachets, where items such as sugar, coffee, salt, ketchup are packaged in single-serve formats.
As the demand for sachet packaging is expected to increase among millennials, the sachet packaging machines market is also likely to boost during the forecast period. Consumers are able to enjoy benefits from more choices of sachets at lower prices.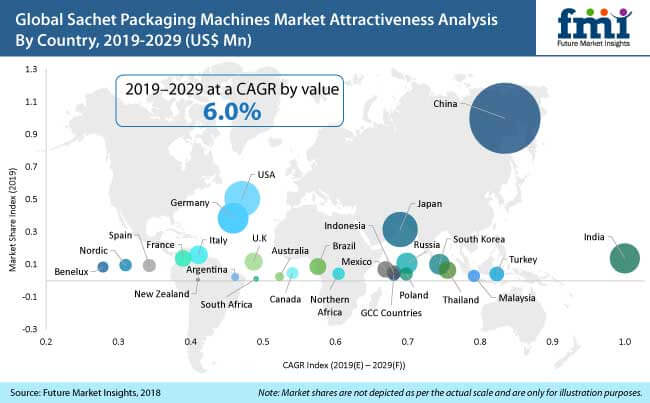 Forecast Factors affecting the growth of sachet packaging machines
Global Packaging Industry Market Historic Growth and Growth Forecast
Global Sachet Packaging Market Growth
Global Form Fill Seal Machine Production and Consumption
The growing demand for sachet packaging market strongly fuels the sachet packaging machines market.
The demand for sachets to rise in emerging markets owing to their accessibility and affordability
The marketing of sachet packed products involves the process of redesigning, packaging, and selling a product in a small package, and making it available at an affordable price. Factors favouring sachets are affordability or minimal cash-out for consumers, setting of dosage that facilitates control over consumption, and portability or the convenience of smaller packs.
Effective distribution strategies of key manufacturers have lowered the cost per unit in combination with point of sale turnover and packaging innovations, which makes the sachet cheaper than the large size packs of the same product. The single-use shampoo, detergent and ketchup sachets are sold for a few cents each in underdeveloped or developing countries.
As the growth for sachet increases in the developing and emerging countries owing to its affordability, it is expected that the demand for sachet packaging machines will also boost during the forecast period.
The opportunity for automation of sachet packaging machines to boost the growth of machines in the global market
Integration of different systems into one is the latest trend observed in the packaging machinery market. Companies are focusing to offer smart maintenance services along with high optimization of packaging processes in their product lines.
Manufacturing companies are increasingly automating their production processes while reducing the number of workers on a production line. It is however necessary to provide seamless visualization and transparent solutions on the production line to continuously innovate and improve process and respond promptly when required.
Sachet Packaging Machines Market Structure Analysis
The global sachet packaging machines market represents a fragmented competitive landscape wherein Tier 1 companies hold around 10% revenue share.
Top companies in the sachet packaging machines market include Bosch Packaging Technology, Nichrome India Ltd., Winpak Ltd., Marchesini Group, Y-Fang Group, and Universal pack S.r.l.
While most of the key players maintain strategic focus on North American and Western European markets, the report underscores that technology assessment will be an important developmental strategy for companies.
Leading food & beverage packaging players are concentrating on the rising number of products sold in sachets, thereby increasing the demand for sachet packaging machines
European sachet packaging machines manufacturers such as Bosch Packaging technology, Marchesini Group, Universal Pack, and Mediseal are some of large market players contributing towards the revenue growth of the sachet packaging machines market.
Sachet Packaging Machines Market - Report Scope
Attribute

Details

Forecast Period

2014-2018

Historical Data Available for

2019-2027

Market Analysis

US$ Mn for Value and Mn Units for Volume

Key Regions Covered

North America, Latin America, Europe, North America, Asia Pacific, and Middle East & Africa (MEA)

Key Countries Covered

U.S, Canada, Brazil, Mexico, Argentina, Rest of Brazil, Germany, Rest of Latin America, U.K., France, Italy, Spain, Rest of Europe, Nordic, BENELUX, Rest of Europe, Russia, Thailand, Indonesia, ASEAN, Japan, India, China, South Korea, Rest of Asia Pacific, Australia, New Zealand, GCC, North Africa, Turkey, South Africa, Rest of MEA

Key Segments Covered

Pack Size, Material Type, Application, Packaging Machinery, Region

Key Companies Profiled

Amber Packaging Industries LLC
Uflex Ltd.
Deve-pack
Schur Flexibles Group
Transcontinental Inc.
American Packaging Corporation
Lindopharm GmBH
Printpack, Inc.
Clondalkin Group Holdings B.V.
Mondi PLC
Sealed Air Corporation
Sharp Packaging Services
RCP Ranstadt GmBH
Paharpur 3P
AE Adams (Henfield) Ltd
ProAmpac LLC
Huhtamaki Oyj
Constantia Flexibles Group GmBH
Amcor PLC
Glenroy, Inc.

Report Coverage

Market Overview, Key Market Trends, Key Success Factors, Demand Analysis, Market Background, COVID-19 Analysis, Segmental Analysis, Regional Profiling, Market Structure & Competition Analysis

Customization & Pricing
World's Most Profilic Intelligence Engine
Get Access To The World's Largest Market Research Database.
Sign Up Now
Key Segment
On the basis of capacity
up to 100
101 to 200
201 to 350
350 sachets/min and above
On the basis of product type
On the basis of machine lane
On the basis of application
granules
powders
liquids
pastes
On the basis of end use
food & beverages
pharmaceutical & medicals
personal care & cosmetics
homecare & toiletries
others (animal feed, agriculture)
Need specific information?
Our Clients