Sachet Packaging Market - Key Research Findings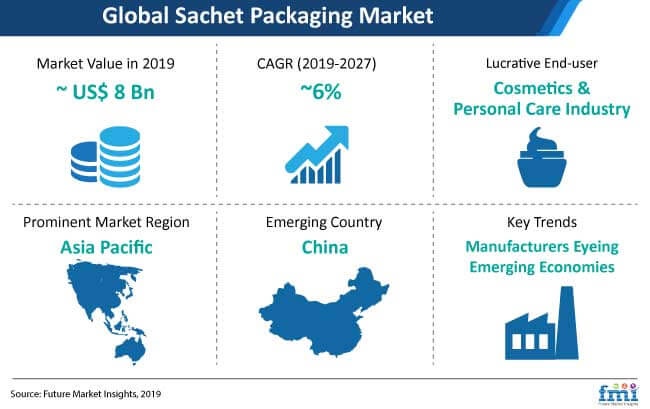 The global sachet packaging market size estimated in 2019 - ~US$ 8 Bn
The sachet packaging market is expected to witness a CAGR of ~6% during the forecast period of 2019-2027.
The rising trend of single serve/unit dose packaging among consumers for products such as shampoo, oil, tea, coffee, sauces, and mouth fresheners, is expected to drive the growth of the market of sachet packaging.
Collectively, Asia Pacific and North America are expected to account for more than 60% revenue share in the sachet packaging industry, by the end of 2027.

Demand for sachet packaging from the personal care & cosmetics industry is expected to propel the growth of the sachet packaging market in the United States, China, and India.

The personal care and cosmetics industry is expected to be the most lucrative end-use market for sachet packaging, followed by the pharmaceutical industry.

Packaging of shampoos and conditioners is a prominent application of single-use sachets, owing to price-sensitive consumers in the developing regions.
Sachet Packaging Market Outlook
The global sachet packaging market is experiencing steady growth, and is expected to remain so throughout the long-term forecast period. As consumers shift towards economical packaging solutions, sachet packaging is becoming highly popular across the food, pharmaceutical, personal care and a host of other end-use applications.
With the coronavirus pandemic looming large, growth prospects are moderately hindered, as production shortfalls led to declining output. This is gradually easing across such domains as food & beverage, pharmaceuticals and personal care. Therefore, demand for sachet packaging across these domains is likely to prevail.
Food suppliers are recognizing the importance of mitigating future pandemic outbreaks of a similar magnitude. This is likely to heighten demand for flexible packaging solutions such as sachets and paperboard in countries such as China, wherein it is alleged that the virus spread from a wholesale meat market in Wuhan.
To implement basic hygiene practices, demand for hand sanitizers has skyrocketed since the pandemic's onset. A majority of these sanitizers are manufactured in packets and sachets, thereby uplifting growth prospects of the global sachet packaging market. Moreover, ease of transporting various foodstuffs across virtual platforms is also expanding growth prospects.
Prominent vendors are continuously developing novel packaging solutions to capture a wide customer base. For example, Amcor Plc developed the world's first recyclable retort flexible packaging solution. This will permit recycling of high-performance packaging for consumer products such as ready-to-eat-meals, baby foods and pre-cooked meals. It shall use the AmLite Heat Flex Solution.
In September 2020, ProAmpac and Metropolitan Tea collaborated to introduce the ProActive Compostable package. This packaging material utilizes an innovative multilayer and high-barrier flexible package manufactured from industrial and home compostable films and adhesive. It is part-and-parcel of the company's ProActive Sustainability suite. The pouch is design to sustain specialty teas using a multilayered structure.
Key Factors Shaping the Sachet Packaging Market
Plastic, the Most-Preferred Material in the Sachet Packaging Market
Despite the intolerance for plastic use, plastic is a widespread material type used for sachet packaging, due to its high acceptance among manufacturers. Usually, PET is used to provide strength by acting as a barrier.
The layer being printable, also plays a key role in brand advertising and promotion, making it the most preferred material choice for sachet manufacturers. Polyethylene is anticipated to be the most used material for sachets owing to its lightweight and high tensile strength as compared to other plastic materials.
Affordability of Sachets Attracting Low-Income Communities
Sachet packaging is very much affordable to manufacturers and consumers as compared to traditional packaging. The developments in sachet packaging machines and materials are creating lucrative opportunities for end users to adopt sachet packaging for their products and to attract low-income communities.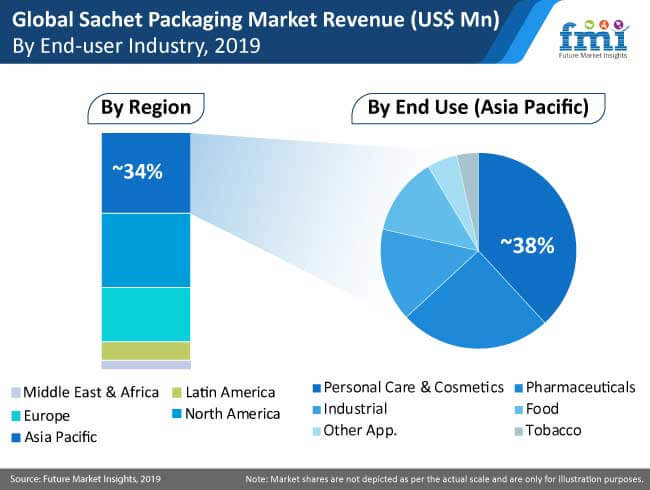 Product Sampling and Promotional Uses Boosting Demand
Sachets are considered to be highly cost-effective solutions for sampling and promotional purposes. During product launches, various brands make small quantities of the product (usually 3 ml – 5ml) and pack them in sachets for consumer trials. Consumers can try the product and then move on to larger pack sizes for bulk usage.
As a result of this, sachets find more penetration in markets as the ideal packaging solution for product sampling. These can be used for sampling of condiments, sauces, seasonings, shampoo, and other healthcare & beauty products.
Manufacturers Eyeing Emerging Economies
Nearly 70% of the world's population makes less than US$ 10 per day. Therefore, brands across the globe see it fit to reduce pack size and quantity to successfully penetrate the markets across all income categories. Provided below are a few examples:-
In Egypt, there is growth in the need to be economical.

Nearly 20% of Egypt's population lives below the poverty line, thereby resulting in reduced consumer spending capacity. As a result, more and more consumers are opting for smaller pack sizes as opposed to larger quantities. Retailers have been quick to capitalize on this trend by adopting sachet packaging strategies, with the personal care sector outdoing other sectors in terms of sachet sales.

In India, Hindustan Unilever Limited (HUL) trains local women as rural sales agents.

By the end of 2015, India had close to 70,000 rural sales agents across over 165,000 Indian villages selling Unilever products to villagers. Unilever replicated the process in India's neighbouring countries with modifications to suit the needs of the locals.

Students in India have recently developed an eco-friendly biodegradable option to conventional sachets.

To curb landfill problems, which arise due to the excessive use of sachets, a new biodegradable sachet has been developed by students of IIT Madras, India. The layers of the new sachet include a cellophane layer, a layer of starch, and polyvinyl alcohol. The new sachet is as light as BOPP bags and once commercialized, promises proper waste disposal.
Sachet Packaging Market Structure Analysis
Amcor Plc, Sealed Air Corporation, and Constantia Flexibles Group GmbH are the leading manufacturers of sachet packaging worldwide.
In 2018, expansion and merger strategy was adopted by key players to expand their business and product portfolio.
Product developments and new product launches in collaboration with personal care and cosmetics industry players are trending in North America and Asia Pacific markets.
Increased adoption of sachet packaging by end users in Brazil, China, India, and Mexico is creating beneficial opportunity for sachet packaging manufacturers.
Sachet Packaging - Increasing the Affordability, for Untapped Markets
Products packed in small-sized packages have long been marketed as a strategy to boost trials before the actual market launch. Over the years, small packs or sachets have emerged as a convenient packaging format, and a number of industries are innovating their sachet packaging strategies. In addition to enabling access to quality products in small amounts that would otherwise be unaffordable to a sizeable consumer population.
These miniaturized packs are further becoming an important delivery device to reach untapped markets, especially low-income countries, where consumers are reluctant to buy expensive products in large-sized packs. As most brands are looking forward to incorporate sustainable initiatives in their business developments, recyclable raw materials for sachet packaging remain a key area of interest.
Sachet Packaging Market - Aligning with 'Buying Less, More Often' Trend
While the rising consumer demand for convenience and 'on-the-go' compatibility of products has been triggering driving the 'miniaturization' trend in packaging, the sachet packaging format has significantly remained confined to food, and cosmetic & personal care products.
The growing inclination of healthcare industry towards unit dosage packaging is however being touted as a promising opportunity to increase the application scope. With a growing sense of individualism, consumers are moving away from bulk purchasing at weekly shops, thereby creating high demand for sachet packaging. In addition to reducing the overall price of products, sachet packaging allows consumers to purchase in limited quantities to suit their needs.
However, growing availability of alternative packaging solutions, such as stick packs or pouches, which are relatively inexpensive, is compelling manufacturers to implement innovative differentiating strategies.
Companies Prefer 'Sachet Marketing' for Micro-selling in Mega-economies
Small packs have been heralded as universally convenient, and are increasingly becoming popular for virtually any application. In an attempt to cater to the evolving demands of modern consumers, FMCG manufacturers are leveraging the growing popularity of 'functional' sachet packaging, which is emerging as one of the biggest trends in industry.
Reduced pack-size has further enabled these brands to penetrate diverse income categories and gain expanded consumer base. A trend of small size packaging is gradually masking the traditional buy in bulk tendency, particularly in low-income countries of Asia Pacific and Middle East & Africa, will remain a key sales booster for sachet packaging market.
The Broader Perspective
Sachets have garnered significant traction over large-size packs that are more prone to spillage and thus, are relatively inconvenient. While scrutiny on the industry-wide use of plastic for packaging continues to influence growth strategies of manufacturers, they are shifting to other, non-plastic, recyclable raw materials, such as aluminum foil
As consumers are becoming more attuned to sustainability, prompting several end-use industries to reduce the use of single-use plastics for packaging, market stakeholders are inclining towards environmentally sound alternatives. The launch of seaweed sachets, which are completely biodegradable in water and soil, points to a new breakthrough development in the sachet packaging market.
How the Growth Will Shape up
A transition from traditional packaging to sachet packaging has created several potential business opportunities for market vendors. As small-sized packs of quality products continue to gather popularity in developing countries, market consolidation in these countries is likely to be a key strategy for higher sales opportunities.
In addition to expanding their product portfolio for personal care & cosmetics industry, market players are tapping into opportunities in pharmaceuticals industry – which profit from sachet packages, as unit dose packaging allows for accurate dosage and thereby reduces product waste.
Sachet Packaging Market- Report Scope
| | |
| --- | --- |
| Attribute | Details |
| Forecast Period | 2014-2018 |
| Historical Data Available for | 2019-2029 |
| Market Analysis | US$ Mn for Value and Mn Units for Volume |
| Key Regions Covered | North America, Latin America, Europe, Asia Pacific and Middle East & Africa |
| Key Countries Covered | U.S., Canada, Brazil, Mexico, Argentina, Germany, Spain, Italy, France, U.K., BENELUX, Nordics, Russia, China, Japan, India, Thailand, Indonesia, GCC, North Africa, South Africa, Turkey and Rest of MEA |
| Key Segments Covered | Pack Size, Material, Packaging Machinery & Application |
| Key Companies Profiled | Glenroy Inc., Amcor Plc, Constantia Flexibles Group GmbH, Huhtamaki Oyj, ProAmpac LLC, AE Adams (Henfield) Ltd., Paharpur 3P, RCP Ranstadt GmbH, Sharp Packaging Services, Sealed Air Corporation, Mondi Plc, Clondalkin Group Holdings B.V., Printpack Inc., Lindopharm GmbH, American Packaging Corporation, Transcontinental Inc., Schur Flexibles Group, Deve-pack, Uflex Ltd. and Amber Packaging Industries LLC. |
| Report Coverage | Market Introduction, Market Overview, Market Analysis, COVID-19 Impact Insights, Segmental Analysis, Regional Profiling and Competitive Landscape |
| Customization & Pricing | |
Key Segment
By Material Type
Plastic

Polyethylene
Polypropylene
PET
Polyamide
Others

Paper
Aluminum Foil
Others
By Pack Size
1 ml - 10 ml
11 ml - 20 ml
21 ml - 30 ml
Above 30 ml
By Packaging Machinery
Vertical Form-fill-seal Machines (VFFS)
Horizontal Form-fill-seal Machines (VFFS)
By Application
Food

Sauces & Jams
Spice & Condiments
Tea & Coffee
Others

Personal Care & Cosmetics

Shampoo & Conditioners
Face packs & Gel
Hair Oil

Pharmaceuticals
Industrial
Sealants & Adhesives
Lubricants & Solvents
Tobacco
Other Applications
By Region
North America
Latin America
Europe
Asia Pacific (APAC)
Middle East & Africa (MEA)
Need specific information?