About the Report
Shrink sleeve label applicators are witnessing growing demand. These are flexible enough to be applied in a variety of industries: personal care, hygiene, pharmaceuticals, agriculture (pesticides, weedicides and fertilizers) as well as food & beverage. Their demand has been further boosted by growing applications in quick-service-restaurants (QSR). The Chinese market is expected to be the most lucrative, given the presence of quick service restaurants (QSRs) franchises, thereby heightening sales prospects for ready-to-consume beverages. A similar trend is being observed across other lucrative markets, such as US, UK, France, Italy, Spain, Japan, and South Korea. Owing to such heightening beverage sales, manufacturers are focusing on innovative product launches, keeping flexibility of labelling machines at their core.
In its recently published report, ESOMAR-certified market research company Future Market Insights (FMI) has done an in-depth analysis of the existing trends for the global shrink sleeve label applicator market. The report highlights the key factors influencing demand and the underlying trends, challenges, and upcoming business opportunities in the next few years in more than twenty countries.
Historical and Future Outlook for Shrink Sleeve Label Applicator Market
Shrink sleeve label applicators are gaining momentum due to their enhanced functionality. They have been lauded for their durability, rendering them highly suitable for labelling tubes, bottles, cartons, boxes and other containers prone to dampness or any outward friction. The market is replete with innovative product launches, as evidenced by Axon's EZ-150L label applicator which was unveiled at Expo Pack way back in 2017.
This was followed by Hardgoods Company's Horizontal Shrink Sleeve Applicator which was launched in 2018. This applicator operates at a super high speed of up to 120 bpm, and is suitable for tube-shaped products such as pens, lipsticks, mascara, etc. Such developments have provided a wide berth for the expansion of the market across the historical period.
The future of the packaging market relies on great branding of products. Marketing has spread frantically worldwide and to cope, products need to be packaged in such a way that they are immediately eye-catching for the masses. The shrink sleeve label applicator is therefore indispensable as a marketing and branding tool as the films of a product's label need to cater to the image of the brand. Thus there is potential for growth for recyclable shrink sleeve label applicator in the packaging market.
How Sustainability Concerns are Pivoting Shrink Sleeve Label Applicators Growth?
Shrink sleeve label applicators have witnessed substantial uptake, especially after the Covid-19 pandemic. Rapidly mushrooming demand for instant foods and beverages resulting from restaurant closures and work from home directives have propelled the need for accurate labelling of packaged food items.
This accelerating demand has naturally augmented the need for faster, efficient and sustainable labelling and packaging solutions, prompting manufacturers to introduce innovative labelling technologies incorporating faster throughput and environmentally friendly packaging material.
Fuji Seal International Inc., a prominent shrink sleeve label manufacturer, published a sustainability report in July 2020, wherein a catalogue of environmental-friendly packaging materials has been provided. These specifically include labels offers higher degree of perforations and low density as well as white PET. The latter is of significant importance as it incorporates UV and light-barrier properties to labels, thereby simplifying the recycling process.
The report further emphasizes on the incorporation of biomass labels, with the objective of reducing carbon dioxide emissions. Such low density and eco-friendly shrink sleeve labels have acquired high ground across the American and European markets respectively, leading to prolific growth prospects for the upcoming forecast period.
Innovative Technologies to Deepen Market Penetration
Cutting-edge technological advancements in the shrink sleeve label applicators landscape are helping widen expansion prospects for the forthcoming decade. Rising demand for minimal downtime and maximum output has prompted packaging giants to incorporate faster solutions incorporating advanced technologies such as NFCs and digital printing.
Such technology is usually very efficient and flexible so as to be more versatile in use. In addition, increasing product piracy has provided room for innovative and forgery proof packaging. The past two decades have witnessed an alarming rise in availability of counterfeit products, especially across the pharmaceuticals and food & beverages segments.
Hence, a combination of first opening protection and track & trace technologies with optical security features are becoming commonplace. This has provided various packaging start-ups to enter the fray by introducing multiple mechanisms for precision based packaging. For instance, U.S-based Lighting Technologies offers the Lighting Pallet, which relies on precision-based IoT technology to facilitate tracking and monitoring.
On a similar plane, Linksmart Technologies utilizes non-clonable NFC tags to provide an affordable tracking solution which utilizes radio frequencies and vision technologies, enabling companies to trace defective original products and differentiate them from defective fake products.
What are the Key Challenges for Shrink Sleeve Applicator Manufacturers?
In a world that is growing more self-aware environmentally due to social media activism, it is difficult to keep using those goods that could potentially harm the environment. A major concern plaguing manufacturers is the limited degree of recyclability of shrink sleeve labels. The film is composed of such materials as polymer which makes it a hazardous waste for the environment.
Furthermore, there are certain technologies that are acting as potential rivals to the market. It is difficult for the players of the shrink sleeve label applicator market to keep up with upcoming technologies that promise to directly label the container instead of depending upon a film. This technology eliminates the possibility of environmental pollution and thus acts as a potential threat. Additionally, the use of replacement of containers with pouches which use lesser plastic in the production is preferable in the market.
The function of the label was to be catchy enough to attract consumers. This functionality is however being replaced by businesses shifting to electronic commerce platforms. Ecommerce may or may not affect the need for shrink sleeve label applicators as companies still need the power of marketing and branding for lead generation online.
Country-wise Analysis
Why is China an Lucrative Market for Shrink Sleeve Applicator Manufacturers?
China is the largest consumer of shrink sleeve label applicators. With a CAGR of 5.9% it provides lucrative business opportunities for key manufacturers. This is because China is a manufacturer of goods at low prices. It frequently relies on cost effective packaging, burgeoning the need for rapid labelling mechanisms.
Maximum opportunities abound across the food & beverages industry. As per the China Chain Store & Franchise Association, the Chinese food & beverage sector stood at approximately US$ 595 billion as of 2019, representing an almost 8% increase compared to 2018. This is largely credited to the emergence of quick service restaurants (QSRs), widening the berth for leisure drink sales.
Amongst all categories, prospects appear most promising in the bakeries and desserts segments, especially across Tier-3 and Tier-4 cities respectively. In addition, rising emphasis on health-based foods is also catapulting healthy growth. Most of these sales are occurring through e-commerce channels, with estimates predicting over eight of ten online health food sales. Hence, the demand for precision based labelling is increasing, paving way for the entry of prominent shrink sleeve label applicator providers.
Why Consolidation across Germany is Key?
Germany is the most lucrative market for shrink sleeve label applicator packaging in Europe, exhibiting a positive 5.0% of CAGR across the historical period. Growth is underpinned by rising sustainability concerns amongst manufacturers and consumers alike. Even today, Germany accounts for a significant proportion of packaging waste across Europe.
According to the Federal Environment Agency, almost 19 million tons of packaging waste (226.5 kilograms per capita) was generated as of 2017, with private consumers contributing almost 50% of the total volume. Hence, an uptick of recyclable alternatives has widened the scope of shrink sleeve label applicators in recent years.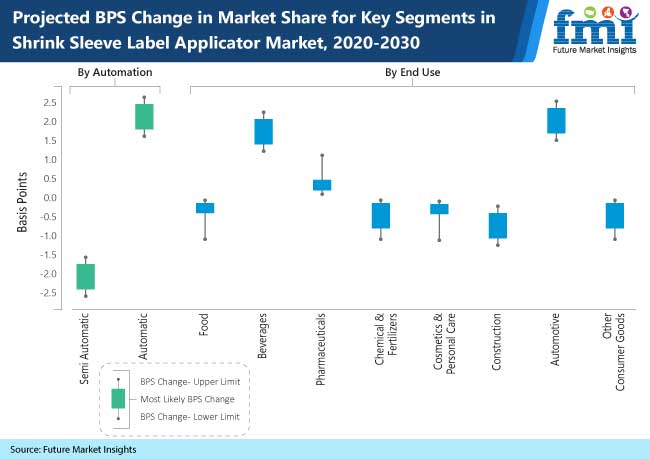 Over three-fifths of all food packaging incorporates plastic as the primary material, thus necessitating the incorporation of sustainable material and generating white spaces for shrink sleeve labels. Players such as ILLERT GmbH & Co. KG, FRANZ KASBAUER LOHNVERPACKUNG GmbH, bits-to-dots GmbH & Co. KG, bx-pack GmbH and Transparent Packaging Weber GmbH are some prominent manufacturers.
How Packaging Regulations are Widening Prospects in US Shrink Sleeve Label Applicator Market?
In North America, the United States of America has shown the most growth, followed by Canada. The US has had a CAGR of 2.6% as of now and can expand considerably. The US has a steadily growing packaged goods industry that requires automated services for packaging.
A series of federal packaging regulations are enhancing expansion prospects for shrink sleeve label applicator manufacturers. Under the Federal Food, Drug and Cosmetic Act, the FDA assumes responsibility for ensuring that no packaging materials contaminate food, as well as determine if new materials are safe. Also, the Fair Packaging and Labelling Act, 1967, directs the Federal Trade Commission to formulate regulations requiring consumer product manufacturers to disclose net contents, identity and name and place of business of the manufacturer.
Based on these aforementioned regulations, packaging manufacturers are emphasizing on proper labelling and information provision of key commodities, particularly the pharmaceuticals and food & beverage sectors respectively, leading to an upward curve of the shrink sleeve label applicator market growth trajectory.
U.K. to Emerge as an Important Shrink Sleeve Label Applicator Hub
The U.K is expected to emerge as an important shrink sleeve label application region in the forthcoming years. Existing packaging frameworks, especially the Food Information Regulations 2014, enforce provisions of the EU law which endorse food labelling to ensure honest representation of food and provide consistency for the industry and consumers.
According to the law, certain food categories have 'reserved descriptions' for items containing a certain ingredient composition. For instance, a product labelled 'beef burger' must consist of at least 62% beef, while an 'economy beef burger' must contain at least 47% beef. Such regulations are calling for more precision-based packaging labelling solutions, widening growth prospects.
Growth dynamics are expected to be substantially impacted due to Brexit, a decision which is likely to alter the country's industry dynamics to a very large extent. While the basic regulations are expected to remain largely unaltered, certain specifications may change as the country relinquishes its collective EU identity. Concerns over toughening trade regulations may compel the government to revise its regulatory framework, prompting them to issue more specific labelling standards.
Category Wise Insights
End-Use: End-users are shifting towards semi-automatic rather than the automated label applicators. Companies want to save time and there has been a distinct shift towards fast paced packaging. In 2020, most companies chose above 600 BPM as their labelling speed. The container diameter with 50 to 100 mm is the most likely to profit over the forecast period. Amongst end-use industries, beverages have been investing most in the shrink sleeve label applicator packaging. Asia Pacific has shown the most growth in the last ten years and is only slated to grow over the forecast.
Labelling Speed: The labelling speed is a key determinant of the shrink sleeve label applicator packaging. Manufacturers are depending upon the quick packaging strategies and hence, this is a feature that most have been looking for in a packaging label. While 400 to 600 BPM and speed above 600 BPM has been the most lucrative, labelling speeds over 600 BPM will gain traction in the future, showing a CAGR of 5.6%. Innovation in speed is a key driver of the shrink sleeve label applicator packaging market.
Automation: The packaging industry is moving from labor intensive industry to mechanization. Hence, automation is an important feature of the shrink sleeve label applicator. Report shows that the automatic shrink sleeve label applicator shows a CAGR of 4.7% which is indicative of growth in the sector.
Competitive Landscape
With the increasing preference of manufacturers towards promotion and branding of the packaged product, there are expectations of massive rise in demand for packaging machinery such as shrink sleeve label applicators.
Coupled with that is the rising urbanization and growth in population, both of which are projected to massively contribute to the market's growth. In order to ensure high market acceptance, the design must be tactile (easy to handle) and also incur low maintenance expenditures.
These parameters are achieved by shrink sleeve label applicators. Suffice to say, the future for the growth of the worldwide market for global shrink sleeve label applicator is projected to remain positive, during the forecast period.
In June 2017, Axon, LLC their customers in Latin America to a new iteration of shrink sleeve applicator which was specifically intended for manufacturers who wanted to increase its operating efficiency as well as its production capability through dependable automation.
Combined with Axon's Thermo Flow shrink tunnel, the EZ-150SL provides intriguing and attractive labels with a capacity up to 150 cans / bottles per minute. Axon also highlighted overall equipment effectiveness (OEE) solutions remote technical support.
Prominent manufacturers in the shrink sleeve label applicator market are as follows:
Fuji Seal International, Inc.
Krones
KARALILLE
FINPAC
DASE-SING
XYP
Esleeve
Pack Leader
King Hong
DELMAX MACHINERY
Benison
MAGIC SPECIAL PURPOSE MACHINERIES PVT. LTD.
Maharshi
PDC
Sleever international
Axon
Label-Aire, Inc.,
Sleeve Technology
Scaligera
Accraply
Tripack.
Shrink Sleeve Label Applicator Market- Report Scope
| | |
| --- | --- |
| Attribute | Details |
| Forecast Period | 2020-2030 |
| Historical Data Available for | 2015-2019 |
| Market Analysis | US$ Mn for Value & Units for Volume |
| Key Regions Covered | North America, Latin America, Europe, Middle East & Africa, East Asia, South Asia & Oceania |
| Key Countries Covered | United States, Canada, Brazil, Mexico, Germany, Italy, Russia, U.K., France, GCC Countries, Turkey, South Africa, China, Japan, India, Indonesia, Vietnam and Australia |
| Key Segments Covered | Automation, Container Diameter, Labelling Speed & End-Use Industry |
| Key Companies Profiled | Fuji Seal International, Inc., Krones, KARALILLE, FINPAC, DASE-SING, XYP, Esleeve, Pack Leader, King Hong, DELMAX MACHINERY, Benison, MAGIC SPECIAL PURPOSE MACHINERIES PVT. LTD., Maharshi, PDC, Sleever international, Axon, Label-Aire, Inc., Sleeve Technology, Scaligera, Accraply, and Tripack. |
| Report Coverage | Market Overview, Key Market Trends, Demand Analysis, Market Background, Segmental Analysis, Regional Profiling, Market Structure Analysis & Competition Analysis |
| Customization & Pricing | |
Key Questions answered by this report
What is the outlook on shrink sleeve label applicator market?

The shrink sleeve label applicator market is projected to grow at a rate of 4.4%. Growing demand for innovative packaging solutions, especially, in the food and beverage industry, is likely to create substantial opportunities for market players.

Which is the largest market for shrink sleeve label applicator?

The food and beverage industry continues to be a lucrative market, owing to its relentless need for product packaging. The beverage industry holds the maximum shares of the shrink sleeve label applicator packaging.

Which are the top companies in the shrink sleeve label applicator market?

The list of top companies in this market comprise American Film & Machinery, Axon, LLC., Shanghai Keno Industrial Co., Ltd., Pack Leader USA, LLC., Shanghai Leadworld Machinery Technology Co., Ltd., MPI Label Systems, Inc., Multi Pack Machinery Company, , Maurti Machines Pvt. Ltd., PDC, Maharshi International and more.

What are the key challenges witnessed in the shrink sleeve label applicator market?

The shrink sleeve label applicator has a few drawbacks which have always proven to be challenging, the fact that's it's not friendly to the environment doesn't help. Social activism and innovative technology are proving to be obstacles.
Key Segments
Automation
Labelling Speed
Up to 200 BPM
200-400 BPM
400-600 BPM
Above 600 BPM
Container Diameter
Up to 50 mm
50 to 100 mm
100 to 150 mm
Above 150 mm
End-Use Industry
Food
Beverages
Pharmaceuticals
Automotive
Construction
Chemical & Fertilizers
Cosmetics & Personal Care
Other Consumer Goods
Region
North America
Latin America
Europe
South Asia
East Asia
Oceania
Middle East & Africa
Need specific information?