This Shrink Sleeve Label Applicator market study offers a comprehensive analysis of the business models, key strategies, and respective market shares of some of the most prominent players in this landscape. Along with an in-depth commentary on the key influencing factors, market statistics in terms of revenues, segment-wise data, region-wise data, and country-wise data are offered in the full study. This study is one of the most comprehensive documentation that captures all the facets of the evolving Shrink Sleeve Label Applicator market.
Shrink Sleeve Label Applicator – A historical analysis
Label applicator is a mechanical equipment that allows to apply labels on the packaged products. Label applicators are broadly used to apply labels to the bottle, box, tubs, pallets, containers and other packages. Shrink sleeves labels are durable in nature and thus form an ideal labeling solution for goods that are exposed to moisture or friction. Hence, over the years, shrink sleeve label applicators have been getting traction in the packaging machinery market as a result of its add-on benefits such as versatile applications, easy to control, faster applying speeds with minimized downtime, etc. The shrink sleeve label applicators accomplish the obligation of the authentication and safety and are available in numerous configurations based on the labelling technology needed to implant the labels. A brilliantly designed, simple to use and highly efficient shrink sleeve label applicators when used by brand owners can further deliver quality labelling solutions that can appeal to customers; thus generating a good impression on them. The shrink sleeve label applicator market broadly serves the end use industries such as food & beverage, home & personal care, pharmaceuticals and other varied industries which in turn is projected to boost the growth of the global shrink sleeve labels applicator market. Also, since shrink sleeve label applicator are an improvement upon conventional labels applicators, they can largely be used for labelling numerous rigid packaging formats. This provides them a significant edge over their conventional counterparts.
Market Growth Analysis
Disclaimer: This data is only a representation. Actual data may vary and will be available in the report.
Need granular data and specific insights that are hard to get?
Global shrink sleeve label applicator market: Segmentation
The global shrink sleeve label applicator market has been segmented as follows –
*The pricing for shrink sleeve label applicator has been captured on the basis of technology type.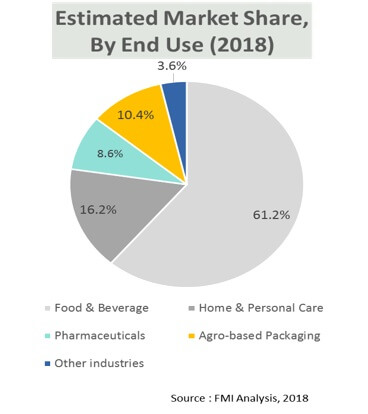 Global shrink sleeve label applicator market: Key Players
Some of the key players operating in the global shrink sleeve label applicator market are – Axon, LLC., Pack Leader USA, LLC., MPI Label Systems, Inc., American Film & Machinery, Quadrel Labeling Systems, Professional Packaging Systems, Inc., Shanghai Keno Industrial Co., Ltd., Multi Pack Machinery Company, Shanghai Leadworld Machinery Technology Co., Ltd., Maurti Machines Pvt. Ltd., among others.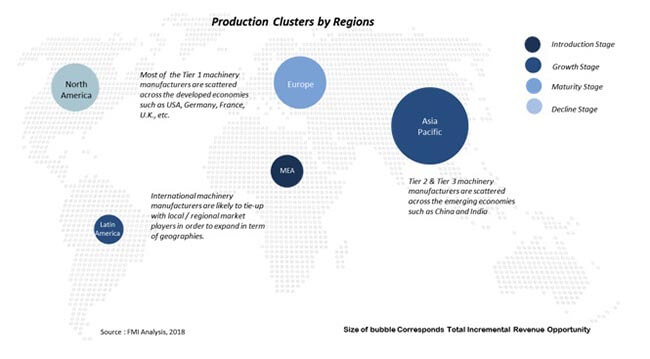 The global shrink sleeve label applicator market has evolved on the backdrop of new product innovations, and is expected to continue to grow in the same way, during the forecast period.
Future Prospects
Increasing preference of manufacturers towards branding and promotion of the packaged product is expected to lead to upsurge in demand for packaging machinery such as shrink sleeve label applicators. Rising urbanization coupled with population growth is also expected to contribute substantially to the market's growth. For high market acceptance, the design has to be easy to handle and also incurs low maintenance cost and both this clauses are satisfied by shrink sleeve label applicators. Thus, the outlook for the growth of the global shrink sleeve label applicator market is projected to stay positive, during the forecast period.
The research report presents a comprehensive assessment of the market and contains thoughtful insights, facts, historical data, and statistically supported and industry-validated market data. It also contains projections using a suitable set of assumptions and methodologies. The research report provides analysis and information according to market segments such as geographies, application, and industry.
The report is a compilation of first-hand information, qualitative and quantitative assessment by industry analysts, inputs from industry experts and industry participants across the value chain. The report provides in-depth analysis of parent market trends, macro-economic indicators and governing factors along with market attractiveness as per segments. The report also maps the qualitative impact of various market factors on market segments and geographies.
NOTE - All statements of fact, opinion, or analysis expressed in reports are those of the respective analysts. They do not necessarily reflect formal positions or views of Future Market Insights.
Unique Requirements? Customize this Report
Customize by Region, Country, Application, Product, & other segments
Integrate our Insights with your Existing Data
Determine the scope of the study to suit your requirements
Gain Insights on Key Shrink Sleeve Label Applicator Market Impacting Forces
Know the Winning Strategies of Market Leaders
Get Deep-Dive Analysis on Each Segment
Identify the Sources that will Drive Top-Line Revenue
On the basis of technology, the global shrink sleeve label applicator market has been segmented as –
Hand-held label applicators
Manual label applicator
Semi-automatic label applicator
Automatic label applicator
On the basis of container diameter, the global shrink sleeve label applicator market has been segmented as –
Less than Ø25mm
Ø25mm – Ø75mm
Ø75mm – Ø125mm
Above Ø125mm
On the basis of label material, the global shrink sleeve label applicator market has been segmented as –
Polyvinyl chloride (PVC)
Polyethylene terephthalate (PET)
Oriented Polystyrene (OPS)
Others
On the basis of end use industry, the global shrink sleeve label applicator market has been segmented as –
Food & beverage
Home & Personal Care
Pharmaceuticals
Agriculture based packaging
Other industries
Shrink sleeve label applicator find a wide range of applications in the food & beverage as well as pharmaceutical industry, especially for labelling bottles such as water bottles, medicine bottles, beer bottles, etc. Moreover, the home & personal care, comprising the hygiene & toiletries segment account for significant share of the global shrink sleeve label applicator market, by end use. Shrink sleeve label applicator are also used in labelling of agricultural fertilizers & pesticides, etc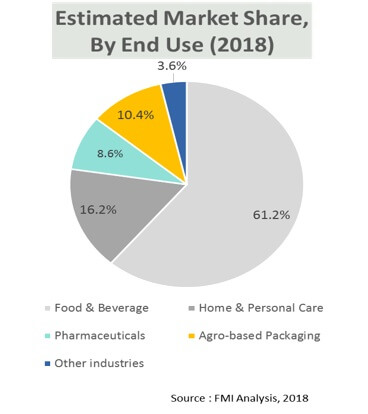 Some of the companies which provide the raw materials / films for the production of labels are - E.I. du Pont de Nemours and Company, Exxon Mobil Corporation, Huntsman International LLC., and Plantic Technologies Ltd., among others.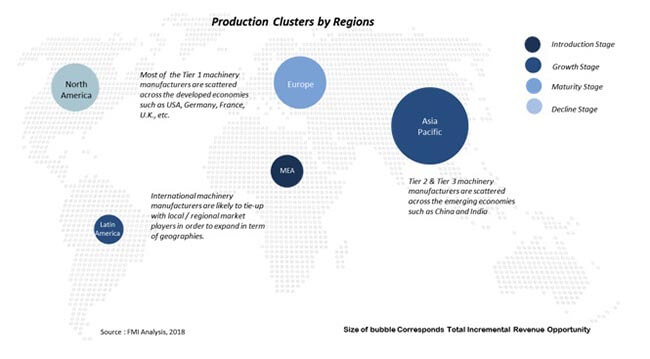 Key Product Launches
In June 2017, Axon, LLC introduced packagers in Latin America to a new range of shrink sleeve applicator – specially intended for those manufacturers who were looking to increase its production capacity as well as operating efficiency through rugged and dependable automation. In combination with Axon's Thermo Flow shrink tunnel, the EZ-150SL applies eye-catching and vibrant labels with a capacity up to 150 cans / bottles per minute. Representatives from Axon also highlights remote technical support and overall equipment effectiveness (OEE) solutions.
The report covers exhaust analysis on:
Market Segments
Market Dynamics
Market Size
Supply & Demand
Current Trends/Issues/Challenges
Competition & Companies involved
Technology
Value Chain
Regional analysis includes:
North America (U.S., Canada)
Latin America (Mexico. Brazil)
Western Europe (Germany, Italy, France, U.K, Spain)
Eastern Europe (Poland, Russia)
Asia Pacific (China, India, ASEAN, Australia & New Zealand)
Japan
Middle East and Africa (GCC Countries, S. Africa, Northern Africa)
Report Highlights:
Detailed overview of parent market
Changing market dynamics in the industry
In-depth market segmentation
Historical, current, and projected market size in terms of volume and value
Recent industry trends and developments
Competitive landscape
Strategies of key players and products offered
Potential and niche segments, geographical regions exhibiting promising growth
A neutral perspective on market performance
Must-have information for market players to sustain and enhance their market footprint
Frequently Asked Questions
---
Why choose FMI?
With a global presence and a trusted partner to several Fortune 500 firms, FMI covers 1 billion+ data points to build a diversified portfolio for market benchmarking
Market Reports researched and peer reviewed by industry experts from across the globe
We follow a multi-dimensional method of analysis monitoring a three-layer data validation process
In addition to demand-side market assessment, our data triangulation methodology involves supply-side research
Primary research includes mandatory field interviews with stakeholders involved
Customizing reports according to client specification is also our forte
What will you discover from Shrink Sleeve Label Applicator Market report?
The current and future market size, covering each aspect and nuanced trends across key national and geographic markets
An overview of the market report, providing an imperative visual of the varied market subdivisions and overall forecast statistics in terms of value and volume
Extensive database and key dynamics elevating the market with varied verticals associated
Underlying Shrink Sleeve Label Applicator Market forces that are compelling consumers or businesses to purchase the product
How novel technologies and consumer-centric innovations will create new value-adding opportunities for companies active in the Shrink Sleeve Label Applicator Market
What will be environment and regulatory impacts on the market over the next decade
Which framework has been used to develop the Shrink Sleeve Label Applicator Market report?
Investment Feasibility Matrix - It shows returns on investment, level of competition, success rate of investment, and potential risks associated with the market. The analysis shows that the competition is high in the established market, while the returns for short-term investment are also taken into consideration
Relative Maturity Mapping – The relative maturity is measured according to three growth phases (growth, maturity, decline)
Relative PLC (Product Life Cycle) – Analysis of the emergence of prominent players and competitive test prices which are driving factors behind every market. (expected market behavior, observed market behavior, expected market performance, observed market performance)
Akshay Godge
Client Partner - Global Business Development