About the Report
[229 Pages Report] The rising prevalence of sleep deprivation disorders such as obstructive sleep apnea (OSA), a severe sleep disorder that may increase the risk of fatal accidents or other health-related complications caused due to disturbed sleep, has necessitated innovation in Sleep Apnea Implants. Consequences of sleepiness and sleep deprivation are common among people who are shift workers and have headed to several sleep-related disorders. Problems such as OSA, insomnia, jet lag narcolepsy, and sleepwalking are a few of the sleep-related disorders which remain undiagnosed. For instance, according to a study published in the National Institutes of Health journal, around 30% of the adult U.S. population suffer from insomnia and 10% from chronic
A large pool of the population affected by sleep apnea have become more awareness about these disorders and other related ailments. The increasing prevalence of sleep disorders has led to expansion in hospitals and other care centers in various areas, with the establishment of separate divisions dealing with sleep disorders. These sleep centers have increased awareness on tracking sleep patterns for better sleep. Sleep-related awareness is consistently contributing to the increase in the diagnosis rate of sleep disorders. This is expected to drive the sleep apnea implants market.
In its new study, ESOMAR-certified market research and consulting firm Future Market Insights (FMI) offers insights about key factors driving the demand for sleep apnea implants. The report tracks the global sales of sleep apnea implants in 20+ high-growth markets, along with analyzing the impact COVID-19 has had on the medical device industry in general, and sleep apnea implants in particular.
What is the Future Outlook for Sleep Apnea Implants Market in Comparison to Historical Growth?
OSA is a progressive disorder affecting more than 200 million people worldwide. According to a study in Lancet, 936 million (95% CI 903–970) adults aged 30–69 years (men and women) were suffering from mild to severe OSA globally. The highest number of affected cases were found in China, followed by the USA, Brazil, and India in 2019.
According to FMI's analysis, sales of sleep apnea implants have grown at a 19.0% CAGR between 2015 and 2019. Sleep apnea implants have become a potential tool improving airflow and reducing sleep apnea in patients suffering from a sleep disorder. Hypoglossal neurostimulation devices have gained popularity based on their efficacy as compared to other products.
The COVID-19 pandemic has significantly affected medical practices, resulting in a decrease in surgical procedures and therapies across the world. Nonetheless, FMI expects the global sleep apnea implants market to grow at a 17.3% CAGR through 2031.
What are the Opportunities in the Sleep Apnea Implants Market?
Manufacturers are actively focusing on research and development to innovate advanced devices that meet the customers' demand and are likely to gain popularity with high revenue share in the competitive market. Advancements in sleep apnea devices include sleep trackers that track sleep patterns based on movement monitoring and also monitor the heart rate. For example, many companies are developing wearables that go on your wrist or finger while sleeping and collect data about the movement and heart rate, while some also track breathing patterns.
Furthermore, developing countries, such as China and India, have a relatively large population base and the incidence of sleep-related disorders such as insomnia and sleep apnea is comparatively higher than that in other countries. Sleep-related disorders are a serious issue in China and India, which is an opportunity for the leading manufacturers to expand their business in the region and increase their market share. Thus, the rising prevalence of sleep-related disorders is expected to offer robust opportunities for the manufacturers in the sleep apnea implants market.
What is the Impact of Government and Non-governmental Initiatives on Sleep Apnea Implants Sales?
Various government and non-government organizations such as Circadian Sleep Disorders Network and the American Sleep Apnea Association (ASAA) conduct sleep awareness programs regarding the importance of ample sleep and usage of sleep apnea devices. These organizations are launching several awareness programs to educate people about sleep hygiene and technological aid to get better sleep. For example, Sleep Awareness Week was celebrated by the National Sleep Foundation with the theme "Begin with Sleep Moreover" in March 2018.
Various organizations are improving their services to offer greater customer satisfaction. For instance, the American Sleep Association is an organization dedicated to improving public health by increasing awareness about the importance of sleep and the dangers of sleep disorders. Furthermore, government approval is expected to propel the sleep apnea implants market growth.
Due to an increase in the need for assessment of OSA breathe in peripheral artery disease and limb ischemia, many manufacturers seek 510(k) Premarket Notification from the U.S. Food and Drug Administration ("FDA") which demonstrates the device to be safe and effective, equivalent to a legally marketed device. For example, in May 2019, Siesta Medical, Inc. (Private) announced FDA clearance for expanded indications for its Encore™ Tongue Suspension System for the treatment of obstructive sleep apnea.
Additionally, implementing government guidelines for prescription reformation attracts end-users, which is expected to boost the demand for sleep apnea implants. For instance, in February 2021, the FDA authorized the marketing of eXciteOSA® (Signifier Medical Technologies), a new prescription intended to reduce sleep snoring and OSA in patients 18 years and older.
What are Factors Impeding Sleep Apnea Implants Sales?
Continuous positive airway pressure (CPAP) is the most popular technology adopted for the assessment of sleep deprivation-associated disorders. CPAP devices come in different price ranges depending upon the number of features. The high upfront cost can have a negative impact on the end users' decision to purchase sleep apnea implants.
Some of the most effective sleep disorder treatments are quite expensive. As a general rule, the surgery associated with the placement of the Inspire hypoglossal nerve stimulator may cost $30,000 to $40,000 (with the device itself costing about $20,000 of this total). Thus, high cost of the technology as well as the treatment are the major factor expected to hamper the market growth.
What is the impact of COVID-19 on the Sleep Apnea Implants Market?
The COVID-19 pandemic caused a huge disturbance in almost every sector across the world. The pandemic is expected to continue to adversely impact the revenue due to decrease and delays in the number of sleep apnea therapy procedures performed and patients screened for eligibility for therapy. Beginning in the second week of March 2020, essentially all of the scheduled therapy procedures were postponed and numerous other authorized cases were unable to be scheduled. The widespread halt in elective surgical procedures continued.
During the period in which surgical procedures were significantly limited, Inspire identified and implemented innovative solutions to support patients, as well as educating patients with sleep apnea, attracting patients to reach out to learn more about the therapy and get connected to a healthcare provider. Many companies are supporting this interaction through the use of several virtual tools, such as the new Inspire Sleep app, and other online tools.
Country-wise Insights
How Large is the Opportunity in the US?
The healthcare system of the U.S. is highly renowned for its well-developed infrastructure and high expenditure. The care regimes in the care centers and hospitals are covered by regulatory rules and insurance policies. The massive hospital bills incurred other than Medicare escalate the market in the country.
The U.S. government and regulatory bodies are actively adopting several cost-containment plans to reduce their healthcare burden. The shift from a volume-based to a value-based system is majorly driven by the various measures undertaken by providers, governments, biotechnology companies, and insurance payers. Some of the measures are outcome-based profits, pricing, risk-sharing, competitive tendering, and price control.
A value-based healthcare system will not only provide improved outcomes through integrated care pathways, but also levy pricing pressure on medical device companies, and this is likely to impact investments in the R&D of advanced medical treatment technologies. In June 2020, the IDE trial was approved by FDA, with the first US and international implants.
Furthermore, due to the high prevalence of sleep disorders in the U.S., the government as well as non-government organizations are conducting campaigns to raise general awareness among people suffering from these diseases. This is likely to support the overall market growth in the country.
Why is Innovation the Key to Succeed in the German Medical Device Market?
The Federal Statistical Office has reported that healthcare spending in Germany rose by 4% in 2018 from 2017. In 2018, the country's healthcare spending accounted for 11.7% of the GDP. Furthermore, health expenditure was expected to surge to 407.4 billion euros by 2019, presenting a lucrative landscape for the expansion of sleep apnea implants sales.
Also, the presence of domestic players such as Carl Martin GmbH is supporting the expansion in Germany. The company has been investing significantly in expansion efforts.
Since 2009, health insurance has been made mandatory for all citizens of the country. According to NCBI, a total of 70 million people, which roughly covers 85% of the population, are covered by statutory health insurance. Another 11% of the population of Germany is covered by substitutive private health insurance. Conducive reimbursement policies and regulatory scenario are presenting attractive growth opportunities.
Rising Disposable Income in China to Create a Surge
Increasing disposable income can have a significant impact on the development of the economy in emerging countries, which results in the affordability of proper healthcare treatments. China's per capita disposable income reached about 4,961 U.S. dollars in 2020, more than double that in 2010. The potential for high healthcare insurance and rising disposable income will contribute to increasing affordability of healthcare services and also accessibility to expensive equipment for the treatment of diseases. The market in China is expected to witness significant growth at a CAGR of around 19.6% during the forecast period.
What are the Restraints that GCC Countries Face in Sleep Apnea Implants?
Lack of awareness about complete sleep and related disorders and lack of treatment or low adoption of therapy due to high cost raises the prevalence of sleep disorders in GCC Countries. Due to limited campaigning and assessment of the undiagnosed disorders, there seems to occur less usage of these devices in hospitals in GCC Countries. Moreover, poor healthcare facilities in some countries restrain the growth of the sleep apnea implants market. Due to financial burdens, governments fail to provide proper treatment and are unable to facilitate campaigns to create awareness among the population, which may impact the usage of advanced devices. The market in GCC Countries is expected to witness sluggish growth at a CAGR of just around 21%.
Category-wise Insights
What's the Market Share of OSA?
The OSA segment will continue to grow and dominate the market during the forecast period. According to FMI, the segment is expected to hold more than 90% of the market share, in terms of indication, by the end of 2031. OSA is the most common sleep-related breathing disorder and is characterized by recurrent episodes of complete or partial obstruction of the upper airway leading to reduced or absent breathing during sleep. The rising prevalence of OSA across the global population leads to a spike in share for the OSA segment in the market.
Why Hypoglossal Neurostimulation Devices Dominated The Sleep Apnea Implants Market?
Hypoglossal Neurostimulation Devices hold the highest share in the sleep apnea implants market. Hypoglossal Neurostimulation Devices is meant to treat pharyngeal tone and stimulates genioglossus protrusion to the open airway by the tongue during sleep. These devices reduce the risk for severe dysphagia and throat pain that witnessed by a surge in the demand for the device in the market.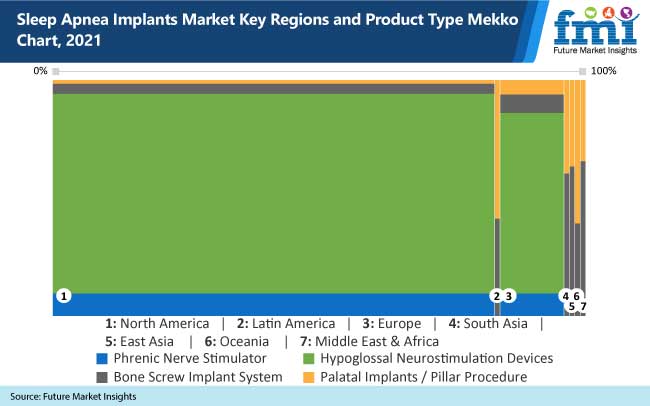 How Are Hospital Influencing Sleep Apnea Implants Sales?
The hospital segment is expected to dominate the sleep apnea implants market through the forecast period. Higher footfall of sleep apnea patients in hospitals will seal their position as the dominant end user.
Competitive Landscape
Some of the leading companies operating in the sleep apnea implants market are aiming to invest in the market to expand their offering and business profile across the countries. For instance, in April 2021, a subsidiary of Asahi Kasei Company, ZOLL Medical Corporation, acquired Respicardia, Inc. to combine its cardiac and respiratory care expertise with Respicardia's novel remed?® system to make a meaningful difference in the health and quality of life for many patients.
Various companies are entering into strategic collaborations and acquisitions with the leading pharmaceutical companies to address the requirements of an expanding patient pool. Most of the players are focusing on innovations, developments, product launches and regulatory approvals to increase sales of sleep apnea implants worldwide. For instance, in March 2021, Inspire Medical Systems, Inc. received FDA approval for their improved surgical implant procedure for Inspire Upper Airway Therapy for OSA. The newly approved procedure eliminates one incision with a revised placement of the pressure sensing lead - and reduces the average procedure time for Inspire therapy by approximately 20%.
Some of the leading companies operating in the market are:
Inspire Medical Systems
Respicardia, Inc.
Medtronic Plc
LinguaFlex LLC
Siesta Medical, Inc.
Pillar Palatal LLC/ The Snoring Center
Nyxoah SA
LivaNova/ImThera
*The list is not exhaustive, and only for representational purposes. Full competitive intelligence with SWOT analysis available in the report.
Scope of the Report
Attribute

Details

Forecast Period

2021-2031

Historical Data Available for

2016-2020

Market Analysis

Volume (Units), Pricing Analysis, USD Million for Value

Key Countries Covered

US, Canada, Germany, Brazil, U.K., Germany, France, Spain, Italy, China, Japan, India, Indonesia, Australia, GCC Countries

Key Segments Covered

Product Type, Indication, End User, and Region

Key Companies Profiled

Inspire Medical Systems
Respicardia, Inc.
Medtronic Plc
LinguaFlex LLC
Siesta Medical, Inc.
Pillar Palatal LLC / The Snoring Center
Nyxoah SA
LivaNova/ImThera

Report Coverage

Market Forecast, Competition Intelligence, DROT Analysis, Market Dynamics and Challenges, Strategic Growth Initiatives

Customization & Pricing
Key Questions Answered in the Report
Which is the most lucrative market for sleep apnea implants?

The U.S. currently leads the global market for sleep apnea implants owing to the presence of well-developed healthcare facilities and some of the leading leading players in the country. Sales in the U.S. will account for over 95% of total global demand throughout the forecast period

Which is the top-selling sleep apnea implant?

Hypoglossal neurostimulation devices are dominating the market as compared to other sleep apnea implant products owing to being an advanced, minimally invasive solution and an entirely different approach to treat OSA.

Which are some of the leading companies offering sleep apnea implants?

Some of the leading companies offering sleep apnea implants are Inspire Medical Systems, Respicardia, Inc., Medtronic Plc, LinguaFlex LLC, Siesta Medical, Inc., Pillar Palatal LLC/The Snoring Center, Nyxoah SA, LivaNova/ImThera, and others.

Who is the leading end user of sleep apnea implants?

Hospitals are leading the end-user segment of the sleep apnea implants market, owing to their advanced medical facilities and higher flow of patients for diagnosis and treatment.
World's Most Profilic Intelligence Engine
Get Access To The World's Largest Market Research Database. Ngage with a revolutionary intelligence engine that scale and pricing that flexes as per your needs
Sign Up Now
Sleep Apnea Implants Market by Category
Product
Phrenic Nerve Stimulator
Hypoglossal Neurostimulation Devices
Bone Screw Implant System
Flexible Tongue Retractor System
Palatal Implants/Pillar Procedure
Indication
Central Sleep Apnea
Obstructive Sleep Apnea (OSA)
End User
Hospitals
Ambulatory Surgical Centers
Office Based Clinics
Region
North America
Latin America
Europe
East Asia
South Asia
The Middle East and Africa (MEA)
Oceania
Need specific information?