Sleep Apnea Implants Market Hit US$ 100 Mn Mark in 2019
In recent times, technology has advanced in every aspect of life, and is set to transform the sleep experience in particular. A growing body of research and increased public awareness around sleep apnea and impact of sleep deprivation on the brain and the body have put sleep at the foremost in everyone's mind. In turn, demand for sleep apnea implants is witnessing a notable spike, with sales value crossing US$ 100 Mn in 2019. While the market is at nascent stage, a wide range of products are being introduced to resolve common sleep problems and enhance the experience.
Frequently Asked Questions about Sleep Apnea Implants Market
What are the current trends contributing to the growth of the sleep apnea implants market?
Portfolio expansion through acquisition and mergers, new product development and customer-centric approach are the major trends contributing to the market growth. Increasing rejection rate of CPAP devices is expected to significantly benefit the sleep apnea implants market.
What are the strategies of new entrants in the sleep apnea implants market?
New launches focusing on cost-effectiveness of bone screw implant system, pillar procedure for sleep disorder treatments and extended service life of therapeutic devices are the focal points of new market entrants. These entrants are also working on effective pricing strategy utilizing price point analysis. 
Which application segment is leading the sleep apnea implants market?
By application, sleep apnea implants are gaining traction for the treatment of obstructive sleep apnea (OSA) and central sleep apnea. This is due to more usability of devices and increased demand from customers as compared to other sleep apnea treatment types, adoption fueled by raising reimbursement from private payers.
Which type of implants has remarkable growth potential during the forecast period?
Recent FDA approvals for hypoglossal neurostimulation sleep apnea implants exert traction in the adoption rate for the treatment of obstructive sleep apnea (OSA).
Which region is expected to be lucrative for investments during the forecast period?
Countries in Asia including Japan, China, and Singapore are expected to offer lucrative opportunities for market growth. Companies are strategically focusing on distribution partnership with local players.
How is the competitive scenario in the sleep apnea implants market?
Manufacturers are focusing on research and development of advanced sleep apnea implant devices. The global sleep apnea implants market is dominated by leading sleep apnea implant players namely, Inspire Medical Systems, Respicardia, 
Hypoglossal Neurostimulation Devices Remain Highly Preferred
Hypoglossal neuro stimulation (HNS), a relatively new advancement, minimally invasive solution, and entirely different approach to treating obstructive sleep apnea (OSA), is expected to witness higher demand as compared to other sleep apnea implants. With growing number of patients who are not helped by positive air pressure devices such as continuous positive airway pressure (CPAP), doctors are turning to hypoglossal nerve stimulation devices for improved patients' sleep apnea symptoms. Accounting for 80% of the total revenue share, the category is further witnessing higher innovation and investment.
North America Remains the Most Promising Market
North America will continue to maintain its lead in the sleep apnea implants market, and it is on track to account for 85% of total revenue by 2021. As a growing amount of research suggested that not getting enough sleep increases the risk of common lifestyle diseases such as obesity and diabetes, patients are increasingly spending on sleep aids. Additionally, realizing a growing opportunity for innovation in the space, a number of startups in the region are leveraging technologies to solve existing problems in the sleep industry and to carve out a slice of the market. While the adoption rate is picking pace in emerging markets, revenue share will continue to remain low over the forecast period (2019-29).
White Spaces in Application and Regulatory Approvals to Dictate Stakeholders' Strategies
By helping patients sleep better, sleep tech is set to be the next step in human development and longevity, while regulatory and economic pressure are changing the way sleep disorder patients are diagnosed and treated The emergence of wearble sleep trackers and non-wearable sleep trackers have revolutionised the sleep screening techniques. Key players in the sleep apnea implants market are continually focusing on leveraging and identifying white spaces in application of their products, ranging from narcolepsy to different types of OSA. Faster regulatory approval of a wide range of new products also remains a key focus area of the both incumbent companies and new entrants. For instance, Beddr is seeking FDA approval for its Sleep Tuner, a stamp-size sensor that measures heart rate and oxygen saturation levels in sleep apnea patients.
Hypoglossal neurostimulation devices to hold 80% revenue share
Demand for phrenic nerve stimulator to pick pace
Obstructive sleep apnea remains a strong indication
Use in treating central sleep apnea to increase significantly
Hospitals emerge as the top end user
Demand from ambulatory surgical centers remains high
How Growth will Unfold
Over the past years, adoption of sleep apnea implants in ambulatory surgical centers (ASCs) accounted for relatively high revenue share, owing to robust development in both medical and sleep technologies and significant advances in ASCs. However, in 2020, demand from hospitals is surpassing that of ASCs, leading to realignment of manufacturers' strategies. This growth remains driven by increasing government spending on healthcare infrastructure, especially in developing countries. However, it is also pertinent to note that, increased cost of devices and sleep apnea treatment has added to reluctance of patients in these countries.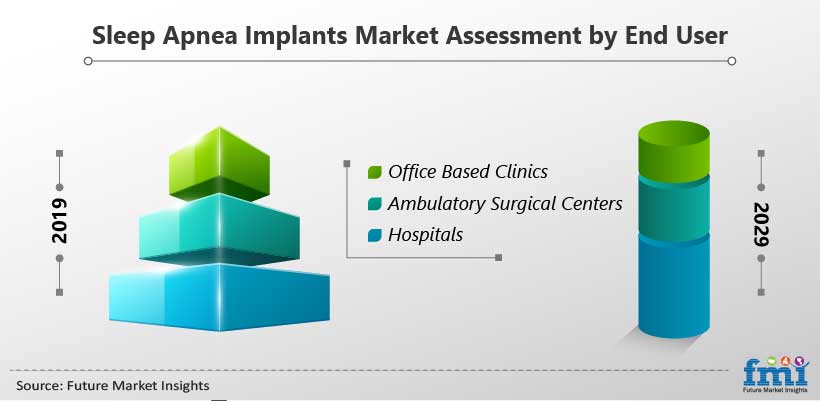 * This data is only a representation. Actual data may vary and will be available in report.
Click Here To Know How The Growth Will Unfold
Custom Market Research Services
FMI offers custom market research services that help clients to get information on their business scenario required where syndicated solutions are not enough.
Overview
Sleep Apnea Implants Market Analysis 2019 - 2029
A recent market study published by Future Market Insights (FMI) offers global industry analysis for 2014–2018 and forecast for2019–2029. The study also offers a comprehensive assessment of the most important market dynamics. After conducting thorough research on the historical as well as current growth parameters of the sleep apnea implants market, the growth prospects of the market are obtained with maximum precision.
Sleep Apnea Implants Market Taxonomy
The global sleep apnea implants market is segmented in detail to cover every aspect of the market and present a complete market intelligence approach to the reader.
Product
Phrenic Nerve Stimulators
Hypoglossal Neurostimulation Devices
Bone Screw Implant System
Palatal Implants / Pillar Procedure
Indication
Central Sleep Apnea
Obstructive Sleep Apnea (OSA)
End User
Ambulatory Surgical Centers
Office-Based Clinics
Hospitals
Region
North America
Europe
Latin America
South Asia
East Asia
Oceania
Middle East And Africa
How the research was conducted?
Primary Research
C - Level Executives
Marketing Directors
Sales Heads
Portfolio Managers
Purchasing Managers
Medical Officers
Device Development Heads
Strategy Advisors
R&D Managers
Product Manufacturers
Distributors
Component Suppliers / OEMs
Purchasing Departments
Physicians / Nursing Managers
Industry Experts
Current Market Dynamics and Challenges
Market Characteristics
Market Performance and Growth Quadrants
Competition Structure and Market Structure
Strategic Growth Initiatives
Product Adoption, utilization rate, substitutes
Regulatory Landscape
Products in Pipeline and Clinical Development
Near-term and Long-term Market Growth Prospects
Market Segment Splits and Authenticity
Opinions on Market Projections and Validity of Assumptions
Secondary Research
Industry Magazines
Factiva
American Academy of Sleep Medicine
Organisation for Economic Co-operation and Development
Emergency Care Research Institute
Global Clinical research Organizations
Research organisations
Company Press Releases
Annual Reports and Investor Presentations
Peer-reviewed Journals
Government Websites and Publications
Trade Websites
Clinical Trial Registries
Country-specific Regulatory Authorities
World Bank, WHO
Primary Interview Splits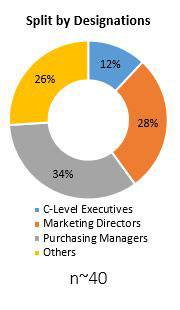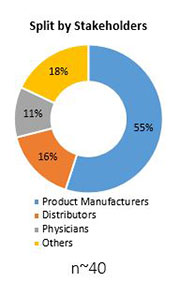 To Learn More About our Comprehensive Perspective on Sleep Apnea Implants Market,
Get in touch
COVID -19 : Impact Analysis
Request the coronavirus impact analysis across industries and markets
Request Covid -19 Impact
CASE STUDIES
See how our work makes an impact.
At FMI, we design strategies that are adaptive, impactful, and implementable.