Smart Shoe Market - Key Research Findings
Global smart shoe market size in 2018 – Nearly US$ 100 Mn
The smart shoe market is expected to grow at a CAGR of approximately 22.4% over 2019-2027.
Developed regions will remain at the forefront of smart shoe sales.

Increasing health awareness and the ever-widening availability of smart shoes on the market has been fueling sales of smart shoes in North America and Europe.
Strong presence of established players and innovators in the smart shoe technology industry is another key factor driving revenue growth of smart shoe market in these regions.

Significant growth potential for the smart shoe market has been identified in Asia Pacific excluding Japan.

In addition to improving penetration of smart and connected technologies, emerging markets in APEJ are witnessing a thriving trend of health and fitness, particularly among mid-aged demographics.
Consistently increasing per capita spending of consumers on healthcare and lifestyle products is also offering a significant push to growing sales of smart shoes within the region.
Notable growth of the E-commerce industry across developing Asian economies will remain an important booster for smart shoe sales in the near future.

Among adults, children, aged people, and people with disabilities, adults are likely to remain a major consumer of smart shoes.

In line with remarkably growing demand for health and wellness related products from young and adult consumer demographics, the smart shoe market has a significantly large range available for them.
Looking at the rising rate of acceptance of next-generation technology enabled products among youngsters and working adults, it is most likely that this will be the target category for manufacturers, distributors, marketers, and other value chain participants in the smart shoe market.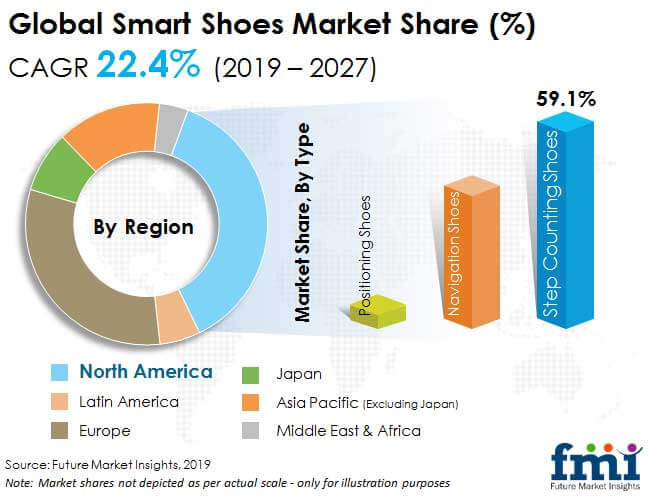 Top 3 Factors Shaping the Smart Shoe Market
Increasing acceptance of health and fitness related technology products boosting sales of smart wearables, boosting adoption of smart shoes

The health benefits of smart shoes such as recording and analysis of foot movements encourage their adoption. The demand for smart wearable products is on the higher side and the global shipment of these devices has also grown significantly in the recent years.

The adoption of smart shoes is on the rise and is expected to continue to grow at a higher rate in the coming years. The higher adoption rate of smart wearable products is being driven by the health-conscious population that is directly influencing the smart shoe market, led by young consumers.

Strategic partnerships between smart shoe manufacturers and tech giants, driving innovation

The global smart shoe market landscape is dominated by a few top players, thus representing a fairly consolidated competition. To introduce innovative products in their product portfolio, leading footwear companies continue to enter strategic collaborations with technology providers.

For an instance, the strategic partnership between Genesis Rehab Services and Sensoria Fitness for the development of a smart footwear product for diabetes patients and the partnership between Sole Power, LLC and SR Max (SR Max Slip Resistant Shoes) to jointly develop self-charging smart work boots.

Technological glitches, expensive price point, and inadequate awareness constraining market growth

Soon after its launch, Nike's brand-new Adapt BB smart sneakers stopped working due to Android update failure. Reportedly, either of the pair stopped connecting with the Nike app, hampering the customer experience and product reviews on Nike's portal. This and more such technological complications, coupled with the high price point associated with smart shoes, are likely to hold a longstanding impact on smart shoe sales.

Moreover, smart shoes are still in the infancy as far as their market penetration is considered. Particularly in developing regional markets, inadequate awareness about health and wellness related products based on next-gen technologies will remain a major hindrance to sales.
Smart Shoe Market Structure Analysis
The global smart shoe market represents a consolidated competition landscape, wherein Tier 1 companies hold a revenue share of more than 42%.
Top companies in the smart shoe market include Puma, Adidas, Under Armour, and Nike.
A majority of key players maintain a strategic focus on North American and European market.
Technology assessment will be an important developmental strategy for companies.
Leading players in the smart shoe market are also concentrating on the rising smart technology trend, whereas cost-competitiveness will remain a strong differentiation strategy.
Smart Shoe – Remolding the Future of Footwear
From assessing health metrics to evaluating athletic performance, smart shoes are making inroads into the arena of intelligent footwear. The concept of 'smart shoe' is witnessing sheer proliferation as customers seek shoes engineered to meet convenience, health, and comfort needs. Smart shoe is emerging as one among the 'must have' accessories, as it consists of feature insoles that serve as a bluetooth-connected elements linking body activities to smartphone apps.
Smart Shoe Sales to See Unwavering Growth, Resistance to New Technologies Prevails as a Challenge
Smart shoe landscape will continue seeing steady growth, yet resistance to embrace new technologies would prevail as a key challenge. In addition, manufacturers of smart shoes would have to regularly invest in new designs, to make their products distinguishable and reliable. In addition, developing smart shoes requires in-depth technical know-how and trained resources, which might pose minor to major challenges for the market players.
Demand for Innovative & Interactive Wearable Technologies Pave Growth Avenues
North America is likely to behold its prominence in the global smart shoe landscape, as the regional demand for innovative and interactive wearable technologies continues to grow. Asia Pacific is also estimated to offer strong grounds for adoption of smart shoes, as the adoption of smart technologies in this region is here-to-stay.
Multi-Brand Stores & Outlets to Promise New Opportunities
Sales of smart shoe varieties from multi-brand outlets would continue to be high, driven by increasing preference to shop from a variety of products available at a single store. Manufacturers in the smart shoe market are focusing on uninterrupted supply of products for sale in multi-brand stores, which would help them increase their profit margins.
Key Segment
By Type
Step Counting Shoes
Positioning shoes
Navigation shoes
By End Use
Adult
Children
Aged
People with Disabilities
By Sales Channel
Multi-Brand Stores
Exclusive Outlets
Online Retailers
Region
North America
Latin America
Europe
Japan
APEJ
MEA
Need specific information?