Soap Dispenser market Outlook and Key Findings
The soap dispenser market is expected to witness a CAGR of over 6% in the forecast period (2020-2030)
North America and Europe collectively hold more than 60% of market share.
The outbreak of Covid-19 has increased the demand and sales of soap dispenser twofold and the status quo is expected to remain unchanged till first quarter of 2021
Soap dispenser market players focusing on affordable and small package offerings
Soap Dispenser Market Snapshot
Soap bars have been proven to be extremely unhygienic, especially in public restrooms, as they carriers of bacteria, germs, and the other harmful micro-organisms.
As such, people could end up being at a higher risk of contracting numerous ailments. In these scenarios, soap dispensers are an ideal option and are being used extensively in public places.
The soap dispenser industry is dependent on sustained demand from a range of industries. Among these, demand from hospitality industry remains key to growth.
The hospitality industry in the UK, as per the Office of National Statistics, grew from US$ 110.37 Bn in the year 2015 to US$ 125.78 Bn in the year 2017.
Novelty to be a Key Growth Driver
The soap dispenser market players are devising novel categories of soap dispensers to grab a larger market share. This trend is bound to increase the volatility of the market in the forecast period (2020-2030).
For instance –
In Jun 2020, Grafdoer launched automatic soap/sanitizer dispensers to let hands-free accessibility and enable simple-to-operate mechanism
Simplehuman, in Mar 2020, launched its touch-free sensor liquid soap pump dispenser, which comes across as one of the mess-free solutions while washing hands.
Bradley Corp., in Feb 2020, introduced a novel line of matching "Verge" soap dispensers along with faucets. These sets work well with the other models as well, as they have been universally designed.
Innovation: The Latest Soap Dispenser Market Trend
The market is witnessing innovations, so as to open doors for a new approach altogether. These innovations are likely to compel the market players to incorporate them in their manufacturing processes. Let's glance through these innovations:
In Jul 2020, an engineer from Assam (India) developed a portable touch-free 1,800 ml sanitizer dispenser machine that works on infrared motion dispensing
In Jul 2020, Vikram Sarabhai Space Centre tabled a sensor-based handwash dispenser. It is reported to not only lessen transmission due to manual operation but also check the wastage of water. It is micro controller-based.
In Apr 2020, Brandon Bourn, an electrical and mechanical engineer designed the Lumo Soap Dispenser that holds the distinction of lighting up for 20 seconds every time while the user dispenses some soap. This thought process was conceived after the WHO and CDC made 20-second hand-washing as a routine amidst Covid-19 crisis
Soap Dispenser Market: Region-Wise Analysis
North America holds the highest share of soap dispenser market. This could be attributed to growing numbers of commercial buildings. It is important to mention that the North America soap dispenser market revenues are concentrated in the US.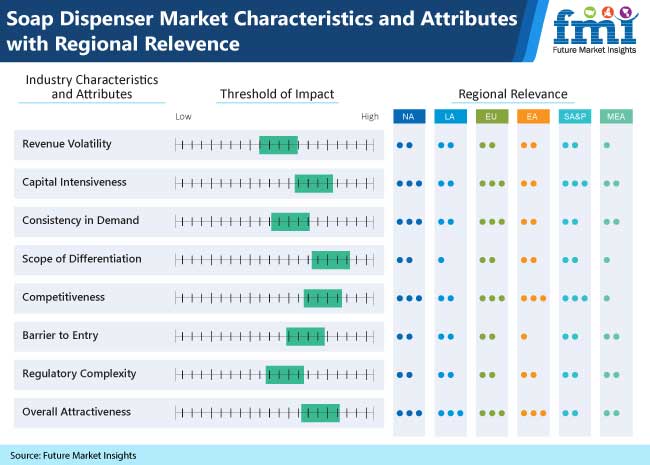 Also, malls, restaurants, and hotels have been investing in remodelling themselves for enhancing consumer experience. This calls for proper sanitation and hygiene, thereby propelling the market in the forecast period all over North America. Europe comes in second as the travel and tourism industry therein goes hand in hand with its economy.
Asia-Pacific is expected to grow at the fastest pace between 2020 and 2030. This is basically due to economies like India and China expanding rapidly at the commercial and residential level.
Plus, uplift in standard of living along with growing awareness of consumers regarding hygiene and personal health are catalysing demand for liquid soap. This, in turn, is likely to fuel the soap dispenser market.
Key Players in the Soap Dispenser Market
The soap dispenser market is home to numerous well-established players. Small- and medium-scale players have also found entries, especially after the outbreak of Covid-19. The players do have a vast and strong distribution network for reaching out to a broader audience.
The players are adopting strategies like new product launches and collaborations for strengthening their position.
For instance –
Karree soap dispenser by Duravit is made from hand-blown glass. This ascertains durability
In Dec 2017, Sloan entered into partnership with GOJO for launching a novel line of soap dispensers.
In Apr 2017, Kohler launched its first-to-market touchless foaming and liquid soap dispenser. It had also won the 2017 Global Innovation Awards (GIA).
The other players in the soap dispenser market include:
ASI American Specialities, Inc.
Bradley Corporation
Simplehuman
Kohler Co.
Toto Ltd.
Georgia-Pacific LLC
Soap Dispenser Market: The Way Forward
The global soap dispenser market is expected to go strong in the forecast period, with FMI's analysts predicting growth of over 6% Y-o-Y.
The two quarters of 2020 witnessed a double-digit growth due to the ongoing pandemic. The scenario is expected to continue all through the year 2020.
The other factors driving the market would be improvement in lifestyle calling for sophisticated ways of cleanliness, especially in developing economies. The developed economies have their commercial estates, especially the hospitality industry booming.
The key players, apart from new product launches, will have to work on reaching out to a wider audience through inorganic expansion at the local level. This strategy is likely to hold the hopes high for soap dispenser market in the upcoming period.
Soap Dispenser Market: Segmentation
The global Soap Dispenser Market is segmented in detail to cover every aspect of the market and present a complete market intelligence approach to the reader.
Product Type
Material
Plastic
Nickel
Bronze
stainless steel
silver
chrome
others
Type
wall-mounted
countertop
free standing
Price Range
economical
premium
mid-range
Capacity
below 500 ml
500 – 750 ml
750 – 1000 ml
1000 – 1250 ml
1250 – 1500 ml
1500 ml & above
Application
Sales Channel
Geography
North America
Latin America
Europe
East Asia
South Asia
Oceania
Middle East and Africa
Need specific information?