Steel Drums and IBC Market: Key Research Findings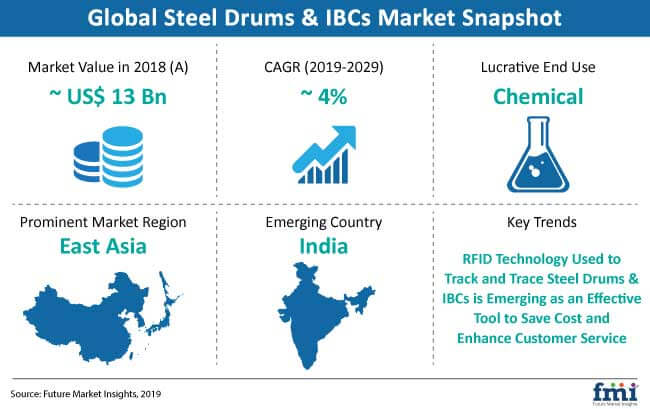 The global steel drums & IBC market size in 2018 was approximately US$ 13 Bn.
The steel drums & IBCs market is projected to grow at approximately 4.0%, during the next ten years.
East Asia is expected to remain a prominent region in terms of steel drums & IBCs market value share during the forecast period.

China in East Asia is expected to be highly attractive in terms of market share and growth rate of the steel drums & IBCs market due to factors such as high growth rate of end-use industries and rising demand for industrial packaging solutions.
Key Factors Shaping the Global Steel Drums & IBCs Market
Emergence of Steel Drums & IBCs as a Preferred Solution for the Export of Oil and Chemicals

Oil exporters across the globe are selecting steel drums & IBCs over other bulk packaging products. This may be attributed to factors such as higher operational efficiency and effectiveness in shipping bulk quantities of merchandise in liquid form.

Heightened Demand for Sophisticated Containers Intended for Bulk Liquid Transportation to Propel the Demand for Steel Drums & IBCs

One of the key factors bolstering the demand for steel drums & IBCs is the enhanced performance of the manufacturing sector and industrial output. Global economic performance has become stable over the last three quarters in prominent economies. The significant co-relation between the industrial output and demand for industrial packaging solutions, is likely to propel the demand for steel drums & IBCs in the coming years.

Although the demand for steel drums & IBCs is likely to be concentrated in the East Asia & South Asia regions, a considerable contribution to the global demand is also expected from other clusters such as MEA and Europe. North American and Latin American markets are likely to witness considerable demand for steel drums & IBCs over the forecast period.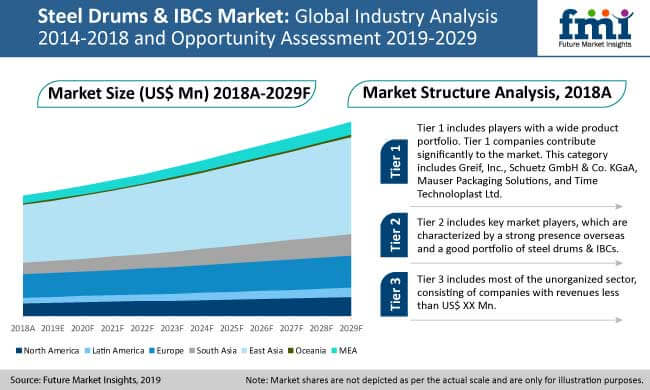 Steel Drums & IBCs Market Structure Analysis
The global steel drums & IBCs market is characterized by the presence of fewer organized players, which significantly influence the global steel drums & IBCs market.
The leading players in the steel drums & IBCs market are players with a wide product portfolio. These players contribute significantly to the growth of the steel drums & IBCs market.
These leading players are characterized by a decent presence overseas, and a good portfolio of steel drums, and tier 3 players include most of the unorganized sector.
Key market players such as Greif, Inc. and Mauser Packaging Solutions, are focusing more on their core competencies to generate more revenues.
In December 2018, the Greif, Inc. acquired Caraustar Industries, a vertically-integrated paperboard manufacturer from North America.
In 2016, Mauser Packaging Solutions announced the start of three new production lines in St Priest, France.
Leading manufacturers in the steel drums & IBCs market are expected to increase global footmark either via mergers and acquisitions or collaborations with regional manufacturers.
Considering the current scenario in the steel drums and IBCs market, it is highly likely that market players will look to increase their compliance to local, federal, and import-export regulations.
Next-gen Steel Drums Becoming Mainstream
The use of shipping containers has contributed to the increasing efficiency of intermodal shipping and transport of goods. Next-gen steel drums and IBC continue to gain traction as they simplify shipping of hazardous and non-hazardous products.
Moreover, ascending flexible liquid packaging demands remain a growth catalyst for the steel drums & IBCs market as they offer considerable benefits for storage and handling with spill-proof barriers, especially for liquid products. Considering the growing focus on spill prevention during inter-continental trade, use of advanced steel drums and IBCs is likely to witnessing significant uptick in the future.
Growing Seaborne Trade & Demand for Safer Transportation to Upscale Growth
The steel drums and IBCs market is expected to witness a healthy growth over the forecast period. Growth is attributed to the increasing demand for safe and secure transportation of various products. Increasing demand for shipping containers on account of the growing seaborne trade and continued focus on improving transportation of goods is likely to boost the utilisation of steel drums & IBCs. The broader gains in industrial and bulk packaging are also likely to rub off on the prospects of steel drum and IBC manufacturers.
Opportunities in Asia Pacific Continue to Grow
East and South Asia remain the target markets for manufacturers. Emphasis on using sustainable bulk packaging solutions are shifting consumer preference from plastic packaging to metal packaging, pushing the use of sustainable alternatives. Moreover, governments in many fast-growing countries, like India and China are working to support the maximization of trade activities which could further boost the applicability of steel drums & IBCs in the foreseeable future.
Reduce, Re-use, and Recycle - Key Trends
Manufacturers are focused on adapting their business models to the key trends, especially the growing focus on reduce, re-use, and recycle. Manufacturers are introducing newer products to align with the growing emphasis on cost reductions in empty container repositioning, bringing foldable and collapsible containers in limelight. The steel drums & IBCs market is likely to witness several collaborations and acquisitions as companies push to improve their manufacturing capabilities and expand global footprint.
The unwavering focus on improving operational efficiency among end-users has put pressure on steel drum and IBC manufacturers to focus on downgauging. The industry has responded by launching drums and IBCs which are lightweight as compared to previous variants.
How Growth Will Unfold
The steel drums & IBCs market will continue its growth momentum, and the IBCs segment is expected to outpace steel drums with respect to growth rate. Continued incorporation of next-gen technologies that help achieve traceability and effective tracking of shipments are expected to stir further advancements in IBCs.
The winning imperatives for market players in this landscape revolve around adapting to the evolving requirements of the end-users. As sustainability regulations become stricter, manufacturers will need to don the role of collaborators rather than solely focusing on client servicing.
Key Segment
By Capacity
Drums

200 Litre
Other than 200 Litre

IBCs

Up to 500 Litre
501-1,000 Litre
1,001-1,500 Litre
Above 1,500 Litre
By End Use
Chemicals
Petroleum & Lubricants
Paints, Inks & Dyes
Food & Beverages
Building & Construction
Healthcare & Pharmaceuticals
Others
By Region
North America
Latin America
Europe
South Asia
East Asia
Oceania
MEA
Need specific information?
Talk Show:
The Rise of Intelligent Packaging
Personalized, Connected and Sustainable
November 18, 2021
11:00-11:45 AM PST (USA & Canada)
This is a LIVE session