About the Report
Steel drum is a safe and secure rigid packaging solution made from carbon steel or stainless steel material. It is cost-effective, easy to handle, and considered safe & secure for shipping. Also it has excellent fire resistance properties, it is reusable, and recyclable. As a result of these features, steel drum is highly sought-after as a packaging solution across various industries. Spurred by these factors, the global steel drum market will continue growing at a positive pace between 2021 and 2031.
In its new study, ESOMAR-certified market research and consulting firm Future Market Insights (FMI) offers insights about key factors driving demand for steel drum. The report tracks the global sales of the steel drum in 20+ high-growth markets, along with analyzing the impact of COVID-19 on the steel drum industry.
How the Historical and Future Outlook of Steel Drum Market Match Up?
Steel drum has been the most preferred rigid packaging solutions for shipping, storing and warehousing hazardous as well as a non-hazardous material in various end-use industries as petroleum & lubricants, chemicals, paints, inks, & dyes, building & constructions, and others. The steel drum market is anticipated to grow at a steady pace over the forecasted period.
Steel drum packaging helps protein material against damage caused by temperature. It also ensures that the product does not get spilled. On the back of these factors, steel drums have become preferred choice for liquid manufacturers or exporters.
Moreover, the reusability and recyclability option, makes it attractive among the other rigid packaging solutions. Considering these factors, future of the market seems promising. The demand is expected to rise in response to the rising trade for oil in various regions.
According to FMI's analysis, steel drum sales have expanded at 2.6 % CAGR Between 2014 and 2020
Rising concerns pertaining to the safety of products and sustainability have improved the popularity of steel drums among end-users. Considering these factors, and benefits offered by cost-effective steel drum, the market will expand at a CAGR of 5% during 2021-2031.
Steel Drums Sales Rising with Application in Export of Oils and Chemicals
The consumption of steel drum is considerably high in regions exhibiting increasing trade of oils, chemicals, & solvents. Steel drums are the most preferred rigid packaging solution for exporting oil to South & East Asia countries, including Malaysia and Indonesia.
The factor that made steel drums highly preferred packaging solution is their higher operational efficiency and effectiveness in transporting liquid materials in bulk quantities. The export of vegetable oil and other related products is also increasing, so is the agricultural outputs in various South and East Asia countries. This is leading towards high export volume, which is fuelling the demand for various effective and secure means of packaging while shipping and storing.
Demand for Effective Transportation of Large Volume of Liquid Driving Growth
The increasing production of manufacturing and industrial sector is one of the major factors augmenting sales of steel drum. The low manufacturing cost in developing economies such as India and China has led key players of various end-use industries to move their production facilities and expand their market in the South & East Asia. This will lead to growth in trade volume in the region. Also, East and South Asia will emerge as a global trade hub, increasing opportunities for the global steel drum market.
There is a significant correlation between the industrial output and demand for industrial packaging. Though the demand for steel drums is likely to be concentrated in the East Asia and South Asia, a considerable contribution is also anticipated from other clusters such as Europe and MEA. North America and Latin America markets are likely to post perpetual demand for steel drums over the forecast period.
Expansion of Paints, Inks, & Dyes Industry Pushing Steel Drum Sales
Steel drums usage is rising in shipping and storing of liquid materials such as paints, inks & dyes. They are considered the most suitable rigid packaging solutions for transporting hazardous and non-hazardous material especially liquid material. Also, steel drums are easy to handle and are considered more effective for storage.
The paints, inks, & dyes industries demand safe and secure packaging solutions for their product protection. As per the American Coating Association, almost half of the coating and paint products are regulated by the U.S. Department of Transportation's (DOT) modal regulations and are required to meet the criteria for hazardous materials.
Rising paints, inks & dyes production in emerging economies, coupled with the growing need for secure transportation of such products, is estimated to fuel the demand for steel drums in forthcoming years.
How Intermodal Transportation Supplements the Sales of Steel Drum?
The transportation process which involves the movement of freight from one mode of transportation to another is called intermodal transportation. Traffic issues at ports leading to delay in delivery of products are resulting in the rise of intermodal transportation.
Also, the containers used before in intermodal transportation caused various problems while loading and unloading, which resulted in extra cost for handling as well as delays in product delivery. Considering that steel drums n are easy to handle, they can help in cost reduction. This has been leading to their extensive usage by freight companies.
How is Availability of Cost-Effective Counterparts Hindering Steel Drum Market Growth?
The increasing availability of Intermediate Bulk Containers (IBCs) is hindering the steel drum market growth. In comparison to steel drums, IBCs are more cost-effective in terms of storage and transportation cost. The round shape of steel drums results in unutilized space, while IBCs offer maximum space utilization.
Furthermore, handling of IBCs is easier than steel drums as they are attached to the pallets from the bottom. IBCs have the capability of draining completely, while steel drums it is not possible as the residue is left at the bottom. Another important factor, which limits the market growth of steel drum is corrosion resistance power. The steel drums do not have corrosion resistance capability which increases the chances of contamination.
On the back of all these factors, end-use industries may slowly switch to IBCs in order to save cost and this could hinder the overall growth of the steel drums market.
How is Price Fluctuations of Steel Drums Affecting their Sales?
The steel drums' pricing is defined based on their capacity. The pricing for 55 gallon steel drums is more than steel drums with capacity other than 55 gallon. With its low pricing, other than 55 gallon steel drums are more affordable for small & medium size end-use industries. Steel drum pricing varies as per the geographical change.
Developed regions such as Europe and North America have high pricing due to the offering of the high-quality product as well as a huge taxes levied on the industries. Besides this, South & East Asia markets offer low pricing due to the availability of raw material, low investment cost, low labor cost, and less number of manufacturers.
Country-wise Insights
What are the Factors Driving Steel Drums Sales in the U.S.?
According to FMI analysis, the U.S. accounts for a leading share of demand for steel drums registered globally. The presence of key players such as Greif Inc., Mauser Packaging Solutions, and others with strong production capacity is driving sales in the United States. Furthermore, rising production of crude oil and resultantly increasing exports in the U.S., are the factors that lead to bolstering the demand for protective packaging solution which includes steel drum.
How is Expanding Chemical Sector Supporting Growth in India?
Steel drums are primarily consumed by chemical industries. The expansion of the chemicals industry will therefore continue driving sales in India. According to India Brand Equity Foundation (IBEF) =, the market size for the Indian chemical sector is expected to reach US$ 232.6 Bn by 2022 from US$ 194.6 Bn in 2020.
Also, the export of chemical is rising in India. The chemical export in 2019 was US$ 1.88 Bn which increased to US$ 2.08 in 2020. On the back of these factors, the steel drum market will continue expanding in India.
Will China Emerge as an Attractive Steel Drum Market?
The oil import in China is rising, which has led to increasing requirement of safe and secure packaging solution for the oil and other related products. As per Energy Information Administration (EIA), China's annual import for crude oil increased at an average of 10.1 million barrels per day in 2019.
The low manufacturing cost and easily available raw material and labor at affordable price are attracting steel drum manufacturers. There is no entry barrier in the China market, which will again aid the expansion of the steel drum market.
What are the Factors Driving Steel Drum Sales in Russia?
Russia is the second-leading market in Europe for steel drum. Expansion of the chemical industry will support growth in Russia. According to the Netherlands Embassy, the chemical industry is one of the rapidly growing industry in Russia. The value of Russian chemical and petrochemical output in 2017 was US$ 57 Bn. Hence, expansion of the chemical sector implies rising demand for effective transport solutions, which will aid the overall expansion of the market.
What are Key Opportunities in the Germany Market?
Steel drums are often used for transportation in chemical and petroleum & lubricants industry. Besides these, they also are used in transportation and storage of paints, inks & dyes. Germany has a huge market for paints, inks & dyes. Germany holds around 25 per cent of the market share for steel drum. According to European Coating in 2016, Germany was home to 300 coating, paint, and printing ink producing companies. Also, the exports for the same was 749,928 tons and imports were 276,191 tons in 2016. This creates attractive opportunities for steel drum manufacturers in the Germany market.
Category-wise Insights
Why are 55 Gallon Steel Drums in High Demand?
By capacity, 55 gallon steel drum is the most preferred segment. 55 gallon steel drums are primarily used for transporting hazardous as well as non-hazardous materials due to their huge capacity and portability. On the back of these factors, the chemicals, petroleum & lubricants, paints, inks & dyes, and other industries rely on the 55 gallon steel drum for storing and shipping their products. The capacity segment is expected to hold more than 4/5th portion of the market by the end of 2031.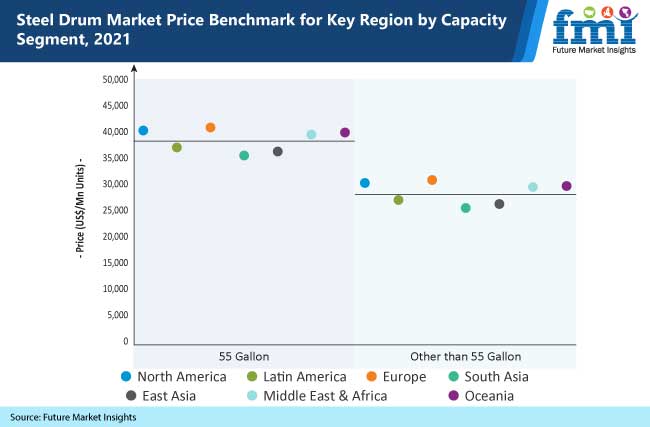 Why is Carbon Steel Preferred as Material for Steel Drums?
Carbon steel is stronger than stainless steel and more durable at the same time. Also, carbon steel contains high carbon which changes the feature of steel and makes it harder. These factors make it attractive for manufacturing of steel drums. Therefore, the carbon steel segment will emerge as the most lucrative one in terms of material.
What is the Preferred Head Type for Steel Drums?
The tighthead segment is estimated to have a market share of more than 75 percent in the global steel drum market. The same segment is likely to provide incremental opportunity of US$ 5.06 Bn during the foreseeable period. As per FMI analysis, the factors that drive the demand for the tighthead is its valuable protection against spills while storing and shipping and its demand by chemicals and petroleum & lubricants industries.
Who is the Leading End User of Steel Drums?
By end-use, the chemicals segment is expected to register considerably high demand for steel drums. Globally, the rising demand for chemicals has fuelled the need for safe and secure, storing and shipping packaging. The segment is expected to expand by 1.78 times to the current market. Also, it is anticipated to offer an incremental opportunity of US$ 3.16 Bn in the next ten years.
Competitive Landscape
Steel drum manufacturers are focusing on offering greater safety and convenience of storage and transport. Also, the manufacturers are trying to address the sustainability trend by developing environmentally-friendly steel drum. These manufacturers also provide reconditioning services which lead to low packaging scrap.
Also, the key manufacturers are trying to enhance customer service by using RFID technology on steel drum to track & trace the steel drum.
Some of the leading companies operating in the market are:
Mauser Packaging Solutions
Balmer Lawrie & Co. Limited
Industrial Container Services, Inc.
Great Western Containers Inc.
SCHÜTZ GmbH & Co. KGaA
Peninsula Drums CC
Patrick J. Kelly Drums
Skolnik Industries Inc.
Nippon Steel Drums Co. Ltd.
Stavig Group
PT Pelangi Indah Canindo Tbk
Müller AG Verpackungen
*The list is not exhaustive, and only for representational purposes. Full competitive intelligence with SWOT analysis available in the report.
Scope of the Report
Attribute

Details

Forecast Period

2021-2031

Historical Data Available for

2014-2020

Market Analysis

USD Million for value and Mn Units for Volume

Key Regions Covered

North America, Latin America, Europe, South Asia, MEA, Oceania, and East Asia

Key Countries Covered

US, Canada, Brazil, Mexico, Argentina, Germany, Italy, France, U.K., Spain, Russia, Benelux, India , Thailand, Indonesia, Malaysia, Singapore, GCC countries, Northern Africa, Turkey, South Africa, China, Japan, South Korea, Australia & New Zealand

Key Segments Covered

Capacity, Head type, Material, End-Use, and Region

Key Companies Profiled

Greif Inc.
Mauser Packaging Solutions
Time Technoplast Ltd.
Sicagen India Limited
Balmer Lawrie & Co. Limited
Industrial Container Services, Inc.
Great Western Containers Inc.
SCHÜTZ GmbH & Co. KGaA
Peninsula Drums CC
Patrick J. Kelly Drums
Skolnik Industries Inc.
Nippon Steel Drums Co. Ltd.
Stavig Group
PT Pelangi Indah Canindo Tbk
Müller AG Verpackungen
A W Stokes & Son (Drums) Ltd.
PT. Rheem Indonesia
Indonesia Raya Makmur PT.
The Metal Drum Company

Report Coverage

Market Forecast, Brand share analysis, Competition intelligence, DROT analysis, Market Dynamics and Challenges, Strategic Growth Initiatives

Customization & Pricing
Key Questions Answered in the Report
Which is the Most Lucrative Market for Steel Drum?

East Asia has emerged as the most lucrative market for steel drum. The same region is anticipated to hold the market by more than 50 percent in the forecasted period.

Which is the Most Preferred Steel Drum by Capacity?

The 55 gallon steel drums are most preferred steel drum in the market. The sales for 55 gallon steel drums are expected to increase in the future due to its increasing application in various industries.

Which Materials are Preferred by Steel Drum Manufacturers?

Carbon Steel as a material is more preferred by steel drum manufacturers. It is expected to account for 90 percent of the steel drums market by 2031.

Which are some of the Leading Companies Offering Steel Drum?

The leading companies offering steel drum are Greif Inc., Mauser Packaging Solutions, Time Technoplast Ltd., Sicagen India Limited, Balmer Lawrie & Co. Limited, Great Western Containers Inc., SCHÜTZ GmbH & Co. KGaA, and others.

Which is the Preferred Head Type for Steel Drum?

By head type, tight head steel drums are highly sought after in various industries.
Steel Drum Market by Category
Capacity
55 Gallon Steel Drum
Other than 55 Gallon Steel Drum
Head Type
Tight Head Steel Drum
Open Head Steel Drum
Material
Carbon Steel
Stainless Steel
End-Use
Chemicals
Petroleum & Lubricants
Paints, Inks, & Dyes
Food & Beverages
Building & Construction
Healthcare & Personal Care
Others
Region
North America
Latin America
Europe
Middle East and Africa (MEA)
East Asia
South Asia
Oceania
Need specific information?
Talk Show:
The Rise of Intelligent Packaging
Personalized, Connected and Sustainable
November 18, 2021
11:00-11:45 AM PST (USA & Canada)
This is a LIVE session