Carbon Steel Drums Capture over 90% of Total Sales
Carbon steel easily aligns with the demand for light-weight and durable packaging material, as such, continues to be the material of choice for manufacturing steel drums over the projection period. Despite being a niche category in the manufacturing world, its economical nature is fueling its adoption for transportation of heavy-duty packages. In 2019, carbon steel drums worth around US$ 11 Bn were sold and the number is likely to increase at a steady pace.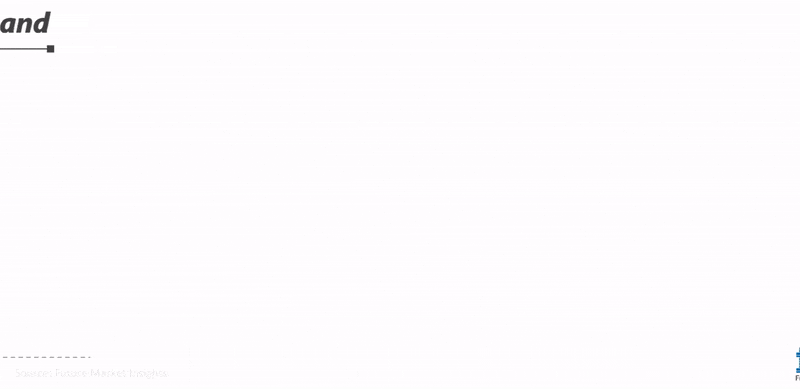 East Asia - The Mecca of Market Growth
At present, East Asia is the trade hub for steel drums market, capturing half of total demand, while the adoption in South Asia is soaring at a rapid CAGR of 5.1%. Represented by China and India respectively, the market growth in these developing regions is attributable to swelling chemical and steel production.
Moreover, abundance of raw materials, and cheaper manufacturing processes are influencing manufacturers to shift their production lines to the developing Asia. This study estimates that the Asian steel drums market will register a collective revenue of around US$ 10 Bn by the end of foreseeable timeframe.
RFID Technology for Cost Cutting and Better Customer Service
Manufacturers are equipping steel drums with various track and trace technologies such as radio-frequency identification (RFID) that automatically identify and record data about the location and availability of steel drums. RFID technology bridges the supply-demand gap that occurs due to delay in supply of steel drums, as well as allow suppliers to validate the availability of steel drums to avoid unnecessary costs of expendable forms of packaging formats. This, in turn, boosts overall efficiency, and improves commercial ties between manufacturers and customers.
How Growth will Unfold
Adoption of steel drums in cargo shipping and freight transportation of chemicals will remain strong going forward through 2029, owing to rising chemical trade activities. Particularly in commodity chemicals, use of steel drums in this end-use category currently accounts for nearly 35% market share and the trend is expected to grow promisingly in the opportune time. On the other hand, manufacturers are also viewing petroleum & lubricants as a lucrative application, despite capturing relatively lesser share in market revenues.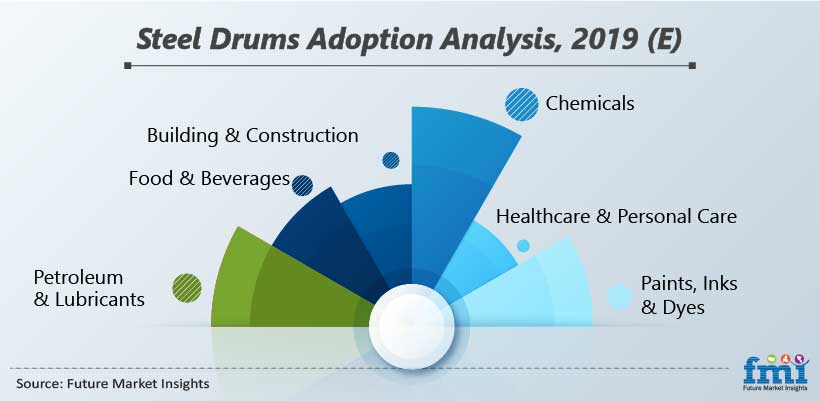 FREQUENTLY ASKED QUESTIONS ABOUT GLOBAL STEEL DRUMS MARKET
What are the key factors accelerating growth of the steel drums market?
Booming chemical industry, increasing cross-border trades, and surging demand for sophisticated containers intended for bulk liquid transportation are the factors supporting the growth of the steel drums market.
Which material will have significant revenue growth in the next five years?
Adoption of carbon steel expected to see a promising growth during the forecast period on grounds of its lightweight, durable, and cost-efficient attributes over stainless steel.
What are the major challenges for the steel drums market?
High cost of steel drums compared to their plastic counterparts, and availability of cost-effective alternatives are hindering the growth of the global steel drums market.
What are future prospects of the steel drums market?
The global steel drums market is envisioned to grow at a moderate pace over the next ten years. The global steel drums market was valued at US$ 10.9 Bn in 2018, and is anticipated to expand 1.4X by 2029.
Which companies are investing significantly in the development of innovative products?
Leading players in the steel drums market include Greif Inc., Mauser Packaging Solutions, and SCHÜTZ GmbH & Co. KGaAm.
Which region is expected to be the lucrative for steel drums market?
East Asia and South Asia are likely to offer high growth prospects for manufacturers of steel drums. Accelerated production of chemicals and steel in the developing countries of the region is boosting the steel drums market.
STEEL DRUMS MARKET TAXONOMY
The global steel drums market is segmented in detail to cover every aspects of the market and present a complete market intelligence approach to readers.
Capacity
55 Gallon
Other than 55 Gallon
Head
Material
Carbon Steel
Stainless Steel
End Use
Chemicals
Agricultural
Commodity
Speciality
Petroleum & Lubricants
Paints, Inks, & Dyes
Food & Beverages
Edible Oil
Liquid Food Ingredients
Others
Building & Construction
Healthcare & Personal Care
Others
Region
North America
Latin America
Europe
South Asia
East Asia
MEA
Oceania
Need specific information?