Sugar Toppings Market Overview
[350 Pages Report] The sales of sugar toppings market is estimated to be valued at US$ 42,095.7 Mn in 2022. As per Future Market Insights (FMI), the overall market value is expected to reach US$ 93,988.8 Mn by 2032, rising at a CAGR of 8.4% for 2022-2032.
| | |
| --- | --- |
| Attribute | Details |
| Market Size Value in 2021 | USD 42,095.7 Million |
| Market Forecast Value in 2032 | USD 93,988.8 Million |
| Global Growth Rate | 8.4 % |
| Forecast Period | 2022 to 2032 |
According to the Market Research analysis, The Hershey Company, R. Torre & Company, Inc., W. T. Lynch Foods Ltd, The Kraft Heinz Company, The J.M. Smucker Company, Baldwin Richardson Foods Co., Pinnacle Foods, Inc., and Monin Inc. are identified as key sugar topping brands.
Sugar toppings are used as a garnish or as an ingredient in confectioneries and pastry products to enhance the flavour and the aesthetic appeal. It is generally created using freshly granulated sugar that has been finely crushed and powdered. Sugar toppings can also include granulated, pearl, light beam, dark beam, cane, and confectionaries sugar.
Sugar Toppings are mostly used to flavour and brighten baked foods such as cakes and other desserts. It's also utilised in the production of sweetened products including chewing gums, chocolate, sugar confectionaries, and other products in a variety of industries.
Don't pay for what you don't need
Customize your report by selecting specific countries or regions and save 30%!
How The Market Progressed Till June 2022?
| | |
| --- | --- |
| Market Statistics | Details |
| H1,2021 (A) | 8.3% |
| H1,2022 Projected (P) | 8.4% |
| H1,2022 Outlook (O) | 9.2% |
| BPS Change : H1,2022 (O) - H1,2022 (P) | (+) 84 ↑ |
| BPS Change : H1,2022 (O) - H1,2021 (A) | (+) 92.4 ↑ |
There have been a number of recent changes in this market, including:
In 2021, Kraft Heinz Launched JET-PUFFED Marshmallow Crème with a sweet, light flavor & fluffy texture with only 45 calories per serving. As demand for low calorie sugar topping increases, the product is likely to gain traction in the market.
In 2022, Smucker's has focused on expanding its product line beyond traditional sugar toppings by launching products such as sugar free caramel topping, sugar free hot fudge topping etc. The idea is to target the rising segment of consumer who do not wish to compromise on their health while consuming sugar toppings.
One trend that is gaining popularity is the use of unique sugar toppings. These can add a fun and unexpected element to desserts, snacks, and even savory dishes.
Some examples include:
Honeycomb: This crunchy, honey-flavored candy has a distinctive texture that makes it a popular choice for topping desserts and adding a bit of extra sweetness.
Crystallized ginger: This spicy candy has a strong ginger flavor that pairs well with sweet treats like ice cream or cake.
Candied fruit: Candied fruit is made by coating fresh fruit in a sugary syrup.
In the food industry, a product launch is always a momentous event. And when that product is a new sugar topping, the stakes are even higher. Such was the case in early 2018, when confectionery giant Hershey's unveiled its latest addition to the market: Hershey's Sugar Toppings.
The new line of products consists of syrups and sprinkles in several flavors, including chocolate, vanilla, and strawberry. Hershey's is billing Sugar Toppings as a way to add an extra level of sweetness to desserts and snacks.
The launch has been greeted with enthusiasm by consumers and industry analysts alike.
Factors Influencing The Sugar Toppings Market
Sugar confectionery consumption is increasing Across the world. Candy consumption is particularly high among children and young adults, owing to their need for sugar for energy. Chocolates, sweets, candies, and cereal bars, all of which include powdered sugar, are becoming increasingly popular over the world.
Cakes, doughnuts, and pastries, among other bakery confections, are also very popular. The global sugar glaze toppings market is expected to grow as a result of the rising confectionery consumption.
As people lead more sedentary lives, ailments like hyperglycemia, obesity, and diabetes have become more common. Naturally, there is a movement toward low-sugar eating habits. As a result, sugar-free confectionery consumption has risen, forcing key manufacturers to produce brown sugar and sugar free toppings, hence expanding market opportunities.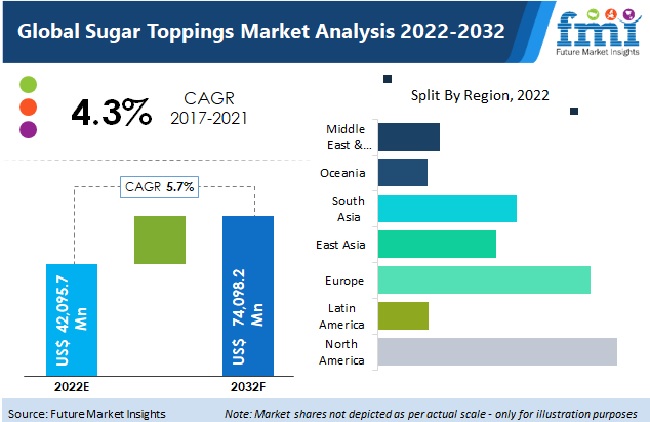 A Look At COVID-19 Impact On The Market
Sugar topping demand has already dropped significantly, owing to lower consumption of delicacies such as sugar-coated cakes and muffins as bakeries around the country have shut down due to nationwide lockdowns.
This has had an influence on the supply chain of major sugar topping producers. As a result, companies must find strategies to avoid their supply chains from spiralling downhill. COVID-19 virus spreads over the world, strong social-discrimination laws to limit it would have a significant economic impact on a variety of industries.
The post-pandemic scenario is expected to erode investor confidence, putting a damper on near-term economic prospects. We are on the verge of a time of significant deterioration in economic activity, and eventually financial asset prices, in addition to the epidemic's quickly mounting human toll.
Rapid and unprecedented legislative measures to both combat and ameliorate these decreases are critical for enterprises to achieve sustainable development in these difficult times.
Confectioneries To Fuel The Sugar Toppings Market Globally
Confectioneries use powdered sugar toppings in a variety of ways. They're used as frosting and sprinkles on cakes and cupcakes to make them look more appealing. Sugar confectioneries and chocolate confectioneries are the two types of confectioneries that contain sugar as the major ingredient.
Sugar confectionery accounts for 40% of total pastry consumption, while chocolate confectionery accounts for 60%. This ratio can differ from one country to the next. Confectionery consumption is expanding in nations with growing middle classes, such as Brazil and India, as well as those with historically low sugar consumption, such as China and Japan.
The Largest Geographical Segment In The Sugar Topping Market Is North America
The global sugar toppings industry is dominated by the major sugar producing countries. Brazil controls a large portion of the worldwide sugar topping market, paying USD 2.5 trillion annually for its sugar topping companies. The Sugar Toppings industry in the United States is in disarray due to demand supports, domestic marketing allocations, and tariff constraints for general sugar.
The US government employs tariffs to keep the domestic price of brown sugar 90% higher than the world market price, saving customers USD 3.6 billion each year.
These government-sanctioned constraints stymie the growth of the sugar toppings business in the United States. The European Union is a major beet sugar producer, primarily in northern Europe. The most productive manufacturing countries are Northern France, Germany, the United Kingdom, and Poland.
Sugar toppings demand and supply networks are increasing in these locations. Growing Asian countries produce over 40% of the world's total sugar, thanks to their diversified production systems and consumption habits.
Market Growth Of Sugar Toppings Market To Be Driven By Rising Consumption Of Confectionaries
Sugar toppings market demand is being driven by rising sugar confectionery consumption around the world. Furthermore, increased customer demand for flavoured sugar is projected to have a substantial impact on the global sugar toppings market.
Furthermore, individuals' growing demand for convenience foods and ready-to-eat items is projected to have a significant impact on the sugar toppings business. In the developing world, increasing an individual's disposable income is projected to offer unexplored opportunities for market participants.
Get the data you need at a Fraction of the cost
Personalize your report by choosing insights you need
and save 40%!
Growth Trend Analysis Of Sugar Toppings Market
The global market for sugar toppings is being driven by factors such as increased demand for baked goods and sugar confectionery. The introduction of Dry-sugar toppings would improve the market's expansion chances. The demand for both organic and conventional sugar toppings will increase as a result.
Increased consumer consumption of confectionery items is projected to benefit the industry in the future years. Additionally, the marketing of beverage sauces and breakfast syrups will help the APAC region flourish. Organic powdered sugar toppings are anticipated to grow in popularity as health-conscious consumers become more aware of their options.
Sugar toppings are in high demand around the world, thanks to the rise of the retail sector, rising disposable income, and a growing trend of giving sugar confectionery items as gifts. Business growth is expected to be fueled by rapid urbanization and population increase.
The sugar toppings market has benefited from the fast-paced lifestyle and the increased demand for ready-to-eat food that has resulted. Consumers' increased interest in delicacies is expected to drive demand for both organic and conventional sugar toppings.
Scope Of Report
Attribute
Details
Market Size Value in 2021
USD 42,095.7 Million
Market Forecast Value in 2032
USD 93,988.8 Million
Global Growth Rate
8.4 %
Forecast Period
2022 to 2032
Historical Data Available for
2017 to 2021
Market Analysis
MT for Volume and USD Mn for Value
Key Regions Covered
North America, Latin America, Europe, Japan, APEJ and MEA
Key Countries Covered
United States, Canada, Brazil, Mexico, Argentina, EU5, Russia, Poland, China, ASEAN, Australia and New Zealand, Japan, GCC countries, Ethopia, North Africa, South Africa, others.
Key Market Segments Covered
Application, Type, Nature, Region
Key Companies Profiled

Hershey Company
The Kraft Heinz Company
The J.M. Smucker Company
W. T. Lynch Foods Ltd.
Baldwin Richardson Foods Co.
Pinnacle Foods Inc.
Monin Inc.

Pricing
Available upon Request
Segments Covered In Sugar Toppings Market Analysis
Application :
Bakery
Confectionery
Dairy
Ready-to-eat Snacks
Convenience Food
Packaged Food
Type :
Nature :
Region :
North America
Latin America
Europe
Asia
Oceania
MEA
Frequently Asked Questions
The projected CAGR of the sugar toppings market by 2032 is 8.4%.
The projected market value of the global sugar toppings market for 2032 is US$ 93,988.8 million.
Bakery and confectionery lead the sugar toppings market.
North America holds a significant share of the sugar toppings market.
The rising disposable income and increasing demand for bakery and confectionery products are expanding Asia Pacific's market significantly.