An Incisive, In-depth Analysis on the Suture Anchor Device Market
This study offers a comprehensive, 360 degree analysis on the Suture Anchor Device market, bringing to fore insights that can help stakeholders identify the opportunities as well as challenges. It tracks the global Suture Anchor Device market across key regions, and offers in-depth commentary and accurate quantitative insights. The study also includes incisive competitive landscape analysis, and provides key recommendations to market players on winning imperatives and successful strategies.
Increasing investment by companies in the development of new types of suture anchors with newer types of material provides an effective treatment option for orthopaedic injuries
Companies focus on new product launches through investing in research and development in order to gain maximum market share. Acquisitions, mergers, strategic collaborations, and technology innovations play a vital role in the growth of the global suture anchor devices market. Certain manufacturers are focussed on developing new suture anchors for minimally invasive surgery, thus expecting to increase their respective market shares. Other companies are focussing on targeting technologically advanced emerging economies such as the Asia Pacific region with availability of sufficient capital base and skilled labour. Companies are entering into mergers and acquisitions to expand their product portfolio and market presence in the global market.
Global Suture Anchor Devices Market: Overview
According to our analysis, the global suture anchor devices market grew from more than US$ 435 Mn in 2012 to more than US$ 500 Mn in 2016. This represents a CAGR of 3.5% over the historical period 2012-2016. The global suture anchor devices market is estimated to grow from just above US$ 520 Mn in 2017 to more than US$ 870 Mn by 2027 end. This reflects a CAGR of 5.2% over the forecast period 2017–2027. The global suture anchor devices market is likely to represent absolute $ opportunity of more than US$ 25 Mn in 2018 over 2017 and incremental $ opportunity of nearly US$ 350 Mn between 2017 and 2027.
Focus on improving the quality of life is a prominent factor boosting the use of suture anchor devices
Companies are focussing on the development of new suture anchor devices to provide advanced tissue bone reattachment systems. Suture anchors are widely used for the treatment of orthopaedic injuries. Many research organisations are focussing on the development of new compositions of suture anchors with better advantages. For instance, Stryker's Sonic Anchor that operates through ultrasonic energy to liquefy and flow into cancellous bone, was launched in 2016.
A growing number of strategic mergers and acquisitions among the key players in the global orthopaedic industry is another trend that is making a positive impact on the global suture anchor devices market. Top companies are focussing on expanding their market share through various strategic business models. For example, the Johnson & Johnson subsidiary DePuv acquired Synthes in 2012. Increase in medical tourism across the globe is another trend that is boosting the overall growth of the global suture anchor devices market. Latin America in particular has been witnessing growing activity of medical tourism. Countries such as Costa Rica, Brazil, and Mexico are highly sought after medical tourism destinations. According to the Council for International Promotion of Costa Rica Medicine, Costa Rica attracted nearly 50,000 medical tourists (mostly from the U.S. and Canada) in 2012. Around half of these medical tourists travelled for dental procedures, followed by orthopaedics, weight loss surgeries, and gynaecology and plastic surgery. Various predictable and unpredictable injuries are resulting in an increase in the number of musculoskeletal injuries. Increasing rate of sports injuries especially among women soccer players is creating robust growth in the global market for suture anchor devices.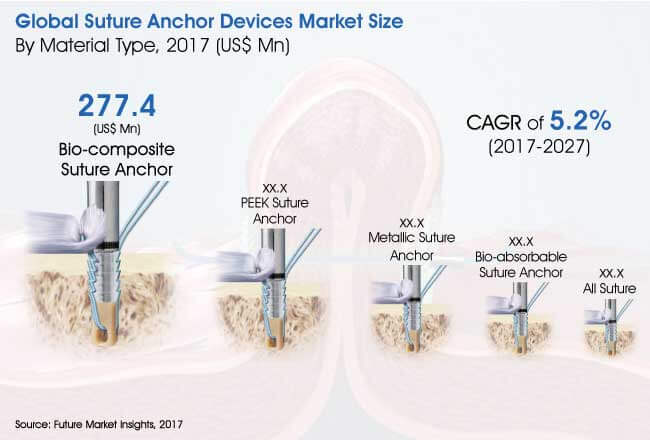 Bio-composite suture anchor is the most preferred material type for manufacturing suture anchor devices
The bio-composite suture anchor segment is expected to dominate the global suture anchor devices market in terms of revenue in 2017, and the trend is projected to continue throughout the forecast period. The segment is expected to be the most lucrative among all material types, with an attractiveness index of 2.3, while the PEEK suture anchor segment is expected to be the second largest market with a market share index of 1.2.
Before coming up with this new report on the global suture anchor devices market, the analysts in Future Market Insights have inspected the global as well as regional markets in detail. Our expert team of analysts working extensively in healthcare domain have focussed on forecast factors and have offered their unique perspective and assumptions on the forces impacting market revenue growth. Pricing analysis, value chain analysis and list of active key participants are some of the other inclusions of this recently published report titled "Suture Anchor Devices Market: Global Industry Analysis 2012 – 2016 and Opportunity Assessment 2017 – 2027."
To present a crystal clear picture of the market to our clients our analysts have provided detailed information about market size, revenue forecast, drivers, restraints, trends and opportunities in all the seven regions that have been studied in this report. Apart from regional insights, we have also given comprehensive information on various segments and sub-segments. For the better understanding of the entire market, we have divided the market based on product type, material type, tying type, end user and region.
Report Structure
This report includes global suture anchor devices market overview that consists of market size and forecast, Y-o-Y growth and absolute $ opportunity. The analysts have made a comprehensive evaluation of the key market dynamics and have also studied the various micro-economic factors, supply and demand side drivers, restraints, opportunities and key trends that are likely to impact the global suture anchor devices market. Another section of the report consists of market definition and taxonomy. Product-wise Weighted Average Selling Price (ASP) has been considered to deduce market values. Top-down approach has been used to assess market numbers for each product category, while bottom-up approach has been used to counter validate the market estimations. All the currencies are converted to US$ at an average conversion rate of 2015. We have taken data and information from sources such as the World Bank publications and various companies' annual and financial reports while inspecting this market. Market splits have been deduced from independent surveys and through extensive primary research. At the end of the report, we have included key strategic recommendations for both existing as well as new market players to emerge sustainably profitable.
Research Methodology
Each primary interview is thoroughly analysed and average market volume is deduced and reconfirmed prior to incorporating in the report. The price of suture anchor devices is deduced on the basis of type, where the average price of each suture anchor device type is inferred across all the seven assessed regions. The market value of the global suture anchor devices market is thus calculated from the data deduced from the average selling price and market volume.
For the 10-year forecast of the global suture anchor devices market, various macroeconomic factors and changing trends have been observed, giving an idea about the future of the market. Other important factors considered to arrive at market forecast include the size of the current market, inputs from the supply side and the demand side and other dynamics shaping the scenario of the market. In the compilation of the report, the forecasts are conducted in terms of CAGR, while other important criteria such as year-on-year growth and absolute dollar opportunity have also been incorporated presenting the client with crystal clear insights and future opportunities likely to emerge in the global suture anchor devices market.
Market Segmentation
Product Type

Material Type

Tying Type

End User

Region

Absorbable

Non-Absorbable

Metallic Suture Anchor

Bio-absorbable Suture Anchor

PEEK Suture Anchor

Bio-composite Suture Anchor

All Suture Anchor

Knotless Suture Anchor

Knotted Suture Anchor

Hospitals

Emergency Medical Services

Clinics

Ambulatory Surgical Centres

North America

Latin America

Western Europe

Eastern Europe

Japan

Asia Pacific Excluding Japan

MEA
COVID -19 : Impact Analysis
Request the coronavirus impact analysis across industries and markets
Request Covid -19 Impact
CASE STUDIES
See how our work makes an impact.
At FMI, we design strategies that are adaptive, impactful, and implementable.