Polymers Remain Preferred Vapour Barrier Material
Polymer vapour barriers, on the back of their excellent resistance properties, are likely to garner traction in the near future. Polyethylene (PE) and expanded polystyrene (XPS) will remain the preferred polymer, with the former accounting for over 60% share. Despite both the materials exhibiting similar R-value per inch (Insulation), the low cost factor of low density polyethylene (LDPE) will grab high attention of manufacturers. Vapour barriers made from asphalt & bitumen are also being widely used, particularly for concrete foundations, as they can be applied to the intricate parts of the wall. The FMI study shows a gradual decline in the demand for asphalt & bituminous vapour barriers as they are not suitable for prolonged sunlight exposure.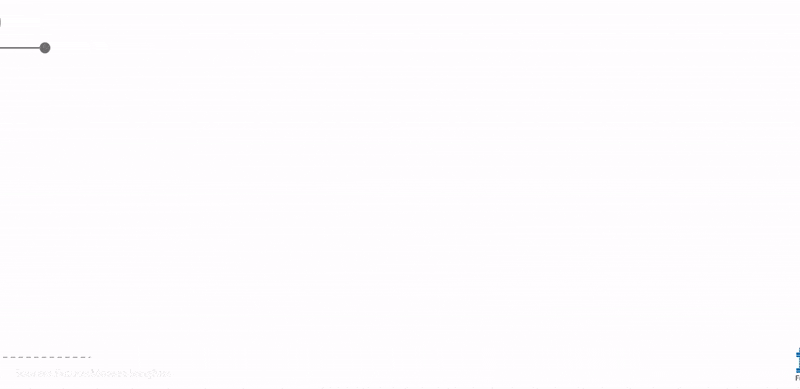 US Market to Reach US$ 7 Bn by 2029
Accounting for a third share in the global vapour barrier market, North America will maintain its lead through 2029. Uptight regulations for improving the overall efficiency and comfort of existing homes as well as of ongoing housing developments are responsible for the growth. Further, the US reflects the most lucrative market and will generate revenues about US$ 7 Bn by 2029 end.
Market players are also eyeing Asia for sales expansion owing to its booming construction industry. China, and India are spearheading the regional market, with both collectively holding noteworthy market share. However, installation rate of vapour barriers remains sluggish in south-east Asia due to low their per capita expenditure on residential construction.
Eco-friendly Materials Gather Center Stage
In response to the strict policy framework, manufacturers must bank on eco-friendly materials including, cellulose, and fiberglass, in light of their greater recyclability attribute. Cellulose vapour barriers are manufactured from materials that have 80-85% recyclability, while the fiberglass versions offer around 50% recyclability. Usage of non-HCFC (Hydrochlorofluorocarbons) compounds as foaming agent is another strategy which market players should focus on in an effort to ensure reduced global warming potential (GWP).
How Growth will Unfold
Rising construction projects, especially in developed and developing countries, continue to engage market players. Adoption of vapour barriers in the construction industry will be majorly driven by commercial and residential buildings, with sales collectively surpassing US$ 11 Bn towards the end of forecast period. The automotive and packaging industries are also offering potential avenues of growth, where vapour barriers are used for thermal and moisture insulation.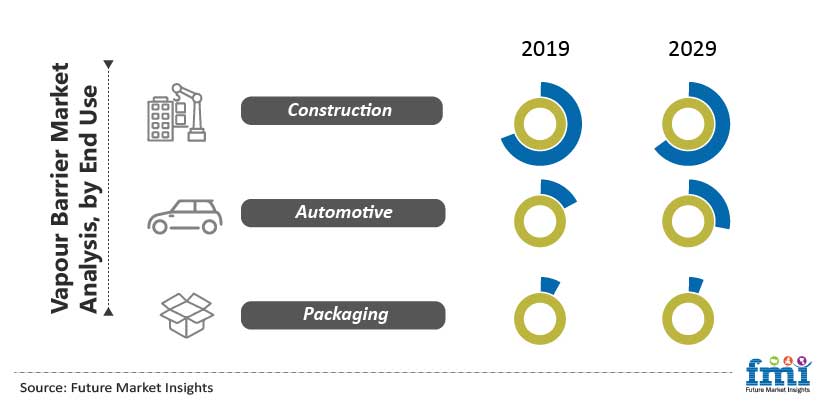 FREQUENTLY ASKED QUESTIONS ABOUT VAPOUR BARRIER MARKET
How will the market for vapour barrier progress over the course of following decade?
FMI's analysis anticipates the sales of vapour barriers to observe a moderate CAGR during the period of projection, i.e. 2019 - 2029. Revenues through adoption of vapour barriers at a global level are poised to surpass a market value of US$ 10 Bn towards the end of following decade.
Which are the key end-use industries supporting growth of vapour barrier market?
Development of public infrastructure and government-operated infrastructure has been a priority of governments and legal authorities over the recent past, particularly in developing regions. Besides in building & construction industry, vapour barriers are witnessing robust demand from packaging industry as well. Prevention of damage to moisture-sensitive goods such as electrical equipment, food, and beverages pushes consumption of vapour barriers in latter.
What is the most critical factor that would be driving sales of vapour barriers in the near future?
Energy efficiency will remain the most critical factor here. Vapour barriers offer optimum insulation and help maintain ideal indoor temperature. Recent revelations by the Department of Energy in U.S. (DOE) indicate that the use of air and vapour barrier can enhance the efficacy of space conditioning system by almost 10-20%, which ultimately adds to the overall energy efficiency.
Is evolving consumer sentiment regarding indoor comfort shaping up their inclination towards vapour barrier and similar products?
In backdrop of drastic climate changes and environmental imbalance, procurement of an efficient and effective HVAC system is no more a luxury but a necessity across urban settlements. This is shaping up adoption of vapour barriers, as they help achieve energy efficiency through lowered power consumption.
How does the competition structure of vapour barrier market look like?
The global vapour barrier market is moderately fragmented, attributing to the strong presence of small- and medium-sized manufacturing players. Market leaders continue to rely more on inorganic growth strategies such as supply contracts and M&A, for solid market positioning.
VAPOUR BARRIER MARKET TAXONOMY
Material
Glass
Sheet Metal
Polymer

Polyethylene
Rubber
Extruded Polystyrene

Asphalt & Bitumen
Gypsum Board
Drywall/Board Lumber
Plywood
Concrete/Brick
Type
Membranes

Sheet
Fluid
Peel & Stick
Films

Coatings

Liquid
Aerosol/Spray-based

Cementitious Water Proofing
Stacking & Filling
Application
Corrosion Resistance
Insulation

Air Insulation
Sound Insulation
Thermal Insulation

Water Proofing
Material Packaging & Stacking
Microbial & Fungal Resistance
End Use
Construction

Residential Buildings
Commercial Buildings
Industrial Facilities
Car Parks & Underground Basements

Packaging
Automotive
Need specific information?
Talk Show:
The Rise of Intelligent Packaging
Personalized, Connected and Sustainable
November 18, 2021
11:00-11:45 AM PST (USA & Canada)
This is a LIVE session